Affiliate Disclosure: As an Amazon Associate, I earn from qualifying purchases. Learn more.
Summary: I am actively tracking the best and most likely Amazon Cyber Monday 2019 Fire TV deals on Fire TV Stick 4K, Cube, Remote, Recast, Insignia Fire TVs, and more.
Best Amazon Fire TV Cyber Monday Deals
Plain and simple, Amazon Fire TV is bound to be a "sure-fire" top seller for Amazon Cyber Monday in 2019.
If last year was any indication, you can anticipate some outstanding deals on Fire TV Cube, Recast, Stick, Remote, Plus Insignia & Toshiba Smart TVs with Fire TV.
A few deals are already available. Amazon lowers prices on some popular devices early in anticipation of the Big Day.
Fire TV Cyber Monday Deals Tracker🤞
The table below provides a list of what will most likely amount to be the most popular Cyber Monday 2019 Fire TV deals. This table is updated nightly via direct integration with Amazon's API. Click on the SEE IT button to get the up to the minute on Amazon.
The table will automatically update on Cyber Monday and I will continue to track the best deals available as I learn more.
---
Fire TV Is Hot & Getting Hotter
According to Neilson, 80% of U.S. households have broadband internet, and the popularity of TV-connected devices such as Roku (box and stick), Amazon Fire TV, Apple TV, and Google Chromecast, as well as game consoles that can be used to stream media, is growing. [Source: TV Connected Devices Pave the Way for New Ways to Watch Content Neilson.com]
If the number of Cyber Monday and Cyber Monday Week 2018 deals [and sales] on Fire TV was any indication, Amazon wants into your living room in a big way. We think that Fire TV will get them there.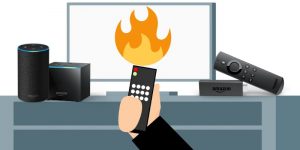 Fire TV has had several innovative new product introductions over the past couple of years that:
Give you access to more content
Let you control your TV with your voice
Let you record your favorite shows from anywhere on the planet
---
Fire TV Cyber Monday 2019 Deals
Some deals similar to what Amazon offered on Cyber Monday last year are already available. But there's no telling how long these deals will last or what Amazon will offer this year.
Bookmark this post and stick with us to get the latest deal information for Cyber Monday 2019.
Oh, and you can also check out our picks for deals on Logitech Harmony Remotes here: Logitech Harmony Cyber Monday Deals 2019: Likely Deals on Elite, Companion, Hub & More.
---
Fire TV Cube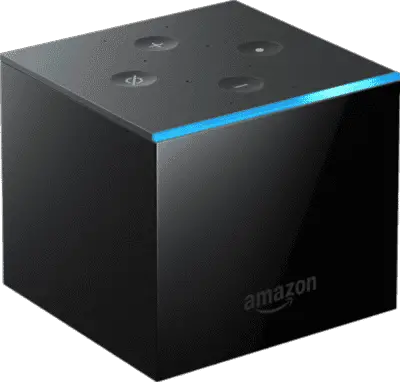 I love Fire TV cube as a smart remote. Why? It does one and does it seamlessly well. That is, it lets you interact with your TV using your voice and Alexa. You can use it to ask Alexa to turn on your TV, turn of the volume, tune to your favorite station or program, or ask to find your favorite genre of movie. While you can do all of this using an all-one-remote like a Harmony Elite with Alexa integration, this product makes it seamless. Oh, and it's less expensive too.
Thanks to Digital Trends for the awesome Fire TV Cube video review:
🔥See Latest Deal Pricing at Amazon
---
Fire TV Recast
The 2nd of our favorite hopeful of the Amazon Cyber Monday 2019 Fire TV deals: Fire TV Recast. Recast lets you watch and record over the air TV at home whether you are at home or on the go.
This makes it a perfect gift for anyone who loves TV and doesn't want to subscribe to cable's expensive pricing DVR plans. Plus, it works great with Alexa too.
🔥See Latest Deal Pricing at Amazon
---
Fire TV Stick 4K with Alexa Voice Remote
This is our favorite of the Amazon Cyber Monday 2019 Fire TV deals on the Stick. These 4K streaming media sticks not only get you Netflix and YouTube on your TV in full HD, but you can also choose from 500,000 movies and TV episodes. Watch favorites from Netflix, Prime Video, Hulu, Starz, SHOWTIME, CBS All Access, and dozens of others. Some of these require subscriptions of course, but a few might be worth it depending on your preferences.
Thanks to Lon.TV for this helpful technical video review:
This was among the cheapest prices on the Fire TV Stick I have ever seen on Cyber Monday last year.
---
3rd Gen Echo Dot Bundle with Fire TV Stick
The 3rd Gen Echo Dot Bundle with Fire TV Stick gets you a Fire TV Stick and the latest Echo Dot in a convenient bundle at a nice discount. You can pair the Stick with your Dot to do ask Alexa to control your TV for things like searching for your favorite movies or tuning to your favorite shows.
This is already offered a nice discount. It will be interesting to see if Amazon discounts it further for Cyber Monday 2019.
---
Fire TV Cube Bundle With Ring Video Doorbell

You can also get a great deal on the Fire TV cube bundled with a Ring Video Doorbell. A steep discount for both of these devices when purchased together is already available now.
You can use Fire TV Cube and Ring Video Doorbell to monitor who is at your front door right on your giant flatscreen TV. Just say "Alexa, show me the front door", and Ring's video feed will display in 1080p Full HD on your TV.
Ding dong deal!
🔥See This Fire TV Deal on Amazon
---
Fire TV Gaming Edition
Update! Sadly, this product is no longer available. We recommend that you check out nVidia Shield Gaming Edition instead.
Young gamers and their parents love this console for an affordable way to play games and stream shows. There are a ton of free games over 1400 games available including Minecraft, Lego Star Wars, and Pac-Man 256. This is a good family gaming console for those not willing or wanting to go the Xbox or Playstation route.
---
Cyber Monday Fire TV Deals 2019: Alexa Voice Remote
I keep this remote by my bedside and use it to mainly to communicate with my main Echo device. I also sometimes use to control my bedroom TV, soundbar, and AV receiver.
While this is nowhere near as feature-rich as the Logitech Harmony or SevenHugs universal remotes, it is a handy and very inexpensive way to surf and chat with Alexa.
---
Insignia 24-inch 720p HD Smart LED TV- Fire TV Edition
While we typically don't review actual TV on our site, there are two deals we couldn't not mention. This first deal is the Insignia HD Smart TV Fire TV Edition.
This is highly rated by Amazon customers and gives you the Fire TV experience built-in. This means you get thousands of channels, apps, and Alexa skills, including Netflix, Prime Video, Hulu, HBO, SHOWTIME, STARZ, and more WITH your TV.
---
Toshiba 43-inch 4K Ultra HD Smart LED TV HDR – Fire TV Edition
Last on our list of Amazon Cyber Monday Fire TV deals, is another Toshiba Smart TV with Fire TV built in. This is also super highly rated on Amazon. The Toshiba 43-inch 4K Ultra HD Smart LED TV HDR – Fire TV Edition is another smart TV that gets you all of the benefits of Fire TV with a beautiful 4K Ultra HD 43 inch screen that would be ideal for bedroom, playroom or kids room.
🔥See Latest Deal Pricing on Amazon
---
Cyber Monday Fire TV Deals 2019: Your Turn
So what do you think about these Fire TV Cyber Monday deals?
Are these the cheapest Amazon Fire TV deals on the Stick, Cube & Recast you have seen? What about the remote?
Or have you found better deals elsewhere? We would love to know what you think. Please leave us a comment below and let us know.
Also, if you found this article useful, would you mind sharing it using our social media links at the top of the page? Thanks for your support!
---
You Might Also Like
If you liked this article, you might also like some of our other posts:
Fire TV Cube 1st Gen vs 2nd Gen: Is The New Cube Hot or Not?
Fire TV Cube 2nd Gen Specs: Full Hardware Specifications Sheet [2019]
Logitech Harmony Cyber Monday Deals 2019: Likely Deals on Elite, Companion, Hub & More
Alexa Fire TV Commands: Cheat Sheet for Cube, Stick, TV Edition & More
---
About the Author
Tim Brennan, Technical Writer & Blogger
Tim Brennan is the founder of Writeinteractive, Inc., a technical writing consulting agency. He is a senior technical writer with over 20 years of experience writing for companies and organizations in and around Greater Boston, including GE and MIT. In addition to actively writing for this smart home blog, Tim is also a regular contributor over at UniversalRemoteReviews.com. Tim holds a BA in Journalism from Northeastern University. There is a strong chance that he is developing a crush on Amazon Alexa. Brennan is a father to two sons, an active blogger, a Star Wars nut, and loves a good taco🌮. Tim gets super excited about asking Alexa to turn on his Smart TV using his voice.