Affiliate Disclaimer
As an Amazon Affiliate, we earn from qualifying purchases.
Boston, November 26, 2021 (Newswire) – UniversalRemoteReviews.com, a trusted product reviewer of top-rated universal remote controls and home theater equipment, is actively tracking the best early Cyber Monday deals in universal remotes from several brands.
Early Cyber Monday remote deals include deep discounts on a number of the most popular universal remotes available at Amazon.com.
The Latest Deals Include:
Logitech Harmony – Save big on Logitech's most popular soon-to-be-discontinued remotes: Harmony Elite, Smart Control, 665, 650, 700, 890, Hub, and more.
Sale
Logitech Harmony Elite Remote Control, Hub and App
The most powerful and intuitive Harmony remote works with Alexa for voice control. All-in-one control of up to 15 home entertainment and connected home devices
Full color touchscreen: Simply swipe and tap to control channels, movies, volume, 50 favorite channels and smart home devices like Philips Hue lights
One-touch Activities: Touch an Activity like "Watch a Movie" to automatically power on and switch devices to the right settings; Compatible with Amazon's Alexa for easy voice integration and activation
Harmony app: Turns iOS or Android smartphones or tablets into personal universal remote controls for the whole house
Closed cabinet control: Included Harmony Hub lets you control devices in closed cabinets, or even when away from home
Last update on 2022-06-26 / Affiliate links / Images from Amazon Product Advertising API
Amazon Fire TV Stick and Cube – Shop now to save 33% on Amazon's 2021 and 2019 edition Fire TV Cube, or save in more on Fire TV Stick 4K and 4K Max with many bundle deals to be found.
Fire TV Cube, Hands-free streaming device with Alexa, 4K Ultra HD, includes Alexa Voice Remote
The fastest, most powerful Fire TV streaming device.
From across the room, just ask Alexa to turn on the TV, dim the lights, and play your show.
Control compatible soundbar and A/V receiver, and change live cable or satellite channels with your voice.
With the built-in speaker, ask Alexa to check the weather, turn off the lights, and more – even when the TV is off.
Access to 4K Ultra HD content, plus support for Dolby Vision and HDR, HDR10+.
Last update on 2022-06-26 / Affiliate links / Images from Amazon Product Advertising API
Sofabaton U1 – Save 29% now on this critically acclaimed push-button remote that lets you control up to 15 home entertainment devices and popular streamers like Roku and Apple TV.
SofaBaton Universal Remote Control with Mobile Phone APP, Super Easy One-Click Universal Remote for FirTV/Roku/Nvidia Shield/Vizio/Marantz/Yamaha Streaming Players (Support IR & Blutooth Devices)
【SofaBaton Mobile App Control】The Sofabaton mobile app turns smartphones into full-featured remote controls, super easy one-click to add your devices from the real-time code library database, support both Blutooth & Infrared devices, just a scroll to switch different devices (up to 15 devices). Everyone in the house can download the Sofabaton APP to turn their iOS or Android device into personal universal remote, complete with their own set of one-touch macro buttons
【Pre-installed Devices Updated Code Database】U1 universal remote control works with over 500,000 entertainment and smart home devices, so you can enjoy single-touch control with your favorite brands. Pre-programmed for Apple TV, Xbox One, Roku device codes (excluding Roku Stick) etc. which are easily used. If you don't see your device, just let us know and add it for you. Before that, you can try to use the learning function to program the buttons or any device that is not in the database
【Macro Key Punch Through & Reassign Functions】This allows the programming of a string of commands (up to 10) within one button at one device or between different devices. You can customize the time of each command. But you need to pay attention that only IR buttons can be used for macro buttons, not used for Blutooth buttons. You can use the "Reassign the Key" to add more buttons from our code library database when you found there are some buttons missing
【OLED Display & Motion-Activated & Scroll Wheel Design】Advanced OLED screen directly displays the current devices. The motion-activated feature automatically adjusts the remote control brightness and auto wake or sleep to save energy. An ergonomic scroll wheel design can easily switch devices just with a simple scroll
【Satisfied Customer Service】Call us or click "Contact Seller" for exchange or refund service. Offers lifelong PDF or video instruction. Package included 2 AA batteries and User Guide
Last update on 2022-06-26 / Affiliate links / Images from Amazon Product Advertising API
MX Universal Remotes – If you want something more advanced, Amazon is already offering mondo-sized savings on the fancy MX-450 and MX-990 IR/FR remotes with Color LCD screens. Save up to 21%.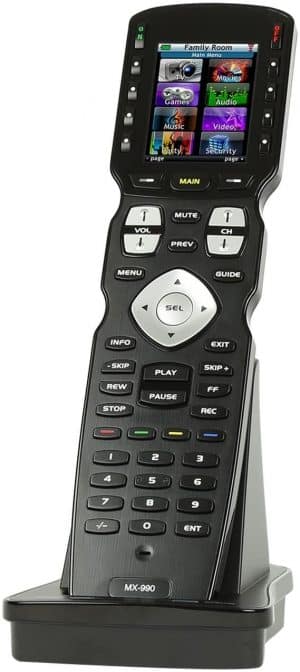 And if you would prefer to use your smartphone as a remote, check out:
Broadlink Hub & App – In addition to your home theater equipment, the Broadlink RM4 Mini IR and Pro can pretty much control your entire smart home.
Broadlink RM4 pro IR RF WiFi Universal Remote Smart Home Automation Compatible with Alexa and Google Home
Support RF (433MHz+315MHz) controlled devices such as curtain/shades motor, projector and light switch; Support 50,000+ IR controlled devices such as TV, STB, Air conditioner, Fan, Video Recorder, DVD and more; Does not work with Bluetooth. Supported devices library is constantly being updated by the cloud, so your RM4 pro is always compatible with newer devices. Option to program your devices and learn buttons if certain cloud data is unavailable.
NEW BROADLINK APP CONTROL - New App named BroadLink is available now in Apple App Store and Google Play. New App has better user experiences in configuration and creating scene than IHC. Besides, if you have an Android phone integrates IR emitter itself, you can use it to control your IR devices from BroadLink App as a test, before you decide to buy our product. Note: RM4 pro only supports 2.4 GHz (NOT 5 GHz) Wi-Fi to configure in the App
VOICE CONTROL AND IFTTT - Compatible with Alexa to voice control your TV, STB, Air Conditioner and Fans, compatible with Google Home to voice control your Air Conditioner. Make sure the devices can be remotely controlled from external networks. In Amazon Alexa/Google Home/IFTTT Apps, enable the skill/service named BroadLink, link account and discover devices.
NEW FEATURES - Supports external Temperature and Humidity Sensor USB Cable (purchase separately), connect it to the RM4 pro, BroadLink App will show room?s temperature and humidity. Zero Configuration, powered by FastCon technology, add the first FastCon device to the App as usual, after that, when you power on other new FastCon devices, they will be automatically discovered and shown in App.
TECH SUPPORT - One-Year Warranty, 24/7 Technical Support. Video Guide are available on our Amazon Brand Store page and YouTube. Find our Global Hotline on product manual. Now you can get help and make feedback directly through BroadLink Community in the App.
Last update on 2022-06-26 / Affiliate links / Images from Amazon Product Advertising API
SwitchBot Hub Mini – Save 30% or more on SwitchBot Hub Mini: a compact all-in-one remote for your smart home and works out of the box with SwitchBot bulbs, switches, sensors, and more.
SwitchBot Hub Mini Smart Remote - IR Blaster, Link SwitchBot to Wi-Fi (Support 2.4GHz), Control TV, Air Conditioner, Compatible with Alexa, Google Home, IFTTT
★ Easy to use - Easy to set up the Hub Mini in SwitchBot App. With "Smart learning" mode, it can mimic your existing remote control in 5s. USB-powered and portable, you can take & place it everywhere. (*SwitchBot Hub Mini only support 2.4GHz Wi-Fi.)
★ One for all - Pair your air conditioner, TV, and other infrared appliances to the Hub Mini. All devices in ONE App. Enjoy the convenience at fingertips.
★ Your "Mini" step to a smart home - It's the gateway of SwitchBot ecosystem. Connect all SwitchBot devices and home appliances to the Internet, enable the Cloud Service of your SwitchBot devices. Start building up your own smart home with SwitchBot!
★ Enjoy voice control - Works with Alexa, Google Assistant, Siri and IFTTT. Control your SwitchBot devices and home appliances with a simple voice command.
★ Save energy and save money - Wondering if you have turned off the bedroom AC or not? Just turn it off in SwitchBot App or set a helpful scene, you will NEVER forget to turn off the appliances.
Last update on 2022-06-26 / Affiliate links / Images from Amazon Product Advertising API
Full Reviews Available
You can read full reviews on all these products in the  UniversalRemoteReviews.com blog. A detailed comparison chart of Harmony remotes is also available as a downloadable PDF file.
2021 Deals Tracker
Prices on Harmony remotes tend to fluctuate all year, but especially from Cyber Monday through the end of the year. This year, we are excited to bring you our very own dynamic deals tracker so you can monitor and compare pricing for the six most popular remotes at glance.
The tracker pulls in prices nightly from Amazon via direct integration with Amazon's API.
You can view and bookmark the Harmony Cyber Monday Deals Tracker here.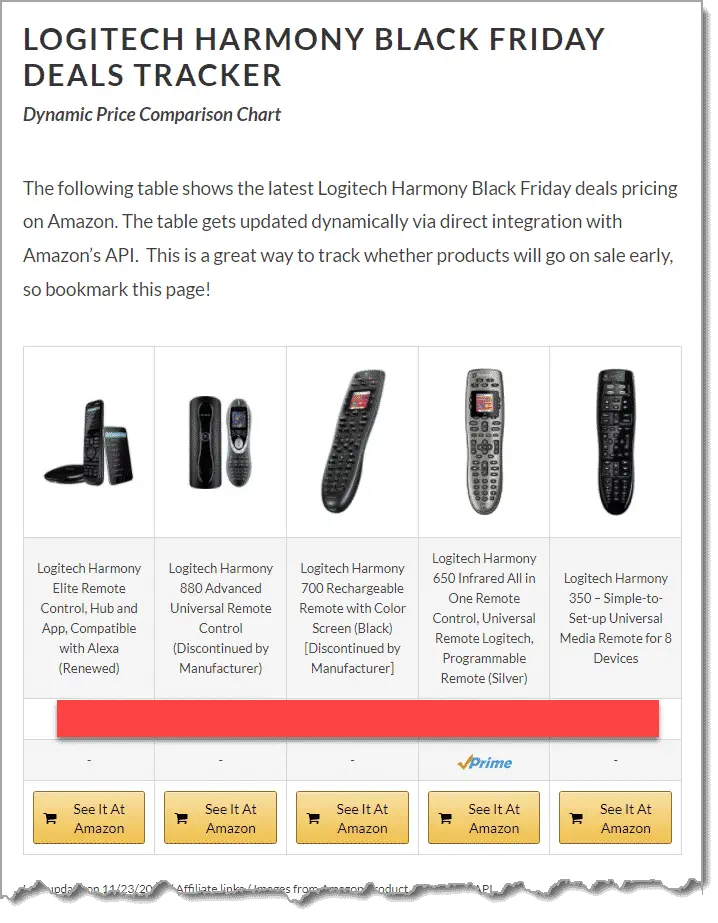 About UniversalRemoteReviews.com
UniversalRemoteReviews.com is owned and operated by Writeinteractive, Inc. Writeinteractive is a participant in the Amazon Services LLC Associates Program, an affiliate advertising program. As an Amazon Associate Writeinteractive earns a commission from qualifying purchases when you link to Amazon from our sites that include UniversalRemoteReviews.com, smart home blog oneSmartcrib.com, and (coming in 2022) metaverse watchdog MetaverseMashup.com.