Affiliate Disclosure
As an Amazon affiliate, I earn from qualifying purchases.
In this short-form article, I am going to give you the scoop on all of the differences between the Logitech Harmony Elite vs Ultimate One universal remotes.
One of the most popular articles I have written over the past year is my Logitech Harmony Elite vs Ultimate review.  It also contains one of my favorite banner graphics that was created by a designer friend of mine.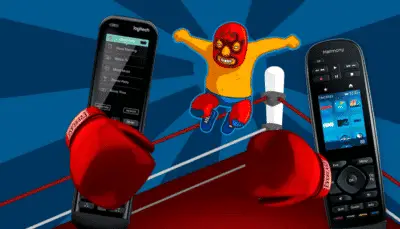 The wrestler cracks me up.
The popularity of our initial Harmony Elite vs Ultimate article makes sense. Sadly, there is a TON of conflicting and misinformation about these two remotes flying around on the web.
---
TL; DR
Recently, we received a suggestion from Frank Gomez of Sunnyvale, CA asking if we could provide a summary at the top of an article highlighting the differences. The subject of his email was "TL;DR,"  which I learned means Too Long; Didn't Read. LOL.
Well Craig from Sunnyvale, this one's for you!
In fact, I've decided to do you one better. In this article, I will provide a comparison table of the features followed by a quick summary that notes the key differences between the remotes.
I may also do more of these shorter-format posts going forward. So, thanks for the inspiration Craig. 🙂
---
Harmony Elite vs Ultimate One: Quick Comparison Table
Below is that table summarizing all of the key Harmony Elite vs Ultimate One specifications side by side.
| | Ultimate One | Harmony Elite |
| --- | --- | --- |
| | | |
| Height | 7.3 h x 2.2 w by 1.2 d | 7.6 inches x 2.1 w in by 1.1 d |
| Weight | 1.56 lbs | 12 ounces |
| Includes Remote | Yes | Yes |
| Includes Hub | Yes | Yes |
| Two IR Blasters | Yes | Depends on Model |
| Two Power Adapters | Yes | Yes |
| Charging Dock | Yes | Yes |
| Harmony App on Smartphone or Tablet | Yes | Yes |
| Supported Devices | 15 | 15 |
| Controlled Devices | 275000 | 275000 |
| Online Setup using MyHarmony Desktop Software | Yes | Yes |
| Works with Alexa for Voice Control | Yes | Yes |
| LCD Screen | Color, touch, battery status, number pad, QVGA (320×240) | 1.5 inches (diagonal), 65,000 colour screen, 128 x 128 pixels |
| Swipe and Tap Activities | Yes | Yes |
| Backlit buttons | All | All |
| Vibration Feedback | Yes | Yes |
| Adjust and remap buttons | Most | All |
| Can Set Device Delays and Timing | Yes | Yes |
| Extra buttons for smart home control | No | Yes |
| Favorite Channel Icons | 50 | 50 |
| Tap for Named Activities like Watch a Movie | Yes | Yes |
| Buttons Placed Optimally for Usability* | Not really | Yes |
| Compatible with any modern TV, Cable, Satellite, Home Theater Setup | Yes | Yes |
| Controls Sonos, Amazon Fire TV, Apple TV, or Phillips Hue | Yes | Yes |
| Compatible with Bluetooth Devices like Sony PS3 Nintendo Wii, and Microsoft Xbox One | Yes | Yes |
| Battery | Rechargable Litium Ion | Recharable Lithium Ion |
| Battery Holds Charge | 1-3 weeks with Regular Use | 1-3 Weeks with Regular Use |
| Replaceable Battery | No | Yes |
| Warranty | 1 Year U.S. | 1 Year in U.S. |
---
Summary of Differences
It is important to point out that the Ultimate came before the Elite, and that the Ultimate is now "discontinued" by Logitech. You are getting the older model with the Ultimate.
Here are the key differences:
Price:  Although discontinued, the Ultimate costs less. It is still supported and available for purchase on Amazon.
Size: The Ultimate is slightly bigger [not by much].
Screen: The LCD screen is slightly different. You can see the obvious differences by looking at the two remotes side by side. The Elite screen is larger. We think it is nicer and higher quality, closer to what you see on a modern smartphone.
 
Buttons: The button placement is different. The Ultimate has the Play, Rewind, Fast Forward, Stop, and Record buttons ABOVE the screen [among a few others]. This is the primary drawback of this remote. See our note below. Also, the Elite has a few extra buttons for smart home control.
Battery: The battery on Elite is replaceable; on the Ultimate, it is not [we like semicolons too].  Note: If you happen upon an older model of the Ultimate, it may take AA batteries instead.
---
Main Gripe with the Ultimate
Customers have complained about the button placement on the Ultimate, saying they like the location of the buttons on the Elite better. Popular buttons like pause and rewind are located on the top of the remote above the touchscreen. Customers complain that sometimes when they need to pause an activity (such as watching a movie) they accidentally hit the touchscreen.  This has the potential to completely hose what they are doing.
For example, say you're watching an epic movie. And, you just want to pause it go to the bathroom.
If you accidentally hit the "Activity" button you've set up for playing video games, it will overrule your movie and fire up your Xbox [or another gaming console], plus any other components that you have set.  You would then need to wait for the activity to finish, restart your movie, rewind it if needed, then hit pause before you can go about your business in the bathroom.
---
Harmony Elite vs Ultimate One: Quick Comparison Guide – Helpful?
I hope you found this Harmony Elite vs Ultimate One review helpful and enjoyed the abbreviated format.
This counts double for you, Craig!
Would you like to see more short-form comparisons like this one?  Are there specific products you would like for us to compare?
Please leave me a comment below and let us know what you think.
Also, if you found this useful, would you mind giving us a share via the social media links on this page.
In fact, if you could pin the following image to Pinterest that would help us out a lot.  Thanks!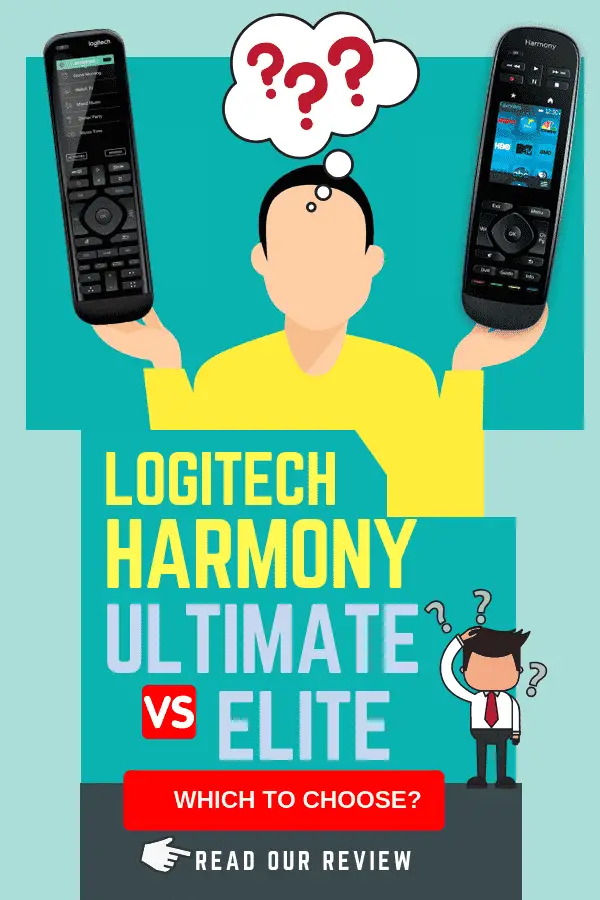 ---
Where To Buy Them
Amazon has dramatically lowered the pricing on these two remotes in recent weeks. Some of the holiday deals have put these at the lowest prices we have seen all year. We'll include some "buttons" below to Amazon. We greatly appreciate you using our links. We receive a small commission from Amazon if you buy them using our links/buttons. There is zero additional cost to you.  More on that below. Thanks for your support!
 Harmony Elite affiliate button:
 Harmony Ultimate One affiliate button:

---
Logitech's Video Ads
Harmony Elite
Harmony Ultimate One
---
Related Links
If you liked this article, you may also like some of my other reviews comparing Elite vs other Harmony products.
Sevenhugs vs Logitech Harmony: Is 'Smart Remote' More 'Elite?'
Logitech Harmony Elite vs Ultimate Home: A Smart Remote Buyers Guide [& FAQ]
Harmony Pro vs Elite: Logitech Remote Comparison 
---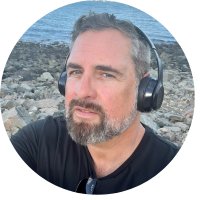 Tim Brennan is a technology blogger and hosts the @TecTimmy YouTube channel. He writes about smart homes at oneSmartcrib, home theaters at UniversalRemoteReviews, and AI in writing at Writeinteractive. A graduate of Northeastern University School of Journalism, he has written about technology for 30 years. Tim lives on the ocean in Nahant, Massachusetts.