Affiliate Disclaimer
As an Amazon Affiliate, we earn from qualifying purchases.
I am actively tracking the best Logitech Harmony Prime Day deals and discounts for 2021.
Logitech Harmony Prime Day Deals 2021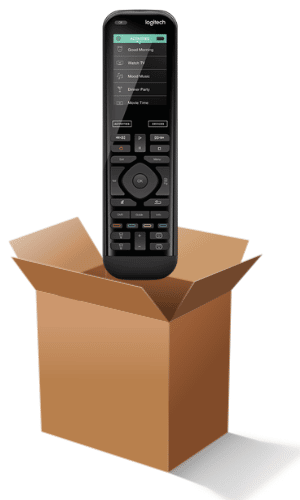 Like last year, Amazon Prime Day this year will be two days — Monday, June 21 – Tuesday, June 22. 
Unlike last year, Harmony remote inventory is now quite limited. The company announced it would halt manufacturing of its popular line of remote controls in May. If you want to get your hands on a Harmony remote, now is the time to buy.
Amazon will be likely be offering some amazing deals on Harmony universal remote controls for Prime Day again this year. Last year, I saw discounts on many popular remotes over 40% and "renewed" remote discounts over 100%,
If you are new to Prime Day, it's basically a two-day event with some deals that start early and extend until midnight the next day. This is a brilliant marketing idea on the part of Amazon, as it gives them more exposure than typical retailers who just offer one day worth of deals.
Some deals are already available now. Check Amazon's Prime Day page for the latest.
To make comparing the prices across the Harmony line easier, I created an interactive comparison table. It pulls in the latest pricing from the Amazon API nightly. Bookmark this page and stick with us to get the scoop on the latest pricing!
---
Logitech Harmony Prime Day Deals Tracker
The following table shows the current pricing of Harmony remotes on Amazon. The table gets updated nightly. Click through to see up-to-the-minute pricing. This is a great way to track the best deals for Prime Day.
Image
Image
Image
Image
Image
Image
Image
Last update on 2022-04-26 / Affiliate links / Images from Amazon Product Advertising API
---
Logitech Harmony Elite
The Logitech Harmony Elite, Logitech's "best-of-the-best" flagship remote for home users, is already steeply discounted at one of the lower prices I have seen for this remote.
It is unclear whether Amazon will lower prices further [or raise prices after Prime Day Week for the holidays], so if you want this remote, we suggest you act now.
Check the Amazon devices page to make sure you are getting the best deal. Amazon will likely have additional Harmony deals starting on Thanksgiving Day.
? See Latest Harmony Elite Price at Amazon
---
Logitech Harmony Ultimate Home
Next on my list of Logitech Harmony Prime Day Deals is the Harmony Ultimate Home. The Harmony Ultimate Home has also been steeply discounted in recent weeks. You read about the differences between the Elite and Ultimate in our blog post. Amazon currently has deals on a new Harmony Ultimate Home but you can get a Harmony Ultimate Home Refurbished if you want to save some additional money.
?See Latest Harmony Ultimate Price at Amazon
---
Harmony Companion
The Harmony Companion is a great budget option if you're looking for a full-featured remote with many of the same features as the Elite and Ultimate.
This will allow you to control your home theater as well as your smart home devices, and it provides integration with both Alexa and Google Assistant for voice control.
The obvious main difference is that the Companion doesn't have an LCD touchscreen. However, you can use it with the Harmony app and Alexa for voice control.
?See Latest Harmony Companion Price at Amazon
---
Logitech Harmony Smart Control
Smart Control customers love this remote.  I literally just had a guy on Reddit tell me that he thought "all other remotes are cr@p" compared to this. Redditers are funny. LOL.
I have not explicitly tested this yet myself but plan to do so in the near future as it is having a resurgence in popularity as of late.
The pros as far as I can tell:  the remote is smaller and thinner than the others and it lets you control up to eight devices with Alexa or your smartphone.  A common complaint is that there are only three main activity buttons, which is not a lot for today's complex entertainment setups.
Anyhow, more on this in the near future.
?See Latest Harmony Smart Control Price at Amazon
---
Harmony Hub
If you just want a way to control multiple devices using your smartphone and Alexa [without an actual all-in-one physical remote] then the Logitech Harmony Hub is a good affordable way to go.
This is a great budget option if you want to control your smart home and home entertainment devices using your phone.
It is the best universal remote control smartphone app out there. You can read my full review of the Harmony Hub here.
?See Latest Harmony Hub Price At Amazon
---
Logitech Harmony Prime Day Deals 2021 – What Do You Think?
So what do you think about these Logitech Harmony Prime Day Deals for 2021?  Are you planning to wait for actual Prime Day to purchase a Harmony remote?
I'm not sure that is the best strategy this year as many remotes get discounted early and there's no telling when they will sell out?
There are currently some great deals on refurbished items and also bundle deals at the time of this writing. The Elite is offered at a deep discount too.
Do you plan to purchase any of these smart remotes?  Do you plan to use any of them with Alexa or Google Assistant?
I would love to hear from you. Please leave a comment below and let us know.
Happy Prime Day!
---
You Might Also Like
If you liked this article about Logitech Harmony Prime Day deals, would you mind sharing it using the colorful social media buttons at the top of this page?
I hope you also enjoy some of our other articles: