Affiliate Disclosure
As an Amazon affiliate, I earn from qualifying purchases.
In this article, I provide a thorough Logitech's Harmony Ultimate One review, including an overview of features, pros and cons, and a detailed specifications table.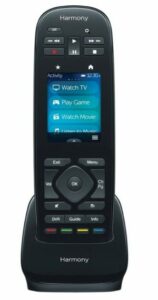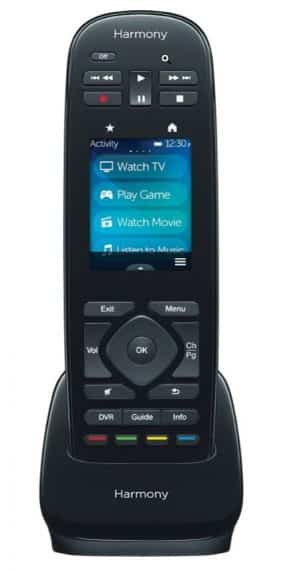 Overall Score: 4.7
Design: 4.5
Performance: 4.8
Quality: 4.8
Usability: 4.5
Value: 4.5
Despite a couple of design flaws, the Logitech Harmony Ultimate One LCD remote control remains an impressive option for anyone looking for a TV entertainment universal remote with a color LCD screen. While the remote has been discontinued by Logitech, it is still available for purchase on Amazon at a steeply discounted price.
---
Pros and Cons of this Remote
Pros
LCD remote control color screen is bright and impressive
Most buttons are backlit, helping you navigate the remote in the dark
Ability to program activities, such as "Watch a Movie" to turn on all required components
Ability to control up to 15 devices
Cons
Will not allow you to control smart home technology out of the box
No voice control with Amazon Alexa or Google Voice
Customers complain about the placement of some buttons, mainly those for play, rewind, forward, pause etc. at the top of the remote being awkward to control
The battery is not replaceable
---
Key Features
This section of my Harmony Ultimate One review highlights key features of the color LCD remote control.
Swipe and Tap LCD Screen
Perhaps the best feature of this remote is its color LCD screen. The LCD remote control screen gives you customizable control for swipe and tap for activities. For example, tapping on Watch a movie fires up all the required components mentioned above. The remote will also allow to program up to 50 Favorite channels, and the screen will display a color logo for that channel, making navigation for TV watching simple and fun.
Buttons are Backlit, Plus Haptic Feedback
All of the buttons on this remote, save a few, are backlit, making navigating movie night simpler.  We like to watch our movies in the near dark, so this is a great feature for us.  This is also a surprisingly rare feature for universal remotes, only a handful have it: this remote, Harmony Ultimate Home, Harmony Elite, and Harmony 950 come to mind. Haptic feedback sensors are quick to reply when you pick up this remote. Oh, and it's compact size makes it feel better in the hand, even more so than some more expensive Harmony options.
Simple Setup Using Your Computer
Logitech customers definitely benefit from the company being the dominant force in universal remotes.  This is especially true when it comes to the remote set up process.  You basically just connect the Harmony remote to your computer via USB cable, and then follow the onscreen instructions to set up your devices.  While it is certainly not plug and play, the software is user friendly and guides you through what you need to do to add each device.
Compatible with Logitech's Massive Database
Logitech's HUGE device database spans 225,000 devices across 5,000 brands. Moreover, the database is constantly being updated by Logitech. What does this mean for you? Well, it is very likely the devices you own today—and those you purchase tomorrow—will be compatible with this remote.
Activities to Automate Key Entertainment Functions
I don't know about you, but it used to drive my nuts that i had to navigate between THREE remotes to fire up my TV just to watch cable. It's silly really, but I had to use my Cable remote, TV remote and a soundbar remote just to get to the latest episode of Vikings on the history channel. With Harmony you can program custom activities to automate key tasks like Watch TV and Watch a Movie. My Watch TV activity automatically switches on my TV, soundbar, cable and tunes to the Cable input on my TV. If I had an audio receiver, I could add that to the activity as well.
---
Size and Dimensions
2.2 inches wide [56 mm]
7.3 inches long [186.5 mm]
1.2 inches high [31.7 mm]
5.75 ounces [163 g]
2.9 inches wide [74 mm]
3.6 inches long [93 mm]
2.8 inches high [72 mm]
4.2 ounces [120 g]
---
What's in the Box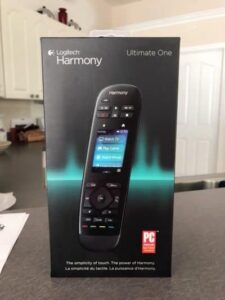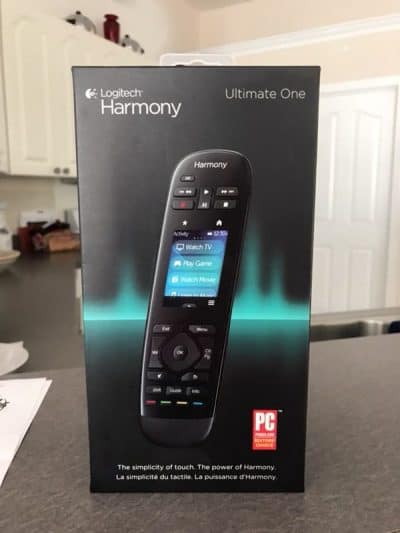 The following items are shipped in the Logitech Harmony Ultimate One box:
Harmony Ultimate One remote
AC adapter
Charging stand / cradle
USB cable
User Documentation
---
Technical Specifications
| Item | Specification |
| --- | --- |
| Remote Control Technology | Infrared |
| Wireless Technology | NA |
| Device Limit | 15 |
| Favorite Channels | 50 |
| Input: | Keypad, Touchscreen |
| Software Setup | PC/Mac/iOS/Android |
| Mobile App | Harmony Mobile App |
| Battery Type | Li-Ion rechargeable, non-replaceable |
| Battery Life | Estimated at 72 hours under normal use |
| Power | Battery noted above |
| Special Buttons | Home, back, direction pad, DVR, OK, 4 customizable color buttons |
| Backlit Buttons | All buttons are backlit, except for Home and Favorite Channels. |
| Dimensions | See section below |
| Warranty | 90 days of email and phone support |
---
Questions and Answers
Is the Harmony Ultimate One a Good Value Over Other Options?
The short answer is maybe. If you are looking for a that includes an LCD screen just to control your home entertainment devices without automating smart home technology, then you may be able to purchase this remote at a significant discount from higher end options such as the Harmony Elite. However, if you can live without an LCD screen, then Harmony does offer some additional Hub-based options that will also control your smart home devices natively. For this reason, we see this as the better value. However, if you have your heart set on a color LCD remote this can still be a good option.  You CAN upgrade this remote later with a Harmony Hub but that will likely be cost prohibitive seeing that you can get some good deals on remotes that include the Hub on Amazon.
Harmony Ultimate One Review: Who Should Buy This Remote?
Without beating a dead horse, we suggest buying this remote only if all of the following are true:
You want a premium color LCD screen remote to manage home entertainment devices, including the ability to launch activities.
Smart home device control is NOT important to you.
You don't care about controlling your TV with your voice using Google Home or Amazon Echo.
How Does Harmony Ultimate One Differ from Ultimate Home?
The main difference is that the Ultimate Home product comes with a Hub, which again means it will work with smart home devices and smart speakers like Amazon Echo and Google Home. The design is also different. You can read our review comparing the products side-by-side with the Harmony Elite here.
What Are My Other Options?
When shopping for a universal remote, you need to ask yourself what you want to use it for. Do you want to control smart devices such as lights and blinds along with your entertainment experience?
Would you like to be able to control your TV with your voice using Alexa or Google Voice?
How many devices do you want to control?
The top of the line Logitech Harmony Elite will let you control up to 15 devices that include both home entertainment and smart home things. But the remote is, of course, more expensive that other options, including the Ultimate One and others from Logitech. Check out our detailed Logitech Harmony Comparison Chart and post for a better understanding of what you get with each remote. If you are averse to Logitech products, other options include Caavo and Sevenhugs.
Reader Question: Can This Control a Roku Player?  How About Amazon FireTV Stick?
We don't own either of these devices, but Amazon customers have reported that both of these streaming media services work flawlessly with the remote.  In order to use the FireTV stick, however, you'll need to add a Harmony Hub.
Check out this SuperDanTech video on what you can do with paring the Ultimate One with a Hub.
What If I Need Help After the Six-month Ultimate One Warranty expires?
Logitech has extensive technical forums that can help you solve just about any challenge with the remote.
---
Logitech Harmony Ultimate One Review – Your Thoughts?
We hope you found our Logitech Harmony Ultimate One review helpful.
What do you think of this remote?  Are you planning on building a smart home? Or do you just want a remote to control your home entertainment devices?
Either way, we would love to hear your thoughts.
Please leave us a comment below and let us know.
By the way, if you liked this article or any article in our blog, would you mind giving us a quick share on social media? You can use the buttons at the top and bottom of this page or pin the image below to Pinterest.
Thanks so much for your support!
---
Related Links
If you enjoyed this article, you may also like some of my  other posts:
---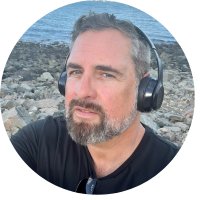 Tim Brennan is a technology blogger and hosts the @TecTimmy YouTube channel. He writes about smart homes at oneSmartcrib, home theaters at UniversalRemoteReviews, and AI in writing at Writeinteractive. A graduate of Northeastern University School of Journalism, he has written about technology for 30 years. Tim lives on the ocean in Nahant, Massachusetts.