Looking for an honest-to-goodness Logitech Harmony 650 vs 700 universal remote review?
Perhaps you would even like a Logitech Harmony 650 vs 700 universal remote review that includes a handy Comparison Chart /Infographic?
Look for further! You've come to the right place.
If you want a no-frills smart remote that lets you control up to eight devices without breaking the bank, we encourage you to read on.
Logitech Harmony 650 vs 700: At a Glance
Before we get deep into the details, let us quickly summarize for a few similarities and the vital differences between these two remotes here:
Both remotes will let you control up to eight devices.
They are both are compatible with Logitech's massive database of 225,000 devices.
The 650 and the 700 each feature easy setup using your computer, a USB cable, and Logitech's intuitive software.
Depending on the time it was manufactured, the 650 may support only Infrared technology. Newer models of the 700 support both Infrared and RF (radio frequency). See our Expert Tip below.
Also, the Harmony 650 doesn't provide a rechargeable option but you can use rechargeable batteries (purchased separately).
Logitech Harmony 650 vs 700 Review: Comparison Chart / Infographic
We put together the following infographic that makes comparing the 650 and 700 simple.
Simply click anywhere in the graphic below to open up a PDF of the full-sized version.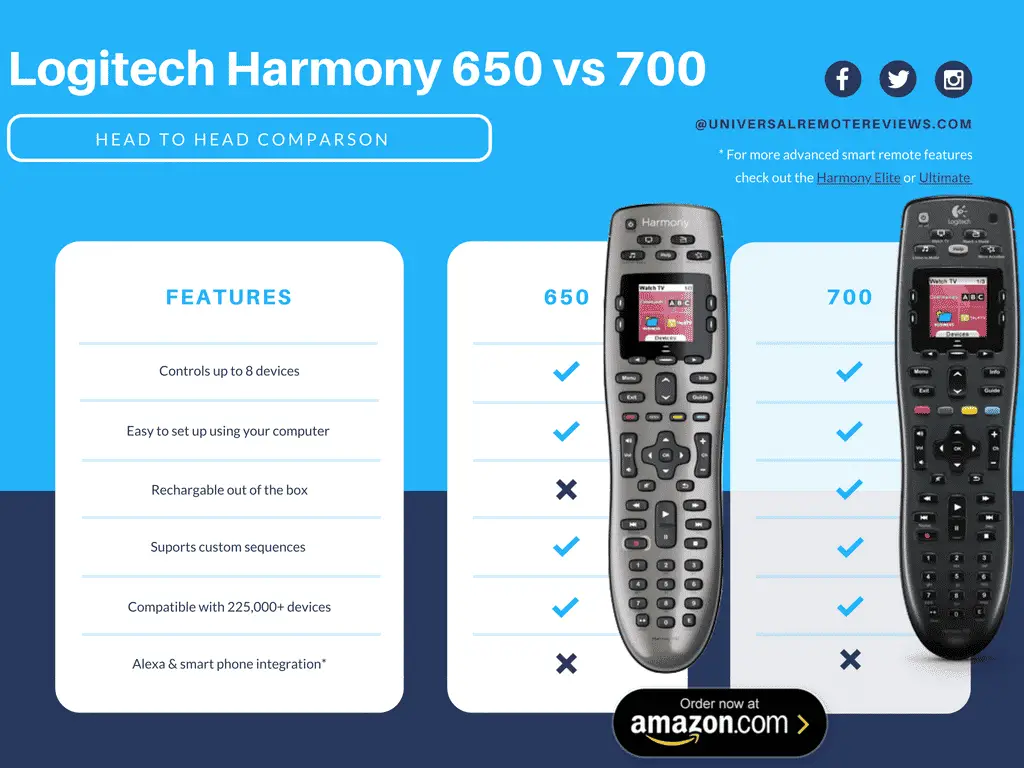 Expert Tip
Before you purchase either of these remotes be sure to check the specs on Amazon for:
a) The number of devices that it can control
and
b) the technologies it supports (IR and RF)
These numbers may vary depending on the version of the product and time the remote you are buying was manufactured.
For example, only the later versions of the 700 can control up to eight devices. Earlier versions only supported 6 or 7.
You can see the latest pricing for the Logitech Harmony 650 here and the Logitech Harmony 700 here.
Broad Support for All Your Devices
The Logitech Harmony 650 and 670 will provide broad support for the devices you use today leveraging Logitech's massive database of 225,000 devices. This means you can not only use the Harmony to control your television, DVD, Tivo, and DVR devices, but you can also use it for your Xbox, computer, lighting system, smart blinds, and just about anything else that supports radio frequency.
Exploring Other Options
The Logitech Harmony 650 and 700 remotes work best with a line of sight to your devices. If you have the need to control your devices from different rooms of devices behind closed cabinets, we recommend you check out the Logitech Harmony Elite or Ultimate Home. These (pricier) options are also compatible with Alexa (so you can control your devices using your voice). In addition, they also give you the option to control your devices via a mobile app. Moreover, they include a full-color touchscreen as well as hard buttons. If you are interested in exploring these and other Harmony remotes side by side, don't miss our full Logitech Harmony Comparison Chart /Infographic.
Newcomer Neeo is also an option in the higher end smart remote market. You can read our Neeo Thinking Remote Control review here.
Let's Take Closer Look at the 650 and 700
Most people assume that these devices are extremely difficult to set up and get to work. This is actually not the case. On the contrary, they are very is easy to set up with Logitech's web wizard who walks you through the steps.
This helpful video from NickTheTechGuru walks you through the process of setting up the 650 and shows how easy it is to add your devices.
Easy to set up – Just connect your Harmony remote to your computer and the Web wizard walks you step-by-step through a simple set up. However, if set up freaks you out, you can also order expert set up at checkout from Amazon.
Simple to use – Simply press an Activity button, such as 'Watch TV' or 'Listen to Music.'
Never out of date – Device database of 375,000+ devices, from HDTVs to DVRs, VCRs to lighting controls, is automatically updated by Logitech.
Backlit keys – Both remotes are easy to see and easy to use, even in the dark.
Really, the primary difference between these remotes is that the 700 includes rechargeable batteries, and the 650 does not.
No Remote Control Codes Required (Phew)
Perhaps it was not too long ago when you struggled with that tiny little instruction book full of remote control codes to program a remote. Can't stand programming these things? Don't worry! Remote control codes are not required for any Harmony devices. You simply connect your remote to your personal computer and download control settings for almost every electrical device on the market.
Super Simple To Use
Do other people struggle with using your home entertainment system? Perhaps your wife, kids, mother, sister, brother… or the babysitter? Am I getting warm? Never worry about that again because both of these universal remotes make it almost impossible not to be able to figure out how to operate your system. For example, you simply hit the "Watch TV" button and Harmony automatically fires up all of the appropriate devices including TV, cable, sound bar, receiver, etc. Pretty cool.
Logitech Harmony 650 vs 700 Universal Remote Review and Comparison Chart: Your Turn
We hope you enjoyed our Logitech Harmony 650 vs 700 Universal Remote Review.
So, do you think you will buy one of these remotes? Or do you think you will go with a more inexpensive option like the Harmony 350. Or perhaps a pricier option like the Harmony Ultimate or Elite. Leave a comment and let us know!
Thanks for supporting of our site. Tell your friends!
Related Links
Harmony 650 vs 665: Which Budget Logitech Remote Is Better?
Harmony Elite Review 2019: 10 Reasons This Remote Rocks
Caavo Remote Review 2019: Control Center Makeover, HDR & IFTTT for Less
Logitech Harmony Comparison Chart: Epic 2019 Guide/Infographic
About the Author
Tim Brennan is Founder and CEO of Writeinteractive, Inc., a professional services firm that helps companies solve technical content challenges to address real business goals. He is also an owner of a smart home technology site and blog Onesmartcrib.com. Tim became obsessed with smart home tech after purchasing Amazon Alexa. "One of my biggest pet peeves in life is that so much tech just doesn't work the way it should. Alexa is the clear exception and hopefully a sign of things to come. From the minute you turn it on, Alexa just works consistently, and she is always there when I need her," he said. When he's not crushing on Alexa, Brennan is a father to two sons, and he manages the day-to-day operations of Writeinteractive. He is also an active blogger, obsessive Star Wars fan, and an SEO fanatic.