Affiliate Disclosure
As an Amazon affiliate, I earn from qualifying purchases.
Looking for a definitive and unbiased Logitech Harmony 880 Advanced universal remote control review?
You've come to the right place. After all, reviewing universal remote controls is what we do!
Bet you're here because you are sick and tired of having to use 43 remotes just to get a little entertainment action on. And you like the idea of using a higher-end touchscreen remote without breaking the bank.  Sound about right?
But is there such a thing as an affordable touchscreen universal remote?  Hmm. With newer universal remote models topping more than $300, the touch screen is out of reach for many consumers.
---
Enter the Harmony 880
While this remote was recently discontinued by Logitech, you can still get it here on Amazon for less than some of the newer models, such as the Elite and Ultimate Home.
However, I have seen the price of the 880 go up and down in recent months, so you MIGHT actually be able to get a newer Logitech touchscreen model on Amazon even cheaper.
The best part?
You also get most of the same features. Cool.
---
Feature Highlights of the Harmony 880
Built-in Charging Station – You can forget about buying batteries.  The 880 comes with a built-in charging station. The remote sits in the dock to charge its powerful Lithium-ion rechargeable battery.
Automated Setup for up to 15 devices – Just connect the remote to your computer using the supplied USB cable, and enter the manufacturer and model for your devices. Then, Logitech's intuitive software does the rest. It intelligently detects your devices based on model number. How cool is that?? Consequently, there is no hunting around for those magic remote control codes. Setup is simple and painless.
Beautiful LCD color display – The LCD color display on this affordable touchscreen universal remote offers brilliant color.  The display is used to track all your devices and activities and even lets you customize the background. We think this display is actually nicer than the one found on the newer models.
One-Touch Activation – A single button push activates all required devices. For example, pushing the TV button automatically activates your surround system and even a receiver if that is part of your set up. Sweet! Similarly, the CD button will fire up your CD player, soundbar, audio receiver, etc.
Self Adjusting Affordable Touch Screen Universal Remote – The touch screen adjusts to show relevant options (Play, Fast Forward, Rewind, Pause) for the active device.
Optimized for Video Recording as well as Playback – All popular video recording formats are supported, including the digital video recorder (DVR) format.
Control Z-Wave appliances and devices – You can use the 880 to control ceiling fans, lights, electric fireplaces,  air purifiers, and many more.
Raise to wake and auto-shutoff – When you put the remote down it shuts off. Similarly, pick the 880 up and raise it, and it wakes up.
---
A Couple of Negs
Yes, we said "negs" as in "negatives." Not eggs.  An honest Logitech Harmony 880 Advanced universal remote control review, wouldn't be an honest review without listing the downsides of this remote.
So here goes:
It won't work with Amazon Alexa or Google Home. You will need to look at the Logitech Harmony Elite or Ultimate if you want to do that.
Some users have complained that the user manual is pretty poor.
OK, we digress….moving on.
---
Unboxing the 880 Touch Screen Universal Remote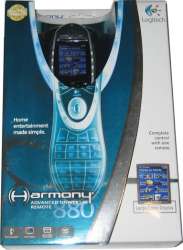 Peekaboo packing with a doorway in the front makes this product look slick from the moment it arrives. By the same token, the unboxing was relatively quick and simple.
In the box:
Harmony Remote
Docking station
Battery
Power Cable
USB
Mini Instruction Manual
The battery is super easy to install.  Also, the back easily slides off to pop off and the square ion lithium battery pops right into the socket.
---
Is There A Better Remote for the Money?
The short answer is "it depends."  You may be able to get a comparable deal on my favorite remote the Logitech Harmony Elite.
You can read my review of the Harmony Elite here.
The Elite is better in that it has newer technology, ships with the Harmony Hub, and it will allow you to control your smart home devices in addition to your entertainment devices.
It also works with Alexa, Google Home, and even Siri.
---
Where to Buy It
The easiest way to purchase this is through Amazon.com. What's more, if you are a Prime member you can receive it in as little as two days.
Click on our affiliate below to shop now — or if you want to see the latest prices and reviews on Amazon.
---
Questions and Answers About the Harmony 880
If you would like us to answer additional questions about this affordable touchscreen universal remote, please leave us a comment and we will research your question and include it here.
Question: I've read some complaints online that the Harmony 880 fails to charge properly.
Answer:  While this was a problem a while back, Logitech has fixed this so new remotes won't have this problem.
Question:  Is there a more affordable touchscreen universal remote?
Answer:  We haven't found one that offers the same depth of features as the Harmony 880, but see above.  You may be able to get a better deal on Harmony Elite or Ultimate depending on the sale price over at Amazon.
Question: Can I use the Harmony 880 to control my PlayStation 3?
Answer:  Yes, but you need to purchase an adapter. Here is some info from Amazon about the adapter below.
Here's the write up on Amazon:
"Finally, control movies on your PS3—drama-free
Wish you could control all your movies, music, games, and entertainment gear—including your PLAYSTATION3—with one remote? Wish granted. Add one-touch PS3 control to any Harmony remote with the new Logitech Harmony Adapter for PLAYSTATION3. Now your entire entertainment system and every PS3 command is at your fingertips. Want to watch a DVD or Blu-ray Disc movie? Play a game? Turn the console on or off? Easy. Just press one button on the remote to experience instant entertainment gratification."
We will include a more thoughtful review of this product in a later post.
---
System Requirements
IBM® compatible PC
Windows® 98, 2000, Me, XP
USB port
CD-ROM drive
Internet access
Macintosh®
Macintosh® OS X 10.2 or later
USB port
CD-ROM drive
Internet access
---
Full Reviews Also Available
You can also access more in-depth reviews of Harmony Elite, 950, Ultimate Home, 650 vs 665, and 350 products with more reviews on the way!
---
And When You are Ready
You can find and compare the latest Harmony touchscreen remotes over at Amazon.com. When you're ready to buy, please be sure to use one of the links on our site to Amazon, so we earn a commission.  This way, we can continue to produce more awesome content, like this article.  More on that in the sidebar of this page.
---
Logitech Harmony 880 Review: Tag, You're It…
We hope you enjoyed our Logitech Harmony 880 Advanced universal remote control review.
We would love to hear if you found it helpful and whether you own or plan to purchase this remote.
Please let us know by leaving a quick comment below.
---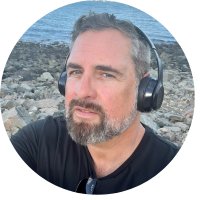 Tim Brennan is a technology blogger and hosts the @TecTimmy YouTube channel. He writes about smart homes at oneSmartcrib, home theaters at UniversalRemoteReviews, and AI in writing at Writeinteractive. A graduate of Northeastern University School of Journalism, he has written about technology for 30 years. Tim lives on the ocean in Nahant, Massachusetts.