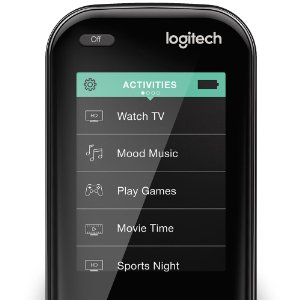 Looking for a definitive, unbiased Logitech Harmony 950 review?
Well, look no further!
This article explores the pros and cons of one of Logitech's most popular touchscreen universal remote controls.
---
Top-Notch Infrared [IR]-Based Remote
The 950 is one of Logitech's top-of-the-line Harmony universal remotes and is its best IR-based smart home automation remote control.
The 950 gives you full control of your TV, movies, music, and games. The sleek and sophisticated design offers a color touchscreen, motion sensing, and vibration feedback.
In addition, the newer redesign remote offers an improved button layout. It also offers a replaceable, rechargeable battery with 20% greater capacity over the previous version.
There are a few notable drawbacks to this remote over Harmony's newer offerings the Harmony Elite and Harmony Ultimate Home, which we will explore in this post.
Logitech Harmony 950 Video Review
Check out this thoughtful video review from TeQCreation.
Expert Tip: If you are looking for an easy way to compare all of Logitech's smart remote offerings, check out our handy Logitech Harmony Comparison Chart.
As this report from market research firm Statistica shows, household penetration in the control and connectivity market was at 22.8% last year and is expected to hit 43.6% by 2022. So, regardless of which smart remote you choose, you are still ahead of the curve!
Logitech Harmony 950 Review: The Good
Replace up to 15 Remotes
Yes, you heard that right, the 950 smart home automation remote will allow you to replace up FIFTEEN remotes. While that may seem like a high number, it is certainly not outside of the realm of the probable for the future. Just this year, I've added four remotes with devices I bought…one for my new smart TV, sound bar, new cable provider, and a Roku.
Simple Setup Using Harmony's Software
Setup is fully automated using Harmony's intuitive software. As with other products in the Harmony family, you just enter manufacturer name and model information into the software interface, and Harmony does the rest. No more fumbling around for those "secret codes" required by other remotes.
One-Touch Control
Tap on any custom activity such as "Watch TV" using the swipe and tap color touchscreen and the right devices power on and automatically switch to the right settings.
Control all Popular Streaming Media Players
Using a single smart home automation remote, the 950 lets you control all popular streaming media players like Apple TV®, Roku®, and TiVo®. What's more, you can control all popular gaming consoles, as well as CD, DVD, and Blu-ray™ media players.
Works with Devices You Own Today and Will Own Tomorrow
Works with over 270,000 compatible home entertainment devices from more than 6,000 brands available in Harmony's ever-expanding database for product support.
Motion Activated Backlit Buttons
The smart home automation remote powers on when it detects you nearing it. And unlike many other remotes, the backlit buttons on the 950 give you easy access and control, even when you are in the dark (i.e., movie mode). Pass the popcorn!
Convenient Charging Station
It's a snap to keep your remote fully charged, ready and within easy reach thanks to the included charging station. And the high capacity battery gives you many hours of use before needing a charge.
Best IR Remote Control
According to Wikipedia, the main technology used in smart home automation remote controls is infrared (IR) light. The signal between a remote control handset and the device it controls consists of pulses of infrared light, which is invisible to the human eye but can be seen through a digital camera, video camera or a phone camera. This is the best IR remote control you can get, bar none.
Logitech Harmony 950 Review: The Bad
There are a couple of drawbacks to this remote, however.
Lack of Native Support for "Closed" Devices
It took us a while to figure out what Logitech meant by a closed device, but essentially the IR technology used in this remote, will NOT allow you to access devices that are stored in a cabinet, such as a closed entertainment center.
If you have devices kept stored behind closed doors, you have two options. Option 1 is you can purchase a separate Harmony Hub (sold separately) for use with your 990. The second and recommended option is that you check out Harmony's other offerings Harmony Elite and Harmony Ultimate Home, which include the hub and give you support for closed devices using radio frequency out of the box. Still, the 950 is the best IR remote control on Logitech's menu.
No Amazon Alexa Support
I strongly suspect that in a year from now we will all have the capability to control our TVs with our voice. A major item on my wish list is to be able to turn my TV on and off with my voice. While the 950, doesn't allow you to control your devices with Alexa, both the Harmony Elite and Harmony Ultimate Home do. You can also control your TV with your voice using Amazon's FireTV Cube.
---
Where To Buy It
If you are interested in buying the Logitech 950 remote, you can click on the badge below to go to Amazon.
Thanks for your support of our site!
---
What's in the Box
Harmony 950 IR-based remote (with rechargeable battery)
Charging station
USB cable
AC adapter
User documentation
---
Product Dimensions
Height: 19.2 cm (7.56 in)
Width: 5.4 cm (2.13 in)
Depth: 3.9 cm (1.14 in)
Weight: 163.8 g (5.78 oz)
---
System Requirements
For running setup using Logitech's software:
Windows® PC: Windows 10, Windows 8, or Windows 7
or
Intel® Mac® OS computer: Mac OS X 10.7 or higher
---
Related Links
Logitech Harmony 950 vs Elite: Review and Interactive Comparison Table
Harmony 950 vs Ultimate One vs Home vs Elite [Mystery Solved!]
Logitech Harmony Comparison Chart: Epic 2019 Guide/Infographic
Logitech's Harmony Remotes Web Site (Vendor Link)
Shop Logitech Harmony Remotes on Amazon
---
Tag, You're It…
We hope you enjoyed this article our Logitech Harmony 950 Review.
We would love to hear if you find it helpful and whether you own or plan to purchase this remote.
Please let us know by leaving a quick comment below.
---
About the Author
Tim "Tec Timmy" Brennan is Founder and CEO of Writeinteractive, Inc., a professional services firm that helps innovative companies solve technical content challenges to address real business goals. He is also an owner of smart home technology site and blog oneSmartcrib.com Tim became obsessed with smart home tech after purchasing Amazon Alexa. "One of my biggest pet peeves in life is that so much tech just doesn't work the way it should. Alexa is the clear exception and hopefully a sign of things to come. From the minute you turn it on, Alexa just works consistently, and she is always there when I need her," he said. When he's not crushing on Alexa, Brennan is a father to two sons, and he manages the day-to-day operations of Writeinteractive. He is also an active blogger, obsessive Star Wars fan, and an SEO fanatic.
---
Amazon Associates Disclaimer

This article includes affiliate links to purchase products directly from Amazon.com. As an Amazon Associate, we may earn a commission when you buy products on Amazon using these links. Learn more about our affiliation with Amazon here. Thank you for your support!
Keywords: Logitech Harmony 950 review 2019 IR remote best universal smart Elite Ultimate