Affiliate Disclosure: As an Amazon Associate, I earn from qualifying purchases. Learn more.
🗞️ News:
While Logitech will no longer make new Harmony remotes, the company says it will support existing customers "as long as they continue to use them."
Learn more.
Logitech Harmony Elite vs Neeo: let the battle begin!
Which is the ultimate smart home remote to control your connected devices?
Like a game of Rock-em Sock-em Robots, the winner isn't always easily determined up front.
Important Neeo Update for Our Readers
With Control4's recent
acquisition of Neeo
, the company has decided to discontinue direct-to-consumer sales. You can now purchase the remote through an authorized Control 4 dealer as part of the company's smart home ecosystem.  For more information
visit the company's website
.
---
Not a Simple Question
In fact, these high-end home automation remotes are so similar in functionality, you're going to have a hard time making up your mind. However, there are some differences, especially when it comes to design, performance, software stability—and price.
Don't worry.  We are here to help you break it all down, so you can make a better-informed purchase decision. And we'll start with a detailed comparison chart so you can see the features and benefits side by side.
📚 Related: 9 Best Logitech Harmony Alternatives Right Now
---
Logitech Harmony Elite vs Neeo: Comparison Table
You can use the interactive chart below to quickly see the features that are most important to you. For example, if you put Xbox in the search field, it will filter the table to show only those rows that contain the word Xbox.  Pretty neat, eh?
Logitech Harmony Elite vs Neeo - Interactive Comparison Table
|   | Harmony Elite | Neeo |
| --- | --- | --- |
| | | |
| Dimensions | 6 x 2 x 0.6 inches | 7.1 x 1.9 inches |
| Weight | 12 oz | .17 pound |
| Design | Glossy black plastic | Metal and plastic |
| # of Devices | 15 | Unlimited |
| Supports Wi-Fi, Bluetooth 4.0 (BLE) and Z-Wave, and includes IR blaster | Yes | Yes |
| Controls TV, cable boxes, Direct TV, sound bars, and music systems | Yes | Yes |
| Controls smart lights [Phillips Hue, Lifx, Zigbee, etc.] | Yes | Yes |
| Controls smart thermostats | All Major Brands | Limited Support |
| Controls entertainment products like Apple TV, Roku, Amazon Fire TV, Google Chromecast, Sony | Yes | Yes |
| Controls newer video game consoles [Sony PlayStation 4 and Microsoft Xbox One] | Yes | Yes |
| No of devices supported | 275,000 and growing | 60,000 and growing |
| Includes Hub | Yes | Yes |
| Full color touch screen | Yes | Yes |
| Touch screen size | 1.5 inch (diagonal) | Ultra thin bezel 3" touchscreen display at very high density of i |
| Touch screen | TBP | 291 pp color |
| Touch screen resolution | 128 x128 | 480x800 |
| Touch screen # of colors | 65000 | Unknown |
| One-touch activities (Watch Movie, Play Game, Listen to Music) to switch all devices to right settings | Yes | Yes |
| Compatible with Amazon Alexa | Yes, Basic Commands | Yes, Basic Commands |
| Compatible with Google Home | Limited | Limited |
| Backlit physical buttons | Yes | No |
| Companion Smartphone App | Yes | Yes |
| Charging Station | Yes | Yes |
| Battery Life (Before needing a charge) | 1-2 weeks | 2-4 weeks or longer |
| Guided setup using USB and computer | Yes | Yes |
---
Logitech Harmony Elite
According to Wikipedia, the first Harmony remote control was created way back in 2001 by Easy Zapper, a Canadian company. Love the name! Logitech acquired Harmony in 2004 and has since been working to perfect the product. The company has also introduced several models of the remote into its product line over the years.
So, the Harmony has been around for 18 years and has reaped the benefits of all of that R&D time.
The Harmony Elite is the Cadillac of the Harmony retail product line.
The Elite is a redesigned version of the Harmony Ultimate One. The main improvement is that they added physical buttons for smart home automation control to complement the touchscreen. They also moved media transport control buttons to a better location and added the ability for the battery to be changed if needed.
The Elite ships with a Harmony Hub that is used to talk to all of the devices in the arsenal.
Where Harmony Elite Shines
Easy to use and intuitive web interface for setup from your computer
An all-around more stable platform, with fewer bugs
Solid design – feels solid in your hand
Can use and assign icons, create macros for multiple devices using the touchscreen
Button placement is very well thought out (improved over the Ultimate)
Logitech's extensive online forums are great for answers to common problems and troubleshooting issues faced by prior owners
Where Harmony Elite Falls Short
Despite the high resolution/color count of the touchscreen customers complain that the colors look washed out and the text is pixelated
User complain the remote feels cluttered – too many buttons (like RGB)
After a while, the remote can randomly stop responding and requires a hardware upgrade (via USB connection to your computer)
Battery life, while decent, is not as good as the Neeo
Here's a solid review of the Harmony Elite from Home Review Central:
---
Neeo Thinking Remote
Before Control 4 acquired them,
Neeo's old home page featured a pair of graphics showing how the Neeo remote can help you go from a ton of apps and remote controls to the single Neeo device.
The headlines on the images read "Too many apps and buttons SUCKS!" and "One smart remote with awesome compatibility ROCKS!"
I thought that the tone of that ad said a lot about this at-the-time young, progressive company that was founded in 2014 in Switzerland.
Put simply, this is not your daddy's remote.
This cutting-edge tone carries over to the Neeo product, which features a super high def screen that feels more like a smartphone or giant iPod than a remote control. The touchscreen is sharper than the Elite, which scores major points in our book. Perhaps more importantly, many customers who have tried both remotes say devices respond more readily to the Neeo remote that to the Elite. However, some customers complain about issues and bugs with the Neeo software.
Here's a summary of the pros and cons.
📚Related: Control 4 Neeo vs SR-260: Which Smart Home Remote Wins?
---
Where Neeo Shines
A different feel – the Neeo Remote feels more like a tall thin smartphone or iPod than a remote
Super sharp, touchscreen at 400×800 high-density 291 pixels per inch (PPI)
Crazy good battery life (the company claims the remote can "go for months" without needing a charge, our conservative estimate is 3-4 weeks with regular use)
Feels and looks high-end and elegant
Devices have a very consistent and snappy response to IR commands
Brain Hub is super light and also elegant looking
Outstanding, responsive human customer support
---
Where Neeo Falls Short
Not enough physical media buttons
No backlight on physical buttons (Neeo's take on this that the user shouldn't have to look at the remote to operate it. Hmm.)
Set up requires expert knowledge of Control 4 systems and is best left to an experienced integrator (i.e., it's expensive)
Limited support for some popular smart devices, including Thermostats
Multiple customers have complained about bugs with Sonos integration.
Here's the pitch on the original Neeo remote from the company's founder. Seems like a cool guy.
---
The Bottom Line
I really like both of these remotes. The Elite is a mature product from a mature company that has benefited from many years of customer feedback and R&D.
On the other hand, the Neeo Thinking Remote, like Neeo the company, is a bit more cutting edge, especially when you consider its smartphone-like design. Moreover, Neeo is a young, hungry company that is eager to win and keep customers and market share.  That said, the support experience is just going to be better.
Still, we think the Harmony edges the Neeo ever so slightly (mostly for its dependability and stability, broader device support, fewer bugs, and easier setup). Also, the Neeo costs more. With Logitech's recent price drop on the Elite, the Logitech Elite is priced significantly lower than the Neeo.
BUT Neeo some compelling reasons why you might choose it over Harmony.
At the end of the day, it comes down to the features and preferences that are important to you.
---
Where to Buy
See my link above to Control 4's website for more information about Neeo. Feel out the form and they will put you in touch with an integrator who can get you a quote. You can get Logitech Harmony Elite remote here at Amazon while supplies last.
---
Logitech Harmony Elite vs Neeo: What Do You Think?
We hope you found our review helpful.
Do you plan on purchasing one of these smart remotes? If so why?
Or perhaps you already own one of these remotes?
More importantly, if you're ever in the Boston area and want to play a round of Rockem Sockem Robots, let me know,
Leave us a comment below and let us know what you think. It would be great to hear from you.
---
Related Links
Sevenhugs vs Logitech Harmony: Which 'Smart Remote' Is More 'Elite?'
Neeo Universal Remote Review 2018: A Viable Alternative to Logitech Harmony Elite / Ultimate
Best Smart Home Remote Control: Logitech Harmony Elite [2018 Review]
Logitech Harmony Elite vs Ultimate Home: A Smart Remote Buyers Guide [& FAQ]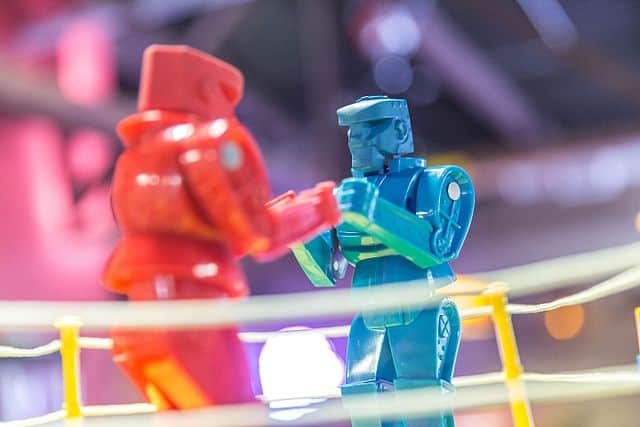 ---
About the Author
Tim Brennan, Technical Writer & Blogger
Tim Brennan [a.k.a. "Tec Timmy"] is a senior technical writer with over 25 years of experience writing for companies and organizations in and around Greater Boston, including GE and MIT. In addition to actively writing about universal remotes, Tim is also a regular contributor over at oneSmartcrib.com, a smart home blog. Tim holds a BA in Journalism from Northeastern University. Brennan is a father to two sons, a Star Wars nut, and loves a good taco🌮. There is a strong chance he is developing a crush on Amazon Alexa. You can learn more about Tim here.