Affiliate Disclaimer
As an Amazon Affiliate, we earn from qualifying purchases.
In this Sevenhugs Review, we'll put this unique little adaptive Smart Remote from Kickstarter darling Sevenhugs through the wringer to determine whether it is worth its considerable price tag.
2021 Update:  There are now two Sevenhugs models from which you can choose. Learn about them here.
Sevenhugs Review 2021: The Smart Remote Verdict
Innovation
Device Support
Performance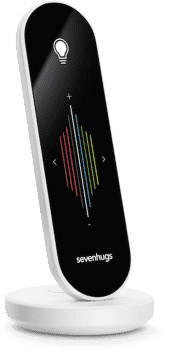 The Sevenhugs Smart Remote is a unique remote control that includes an adaptive LCD screen that changes to show controls for what you are pointing at. While Sevenhugs scored high in our innovation tests, it doesn't do as well as other remotes we tested in the areas of performance. It has three considerable drawbacks. First, the glass LCD screen doesn't provide haptic feedback so it's hard to maneuver in the dark. Second, the remote is a bit laggy to change to the correct controls. Third, in order to improve performance, the remote requires that you install sensors on the walls of your home.
Show Me the Money
D
id you ever think to yourself,
Wouldn't it be cool if I could point my remote at something and then it would automatically adjust to show me the controls for just that device?
Sevenhugs' new Smart Remote was designed to do just that (and it works with your smart home stuff too).
But is it worth its hefty price tag? Well, that depends on whether you prefer the ease of use and simple set up over broader functionality you can get a similar price. Let's take a closer look to see whether this remote can deliver the money shot⛹️‍♂️?. On with our Sevenhugs review!
A Potential Game Changer?
Out of all the remotes out there to choose from, there are none that are quite like the Sevenhugs Smart Remote universal remote control.
When most people think about remote controls, they think about the small plastic device that can only be used to turn on the TV and is often lost underneath the couch cushions. However, this remote is different from those for sure.
Rather than being a device that can only control your TV, the Sevenhugs Smart universal remote control is compatible with over 650,000 devices, giving you control over just about every smart device in your house.
In this Sevenhugs Universal Remote Control review, we'll review the pros and cons of this innovative remote. If you can get past a few drawbacks, it does have the potential to make your life easier than before.
In this video review, Engadget sees the remote as a potential gamechanger.
Here is a table summarizing the pros and cons of this unique remote:
Pros:
It is compatible with 650,000 smart devices, meaning that it will work with most everything.
The LCD touchscreen interface automatically adapts to what you point it at.
Small, sleek innovative design looks cool.
You can control both smart devices and home entertainment with a single remote.
Cons:
It's expensive.
The glass screen provides no tactile feedback, which makes it hard to us in the dark
Some customers complain about short battery life
Performance can be laggy switching between devices.
---
---
What Is the Sevenhugs Smart Remote? 
The Sevenhugs Smart Universal Remote is a remote that originated on Kickstarter, of all places. If you do not know, Kickstarter is a platform where people can crowdfund ideas and concepts in the hopes to see them implemented. This means that this is a remote that enough people backed the idea of for it to become a reality, and for good reason. This remote boasts the capability to control over 650,000 devices in your house, ranging from your lights, to your TV, and even the thermostat. You will have complete power over any and every smart device in your house, all in the palm of your hand.
This remote has the potential to change your life for the better, as you will no longer have to deal with countless other remotes getting lost, or having to get up from a movie marathon to change the thermostat. You can even program this remote to control several devices at once, all with the press of a single button. The technology is impressive, but we question whether it is worth the price over the competition like the Logitech Harmony Elite. Cordcutters, PCMag.com, and other industry leaders seem to agree.
---
Compatible with Over 650,000 Devices 
As technology advances further and further, more and more houses are equipped with smart devices. These smart devices all usually come with remotes, apps, and hubs of their own. If you enjoy having numerous smart devices, your home can quickly become cluttered and disorganized, especially when you have to keep track of about 20 different remotes that all look similar. With that all being said, when you invest in the Sevenhugs Universal Remote, you won't have to fumble and fight for the remote anymore, as there will only be one remote that you will need to keep track of.
One of the reasons that more people are looking at smart remotes is that they can completely replace the need for just about any other remote in your house, which can make things much more organized and easier to get to. In fact, with the reduced clutter of only having one remote to deal with, you won't ever have to give a second thought about whether or not a certain remote will work with a certain device anymore.
As one customer put it, "I just stuffed eight remotes away in my drawer and am never going back."
The fact that Sevenhugs is already compatible with 750,000 devices is impressive.  This matches Logitech's device compatibility database and Logitech has been around much longer.
You can see the 30-second video spot for the Sevenhugs remote here:
---
A Unique Twist on a Universal Remote
However, this is not all that makes the Sevenhugs Smart Remote special. It's the sleek and innovative design that sets this remote apart from just about every other remote on the market. Rather than having buttons that can be pulled, poked, prodded, and torn off, this remote has a slender glass surface acting as a touchscreen. (Interestingly, broken buttons are the number one reason that people search for a new remote.)
Customers who own and like the remote consider this to be a plus. However, the glass screen does take some getting used to. I would be remiss in not saying in this Sevenhugs review that I have a preference for the feel of a more traditional remote.
This glass surface is also much easier to clean than trying to work your way around every raised button and all the cracks between the button and the plastic frame of the remote. You can simply wipe down your Sevenhugs Smart Remote, and you won't have to think about it being dirty anymore.
By changing the surface of the remote to glass and turning its interface into a touchscreen, you have far more options than you ever would with any other remote. Not only does the touchscreen interface become easy for anyone, of any age, to use, but it also becomes more intuitive than any other remote has the potential to be, giving it a very unique twist on an otherwise everyday object.
---
Sevenhugs Review: How Does it Work? 
This remote works a little bit differently than other remotes. This remote comes with about three sensors that you will put in in the main room where you use the remote. The remote itself is equipped with Bluetooth, WiFi, and Infrared sensors, meaning that it will be able to pick up on the signals of just about any smart device that you have. The Bluetooth, WiFi, and Infrared sensors would work as they would in any other remote that has these capabilities, although this does mean that you might have to run some setup with a few devices to make sure that your remote is able to control it properly.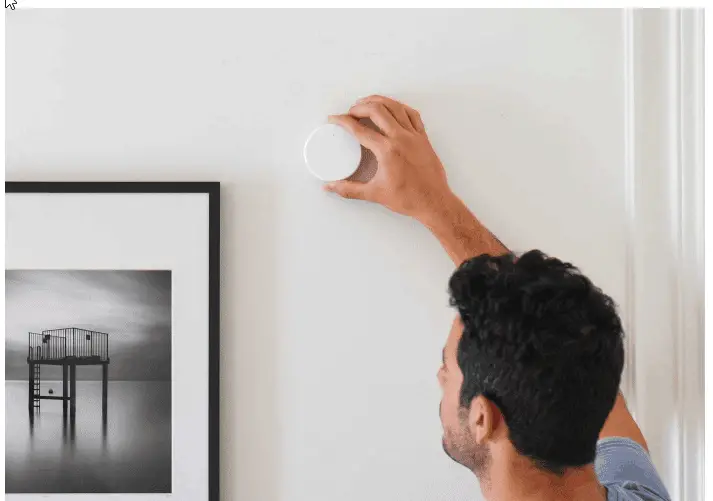 In addition to these features, the remote also has a compass, gyroscope, and an accelerometer. These devices will help your remote "position" itself with your smart devices. As you use your remote more and more, it has the capability to "learn" where each device is located. This is part of what the sensors are used for as well.
While it might take a little more work fresh out of the box than other remotes do, by the time you have it completely set up, you will have a remote that functions beautifully and has more capabilities than any other remote.
---
What Are its Specs? 
As for the physical specs of the remote, the remote is a little over five inches long and just under two inches wide. It is around half an inch thick, making it incredibly slender and easy to use. The remote weighs about two ounces. Its charging bed is a little bit over three inches in diameter, and the room sensors are about three inches in diameter, and over half an inch thick.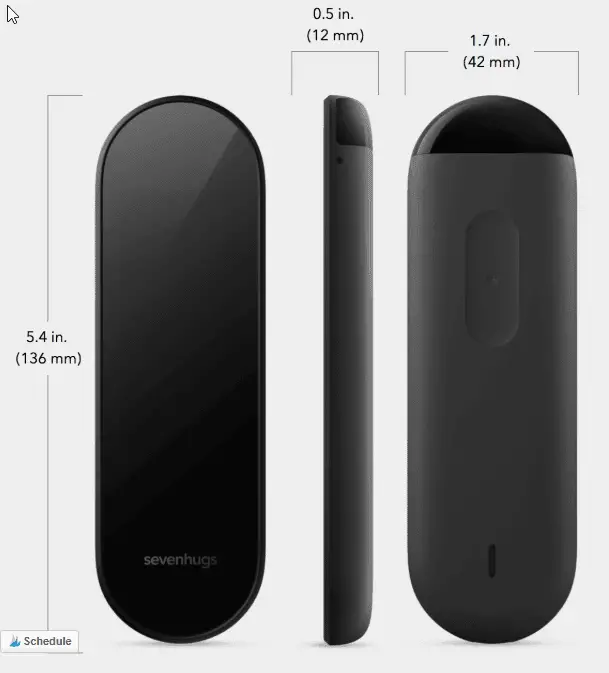 The remote has an LCD screen that is just under three and a half inches. The battery in the remote is designed to last up to two days, although your remote will have a charging bed to use and the remote has a USB-C charging port. The room sensors will last up to a year with two AA batteries inside of them.
The control protocols for the Sevenhugs Smart Remote control are as follows:
WiFi4GHz (B/G/N)
BLE 4.1
Infrared
Additional specifications are covered in the table below:
Item
Specification
What's Included
Remote, Hub, 3 Sensors, Documentation, Charging base
LCD Screen
.4 inch (diagonal) high definition LCD screen
Number of Supported Devices
Over 260,000
Connectivity Technology
Connectivity Technology
Bluetooth, Infrared, Wi-Fi
Number Replaced Remotes
No limit
Programmable Favorite Channels
Yes
Input:
Glass screen
Software Setup
Android or iOS
Mobile App
Yes, for setup only
Voice Assistants
No
Battery Type
Lithium-ion
Rechargeable
Yes
Dimensions
Height: 5.4 inches (136mm), Width: 1.7 inches (42mm),
Depth: 0.5 inch (7.7mm)
Weight
Weight: 2.18 ounces (62 grams)
---
What Comes in the Box? 
When you first purchase this remote,  you will get a few different things in the box. Of course, you will get the remote itself, as there wouldn't be much reason to order it otherwise. Aside from the remote, you will get a special charging base where you can keep the remote. This charging base can plug into the wall and be not only a place for storage but a place where you can keep your remote constantly charged. In addition to this, you will also get three room sensors. These room sensors are going to help "teach" the remote where smart devices are located in your house.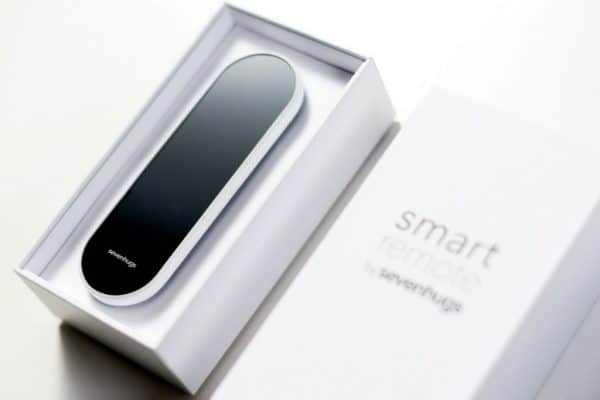 When you purchase through the manufacturer's suggested website, BestBuy, you can rest assured knowing that the room sensors will have their AA batteries already placed in them. You will also get an owner's manual that will teach you exactly where you should put the sensors and the best way to use the remote. You will also get a power adapter as well, which can help you keep the charging base plugged in. BestBuy also offers a yearlong warranty for the remote, which is something that is always worth getting, especially when you are spending this kind of money.
---
Sevenhugs Review: What Should You Take Away From This? 
Simply put, this is a remote that is meant to make your life easier than ever before. With the Sevenhugs Universal Remote Control, you will be able to work with just about any smart device in your house. You will have complete control over compatible devices, all in the palm of your hand. The sleek glass design gives it a unique appearance that will be befitting of any home that has numerous smart devices. However, there are a few things to consider when you are looking at such a remote.
However, it is expensive. Not everyone has the luxury of being able to spend $$$ dollars on any remote control.  In addition to this, some people have mentioned that the battery life is a bit short. While you do have a charging station, short battery life is never convenient. A final thought to consider is the glass screen. Most remotes have buttons not only because it is considered standard, but it provides tactile feedback. A glass screen does not provide the same type of feedback, meaning that you are going to have to look down to see which buttons you are pressing, rather than feeling your way around them. Some people aren't a fan of this.
While we think that Sevenhugs Smart Remote is super innovative and we look forward to future versions of this product, we have a slight preference for the Logitech Harmony Elite which you can often get on sale in the same price range.
---
Where to Buy It
You can check the latest pricing and reviews at Amazon.
---
Is There A Better Option for the Money?
In a word, yes. While we like the innovation and see tremendous potential Sevenhugs offers, we think the Harmony Elite from industry leader Logitech is still a superior all-around remote, at least for today. Like Sevenhugs, you can navigate the Elite using the color touchscreen with swipe and tap capabilities, and it also provides haptic feedback (vibrates when you tap or press). This goes a long way to improving the user experience.
The Elite also has physical buttons many of which can be customized. Further, activities let you combine your home entertainment and smart home devices to orchestrate a series of events.  For example, tapping on an activity called data night could lower the blinds, dim and change the color of lights, and turn on required home entertainment devices, or even tune Alexa to your favorite Barry White channel on Pandora if that is what gets you grooving ?.
Check out my comparison of the Logitech Harmony Elite vs Sevenhugs.
You can learn more about the Harmony Elite at Amazon here.
---
Sevenhugs Review: Can You Give Us A Share ??
We hope you enjoyed our Sevenhugs review of 'Smart Remote.'
Do you agree that this is a unique take on a universal remote?  What do you think about the price?
Do you plan on buying this remote? Or do you favor the Logitech Harmony line?
If so, can you leave a comment below and let us know? We would love to hear from you.
Also, if you liked our review, would you mind sharing it using any of the social media buttons on this page? You could also pin this cool pin our designer created to Pinterest.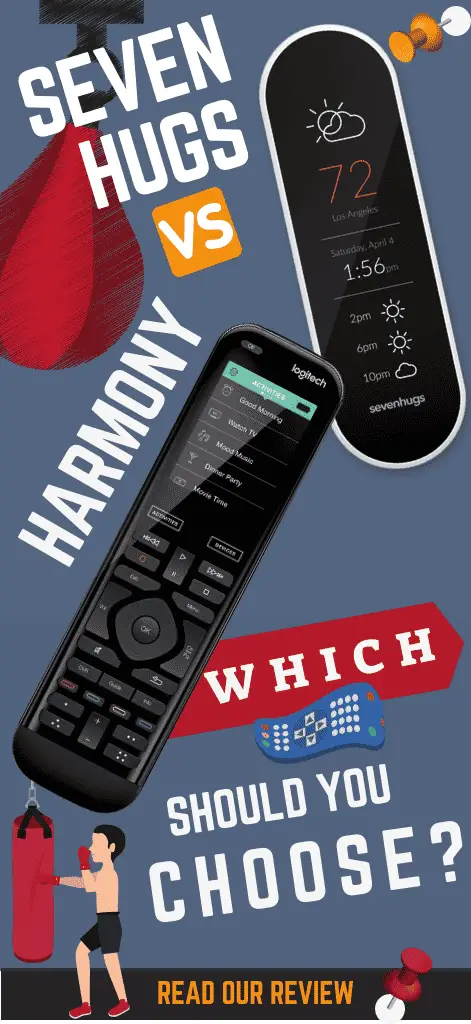 Thank you for your support!
---
You Might Also Like
If you enjoyed reading this Sevenhugs review, you might also like some of our other articles.
Sevenhugs U vs X: Which 'Smart Remote' Is More On Point?
Sevenhugs vs Logitech Harmony: Is 'Smart Remote' More 'Elite?
What is the Best Harmony Remote for Fios? [Plus, SevenHugs, Caavo & More]
Harmony Elite Review 2021: 10 Reasons This Remote Rocks
And you knew I was going to do it ….