Affiliate Disclaimer
As an Amazon Affiliate, we earn from qualifying purchases.
Synopsis: In this article, I compare the Sevenhugs vs Logitech Harmony Elite universal remote controls. I'll weight and pros and cons, look at similarities and differences, and compare these two smart remotes side by side.
So which universal remote is better? Spoiler Alert ?! I favor the Logitech Harmony Elite for its overall stability, lower price, and full-color LCD touchscreen, one-touch activities, Alexa voice control, & unrivaled customization capabilities. However, SevenHugs' ability to intelligently detect devices in its crosshairs makes it an innovative and hip runner up.
Two Huggable Remotes
When it comes to smart remotes, Logitech Harmony Elite has been the big boy on the block for quite a while.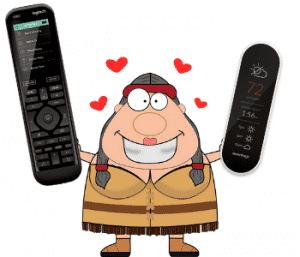 However, a new option—the Sevenhugs Smart Remote with its innovative adaptive display—has been winning over some critics and consumers alike.
Both of these universal remotes let you automate home entertainment as well as smart home stuff.
But which one will you want to hug harder? How are they different?
Let's take a closer look.
---
Quick Comparison Chart
Below is a quick comparison table highlighting the major features of Sevenhugs vs Logitech Harmony Elite at a glance. 
Auto Detects Devices in Crosshairs
Auto Detects Devices in Crosshairs
Last update on 02/06/2023 / Affiliate links / Images from Amazon Product Advertising API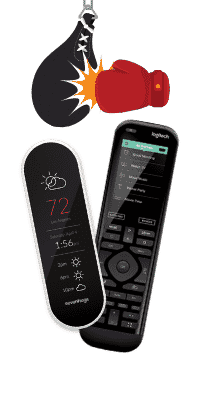 Sevenhugs vs Logitech Harmony Elite: Head to Head
F
or a long time, Swiss-based
Logitech
has enjoyed significant dominance in the universal remote-control market space. Since 2004, the company's
Harmony line
 of universal remote controls has gone pretty much uncontested. That is, until very recently—with newcomers like
Caavo Control Center
and now the
SevenHugs Smart Remote
with a smart screen that adapts to the device you are pointing it at.
In this article, I'll take a head-to-head look at how SevenHugs matches up against the Elite. I'll explore the pros and cons as well as the similarities and differences of each. Why? So you can make a well-informed purchase decision. So what's the bottom line?  The Harmony Elite is my pick from both a feature's and maturity perspective. I'll explain why below.
---
Sevenhugs Smart Remote Review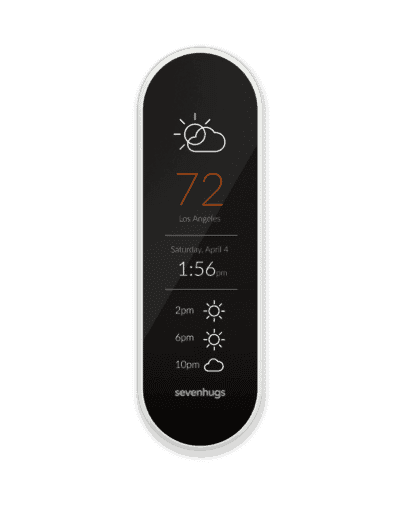 SEE IT AT AMAZON
Sevenhugs founder recently said that the main focus of the company is to help consumers consolidate down the myriad of smart home apps and remotes needed to operate their devices. Behind the scenes, Sevenhugs' technology builds a map of your room and then it detects what devices are where. That means that the remotes know what you are pointing at and can thus automatically display the right controls.
This goes for A/V video equipment, connected lights, connected audio like Sonos, as well as smart thermostats [currently limited to Nest ]. For example, if you point the remote at a lamp with a Phillips Hue light or bulb, the display changes to show you smart light controls. The company has started to add "services" to the remote as well. For example, you order an Uber by pointing the remote at your front door. Neat.
In a recent review, Digital Trends called Sevenhugs "a magic wand for your smart home." While we wouldn't go that far due to its limitations vs Harmony Elite, we do think that device detection capability is quite fascinating.
Thanks to our friends over at Engadget for the helpful video review.
Pros
Patent-pending adaptive LCD screen intelligently displays correct controls for device you are pointing at.
Supports custom scenes to perform multiple actions at once [dim lights and turn on Netflix].
Lost and found button if you need to find the remote
Cons
Limited device support [many popular devices are still being brought on line]
Doesn't work with Amazon Alexa or Google Home
Limited support for Smart thermostats, currently only Nest is supported
No smartphone apps for multiple family members or for away-from-home device control
Two days of battery life on a charge [half the time of the Elite]
Single room control only
Some customers complain that the screen can be slow to change to the appropriate controls.
---
Logitech Harmony Elite Review
SEE IT AT AMAZON
The Harmony Elite is Logitech's top-of-the-line universal remote control for controlling both your smart home devices and devices stowed away in your entertainment center. As noted above, you also get to use Alexa for voice control, and unlimited Harmony apps mean you get smartphone based remotes from everyone in your house.
The Elite remote provides a sleek, smart way to control up to 15 of your favorite smart home devices. Setup takes a bit of work collecting and inputting device manufacturers and models, but it is fully automated using Logitech's intuitive software. Some features that make this remote stand out in comparison with the other remotes are as follows:
Full-color touch LCD screen for all functions
Supports up to 15 devices in your media /smart home arsenal
Tap and swipe control supported
Haptic feedback on the touchscreen
Backlit buttons
All buttons are fully customizable
Thanks to Undecided with Matt Ferrell for this outstanding video review.
Pros
Supports custom scenes to perform multiple actions at once [dim lights and turn on Netflix].
Stable and mature platform
Alexa or Google Assistant for voice control [e.g., Alexa, Let's Watch a Movie]
Easy to set up using your computer
Massive database of 275,000 supported devices
Extensive support forums can help you solve just about any challenge
The most features available in a smart remote [see our review here]
Cons
Requires scrolling to find devices, does not intelligently display controls for the device the remote is looking at
---
---
Similarities and Differences
Similarities
Both remotes have a color LCD touch screen interface.
They both let you control wi-fi, Bluetooth, and infrared [IR] devices.
Both remotes let you control both home entertainment and smart home devices.
Ability to trigger scenes with one touch.
Differences
Elite has Alexa and Google Home integration for voice control, Sevenhugs Smart Remote does not.
Harmony Elite has physical buttons, there are no buttons on the Smart Remote.
Elite can control even large spaces and multiple rooms with a single remote, Smart remote limited to a single room configuration per remote.
Harmony App lets you control devices when away from home, Smart Remote does not.
SevenHugs Smart Remote requires to place sensors on walls in your home in addition to the Hub, Harmony Elite only requires the Hub and IR blasters [no wall sensors needed].
---
What's in the Box?
This section details what's in the box for each remote.
Sevenhugs Smart Remote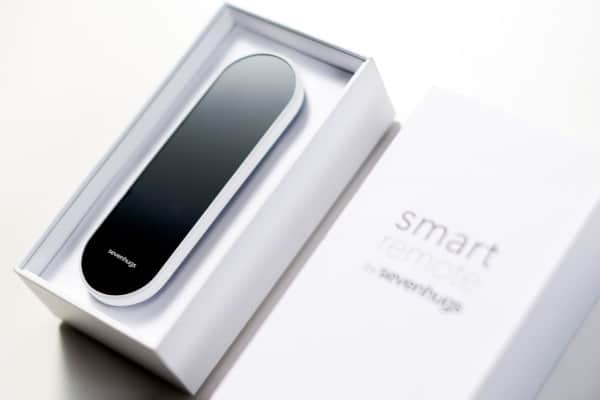 The Sevenhugs Smart remote box contains the following:
Smart Remote [with rechargeable battery]
Charging Base
Power adapter
Three (3) Room Sensors [AA batteries included]
User Documentation
Logitech Harmony Elite
The Harmony Elite box contains the following items: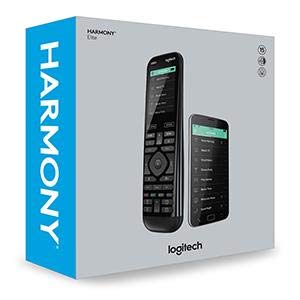 Elite remote [with rechargeable battery]
Harmony Hub
Charging station
USB cable
2 AC adapters
User documentation
---
Additional Specifications
Harmony Elite
Sevenhugs
Dimensions
6 x 2 x 0.6 inches
5.4 x 1.7 x 0.5 inches
Weight
12 ounces
2.8 ounces
Color
Glossy black
Black and gray
# of Devices
15
Unlimited
Supports Wi-Fi, Bluetooth 4.0 (BLE) and Z-Wave, and includes IR blaster
Yes
Yes
Controls TV, cable boxes, Direct TV, sound bars, and music systems
All major brands
All major brands
Controls smart lights
All major brands
Limited to LIFX, Phllips Hue, and TP-Link
Controls smart thermostats
All major brands
Nest
Controls entertainment products like Apple TV, Roku, Amazon Fire TV
Yes
Yes
Controls newer video game consoles [Sony PlayStation 4 and Microsoft Xbox One]
Yes
Yes
No of devices supported
275,000 and growing
25,000 and growing
Includes Hub
Yes
Yes
Requires sensors placed on walls
No
Yes
Requires line of sight [LOS] to devices
No
Yes
Full color touch screen
Yes
Yes
Touch screen size
1.5 inch (diagonal)
Ultra thin bezel 3" touchscreen display at very high density of i
Touch screen
1.5 inches (diagonal), 65,000 colour screen, 128 x 128 pixels
3.4 inch (diagonal) high definition LCD screen
Capacitive multi-touch display
Fingerprint-resistant and anti-glare coating
One-touch activities (Watch Movie, Play Game, Listen to Music) to switch all devices to right settings
Yes
Yes
Compatible with Amazon Alexa
Yes
No
Compatible with Google Home
Yes
No
Backlit physical buttons
Yes
No Physical Buttons
Companion Smartphone App
Yes
No
Charging Station
Yes
Yes
Battery Life (Before needing a charge)
1-2 weeks
2-4 days
Setup
Via Computer [recommended] or App
Via App
---
Sevenhugs vs Logitech Harmony: Which 'Smart Remote' Is More 'Elite?'
So in the contest between Sevenhugs vs Logitech Harmony, which of these two smart remotes do you think is the most Elite?
Do you think Smart Remote's adaptive screen is the bomb-diggity?  Or is the lack of Alexa integration a deal breaker for you like it is for us?
Let's rap.  Please leave a comment below and let us know your thoughts.
---
Related Links
You may also enjoy some of our other posts:
Sevenhugs Review: Smart Remote Adapts to What You Point It At [2019 Update]
Sevenhugs U vs X: Which 'Smart Remote' Is More On Point?
Caavo Remote Review 2019: Control Center Makeover, HDR & IFTTT for Less
Logitech Harmony Elite vs Ultimate Home: A Smart Remote Buyers Guide]
What Are the Best Remotes for Apple TV? [Two Replacements and Six Alternatives]
If you liked this article or any article in our blog, would you mind giving us a quick share on social media? You can use the buttons at the top and bottom of this page or pin ?the image below to Pinterest. Thanks for your support ?!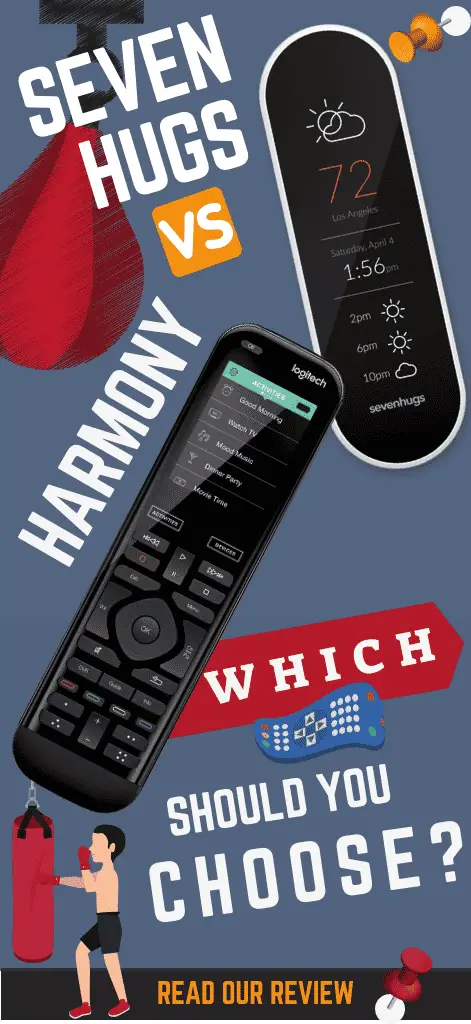 ---
About the Author
Tim Brennan is owner of a smart home technology blog oneSmartcrib.com and a regular contributor to UniversalRemoteReviews.com. UniversalRemoteReviews.com is a website that specializes in reviewing smart remote controls and related technologies. Brennan is a father to two sons, and he manages the day-to-day operations of Writeinteractive. He is also an active blogger, a Star Wars nut, and a huge proponent of the Oxford comma. Tim holds a B.A. in Journalism from Northeastern University.  For more than 25 years, he has worked as a technical writer and senior technical writer for organizations in and around Boston. These include General Electric, Massachusetts Institute of Technology, Blue Cross Blue Shield, Liberty Mutual, and Biogen.