Affiliate Disclosure: As an Amazon Associate, I earn from qualifying purchases. Learn more.
In this article, I'll review 13 of the best universal remote apps for Android OS (universal remotes both free and paid). I'll base my review on features and will also include some picks for various devices like Sonos speakers and streaming media players for example.
Without further ado, here are the 15 best universal remote apps for Android OS:
Click on any link in the list to jump down to my mini-review for that remote.
But you probably want to read my epic intro first…..
Your Guide to the Best Remote Apps for Android Phones
Do you seem to "lose" your remote every other time you want to watch or listen to something? Well, I certainly do! In fact, one time I found it in the freezer. No joke!
However, there are plenty of remote apps available for Android now. Since we seemingly always have our phones in hand this can be a great option as a backup for your existing remote.
Yet, the question arises which is the best overall remote app for Android. The answer is the Logitech Harmony hub.
My Pick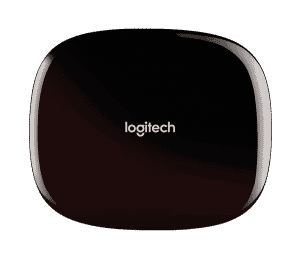 Although not cheap or free, the Harmony Hub with its companion app is the best universal remote for your Android devices. You can use it to control your entertainment devices as well as your smart home, it has routines to run multiple components with a single tap, and it supports Alexa and Google Assistant for voice control.
Next, let's do a quick side by side comparison of my top 3 picks for best universal remote apps for Android phone, followed by my full list of 14 additional great remote apps.
Although not cheap or free, the Harmony Hub is the best universal remote for your Android devices.
Click To Tweet
---
3 Best Universal Remote Apps for Android
The table below provides a side-by-side comparison of my top three picks: Logitech Harmony, Amazon Fire TV, and the Anymote app.
Feature/Specification
Logitech Harmony App
Amazon Fire TV
Anymote

Compatibility
270,000 devices from 5,000 brands
For Fire TV users
Company claims 900,000 devices
Voice Control
Alexa, Google Voice, and Siri
Alexa
Alexa and Google Voice
Customization
Yes
No
Yes
Control Smart Home and Entertainment
Yes
No
No
Cost
$$ Check Amazon Check Amazon Read Full Review
$ Free / 6.99
---
1. Logitech Harmony App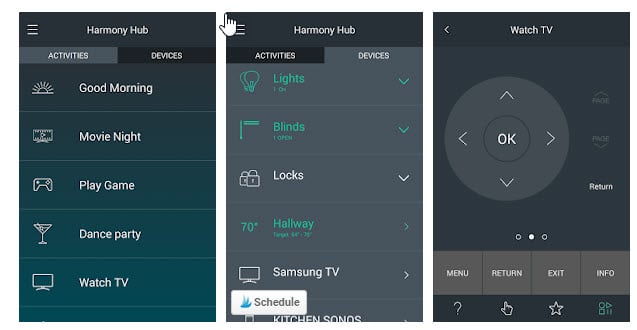 Price: Paid
One of the most popular posts that I've written in this blog is this post on the 21 best remote apps for both iOS and Android devices. A few of you had written in and asked me to write OS-specific app posts, of which this is one.
In my initial review, I picked the Logitech Harmony Hub as the winner of the best remote apps overall. Why? It is. The interface is very designed and it will let you control just about everything you own. It also has plenty of customizable features and options.
Logitech Harmony Hub allows you to control everything from all of your home theater equipment to house lighting, TV, speakers, gaming controls, etc. It also works well with Roku, nVidia Shield, Apple TV and other streaming devices. However, keep in mind that you may have to pay for a Harmony Hub to use this app.
Pros of Logitech Harmony Hub
Compatible with 750,000 devices from 5,000 brands
Works with Alexa and Google for voice control
Great interface
Customizable features
Cons of Logitech Harmony Hub
Setup takes a bit of doing
Not free of cost
---
2. Amazon Fire TV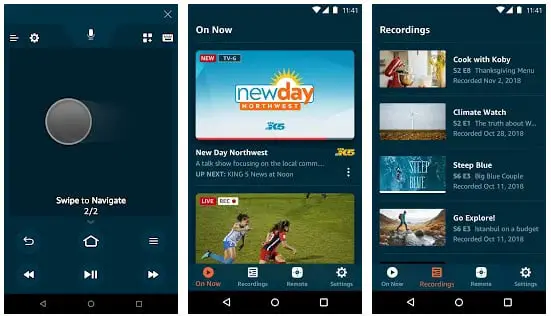 Price: Paid
It's probably not going to come as a surprise that the first two options are
Today, many users use Amazon Fire TV to stream movies and series from different streaming apps like Netflix and Amazon Prime. If you're a Fire TV user, then the Amazon Fire TV remote is just the perfect app for you.
This app offers various features such as a virtual keyboard, voice control features, touchpad, as well as navigation arrows for simple and effective use.
Pros of Amazon Fire TV Remote
Easy navigation and simple use
Comes with a virtual keyboard
Voice recognition feature
Free of Cost
Cons of Amazon Fire TV Remote
No extra features
Not compatible with any other products
May get stuck sometimes
---
3. AnyMote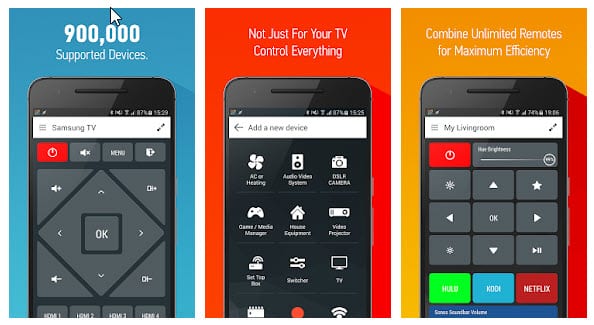 Price: Free / 6.99
As I mentioned in the intro, unlike many, AnyMote is a solid TV remote app. The company claims the remote supports for over 900,000 devices. These include virtually any devices that leverage an IR blaster. So most of your home theater devices are already supported. The design is nice and intuitive, and there are buttons for Netflix, Hulu. It's a tad expensive at $6.99 and it hasn't seen an update since early 2018 as of the time of this writing. However, it does still work with phones with an IR blaster.
Pros
Can customize remote by re-arranging buttons
Cons
Free version is very limited
Not compatible with Huawei, Vizio or Sony phones.
Of all phones/tablets by LG, only compatible with the G3 & G4 (still in Beta, no recording.
Not compatible with LG G3 A or LG G3 S)
---
4. Sonos S1 Controller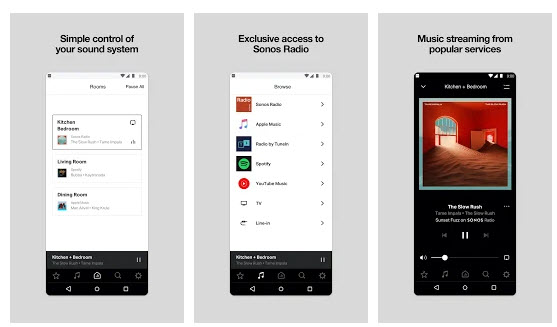 Price: Free
Have you got Sonos products at home? Well then, Sonos remote app is definitely the best out there! You can listen to songs, audiobooks, from various streaming devices using this remote. Additionally, you can also control the volume of your TV and other settings using this controller.
This app comes with a set of instructions that can make it easier for you to navigate through it. It also comes with a lot of custom settings like voice control and speech enhancement to make your experience a better one.
Pros
Comes with proper instructions
Voice control for ease
Free of cost
Extra features for a customizable experience
Allows personalization
Cons
Many updates
May get slow sometimes
---
5. Android TV Remote Control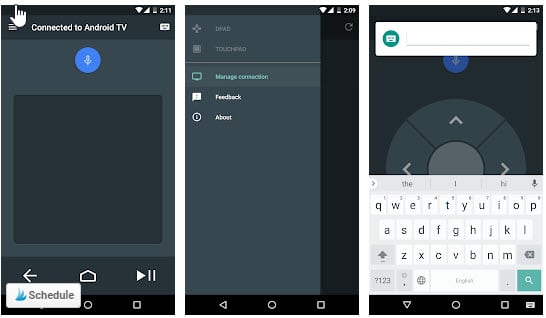 Price: Free
Android TV Remote control is the best app for those looking for a simple yet efficient digital remote for their Android phone.
Unlike plenty of other remote apps, this app provides you with proper functioning, along with a set of basic remote functions such as a virtual keyboard for easy typing. You can also connect it simply with the help of Bluetooth or WiFi.
Pros of Android TV Remote Control
Easy to use
Comes with a virtual keyboard
Voice control
Compatible with Android TV and Chromecast too
Cons of Android TV Remote Control
Does not have any customizable or extra features
Not compatible with many devices
Slow updates
---
6. Google Home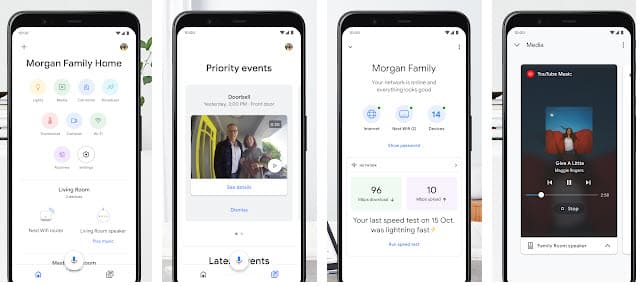 Price: Free
When it comes to controlling a lot of Google-compatible products from your house, Google Home is the best remote for your Android phone. From your Chromecast to your lights and speakers, Google Home can help you to control almost everything from your phone!
You can do plenty of operations on your Google Home app like dimming lights, streaming one type of media on all Google devices, and many more operations. Thus, it is definitely one of the best remotes for Android phones.
Pros of Google Home
Compatible with various Google-compatible products
Offers various features
Free of cost
Allows customization in WiFi settings, home lighting, etc.
Cons of Google Home
Works only with Google-compatible products
Complicated set-up and use
Complicated app interface
---
7. Best for Kodi: Yatse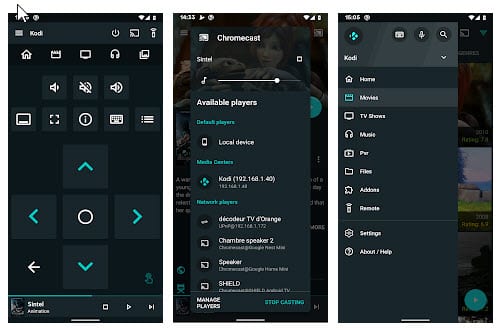 Price: Free
Not like the 80s board name of a similar name, next on my list of the best universal remotes for Android is Yatse!
Yatse is an advanced remote for serious streamers that are into the Kodi standard. In short, it integrates nicely with Kodi, Plex, Emby, Jellyfin, and your local device.
The app is free but a premium version is also available.
Yatse helps in controlling the streaming media from devices such as Chromecast, Fire TV, Roku, etc. Additionally, this app has other great features too such as voice commands, multiple colors, and themes, many more.
Pros
Kodi media integration
Compatible with various streaming devices
Offers themes and colors
Lots of great reviews over at Google Play
Cons
Sometimes updates introduce bugs
---
8. Unified Remote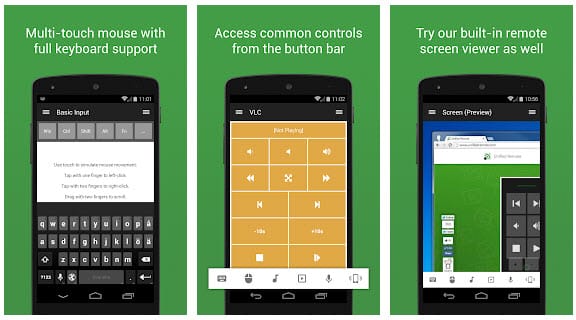 Price: Free
If you want a remote controller app for your computer then Unified remote is definitely the best option out there.
Unified remote is compatible with Mac, Windows, as well as Linux. All you have to do is set it up and you can control various functions.
Pros
Works with almost all types of operating systems
Easy setup and use
Allows more security by allowing you to set passwords and verification
Has many themes
Cons
Limited options in free version
Minor bugs due to frequent updates
---
9. Sure Universal Remote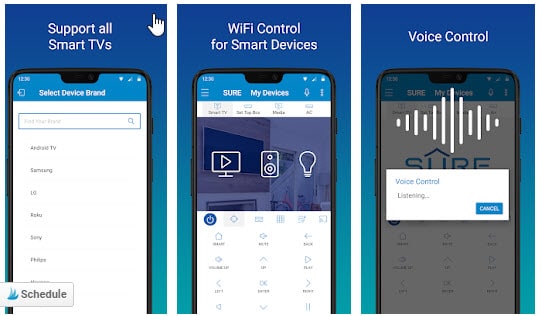 Price: Free
You're going to love this app, I'm sure of it. See what I did there? If you have an LG TV or Sony TV, then Sure Universal Remote is a good option for a remote app. Additionally, this application also works well with other TV brands, Chromecast, or Roku TV. All you need to do is connect your TV and phone with the same WiFi and it's all done!
It consists of easily-accessible buttons and thus, makes it extremely easy to use and navigate.
Am I sure? Yes.
Pros of Sure Universal Remote
Compatible with various TV brands
Comes with simple and user-friendly features and interface
Free to use
Cons of Sure Universal Remote
Plenty of ads
Mixed reviews
May not detect the TV
---
10. Roku App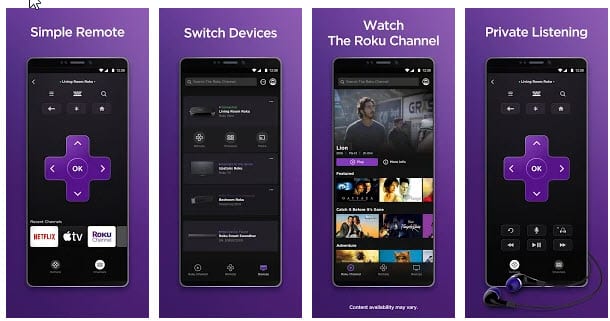 Price: Free
Just like the Amazon Fire TV app, the Roku TV app is for those having Roku as their streaming device. However, unlike Amazon TV remote, this remote has various other special features.
I really like how it mimics the physical Roku remote, making this an easy transition over to the app for users of the service. I also like having the giant buttons for Netflix, Apple TV, and Roku Channel right there on the home screen. Pretty neat.
You don't have to set up as this app automatically scans the device. Additionally, features like voice recognition, phone keyboard input, and volume controls are also available.
Pros of Roku TV App
Extremely easy setup
Easy navigation using Swipe-pad or D-pad
Easily pairs with multiple devices
Free of cost
Cons of Roku TV App
Only works with Roku TV
Premium features are not free of cost
Glitch and ad problems
---
11. Mi Remote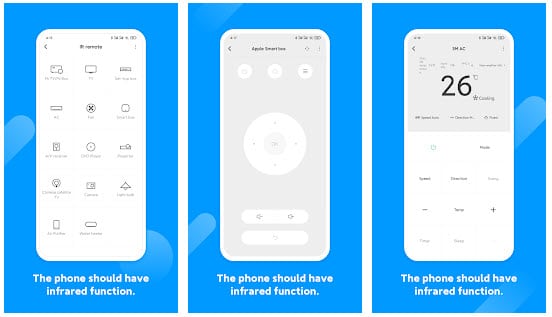 Price: Free
Next up on my list of the best universal remote apps for android is this Mi remote. Now don't be mistaken. Mi Remote works quite well even if you don't have a Mi phone. You can use this app for controlling various devices ranging from your TV to your AC! In fact, this app also supports almost all the top brands.
You might even say it's a good remote for "me." Now, I know you saw what I did there. OK, I'll stop…..
It comes with some basic buttons that are easy for navigation. Additionally, the interface is quite neat which makes it easy to use as well.
Pros of Mi Remote
Compatible with various household devices
Easy to use and navigate
Free to use
Cons of Mi Remote
Does not come with any additional features
May not be compatible with some Android phone
Minor bugs and glitches
---
12. ASmart Remote IR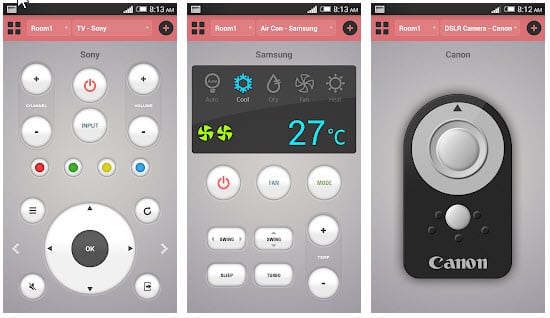 Price: Free
Coming in at number 13 on my list of the best universal remote apps for Android is this beauty. ASmart Remote IR is a good app for overall control. It is mostly compatible with Samsung and HTC phones.
This app can be used for sending signals and controls to various devices, from your TV to cameras, projectors, streaming devices, and your AC too. It comes with customized remotes with easy to navigate buttons.
Pros of ASmart Remote IR
Cool interface that adjusts depending on device
Great for controlling different devices
Easy to set up and use
User-friendly interface
Free of Cost
Cons of ASmart Remote IR
May not be compatible with a number of phones
Constant Ads and minor bugs
---
13. ZaZa Remote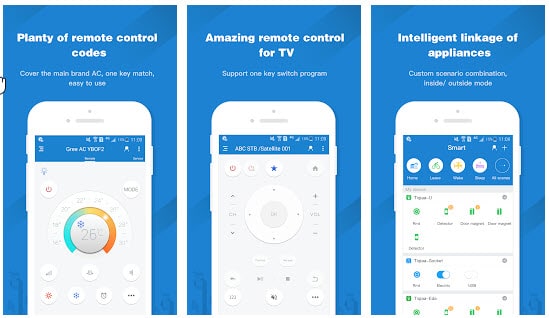 Price: Free
Another great app to use for remote control is ZaZa remote. This remote is compatible with plenty of devices like air conditioning, fans, projector, TV, etc.
It also includes a database of about 300,000 appliances from 8,000 brands. You may be able to find your appliance on the list.
Pros of ZaZa Remote
Free to use
Clean looking
Compatible with various devices
Free of cost
Easy to use
Cons of ZaZa Remote
---
14. CetusPlay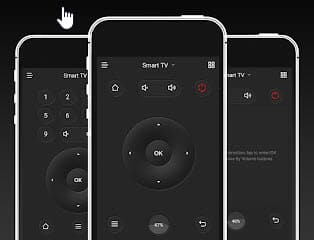 Price: Free
If you have an Amazon Fire TV or Android TV, CetusPlay is again a great option.
The virtual remotes of the above-mentioned streaming devices may not have all the functionalities and features. In this case, CetusPlay can come to use with various advanced features like screenshot feature, different navigation modes, and cleaning cache options.
Pros of CetusPlay Remote
Compatible with different devices
Advanced features
Allows you to clean cache memory
Cons of CetusPlay Remote
May get slow
Plenty of ads
---
15. Yonomi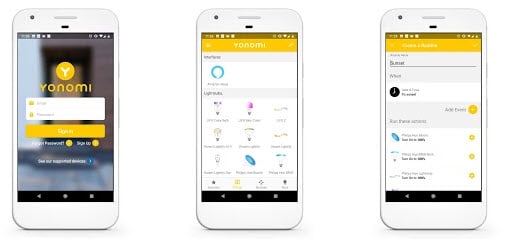 Price: Free
Last but not least of the best universal remote apps for Android is the bright app from Yonomi. The main focus of the Yonomi app is on smart home automation.
Namely, the app lets you create routines from some major brands of smart devices. These include Amazon Echo, Google Home, Sonos, Nest, ecobee, Honeywell, Philips Hue, LIFX bulbs, Logitech Harmony, Lutron, Wink, Schlage, August, TP-Link, Insteon, Belkin, Wemo, and others. A few customers complained that device support is not broad enough for the app to be useful or I would have scored this higher on my list.
You can set up routines based on various triggers like the time of the day or your GPS location.
Pros
Bright cheerful app interface
Automates your smart home
Triggers to turn lights on/off at certain time of day
GPS feature will unlock smart locks when you arrive home
Cons
Limited support for home theater
Very limited support for non-mainstream vendors
---
Final Thoughts
So, this brings you and me to the end of this list of the best universal remote apps for Android! As you can see, to find the best remote control app, you need to know the device you're going to use it on. For example, if it is Fire TV, simply go for the Fire TV remote or CetusPlay!
Similarly, if you want to control more home appliances, some apps on the list are quite helpful. So, I hope this article helped you find the most compatible remote app for you.
---
About the Author
Tim Brennan, Technical Writer & Blogger
Tim Brennan [a.k.a. "Tec Timmy"] is a senior technical writer with over 25 years of experience writing for companies and organizations in and around Greater Boston, including GE and MIT. In addition to actively writing for this site, Tim is also a regular contributor over at oneSmartcrib.com, a smart home blog. Tim holds a BA in Journalism from Northeastern University. Brennan is a father to two sons, an active blogger, a Star Wars nut, and loves a good taco🌮. There is a strong chance he is developing a crush on Amazon Alexa. You can learn more about Tim here.