Affiliate Disclaimer
As an Amazon Affiliate, we earn from qualifying purchases.
In this article, I will cover what I feel are the five best universal remotes for Sharp TVs this year. I'll include a simple replacement remote as well as some pretty snazzy full-blown universal options.
The best remotes for Sharp TVs are:
---
Sharp TV Fun Fact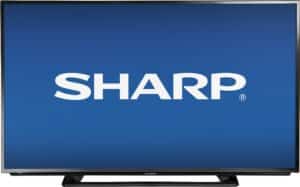 Want to know a fun fact about Sharp TVs? The company's name was born from an invention by the company's founder and has nothing to do with TV picture quality being "sharp." In fact, when Sharp was born TVs weren't even invented yet.
The company's pointed name actually came from the Ever-Sharp mechanical pencil, which was invented in 1915 by founder Tokuji Hayakawa.
Do you want to know a not-so-fun fact about Sharp TVs? The remotes that come with even the new models of Sharp TVs are pretty lame. Why? Control is limited to your Sharp TV and maybe a few apps on it (depending on your model). This means that getting the OEM Sharp remote to control your soundbar, DVD player, streaming media, and the like is sadly not an option.
Well, never fear! I am here to help you find a better remote—and I don't mean the one tucked inside your sofa cushions.
Ok, let's get into my recommendations on the best universal remotes for Sharp TVs!
---
#1: Premium Pick: Logitech Harmony One
First on my list is one of the best universal remotes for Sharp TVs that money can buy. And it's really hard not to fall in love with everything the Logitech Harmony One remote brings to the table.
This remote is perfect for your Sharp TV as well as TVs and equipment from more than 5,000 electronics manufacturers. This is a remote that will never go obsolete.
Right out-of-the-box, this remote control is compatible with 225,000 different entertainment devices, including devices that use IR remote control technology as well as Wi-Fi and Bluetooth control.
📚 Related: Harmony Elite Review 2021: 10 Reasons This Remote Rocks
The ability to operate up to 15 different devices with this remote means you'll be able to significantly streamline all of those remotes cluttering up your coffee table. Even more impressive is this remote's impressive design, smart button layout, and impressive full-color touchscreen. One-button macros and Alexa and Google voice control make controlling multiple devices with this remote super easy.
Combine all of that with frequent updates from the folks at Logitech to allow more control of more devices (and other special features that you can program at your leisure) and it's not hard to see why this tops my list of the five best universal remotes for Sharp TVs!
Editor's note: While the Harmony remote line is being discontinued by Logitech, you can still pick this up at Amazon and the company will support the remote for as long as you own it.
Sale
Last update on 2022-06-26 / Affiliate links / Images from Amazon Product Advertising API
Pros:
True universal capabilities for up to 15 devices.
Long-lasting lithium-ion battery is easily recharged.
Always updated with new features and new devices to be controlled.
One of the most comfortable universal remote designs on the market.
Cons:
Initial setup will take a little bit of time (and requires a computer).
Somewhat on the more expensive side of things.
---
Video Review
Video Credit: HighTechDad
---
#2 – Advanced Multi-Function Remote: MX-450
If you are looking for a great multi-functional universal and are ok with shelling out a bit of extra dough to hire a tech to program it, you may find the MX-450 remote to be a perfect choice. Those that own this remote typically love it.
Very similar to the Harmony One in design, you will appreciate the fact that you can control up to 18 different devices with this remote at once.
The ergonomic form factor is very comfortable to hold, and while some say that this remote is a little bit on the longer side of things, the buttons can still be reached easily enough with one hand.
Preprogrammed with (just about) every manufacturer code under the sun today, getting your Sharp TV model up and running with this universal remote control is a sure bet.
The full-color screen at the top of the remote is clear and makes navigation easy, and the responsive buttons on either side of the screen make getting this remote to do exactly what you want a breeze.
Sale
Last update on 2022-06-26 / Affiliate links / Images from Amazon Product Advertising API
Pros:
Very well-made and intelligently laid out.
Can control up to 18 different devices at once.
Can be totally customized with "profiles" to control more devices if necessary.
Comes preprogrammed with most every electronic manufacturer code built-in.
Cons:
Somewhat steep learning curve (may require an integrator to fully map your devices).
All programming happens on the remote, there's no companion app or software.
---
Video Review
Video Credit: Innovative Concepts AV
---
#3 – General Purpose: Sofabaton U1
Next on my list of best universal remotes for Sharp TVs is the Sofabaton U1 remote.
It's no stretch to say that this remote can control (almost) any remote-controlled device under the sun. Out-of-the-box this remote can be programmed for more than 500,000 supported devices across 6000 different brands. The device database is updated on an almost daily basis, too. This makes this universal remote virtually future-proof.
With the U1, you'll be able to easily control devices that connect via infrared (IR) as well as Bluetooth. The main thing this remote lacks is the ability to control devices over Wi-Fi, which likely won't be an issue if you are looking to primarily control your home entertainment devices. It will not control most smart home devices, however.
📚 Related: Sofabaton Vs Harmony: Is U1 a Solid Logitech Alternative?
This remote control is more streamlined and more simplified than other universal remotes featured here. The buttons are equally spaced apart and easy to hit, with all buttons grouped into coherent "sections" on the remote with similar functions. Flipping from one input device to another is easy with the included flywheel.
Custom macros can be created to run multiple commands, a companion application makes setting up this remote really simple, and the motion-activated "on/off" capabilities of this remote help to conserve battery life.
Sale
Updated SofaBaton U1 Universal Remote with OLED Display and Smartphone APP, All in One Universal Remote Control for up to 15 Entertainment Devices, Compatible with Smart TVs/DVD/STB/Projector so on
✅【U1 Universal Remote & Replaces 15 Other Remotes】Our unique remote control support 500,000+ devices from 6000+ brands, the database will update as new devices come out, you don't need to worry about the newest device doesn't match. Both compatible both IR and Blutooth, Not support Wireless or Wifi (Such as Ruku Stick). Say goodbye to that jumble of remotes once and for all
📲【App One-Touch Set Up】SofaBaton customized smartphone APP, one-button settings, no need to enter complex code to pair. Simple control for the whole house only by one remote, ditch all your complex remotes, just one remote for you. Compatible with / Ruku/ Kodi and other smart TV、STB 、Projector、DVD、AV Receiver and so on
📺【OLED Display & Motion-Activated Function】The bright color OLED screen directly displays the current status and convenient for switching different devices. The motion-activated feature can automatically adjust the remote control brightness and save energy to gain longer battery life. A unique wheel design can easily switch devices just with a simple scroll. You must own this universal U1 remote!!!
🔝【Multiple Commands by One Macro Button】With one macro button push, it can output multiple commands. How excited when you just press a button and it can implement a series of operations one or between different remotes. And you can also customize the start time, for example, if you want to open your TV firstly and then turn on your set-top box after 5 seconds
📬【After Service】SofaBaton offers 12 months warranty for exchange or refund service. If there are any problems, please feel free to contact us via the customer service email enclosed or call us for the highest quality and outstanding customer support. And we will provide you with instructions or specific video steps or other detailed solutions within 24 hours 🙂
Last update on 2022-06-26 / Affiliate links / Images from Amazon Product Advertising API
Pros:
Sleek, slim, and really comfortable in the hand.
Can control almost any device imaginable (with Bluetooth control through the app).
Click wheel allows fast flipping through various inputs.
Superior battery life thanks to the motion activated "on/off" capabilities.
Cons:
Not quite as "flashy" as the other universal remotes here.
Long-term reliability is questionable.
Limited remote control range.
No voice control support.
---
Video Review
Video Credit: Krystal Wang
---
#4 – Logitech Infrared-Only: Harmony 670
Not quite as feature-rich as my top choice, this Logitech Harmony 670 remote control is a bit older but still quite capable.
Still, I had to put this on my list of the best universal remotes for Sharp TVs. The user-friendliness of this remote (and its kin the Harmony 665 and 650) helps it stand apart from the rest of the pack.
Adding new devices to the remote is almost effortless thanks to the Harmony setup wizard, and the dedicated input buttons at the top of the remote let you scroll through devices with a single button press.
Though this remote was specifically designed for infrared device control, this includes Sharp TVs (and hundreds of others), most streaming media players, DVD players, Blu-ray players, A/V receivers, and so much more.
Control of IR devices via radiofrequency (RF) signals is where this remote control really shines, with the capability of connecting to and controlling up to 15 different home entertainment devices at once. Like the U1 it will not control your smart home or other wi-fi devices though.
📚 Related: Ultimate Compilation of Harmony User Manuals
The button layout is simple and straightforward, the remote control itself is ergonomically designed to feel good in the hand, and the keys are easy to reach and press with one hand.
Last update on 2022-06-26 / Affiliate links / Images from Amazon Product Advertising API
Pros:
Sleek, slimline Harmony remote from Logitech.
Inexpensive compared to other Harmony remotes.
Can control pretty much anything with IR and radiofrequency technology.
Uses the legendary Logitech 270,000 device database (regularly updated even today).
Cons:
Design is a little bit dated.
Will only control RF-based devices – not Wi-Fi or Bluetooth.
Requires four AAA batteries (not rechargeable).
---
Video Review
Video Credit: Digital Trends
---
#5 – Simple Budget Choice: Gvirtue Remote
Rounding out my list of best universal remotes for Sharp TVs is this inexpensive model from Gvirtue.
Anyone on the market for a remote that will work with their Sharp TV out of the box will appreciate this OEM-inspired option from Gvirtue. In fact, Gvirtue claims this remote will work with 99% of all Sharp televisions ever made. On top of that, you'll find it is almost effortless to add control capabilities for your media players and other remote control devices, too.
The button layout on this remote control will be familiar, as it is almost a carbon copy of the standard remote control that ships with most Sharp televisions.
The top section is dedicated to media control capabilities, and the middle section is where you'll find your number pad and volume/channel control. The bottom third of the remote is where your universal controls and dedicated media/hotkey/macro buttons are going to live.
This makes using your remote super simple and straightforward without a lot of practice. Important buttons are highlighted in different colors for easy control, too.
The whole thing "just works" straight out of the gate which is a big part of why this universal remote is so attractive to owners of Sharp TVs. Those looking for one of the five best universal remotes for Sharp TVs will want to make sure this one gets some consideration.
Gvirtue Universal Remote Control Compatible Replacement for Sharp AQUOS Smart TV/ HDTV/ 3D/ LCD/ LED, GB004WJSA GA935WJSA GB004WJSA GJ221-C GB118WJSA
Gvirtue universal remote control compatible replacement for Sharp AQUOS Smart TV/ HDTV/ 3D/ LCD/ LED. Applicable various Sharp brand models: LC70LE657U LC70LE745 LC70LE745U LC70LE757U LC70LE845U LC70LE847 LC70LE847U LC70LE857U LC80LE657U and more.
Work right out box without any programming for 99% Sharp TV. For another 1% Sharp TV, the remote can be setup simply and easily with instruction.
This item is selling without batteries, customers need to buy 2 AAA batteries in local store by themselves and put the batteries in then it works.
Hot-keys: Smart Central, Netflix, 3D, Surround and Customize your own! Hotkey shortcuts to most popular Sharp Smart TV functions.
Compatible Remote Model Name: GA935WJSA GA806WJSA GA840WJSA GA480WJSB GB004WJSA GB118WJSA GB004WJSA GB005WJSA GJ221-C GJ221-R.
Last update on 2022-06-26 / Affiliate links / Images from Amazon Product Advertising API
Pros:
Inexpensive.
Specifically designed to work with Sharp TVs.
Can operate 99% of Sharp televisions right away.
Powered by two AAA batteries.
Dedicated hotkeys and macro buttons for media players and apps like Netflix, for example.
Cons:
Not super easy to program for non-Sharp devices.
Some questions about build quality and durability.
---
---
Best Universal Remotes for Sharp TVs: Sound Off
So what do you think about my list of the best universal remotes for Sharp TVs?
Are you looking for an all-in-one remote to control more than just your TV? If so, I can't say I blame you.
Having to switch back and forth between your cable remote, streaming player remote, soundbar remote and others is just PAINFUL.
And wouldn't it be cool if a single remote could control your smart home devices as well as your entertainment equipment?
I would love to hear what you think. Please leave a comment below and let me know. Until next time, stay Sharp 🙂 !