Affiliate Disclaimer
As an Amazon Affiliate, we earn from qualifying purchases.
Synopsis: In this post, I explore the nine best Logitech Harmony alternatives that you can get right now.
Since Logitech announced last month that its popular line of Harmony remotes is being discontinued, several of you have reached out asking for recommendations about alternatives.
In this article, I provide a thorough analysis of some competing remotes along with pros and cons. I will also recommend my favorite Harmony alternatives based on ease of use, ease of setup, and functionality.
Without further ado, here are my top nine Logitech Harmony alternatives:
---
Harmony Alternates Comparison Table
Here is a comparison table that shows the major features of each of my choices for Harmony alternatives side by side.
|   | Price | Touch Screen | Controls Smart Home | Voice Control | Mobile app | Requires Installer /Integrator |
| --- | --- | --- | --- | --- | --- | --- |
| Creston TSR-310 | $1,000 for remote, before cost of integration | | | Proprietary | Tablet or Smartphone | |
| Savant Pro Remote X2 | $500-1200 for remote depending on color and features, before cost of integration | | | Siri, Alexa | Table or smartphone | |
| Control 4 Neeo | $600 for remote, before cost of integration | | | Alexa and Google | | |
| Fire TV Cube | Check Amazon | | | Amazon Alexa | | |
| MX-990 | Check Amazon | | | | | |
| Sofabaton | Check Amazon | | | | | |
| Side-Click | Check Amazon | | | | | |
| Broadlink | Check Amazon | | | Alexa and Google | | |
| GE Universal | Check Amazon | | %CROSS% | | | |
| Yio Remote 2 | Check Yio-Remote.com | | | | | No, but Assembly is required |
---
#1 – Best Luxury Remote: Creston TSR-310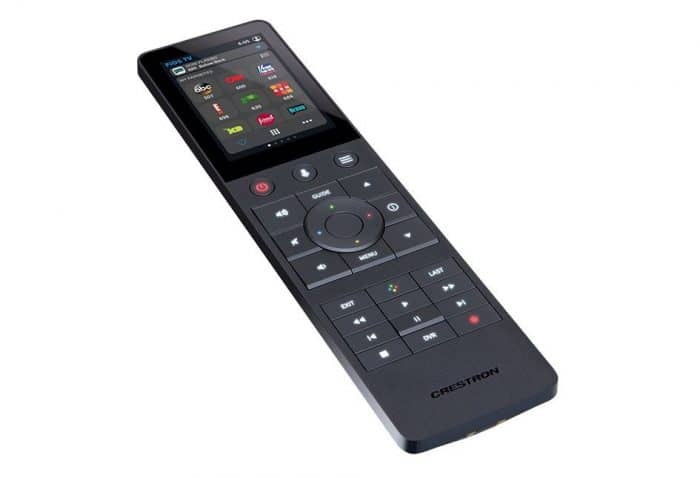 The TSR-310 Universal Remote Control from Creston is a sleek universal remote for the tech-savvy set looking for whole-home control.
The remote itself features a beautiful color LCD touchscreen, integrated AV control, customizable favorites, and it will even control your smart thermostat, lighting, and shades.  So what's the catch? This is not a DIY solution.  The company requires that you subscribe to the Creston smart home ecosystem in order to fully leverage this remote.  This includes having to pay a custom installer to set it up.  If you're looking for an advanced but expensive universal remote, the TSR-310 may be worth a look.
Pros:
Controls smart home, home theater, and more
Beautiful design with 3" color LCD touchscreen
Colorful buttons for all functions including favorite channels
Fits in palm of your hand
Backlighting on buttons adjust to light in room
Screen remains dark until pressed
Cons:
It's expensive
Requires system integrator to install it
No support for Alexa or Google Assistant
---
---
#2 – High-End Runner: Savant Pro Remote X2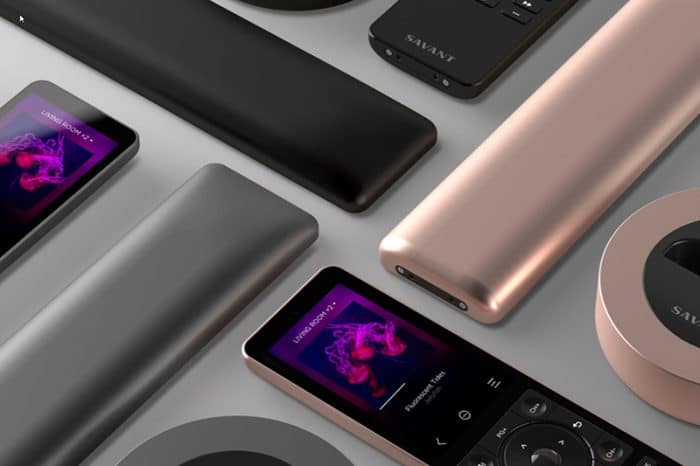 Next on my list of Harmony alternatives is this gem from Savant. The Savant Pro Remote X2 is the ultimate home automation control. Intelligent and beautiful, this is luxury control at its finest – just make sure you pick your favorite color! The remote is available in Space Gray, Jet Black, and Rose Gold.
I absolutely love the design of this remote. Unfortunately, it also falls into a similar class as Creston requiring you to subscribe to Savant's smart home system. Like Creston, it also requires a tech to come to your home to install the remote.
Key features include a color Apple Homekit enabled LCD touch screen, voice commands via Siri, and the ability to create personalized remotes for household members. The X2s snazzy full-screen layouts can be customized as needed. And don't worry about kids getting into mischief because there's an optional pin protection feature that you use to childproof the remote. This is really the ultimate solution for anyone who subscribes to the Apple smart home.
Pros:
Beautiful aluminum design.
Large touchscreen.
Solid buttons with satisfying click/feel.
Fast response time.
Two programmable buttons.
Cons:
Expensive.
Proprietary designed to be used as part of a Savant system only.
May be ongoing costs associated with upgrades.
Poor battery life at around 2.5 days without recharging.
No DVR button.
---
TYM Smart Homes & Home Theaters does a nice job with this video review and demo of the Savant Pro X2 in under three minutes:
---
#3 – Neeo from Control4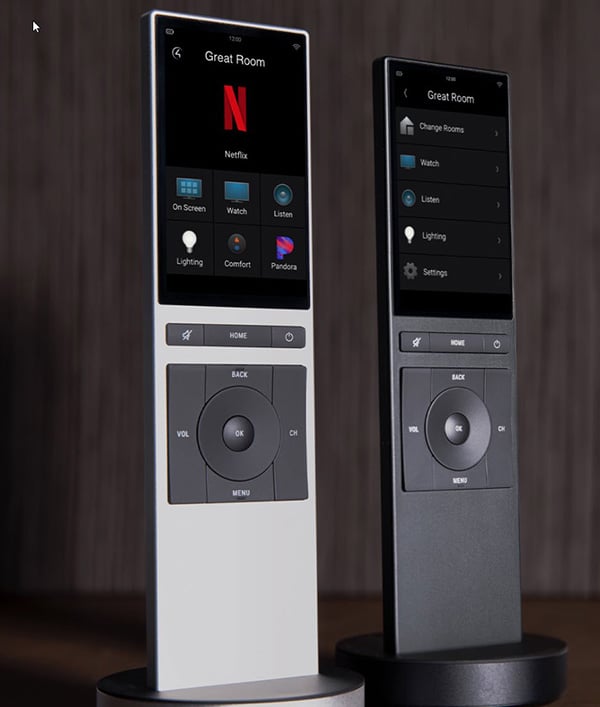 I first tested the Neeo DIY remote a couple of years back shortly after it just came out of Kickstarter funding. At the time, the remote really wasn't ready for prime time. The setup process was overly complex and I don't think I ever managed to get it working, so I reverted back to my Harmony Elite remote. Fast forward to today and Control 4's not-to-long ago acquisition of Neeo means that there is no longer a DIY option for this remote.
Like Creston and Savant, Control 4 requires that you subscribe to their smart home ecosystem in order to for the remote to work with your devices. This means that Control 4 handles the setup and configuration of your devices for you. It also means that this is a pricey option as well.
Pros:
Designed to control smart home as well home theater.
Sleek award-winning design with win over gadget nerds.
Colorful LCD screen works with your smartphone.
Works with Alexa and Google for voice control.
Cons:
Expensive and proprietary.
Requires Control 4 smart home system integration and integrator.
---
📚 Related: Control 4 Neeo vs SR-260: Which Remote Wins?
---
#4 – Fire TV Cube
I absolutely love my Fire TV Cube and I use my Harmony Elite remote far less since I bought this. Fire TV has become my go-to streaming service because of this device. I am currently using it as my launchpad for Netflix, YouTube, Disney+, and Amazon Prime Video. Can literally just say to Alexa "Watch Mr. Beast on YouTube, and she opens up YouTube to Mr. Beast's channel. If I say, "Alexa, Show me Agents of Shield on Netflix" she will open to the last episode I left off on in my Netflix account.
Very cool.
You can also use many of the smart home features of Alexa using the Cube. For example, you can dim lights and lower blinds, get news and weather updates right on the TV screen, and a whole lot more. It will be interesting to see if devices like this will ultimately replace physical remotes in the long term.
Pros:
Completely control your home entertainment experience using Alexa.
Adjust volume, access content, pause/rewind fast forward your favorite shows using your voice.
Functions as an Echo smart speaker with limited commands (link to commands list below).
Cons:
Alexa only, does not work with Google Home or Siri.
Requires its own HDMI cable – sold separately.
Can sometimes become laggy (restarting usually fixes this).
---
📚 Related: Alexa Fire TV Cube Commands Cheat Sheet]
---
#5 – MX-990
Since Logitech announced that it will cease manufacturing Harmony remotes the MX-990 universal remote control has become one of the more popular Logitech Harmony alternatives. This is for good reason. The MX-990 was designed to be the one remote that can control all of your electronics while looking sleek and modern in your living room. It has tons of features including a large color LCDs screen that lets you control your entertainment experience.
The MX-990 also boasts compatibility with over 220,000 devices from 5,000 brands and six unique programmable buttons to make switching between modes easy. The remote feels solid in the hand, and the button layout is probably the best among all of the remotes that I have tested, including Harmony. The only drawback to this remote is that it requires a technical versed in the MX-990'S proprietary software in order to program the remote for your devices. This is not a DIY option and that is not really clear from Amazon's sales page.
Pros:
People who own this remote love it.
Wakes up when motion is detected saving battery life.
Excellent button layout, functionality, and usability.
Feels solid and strong in the hand.
Customizable home screen for all your key activities.
Cons:
Requires custom a URC certified tech installer to get it to work.
Feels for the custom installer run around $100 plus you will need to hire them to make any changes.
---
---
#6 – Sofabaton
Next on my list of Logitech Harmony alternatives is the Sofabaton U1. Softabaton provides an affordable universal remote that lets you replace your remotes for up to 15 home theater /entertainment devices. This is a great value albeit the design isn't going to blow anyone away. There is no haptic feedback and the remote buttons are not backlit making it somewhat hard to see in the dark.
However, you can control both IR and Bluetooth devices with Sofabaton and the device support is quite broad as well. The company claims its remote is compatible with 350,000 devices. I'm not wild about the look of the LCD compared to the others here but it is also less money.
If you are looking for a well-rated functional universal remote and have a limited budget, the Sofabaton may be worth a look.
Pros:
Support for 350,00 devices from 6000 brands.
Macro key lets you execute up to 10 commands on a single click.
Scroll between devices to get to the one you want quickly.
Control up to 15 devices, including TV, DVD, Blue-ray, Cable and streaming media players like Apple TV and Roku
Cons:
Does not control smart home devices, such as lights and blinds.
Digitized OLED screen not as nice as others reviewed here.
No voice control support.
---
📚 Related: Sofabaton vs Harmony: A Solid Logitech Alternative?
---
#7 – Sideclick
Check Price at Amazon
(Apple TV, Roku, Chromecast, Fire TV)
The model of the Sideclick remote you buy is going to depend on your streaming media player. The name of this remote gives away what it does in terms of functionality. Sideclick was designed as an add-on to your existing remotes giving them added functionality. Currently, there are models for Apple TV, Roku, Chromecast, and Fire TV.
While this is not a direct universal remote, I still wanted it on my list of Logitech Harmony alternatives as you can use it to upgrade your existing streaming remotes.
Pros:
Extends functionality of existing streaming remotes.
Easy to attach.
Very inexpensive way to upgrade existing remotes.
Cons:
Limited to control of the player for which they were designed.
Will not let you consolidate multiple remotes down to one.
No smart home control other than what you get with your streaming player.
Sideclick will cover the headphone jack on Roku remotes.
---
---
#8 – Broadlink RM4 Pro Hub and App
If you don't mind navigating your home theater and smart home using an app instead of a physical remote, then Broadlink is an inexpensive way to do just that. In effect, it gives you much of the same functionality of the first three big-ticket "systems" remotes on my list at a fraction of the cost. You basically connect everything up to the Hub and then use the app to navigate your devices. Alternatively, you can use your voice with Alexa or Google Home.
📚 Related: 5 Best Universal Remotes for Verizon Fios
Broadlink even provides support for IFTTT (if this then that ) recipes allowing to truly automate certain tasks, like turning on the lights at dusk, arming an alarm when you leave home, turning on an A/C unit when a room reaches a certain temperature or turning on the morning news shortly after you get out of bed. This is a bit tricky to set up for the less technical set but offers a lot of value for very little money.
Pros:
Controls smart home and home theater devices.
Supports both Amazon Alexa and Google Home for voice control.
IFTTT support.
Can create sophisticated routines to automate key functions.
Cons:
Limited support for RF chip sets (315 MHz or 433 MHz only) so check your devices before you buy.
App can be a bit clunky.
Customers report issues with Android Go compatibility.
Learning curve, especially for those less technically inclined.
---
Paul Hibbert gives his usual bang-up review of this hub. Ooh, the Zigbee!!
---
#9 – GE Universal Remote
Check Price at Amazon
While this remote lacks the bells and whistles of the other remotes featured here, it's dirt cheap! The multi-device control feature will let you operate up to four different audio and video components.
These include thousands of TV brands, Blu-ray/DVD players, cable/satellite receivers, and streaming players like Roku. It doesn't integrate with Alexa or your smart home but if you want a ridiculously cheap remote to control just four devices, the price is right!
Pros:
Super inexpensive
Customers are generally satisfied with this remote for the money
Cons:
Limited to four devices
No smart home integration
Won't control Apple TV, Chromecast, Roku Stick, or Fire TV stick
Not rechargeable out of the box (takes three AAA batteries)
---
---
#10 – Yio Remote 2: Coming Soon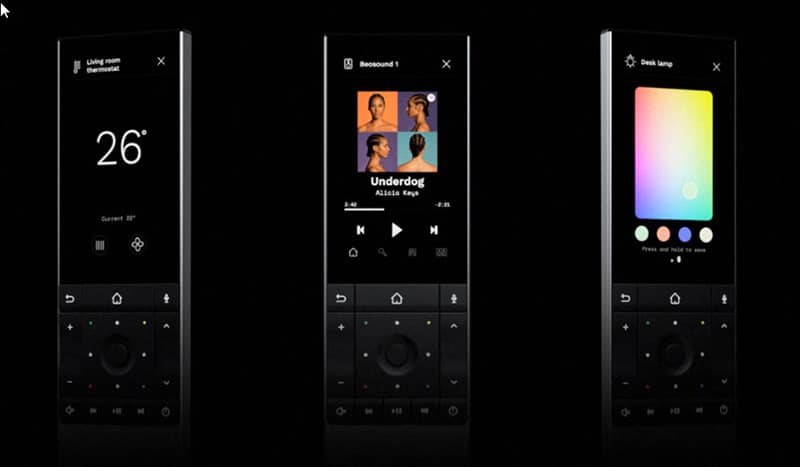 Rounding out my list of Logitech Harmony alternatives is a remote that is not yet available to the general public. However, the company does claim that it will be available this summer.
Kickstarter upstart Yio has plans to release a remote later this summer that is based on its "build it yourself" kit that it was selling through the Kickstarter website in return for donations. While not yet available, I wanted to include it on my list as this looks like a very promising product. No word yet as to exact availability and pricing but there is a bit more info on the Yio sales page here.
This is a pretty slick-looking remote that seems to have all of the bells and whistles of the larger players. Hopefully, the company will make it available as an affordable DIY option that the market needs so badly right now with the departure of Harmony.
I plan to buy this and do a full review as soon as it is released.
---
Best Logitech Harmony Alternatives – Over to You
So what do you think about my picks for the best Logitech Harmony alternatives?
Were you as sad as I was when Logitech announced it is going to stop manufacturing Harmony remotes?
While the custom high-end systems listed here are pricey, it is pretty amazing what they can do to control your smart home as well as your entertainment devices.
There are still some neat DIY options too. My favorite new toy right now is the Amazon Fire TV Cube. Please let me a comment below and let me know your thoughts about your favorites or the future of universal remotes. Until next time, live long and prosper.