Affiliate Disclosure
As an Amazon affiliate, I earn from qualifying purchases.
In this post, I'll recommend the best remote apps for Apple TV that you can get right now.
Don't have time to read the full article? Here are the five best remote apps that you can currently download for Apple TV:
You can learn more about them by clicking any link within the list to read my mini-review for that product.
---
Hey Siri! Where's My Remote?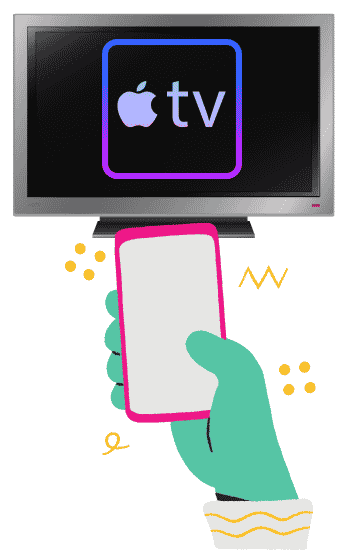 I have an Apple TV and have been using it for quite some time now. It's definitely one of my favorite streaming devices.. And Siri, oh, she's the best part of it all. She gives me hands-free operation that even my friends think is just like magic (well, they don't have Apple TV yet).
I love that it supports a huge range of apps and can mirror my phone with AirPlay.
However, the reviews have been mixed since the debut of the new Apple TV remote last year. Love it or hate it, my biggest challenge is that it is just "one more remote" to add to the clutter on my coffee table.
And there are some days when I can't find my physical remote — only to discover it slid deep down into the bowels of my sofa, somewhere between the center cushion and my missing left sock. Thankfully, there are universal remote apps for Apple TV that can help you operate your device.
Remote apps for your mobile devices to the rescue!
Yep, you can download a free or paid universal remote app to your iPhone or iPad to control your Apple TV. Best of all? You can also use some of these apps to control more of the devices in your entertainment center, so you won't have to retrieve a TV remote from your sofa cushions ever again!
You can control your Apple TV with any of the best remote apps for Apple TV listed below.
---
#1 – Apple TV Remote App (Official)
💰 Price – Free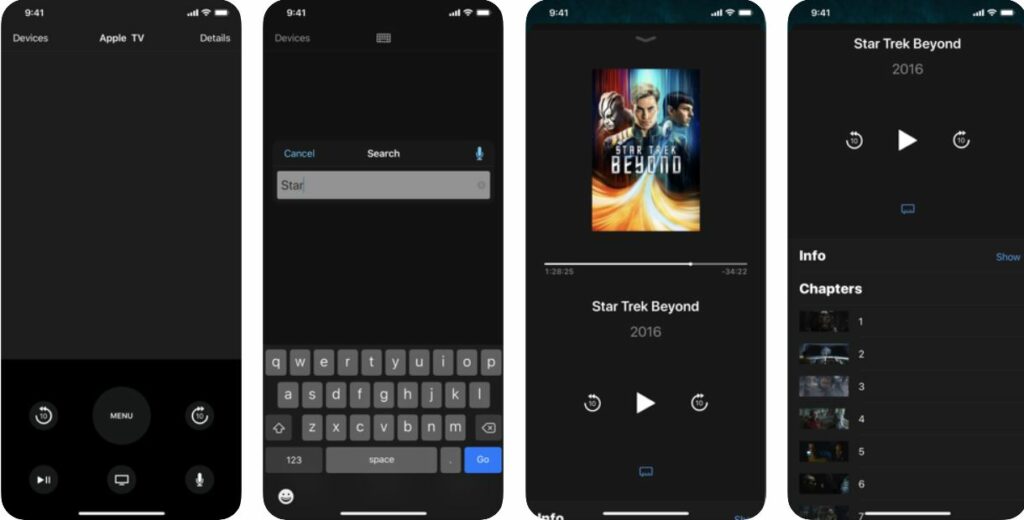 First on my list of the best remote apps for Apple TV is the official Apple TV remote app. This app is no longer available for download from the Apple store. However, if your Apple device is running version 13 or later, you should be able to see it in the Control Center. Yes, the latest iPhones now have an integrated remote.
Suppose you are using an older device. You will need to add the app by going to the Settings > Control Center. Look for the Apple TV Remote, and tap the (+) symbol before the icon to add the app.
The controls of the Apple TV remote app are relatively intuitive. They mimic that of the physical remote that comes with the TV. But, more impressively, you can use Siri to control your Apple TV.
Pros:
Connects to more than one Apple TV
Can access your cable service's channel guide
Allows you to use your touchpad for navigation
App keyboard lets you type quickly
Supports Siri
Cons:
A few users complain about occasional lag with the app
---
Video Review

Video Credit: FixItPhil
Download

The Apple TV remote app is now integrated into Apple devices that run the latest iOS version. You can no longer download it from the Apple App Store.

📚 Related: How to Watch Football on Apple TV
---
#2 – Peel Universal Remote App for Apple TV
💰 Price – Free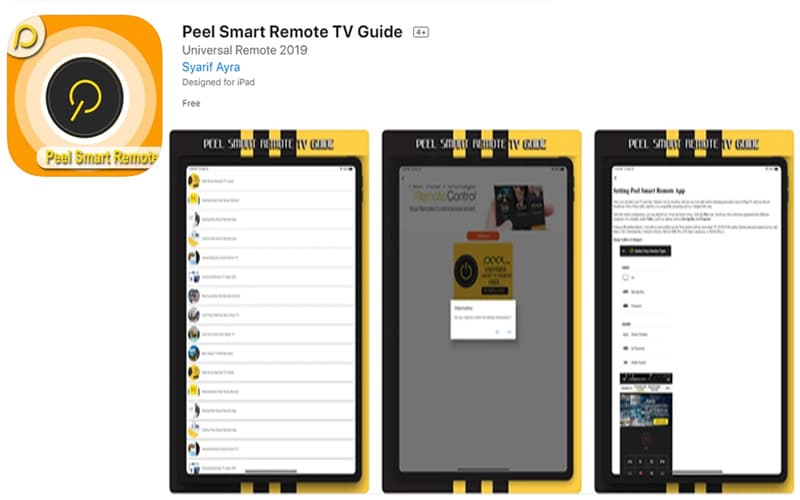 Next on my list of best remote apps for Apple TV is Peel. This app turns your iPhone into a universal remote for Apple TV. It is easy to navigate, especially when switching between channels. You can even find recommendations like what's trending and recently watched titles.
But the best thing about the app is that it allows you to have a custom remote by adding your favorite channels. It has all the buttons that a physical remote has, making it easy to change channels instantly.
To add your Apple TV to your Peel remote app, download the app from the App store. Then, select your TV brand and point your phone toward the screen. Finally, tap the power button and set up the controls. You can now freely use Peel to control your Apple TV.
This all-in-one remote is a free app, and you should expect some ads. I'm not particularly fond of the newly added ones, which are full-screen and appear randomly.
Pros:
Rich interface
Casts YouTube content directly
Voice control
Comprehensive TV guide
Features all the buttons of a physical remote
---
Download
Search for Peel on your phone's App Store. The developer is Syarif Ayra, and the size is 31.9MB. iOS version 12 or later is required to download the app.
---
#3 – SURE Universal
💰 Price – Free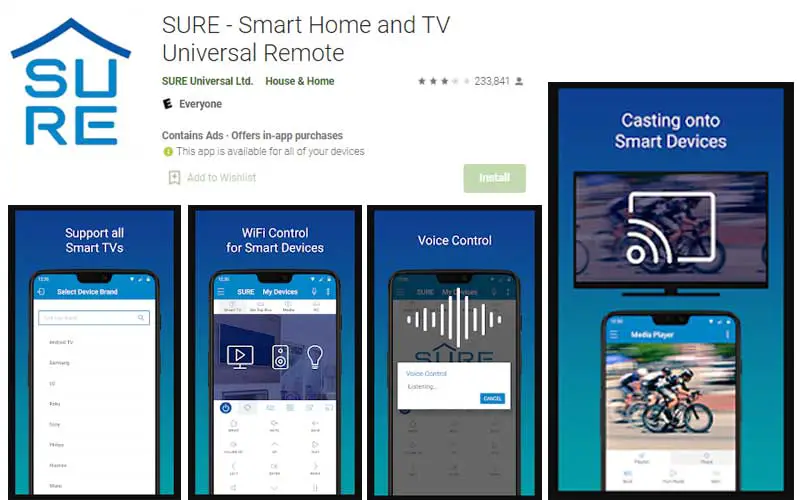 SURE Universal lets you turn your device into a universal remote control for your Apple TV and other smart devices like DVD players, set-top boxes, an android TV device, blu-ray player , game consoles, and even your air conditioner and other smart home devices over your wi-fi network. It has a straightforward setup and is easy to use, making it one of the best Apple TV remotes for 2022.
More impressively, SURE Universal is a complete smart home app. It has tons of features, including a built-in media player and IR blaster, and it also has voice control. Additionally, it is the only remote app that comes with high security.
Within minutes of downloading the SURE Universal app, I could control my Apple TV and other home devices. I simply connected to my WiFi to add my iOS device. Then, I got rid of my old, clunky remote.
The SURE Universal remote app is free of charge, but it is ad-supported.
Pros:
Connects to over 1 million infrared devices
Voice control
Casts both music and video content
Lets you organize your media collection into playlists
Pairs easily with Apple TV
Secure
---
Video Review

Video Credit: rjm tv
Download

Search for SURE Universal Smart TV Remote on your iPhone's app store. The developer is Sure Universal Ltd. The app is 201.8MB and compatible with iOS 10.0 or later.

📚 Related: Best Universal Remote Apps for Nvidia Shield
---
#4 – Best Universal AIR Remote Apps for Apple TV
💰 Price – Free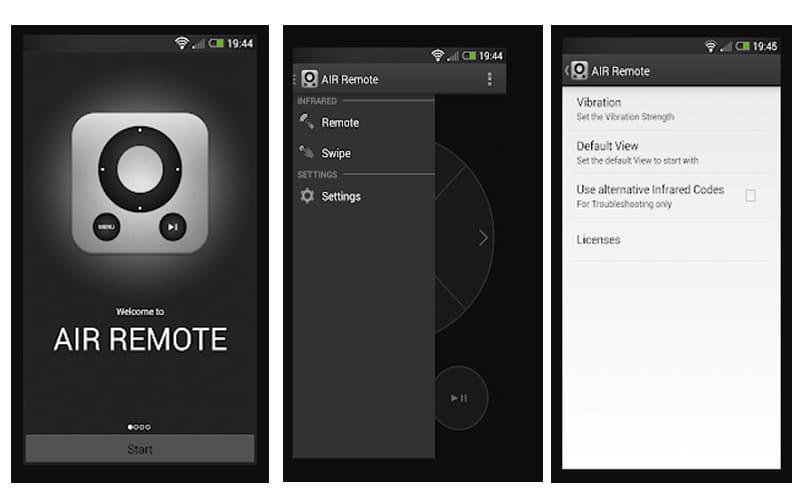 You can find the AIR Remote in the Google Play store. It's a versatile app that lets you control your Apple TV device using an Android phone. The default infrared codes allow it to connect with common Android devices that have built-in infrared support.
The AIR Remote supports all essential functions of a physical remote (i.e., left, right, up, down, play/pause, and OK buttons). All major TV manufacturers are supported. You can also press and hold the OK button for additional functions like you would with an Apple TV remote.
Even better, there's an option to use swipe view or original remote on the sidebar. By selecting the swipe screen, you activate the directions. Tap once to confirm and tap twice to trigger the menu button.
To install the app on your Android phone, go to Google Play and select AIR Remote Pro for Apple TV to download and install it. You will see a pop-up window with the permissions. Click accept to continue the process.
The developers, YELOMO, have in Google Play, AIR Remote FREE and AIR Remote Pro. You can get both for free.
Pros:
Does not require you to jailbreak your Apple TV
Available for common Android devices
Supports all essential functions of an Apple TV remote
Looks good visually
Compatible with Mac products that have an infrared receiver
Cons:
It only works on devices with built-in Infrared
---
Video Review

Video Credit: Yelomo
Download

Download AIR Remote FREE for Apple TV on Google Play's website. If you want the ad-free version, you can also find the AIR Remote Pro there.
---
#5 – AnyMote for Apple TV
💰 Price – Free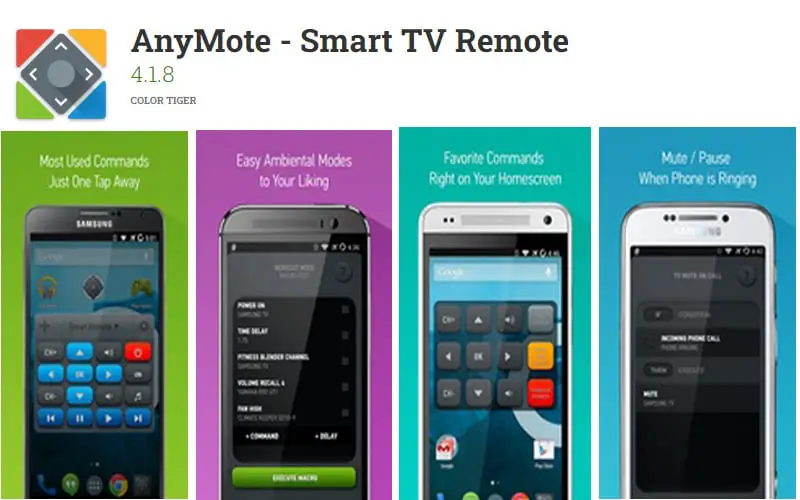 AnyMote is a smart remote control for both Android and iOS devices. You can use it on your Apple TV, but it works best with Samsung, Panasonic, and Sharp. Similar to Peel, you can personalize it.
I most enjoy the directional pad that makes navigation easy, but you can also set up gestures to navigate the app.
AnyMote can create custom remotes and turn your Android or iOS device into a universal remote, saving you time switching between remotes. It features macros that let you string multiple commands together. I made a few macros, and they work. The gestures also worked well.
This remote control that claims to change your life is free, but unfortunately, the app only works with a hub. You can either get an Amazon Echo or an AnyMote Hub; I prefer the Echo because of Alexa voice control.
Pros:
Deep level of customization
Allows you to bind certain keys with gestures
Easy to set up and use
Popular smart TV brands include: Samsung TV, LG TV, and many more
Alexa support when used with Amazon Echo
Macros
---
Video Review

Video Credit: AnyMote – Smart IR Remote
Download

You can download the AnyMote Smart TV remote here if you have an Android device. The author is Color Tiger, and its size is 12.58MB. Unfortunately, the app is no longer available to iOS devices. This is one of the best remote apps for Apple TV in my opinion.
---
The Best Remote Apps for Apple TV: Wrap-Up
To find the best remote apps for Apple TV, I downloaded some of the top remote apps on Google Play, App Store, and the web. These five apps worked great for me with very few issues.
Yes, other apps will let you control your Apple TV, but you have to pay a premium for most of them. I did not include them in the list because they don't have anything bigger to offer than those you can download for free.
Have you tried any of these apps? Let me know if you love them (or hate them), as your input would be great to have as I write more reviews. Additionally, if you decide that what you really want is a good, old-fashioned physical remote, don't forget to check out my article reviewing the best universal remotes for Apple TV.
---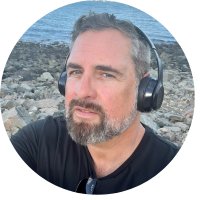 Tim Brennan is a technology blogger and hosts the @TecTimmy YouTube channel. He writes about smart homes at oneSmartcrib, home theaters at UniversalRemoteReviews, and AI in writing at Writeinteractive. A graduate of Northeastern University School of Journalism, he has written about technology for 30 years. Tim lives on the ocean in Nahant, Massachusetts.