Affiliate Disclosure: As an Amazon Associate, I earn from qualifying purchases. Learn more.
🗞️ News:
Logitech will
no longer manufacture new Harmony remotes
. However, the company says it will sell off existing inventory and support customers into the future.
Learn more.
Ah yes, Logitech Harmony Elite vs Companion: In this article, I provide a detailed side-by-side comparison of these two very popular universal remotes from Logitech.
My goal is to help you make a well-informed purchase decision.
If you simply want to know the main differences, here they are: the larger Harmony Elite has a color LCD touchscreen and it will let you control up to 15 devices as compared to eight with Companion. In contrast, Companion has more physical buttons and includes just a single IR blaster for closed cabinet control compared to Elite's two blasters.
---
The Cat's Meow
I
love Harmony remotes and have tested and blogged about them incessantly over the past 18 months. There is a lot of misinformation out there but I promise you—we will get it right today.
I especially love my Harmony Elite.  It just looks cool and works as advertised. It will let you control smart devices as well as your entire home theater setup. But then again, the Companion will let you do that too.  My favorite feature on the Elite that the Companion does not have, however, is the color LCD touchscreen.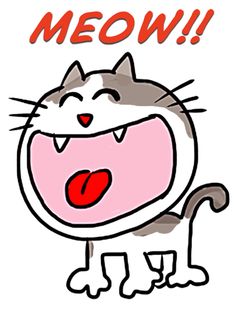 I think that screen is the cat's meow.
The screen works like your smartphone and supports swipe and tap gestures for controlling common Harmony actions.  This includes selecting macro-level activities like "Watch a Movie" or "Netflix and Chill." My Netflix and Chill activity does all of the following:
Turns on my Samsung Smart TV.
Turns on my AV receiver and surround sound speakers (Bose).
Turns on my Samsung soundbar.
Sets my smart lights in the living room to a dim blue.
Turns on the bias light strip behind my TV and changes the color to blue.
Unlike your smartphone, the screen also has haptic feedback [vibrates when you press it] to make it feel more like a remote.
While you can create the exact same Activity using Harmony Companion, there is no color LCD screen with a button labeled "Netflix and Chill." Instead, you select a hard button on the remote to execute the activity that you set up in the Harmony app.
There are some additional differences as well. I mentioned the major ones up above. But let me compare them side-by-side for you in a table so you can get a better feel feature for feature. After that, I'll outline what I feel are the major pros and cons of each remote.
---
Features Comparison Table
Here is a quick comparison table that shows the features all Logitech Harmony Elite vs Companion products side-by-side. I'll also include a second table that shows the full dimensions of each product later in this article. There are some subtle but notable differences.
Note: You may need to swipe horizontally to view the full table on mobile devices.
|   | Harmony Elite | Harmony Companion |
| --- | --- | --- |
| | | |
| LCD Display | | |
| Physical Buttons | | |
| Haptic Feedback (Vibrates) | | |
| Auto Wake Up | | |
| Controls Devices Behind Cabinets | | |
| Wireless Technology | Bluetooth, Wi-Fi | Bluetooth, Wi-Fi |
| Remote Control Technology | Infrared (IR) | Infrared (IR) |
| Replaces This Many AV Remotes | 15 | 8 |
| Controls This Many Smart Home Devices | Unlimited | Unlimited |
| Programmable Favorite Channels | 50 | 50 |
| Back-lit Buttons | All buttons are back-lit | |
| Smart Speaker/Assistant Support | Alexa, Google Assistant | Alexa, Google Assistant |
| Battery | Lithium Ion Rechargeable | Lithium Ion Rechargeable |
| Battery Replaceable | | |
| Dimensions and Weight | See below. | See below. |
---
Logitech Harmony Elite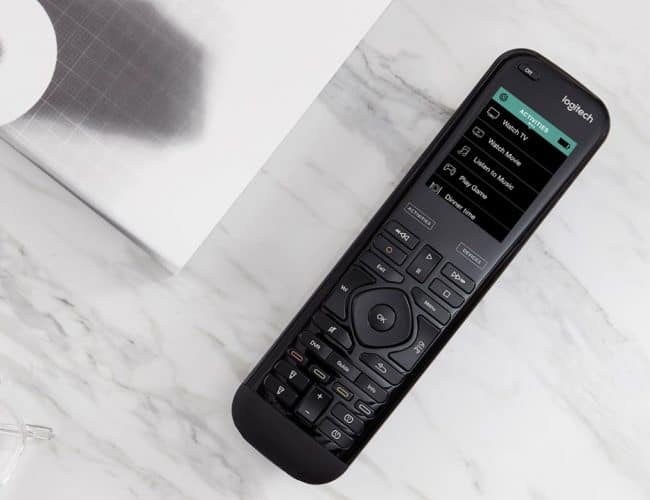 OK, I promise I won't beat a dead horse here but did I mention I love my Harmony Elite?  In addition to the coolness factor, it really is practical in that it helps you consolidate up to 15 remotes that are currently cluttering up your coffee table.  I was able to go from nine down to one. I love that I can integrate my smart lights in with my activities. Watching everything turn on at once is magic.
You also can get some pretty decent voice control with Alexa and Google Assistant. I published a list of Alexa commands here but they are essentially the same for Google as well. But like I said, I won't prattle on any more about this remote ad nauseam. If you want to read my full review of the Elite, you can check it out here.
Video Review
Joel Comm does a really nice job with his recent Harmony Elite review.
Pros
Control as many as 15 home theater devices and unlimited smart devices.
Smartphone-like LCD screen is cool.
Clean ergonomic design with logical button layout based on extensive customer feedback.
Gives you voice control with Alexa and Google Assistant
Cons
It's expensive.
It feels a little plasticky – I would prefer a bit more heft for such a premium device.
---
Where To Get It
Amazon often has the Elite on sale for as much as 20% off. You can get it at Amazon right here .
---
Logitech Harmony Companion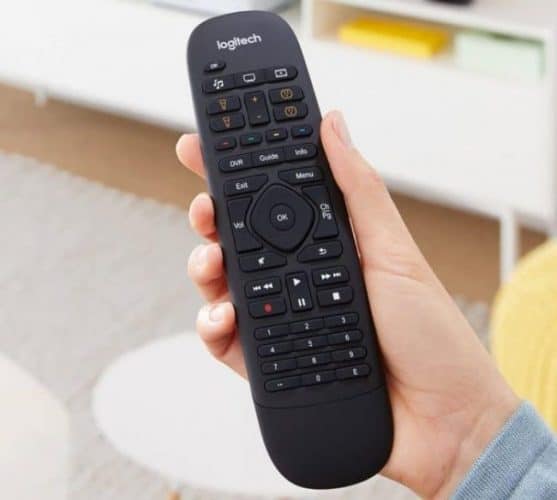 Don't get me wrong, just because I sing the praises of the Elite doesn't mean the Harmony Companion is a bad remote. Quite the opposite. In fact, many industry experts, tout this as one of the best universal remotes you can buy. Amazon calls it the best remote for most people.
Functionally Companion can do everything the Elite can do pretty much, you just don't get the snazzy screen. It will do activities, it will do Alexa and Google Voice commands, it will do smart home stuff as well as TV entertainment, and it gives you a backup remote on your phone. It will let only let you consolidate remotes for eight devices, but for many people that is enough.
Video Review
CNET calls the Harmony Companion the last remote you will ever need.  That's how I feel about the Harmony Elite, but there you go.
Pros
Less expensive that Elite
Control smart device and home entertainment
Supports Activities just like the Elite
Can program 50 favorite channels just like the Elite
Cons
No LCD screen
Limited to control of eight entertainment devices
Buttons are not backlit, making it hard to see in the dark
Multiple customers have complained about issues with refurbished Companion remotes purchased on Amazon
---
Where to Get It
You can pick up the Harmony Companion over at Amazon here .
---
Device Compatibility
Here is a quick comparison table that shows Harmony Elite vs Companion device compatibility.
|   | Harmony Elite | Harmony Companion |
| --- | --- | --- |
| | | |
| Smart TVs | | |
| Cable TV /Direct TV / Satellite TV | | |
| Most Video Projectors | | |
| Most A/V Receivers | | |
| Media Streamers | | |
| Smart Lights | | |
| Smart Thermostats | | |
| Smart Locks | | |
| IR-based Fireplaces | | |
| IR-based Ceiling Fans | | |
| Video Game Consoles | | |
To check if a specific device is compatible with Harmony Elite, visit Logitech's Device Compatibility Database.
---
Full Product Dimensions
Here the full product dimensions of the Harmony Elite vs Companion remote, hub and IR mini blasters.
 
Harmony Elite
Harmony Companion
Remote Width
2.13in (54mm)
13in (54.1mm)
Remote Depth / Length
1.14in (29mm)
.81in (20.6mm)
Remote Height
7.56in (192mm)
7.25in (184.1mm)
Remote Weight
5.78oz (163.8g)
4.2oz (119.07g)
Hub Width
4.07in (103.3mm)
103.3mm
(4.07in)

Hub Depth/Length
4.91in (124.7mm) cable: 5.4ft (1.6m)
4.91in (124.7mm) cable: 5.4ft (1.6m)
Hub Height
1.05in (26.5mm)
1.05in (26.5mm)
Hub Weight
3.95oz (112g)

3.95oz (112g)
IR mini blaster Width
1.4in (35mm)
1.4in (35mm)
IR Mini Blaster Depth /Length
0.91in (23mm)
cable: 8.3ft (2.54m)

0.91in (23mm)
cable: 8.3ft (2.54m)

IR Mini Blaster Height
0.5in (12mm)
0.5in (12mm)
IR Mini Blaster Weight
1.2oz (34g)
1.2oz (34g)
---
What's in the Box
The Harmony Elite box looks like this.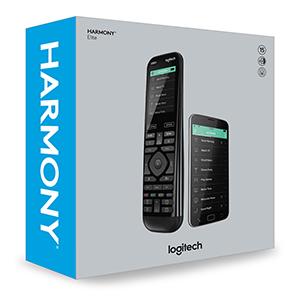 It contains the following:
Harmony Elite remote (with rechargeable battery)
Harmony Home Hub
Charging station
USB cable
2 AC adapters
2 IR mini blasters
User documentation
---
Harmony Elite vs Companion: What Do You Think?
So what do you think of these two remotes? Do you think the LCD screen on the Elite is the cat's meow like me?
Or do you agree with the good folks over at CNET that the Harmony Companion is the last remote you will ever need?
Or maybe you think both of these remotes are total nonsense and you are fine to continue letting the remotes pile up on your coffee table.
Either way, I hope you found this comparison of Harmony Elite vs Companion helpful.
Please leave me a comment below and let me know what you think.
---
You Might Also Like
If you enjoyed this article about comparing Harmony Elite vs Companion, you might also like some of these posts: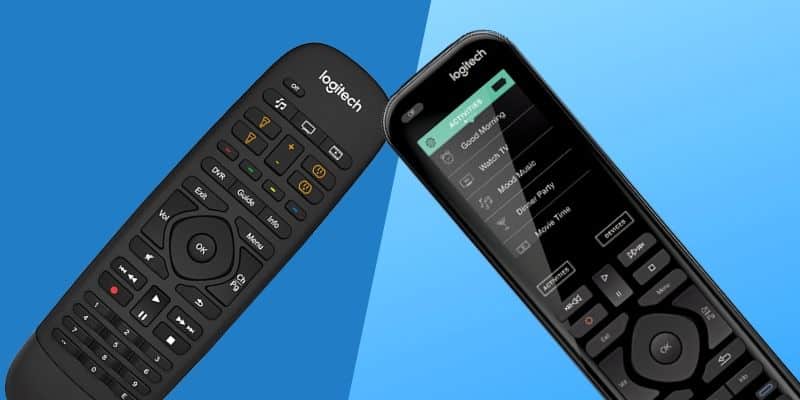 ---
About the Author
Tim Brennan, Technical Writer & Blogger
Tim Brennan [a.k.a. "Tec Timmy"] is a senior technical writer with over 25 years of experience writing for companies and organizations in and around Greater Boston, including GE and MIT. In addition to actively writing about universal remotes, Tim is also a regular contributor over at oneSmartcrib.com, a smart home blog. Tim holds a BA in Journalism from Northeastern University. Brennan is a father to two sons, a Star Wars nut, and loves a good taco🌮. There is a strong chance he is developing a crush on Amazon Alexa. You can learn more about Tim here.