Affiliate Disclosure
As an Amazon affiliate, I earn from qualifying purchases.
In this blog post, I will give a full Sofabaton X1 review and share my opinions after using this remote for a few months.
My 3-Month Sofabaton X1 Review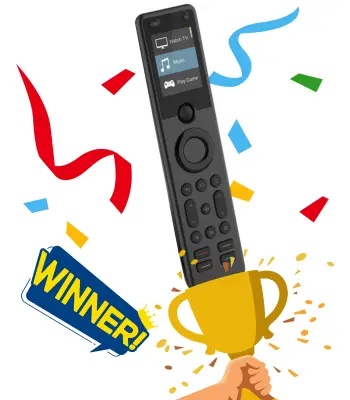 A
s the owner of this remote-control blog, I spent the last three months examining the Sofabaton X1 to determine if I could confidently recommend it with Logitech Harmony being discontinued.
In this Sofabaton X1 review, I'll share my experiences, weigh the pros and cons, and discuss the X1 remote, hub, and app.
It's fascinating how far remotes have come since Steve Wozniak's 1985 invention of the "CORE." Today, the Sofabaton X1 exemplifies innovation in the smart remote control market, which Statista predicts will reach $19.2 billion by 2025.
I've thoroughly tested the Sofabaton X1 with various devices such as my TV, cable box, Fire TV Cube, Apple TV, Roku Streambar, Samsung soundbar, and even Philips Hue lights. Although the initial setup and creation of activities can be tricky, I strongly recommend the X1 for its versatility and overall performance.
I'm happy to have you join me as I uncover this promising remote control's mostly highs and a few lows.
---
What is the Sofabaton X1 Universal Remote?
The Sofabaton X1 Remote is a feature-rich universal remote control designed to consolidate multiple remote controls for up to 60 devices, such as TVs, soundbars, streaming devices, and gaming consoles. It features customizable buttons, a smartphone app, and broad compatibility, making it a practical solution for managing home entertainment systems more efficiently.
Editor's Choice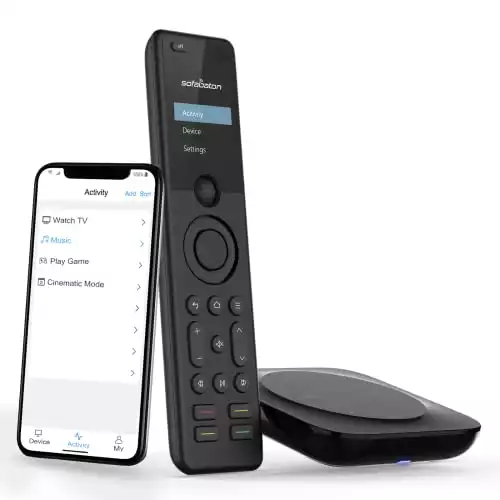 Here's a brief overview of the key components of the Sofabaton X1 system:
Remote: The ergonomically designed universal remote control can manage up to 60 devices, making it a central control point for your home theater setup. It features a color LCD screen, a long-lasting rechargeable battery, backlit buttons, and a helpful find lost remote option.
Hub: The hub works with the remote, enabling seamless communication with your devices using IR signals. It helps bridge the gap between the remote and multiple devices within its range, ensuring compatibility with streaming devices, smart TVs, and even Philips Hue lights and Sonos speakers.
App: The smartphone app provides an interface to configure and control your devices. With access to a full database of over 500,000 components, the app ensures compatibility with a wide-range of electronics.
Here is a video review of the SofaBaton X1 remote from the HighTechCheck YouTube channel.
Video Credit:
HighTechCheck
The Remote, Hub, and App work in "harmony" (see what I did there?) to offer a streamlined solution for controlling your devices and enhancing your home entertainment experience.
Next up in my Sofabaton X1 review, let's look at the pros and cons of this future-forward remote.
 Related: Sofabaton U1 vs U2: The Good & Bad
---
Sofabaton X1 Review: Pros and Cons
What Sofabaton X1 review would be complete without reviewing the pros and cons? So let's go!!
Pros
Wide compatibility with different devices.
Ability to control up to 60 components. This is four times that of my Logitech Harmony Elite remote.
User-friendly app with customization options.
Ergonomic design and responsive buttons.
The battery life of the rechargeable battery is better than any remote I have tested (upwards of 40-60 days on a single charge).
Voice control integration with Amazon Alexa and Google Assistant is available, although I prefer using my Fire TV Cube for this.
Cons
Limited support for IP-controlled devices (i.e., smart home stuff).
Setup was a bit clunky and cumbersome at first. See the FAQ below for a helpful setup video.
Initial compatibility issues with some devices (resolved with firmware updates).
---
---
What's In The Box
The Sofabaton X1 package contains the following.
Sofabaton X1 Remote
Sofabaton Hub
USB charging cable
IR extenders
User manual
The IR extenders are a nice touch, as they help ensure better coverage for harder to reach IR devices in your living room or inside cabinets.
You can check out this unboxing video I did on my @TecTimmy YouTube channel. Please subscribe!
---
The Sofabaton X1 Remote
Next up in my Sofbaton X1 review, let's examine the remote itself.
Design and Build Quality
The Sofabaton X1 is remote and has a durable construction that fits comfortably in the hand. It features a colorful LCD screen that displays selected devices and allows easy navigation.
You navigate the screen using the scroll wheel under it. It is not a touch screen. This might be something I hope the company will consider for a future model.
The buttons are well-placed, making accessing frequently used functions like volume and channel control convenient.
Ergonomics and Ease of Use
One thing I appreciate about the Sofabaton X1 remote is its ergonomic design. The buttons are responsive and have a satisfying tactile feel.
The scroll wheel is especially handy when navigating menus on different devices. The back and power buttons are intuitively placed, making it easy to turn off devices or return to the previous screen.
Battery Life and Charging
Another aspect of the Sofabaton X1 that has impressed me is its battery life. Over the past three months, I've only had to charge it twice, despite using it daily. The USB charging cable provided in the box makes it easy to recharge the remote when needed.
This long battery life is a welcome feature, especially compared to other universal remotes requiring frequent charging. I had to charge my Harmony Elite remote every few weeks. This remote has better battery life than any rechargeable remote I have ever tested (easily over 30).
 Related: Sofabaton vs Logitech Harmony
---
The Sofabaton Hub
Device Compatibility
The Sofabaton Hub connects to various devices, from cable boxes to game consoles and streaming devices like the Fire TV Cube and Nvidia Shield. The hub supports IR and Bluetooth connections, making it compatible with various devices in my living room.
The Sofabaton X1 also supports voice control with Amazon Alexa and Google Assistant, although it has limited support for IP-controlled devices like Philips Hue.
My Experience with the Sofabaton Hub and Different Devices
During my three months of use, I found that the Sofabaton Hub paired effortlessly with most of my devices, including my Samsung Smart TV, Apple TV, Fire TV Cube, Roku Streambar, Samsung soundbar, and cable box. However, I encountered initial problems with my Blu-ray player, which required a firmware update. Since then, it has been smooth sailing. I also have an activity that dims my Philips Hue lights and sets them to blue when I stream my favorite movies and shows.
Sofabaton has a nice schematic diagram of the X1 remote and hub over on its website:
---
The Sofabaton App
The Sofabaton X1 mobile app is available for iOS and Android devices and, once you get the hang of setup,  is relatively easy to use.
User-friendly Smartphone or Tablet Interface
The Sofabaton app has a multi-tiered interface that you use to add devices, create one-touch activities, and map buttons to your preferences.
The app can also double as an additional remote. My buddy has his on a tablet that he likes using to control his home theater system.
However, the initial setup can be tricky, you may need to enter information for some devices manually. Having the make, model, and model number of the devices you want to control on hand is a good idea.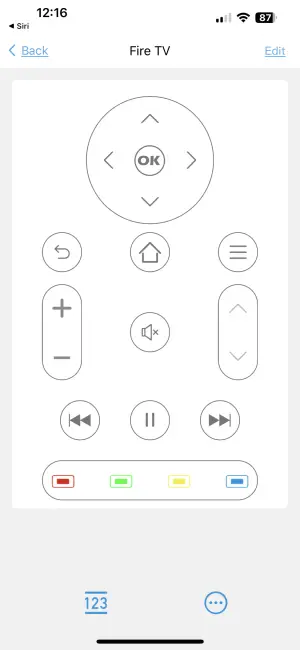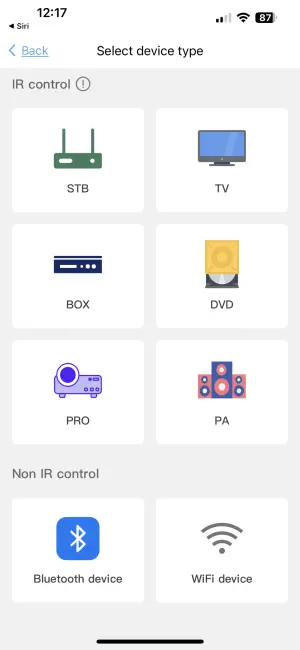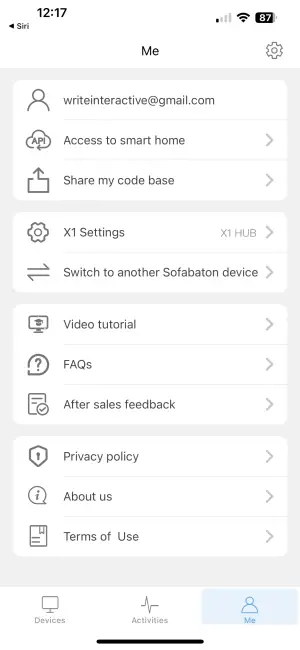 Customization and Personalization
The app's customization options allow you to create device command lists and one-touch activities to streamline your entertainment setup. These features are highly personalized and can be tailored to your preferences.
Plus, you can use the app to install the latest firmware updates for both the remote and the hub using the app. I strongly recommend updating the Hub and Remote to the latest firmware version to benefit from these important updates. Also, keep your Sofabaton app up to date.
---
Sofabaton X1 Technical Specifications
I didn't include the technical specs in my Sofabaton X1 review because I put together a separate spec sheet that covers everything nicely.
You can see the full specifications for the Sofabaton X1 remote in this technical specifications sheet I put together for this remote.
---
Sofabaton X1 FAQs
Next up in my Sofabaton X1 review is something I like to call a little accordion Q&A. Click on any of the question bars below to reveal the answer.
---
Sofabaton X1 Review: Final Thoughts
To close out my Sofabaton X1 review, I can confidently say it has become my top pick and recommendation for smart universal remotes. Its compatibility with a wide range of devices, user-friendly app, ergonomic design, and long battery life make it the one to beat in today's evolving market.
The hub and app, which communicate with devices via IR blasters, provide a seamless experience controlling various gadgets, including streaming devices and smart TV, including Samsung, LG, Insignia, TCL, and Sony televisions (to name a few). Although there is limited support for IP-controlled smart home devices, the extensive code base and full database of IR codes ensure compatibility with most electronics.
The Sofabaton X1 doesn't come cheap, but the pros outweigh the cons. This remote works exceptionally well, even compared to diehard fan favorites like the Harmony Elite. The iOS and Android app and voice commands make the X1 accessible and convenient, while the power, off, and back buttons provide intuitive navigation. Not to mention, it does come with a remote finder feature, adding to its convenience.
The Sofabaton X1's performance, coupled with the fact that it hails from a Hong Kong-based company known for its innovation, has propelled it to the forefront of the best universal remote controls.
In conclusion, if you're looking for a reliable and versatile universal remote, the Sofabaton X1 is worth considering. Despite a few shortcomings, such as its compatibility with only 2.4 GHz networks, the X1 has quickly emerged as a strong contender in the remote control market.  As the search for the perfect universal remote control continues, the Sofabaton X1 stands out as a noteworthy option, thanks to its features, functionality, and ease of use.
Read Next: 11 Best Universal Remotes This Year
---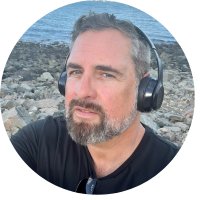 Tim Brennan is a technology blogger and hosts the @TecTimmy YouTube channel. He writes about smart homes at oneSmartcrib, home theaters at UniversalRemoteReviews, and AI in writing at Writeinteractive. A graduate of Northeastern University School of Journalism, he has written about technology for 30 years. Tim lives on the ocean in Nahant, Massachusetts.