Affiliate Disclosure
As an Amazon affiliate, I earn from qualifying purchases.
In this post, I'll give you my recommendations for the best universal remote apps for Samsung TVs you can get right now.
Don't have time to read the full article? Here are my six favorites:
---
The Perfect Spare Remote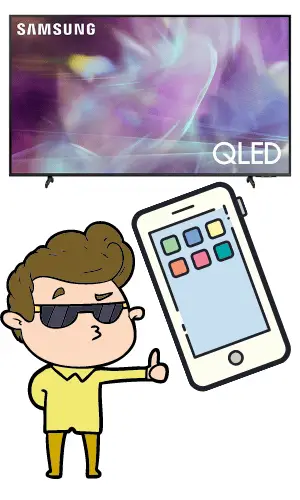 Imagine what it would be like never again to have to worry about misplacing your TV remote or worry about dead batteries. Too good to be true?
Not anymore!
The best universal remote apps for Samsung TVs will pretty much guarantee you're never without your remote control again. As long as you have your phone or tablet handy, you'll always be able to control your TV – sometimes even better than you would have with the stock remote that came with your TV in the first place.
One of the first things I do when I buy a new TV is download a remote control app. I love the functionality of these apps and the security of having an app in my back pocket if I can't find the remote – or if it's across the room and I don't feel like getting up off the couch or out of bed.
I've compiled this quick guide to help jumpstart you on your journey to getting the best universal remote apps for Samsung TVs.
Check out these apps today and give them a test run.
📚 Related: 20 Best Universal Remote Apps
---
#1 – Broadlink RM4 Mini
My Score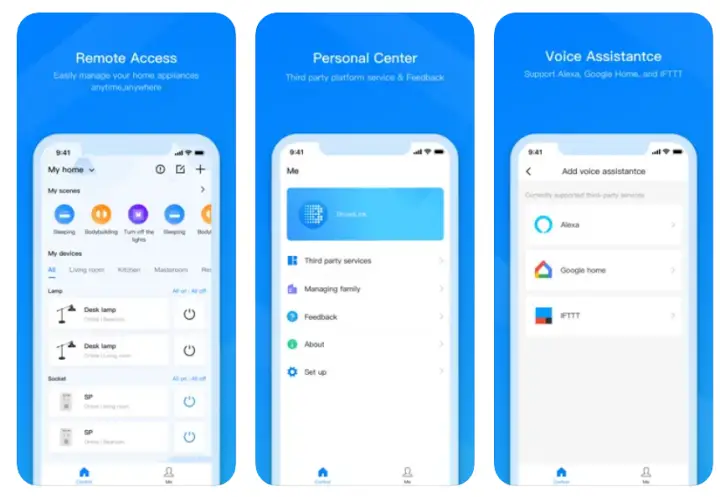 💰 Price – Paid (Check Price Below)
As the owner of this home theater blog, my top recommendation for the best universal remote apps for Samsung TVs is undoubtedly the BroadLink RM4 Mini IR Universal Remote Control. This smart home automation Wi-Fi infrared blaster offers extensive compatibility with many devices, including televisions and air conditioners.
While it isn't free, it boasts support for over 50,000 IR-controlled devices, displaying its adaptability in any smart home setup. Its compatibility extends to Alexa and Google Home, enabling voice control for various devices. The user experience is further enhanced with the new BroadLink App, which provides an accessible and innovative platform for configuration and scene creation.
One drawback to note is the steep learning curve that might challenge beginners due to its broad range of functionalities. Additionally, the device exclusively supports 2.4 GHz Wi-Fi, not the faster 5 GHz variant.
Pros
High compatibility, supporting 50,000+ IR-controlled devices.
Integrates smoothly with Alexa and Google Home.
User-friendly and innovative app control through the new BroadLink app.
Continuous updates from the Cloud for the library of supported devices.
Priced reasonably for its capabilities.
Cons
Presents a steep learning curve, potentially difficult for beginners.
Supports only 2.4 GHz Wi-Fi, not 5 GHz networks.
Not free like some other options here.
---
Download
Get It at Amazon: Broadlink RM4 Pro Mini
---
#2 – Samsung Remote
My Score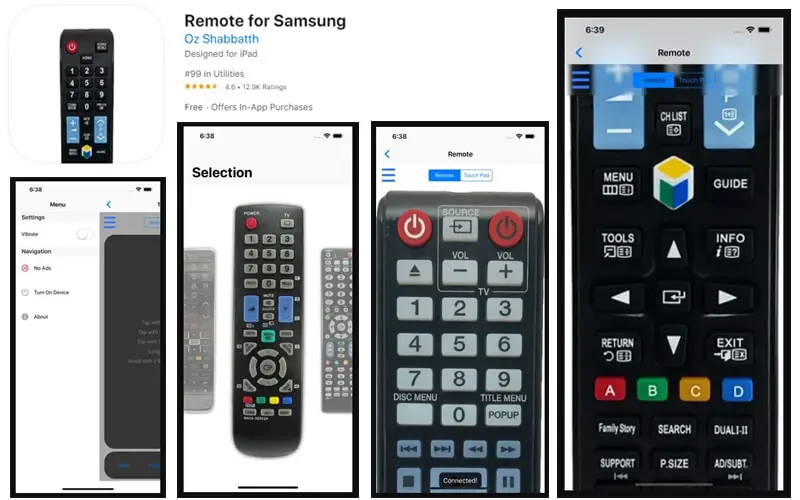 💰 Price – Free
It's hard to imagine anyone making a better universal remote app for Samsung TVs than this one!
Delivering all of the same functionality your traditional remote has (and then some), this just might be the best-designed app on the market. Slick, well-engineered, and with a beautiful user interface (the kind of thing you'd expect from the folks at Samsung), learning how to use this remote is effortless, too.
Best of all, an out-of-the-box setup takes about three minutes or less from start to finish. Once you start controlling your Samsung TV with your device touchscreen and use its keyboard to search, you'll wonder if it's a good idea to use the traditional remote anymore!
Pros
Beautiful user interface — the kind of thing that makes Samsung legendary.
Available 100% free of charge for both Android and iOS devices.
Gets regular updates straight from the folks at Samsung.
Effortlessly connects to all Samsung smart TVs in record time.
Cons
There are small and unobtrusive advertisements in the free version of this app.
You can't buy the premium version of this app outright but instead have to subscribe monthly.
---
Download
Download for iOS: Apple App Store |  Download for Android: Google Play
---
#3 – SmartThings
My Score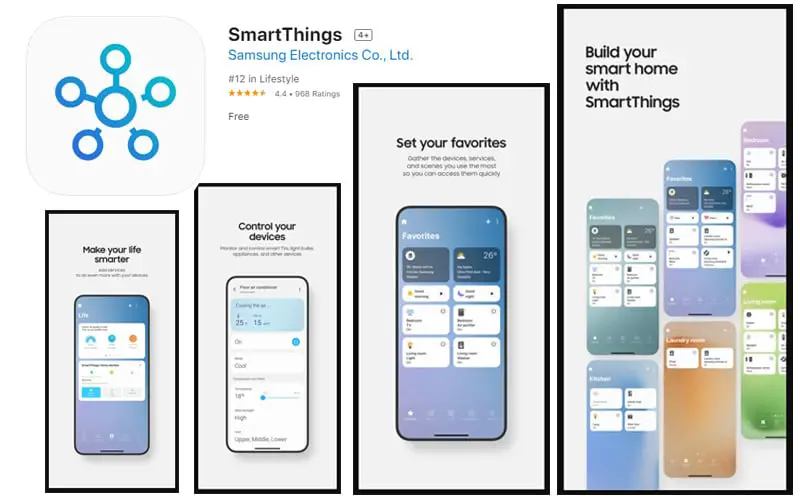 💰 Price – Free
The folks at Samsung have built a pretty impressive mobile app of their own to control their TVs (and pretty much everything else they offer) from your phone or tablet.
This app is called Smart Things and is filled with the polish and performance features you'd expect from Samsung. You'll be able to connect to your TV via a Wi-Fi connection, guaranteeing a more stable and consistent connection than what you would have had with Bluetooth.
You also eliminate the problems (line of sight issues, mostly) that IR connections bring to the table.
The coolest thing about this app, though, is that it gives you full control over your TV directly from your Samsung smartwatch, even. That's a game-changer!
Pros
Effortless set up with Samsung smart TVs, as little as 30 seconds from start to finish.
Super-premium application with power-user features available free of charge.
Built by the folks at Samsung specifically for their hardware.
A relatively lightweight app that isn't going to bog down your phone or tablet.
Cons
Updates can be a little bit infrequent.
Does not integrate well with traditional smart home systems like Google Home or Amazon Alexa.
---
Video Review
Video Credit:
Poolarity – Life Hacks
Download
Download for iOS: Apple App Store |  Download for Android: Google Play
---
#4 – Remotie
My Score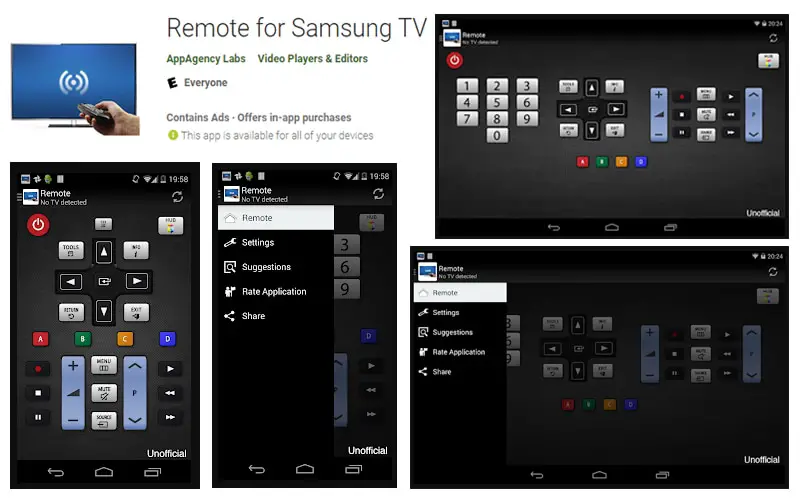 💰 Price – Free with $3.99 Premium Upgrade Option
Anybody on the hunt for a more elegant remote control app that works with their Samsung TV will love this option.
This app takes a more minimalist approach to provide full control over your TV from your phone or tablet. The user interface is sleek and streamlined, with lots of power features hidden away — but always just a tap or two from being implemented.
To make the most out of this app, though, you're going to need the premium version.
Pros
Very attractive user interface.
Super-straightforward connection process.
Makes it easy to control all of your smart TV functions.
Remembers all of the devices that you've connected to.
Cons
Premium subscription required to unlock the full range of capabilities.
Keyboard support is a bit lackluster.
---
Video Review
Video Credit:
Kraftwerk 9 Inc
Download
Download for iOS: Apple App Store |  Download for Android: Google Play
---
#5 – SURE Remote App
My Score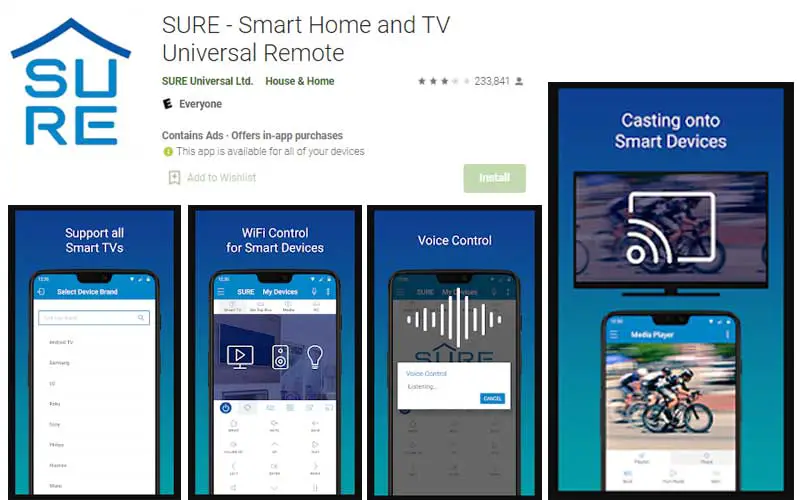 💰 Price – Free
This remote app looks like it could have been built by the engineers at Apple or Samsung directly.
The user interface is clean and uncluttered, navigation is straightforward, and the iconography is perfect for smartphone and tablet layouts. Everything just sort of feels polished.
You can connect this remote app via Wi-Fi or DLNA, which means you'll not only be able to control your smart TV from Samsung with this app, but you'll also be able to stream media to your television, too.
Pros
Easily connect to your Samsung TV with multiple devices.
Link via Wi-Fi, DLNA, and IR.
Offers control support for popular cable and set-top boxes, media streamers, Blu-ray players, projectors, and more.
Frequently updated with new features and capabilities.
Cons
Must be connected to the same Wi-Fi network as the TV for full functionality.
Runs down mobile batteries pretty quickly.
---
Video Review
Video Credit:
rjm tv
Download
Download for iOS: Apple App Store |  Download for Android: Google Play
---
#6 – Twinone
My Score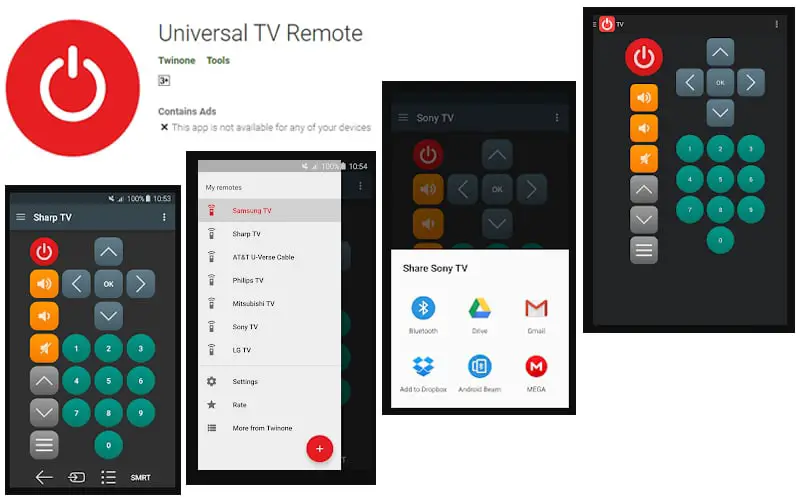 💰 Price – Free
This universal remote app combines multiple features from many other popular apps into a singular solution, squeezing all that functionality "under the hood" in a polished and effective way.
Specifically designed for Android devices, you're not going to find this available for iOS phones and tablets (just yet). Still, if you have Android phones or tablets and want to control your Samsung smart TV — running a modified Android operating system itself — this is the way to go.
The app quickly connects to your Samsung TV and unlocks all its capabilities. You get voice search, smart home integration, and more when using this app.
Pros
Lightweight, fast download and install on your Android phone or tablet.
Trusted developer with a solid reputation.
Offers all of the Samsung traditional remote capabilities you need and more.
Voice command and control integration is very well done.
Cons
Not available for iPhone or iPad devices (yet).
Initial setup can take a little bit of time.
---
Download
Download for iOS: Apple App Store |  Download for Android: Google Play
📚 Related: Universal Remote Codes for Samsung
---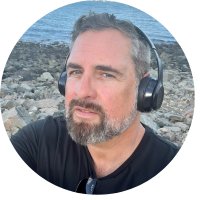 Tim Brennan is a technology blogger and hosts the @TecTimmy YouTube channel. He writes about smart homes at oneSmartcrib, home theaters at UniversalRemoteReviews, and AI in writing at Writeinteractive. A graduate of Northeastern University School of Journalism, he has written about technology for 30 years. Tim lives on the ocean in Nahant, Massachusetts.