If you're looking for Philips remote codes for Roku, you've come to the right place. In this post, I'll give you a comprehensive list of codes and show you how to program your remote using two different methods.
Can You Use a Philips Universal Remote for Roku?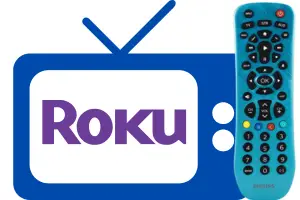 A
re you tired of juggling multiple remotes to control your Roku streaming device and other equipment? With a Philips Universal Remote by
Jasco
, you can simplify your entertainment setup and control all your devices with just one remote. But how do you set it up for your Roku device?
In this blog post, I will address this very question. Not only will I provide you with all the Philips Remote codes for Roku, but I'll also guide you through the process of programming your remote for Roku, step by step.
If, like me, you had a hard time finding the Philips Remote codes for Roku online, bookmark this page, as I will provide a full table of the latest codes below for your reference.
So, let's get started to get you controlling your Roku player and other devices with your Philips Universal Remote in no time flat.
---
Full List of Philips Remote Codes for Roku
The following table contains a comprehensive set of Philips remote codes for Roku streaming players and TVs.
 Pro Tip: To locate the right codes for your Roku device, you must first figure out what version of the Philips Universal Remote you own. To do this, look for a sticker in the battery compartment of the Philips remote containing your remotes code list (CL). This will be CL6, CL5, or CL4.
| Philips Universal Remote Version | Roku Device or Roku TV Codes |
| --- | --- |
| Code List 6 (CL6) | 6171, 6381 |
| Code List 5 (CL5) | 6171, 6001 |
| Code List 4 (CL4) | 6171, 6001 |
After finding the right code for your device, write it down and keep it somewhere safe, but you can always return to this article if you misplace it. Once you have your code(s), continue reading for step-by-step programming instructions.
---
Programming the Philips Remote for Roku
Programming a Philips remote for Roku requires certain steps to ensure the process is smooth and successful. Before you begin, consider the following:
Ensure that the Philips remote is compatible with your Roku device. This remote will work with most Roku boxes and all Roku TVs. It will not work with Roku Stick or other radio frequency (RF) streaming players like Fire TV Stick.
Make sure the Roku device is powered on and connected to the TV.
Keep the Philips remote and Roku device near each other during the programming process.
Keep a pen and paper handy to jot down the correct code.
Method 1: Direct Code Entry (Recommended)
Here are the detailed steps for programming the Philips remote codes for Roku through direct code entry.
Turn on your Roku device and your TV, or your Roku TV.
Hold down the TV button on the Philips Universal remote for five seconds. The LED light at the top of the device will flicker once and then remain lit.
Enter the four-digit Roku TV code you found in the table above using the numeric keypad on your Philips remote control.
Upon entering a valid code, the LED light will turn off. Enter an alternate code if the light remains lit.
Once the LED light turns off, press the Power button on the remote to see if your Roku device or Roku TV turns off. If it does, your remote is configured to operate with your Roku.
Video Credit:
@mailtosimer
Method 2: Using Auto Code Search
To program your Philips Remote codes for Roku using the auto code search method, follow these steps:
Turn on your Roku device and your TV, or your Roku TV.
Press and hold your Philips Remote's Setup button until the red light stays on.
Press the remote's STR (streaming) button.
Hold down the Power button. The remote will send multiple codes at once, so you may need to repeat this step. After you send the right code, the light will stay on.
Press the Power button again. The Roku device will turn off.
Press the TV button again after the TV turn off to save the code.
Test the remote by hitting the power button and any other buttons you need to make sure they work with your Roku device or TV.
Video Credit:
Jasco Products Company
---
Frequently Asked Questions (FAQs)
Can Philips Remote Codes for Roku control my Roku TV?
Indeed, these codes should typically manage most Roku TVs. Apply the directions for both direct and manual code entries to program your Universal Remote for your Roku TV. The same codes that operate Roku streamers should control your TV as well.
Why isn't my Philips Universal Remote responding?
It could be due to incorrect Philips Remote Codes for Roku entry. Verify that your control is correctly configured and synced. It may also be wise to check and replace your remote's batteries if necessary. If all fails, consider resetting and reprogramming your remote.
How can I find more Remote Codes if Roku codes aren't working?
If the Philips Remote Codes for Roku aren't functional with your Universal Remote, consider resetting your remote. Alternatively, you could seek more codes in the user manual or online. Remember, Philips periodically updates their codes; therefore, the latest one might not be included in your manual.
Can I control other devices with my Philips Universal Remote?
Absolutely. It's designed to operate a variety of devices, not exclusively Roku. The right Philips Remote Codes for Roku must be input for each device. To find these codes, consult your manual or visit Philips' website. This should enable you to control multiple devices with ease.
Can I program Philips Remote codes for Roku an older Roku model?
Philips Remote codes for Roku should typically be compatible with older models. However, compatibility can vary, and some older models might not respond as anticipated. If the code fails to work, consider using alternative codes or reset the remote, then reprogram it following the provided instructions.
---
Philips Remote Codes for Roku: Final Word
I've compiled this guide with the full list of Philips Remote codes for Roku, so you don't have to go through the same hassle I did to find the right codes.
I hope this list of codes and the simple step-by-step guide for manual and auto code searches will make your Philips remote and Roku setup a breeze.
But I'm curious – did the codes I provided help? Could you get your remote up and running with your Roku device?  Did you run into any issues? Please drop me a comment below. I'm eager to hear from you.
Here are similar Philips remote code posts I created for popular TV brands:
Oh, and if you are looking to upgrade your Philips remote to something a bit more modern, check out this post I wrote on the best universal remotes you can get this year.
Until next time, peace.