Affiliate Disclaimer
As an Amazon Affiliate, we earn from qualifying purchases.
In this article, I will do my darndest to get you all of the universal remote codes for Vizio TVs! I'll provide the Vizio TV codes as well as detailed instructions for pairing your remote with your Vizio TV or Smart TV. I'll also include codes for other Vizio devices to boot.
---
Programming A Universal Remote to Vizio TVs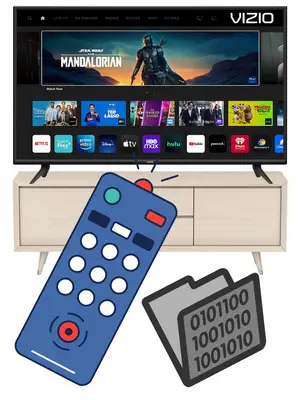 A
re you tired of juggling multiple remote controls for all your smart TV, cable box, streaming set-top box, and home entertainment devices? A universal remote can simplify your life by allowing you to control everything with just one remote. And if you have a Vizio TV, I've got you covered.
But first, did you know that Vizio is one of the most popular TV brands in the United States? In fact, according to Statista, Vizio ranked as the third highest-selling TV brand in the US for the last few years, with a market share of nearly 10%.
This is pretty good, considering there are hundreds of TV brands!
So, whether you're a tech-savvy cord cutter looking to stream your favorite shows or a traditional TV watcher, chances are you own a Vizio TV. And with the correct universal remote code, you can easily control your Vizio TV and all your other home entertainment devices with just one remote.
But fumbling through the user manual to get the codes for different TVs can be a drag. Therefore, I will provide the various codes for all Vizio televisions here.
Rest assured, if Vizio remote codes are what you seek, you are in the right place.
Without further ado, let's dive into the universal remote codes for Vizio TVs.
---
Universal Remote Code List
The first thing you want to do is figure out the code for your TV. Like them or not, codes are an important part of universal programming remotes to TVs. Depending on the remote you own, codes may be required for your Vizio TV. Before listing the codes, you should know that various universal remotes are available in the marketplace.
Some require codes, and some do not. For example, these Logitech Harmony alternatives do not require codes at all.
The buttons you use on your remote control to enter the code to your Vizio Smart TV vary, but the codes of universal remotes are the same and compatible with your Vizio Smart TV.
A universal remote control identifies a specific TV brand and model, and its code for Vizio TV may be from two to five digits. In addition, codes may vary for different Vizio products, for example, the soundbar and Blu-Ray have different codes.
Number Of Digits

Universal Remote Codes

2-digit

19

3-digit (CL3)

004, 011, 113,

502, 505, 627

4-digit (CL4)

1758, 0178, 1756, 0128,

0117, 1017, 1078,

0030, 0056,

0205, 1292, 1004

5-digit (CL5)

10178, 10117,

11756, 01377, 10885,

10864, 10120
---
How to Pair a Vizio TV With a Universal Remote
To connect a universal remote to your Vizio TV, it is necessary to discover the code of the TV.
The remote codes consist of specific numbers (2-5) for different devices, such as televisions and sound systems. They inform the universal remote control which device it should connect to.
If you've bought a new universal remote, it likely came with the manual and directions to pair it with your devices. While the instructions for each model of remote may differ, they all follow the following procedure for setting the correct pairing code:
Here's a step-by-step guide on how to program your universal remote to control your Vizio TV:
Locate the code list that came with your universal remote or find it online. The code list will have a list of codes for various TV brands, including Vizio.
Turn on your Vizio TV and ensure it's set to the correct input (e.g., HDMI1, HDMI2, etc.).
Find the "Code Search" or "Programming" button on your universal remote. This could also be the TV button or Setup button on some remotes. The location and name of this button may vary depending on the make and model of your remote.
Press and hold the "Code Search" or "Programming" button until the LED flashes and turns on. Note that the LED light may not flash on all models.
Press the "TV" button on the universal remote.
Using the keypad and number buttons on the universal remote, enter the first code listed for Vizio TVs from the code list.
Point the universal remote at the TV and press the "Power" button to see if the TV turns off. If it does, you have successfully programmed the remote. If it doesn't, move on to the next code listed for Vizio TVs and repeat the process until you find a code that works.
Once you've found a code that works, write it down and keep it in a safe place in case you need to reprogram the universal remote in the future.
That's it!
If you used the correct method and entered the correct code, you should now be able to use your universal remote to control your Vizio TV.
If you have any trouble following these steps or if the codes listed don't work, you can try using the TV's manual or contacting the manufacturer for further assistance.
---
What if a Universal Remote Code Doesn't Work?
If you've tried the steps previously, but the code didn't work, or you're not sure which code is the best for the device you're using, use the trial and error method.
Entering the codes mentioned in that table (with the correct number of digits) is essential, so please repeat the mentioned steps every time you try a new code until you find the one that works.
---
Vizio Soundbar Universal Remote Codes
If you own a Vizio Soundbar, you should use different universal remote codes:

1517

(4-digit code)

31517

(5-digit code)
---
Vizio DVD Player Universal Remote Codes
3 Digit TV Remote Codes.

502. 627. 004. 113. 505. 011.

4 Digit TV Remote Codes.

1758. 0178. 1756. 0128. 0117. 1017. 1078. 0030. 0056. 0205. 1292. 1004.

5 Digit TV Remote Codes.

10178. 10117. 11756. 01377. 10885. 10864. 10120.
---
Vizio Blu-Ray Player Universal Remote Codes
A Vizio Blu-Ray remote also comes with a different code; however, it only has a single universal remote code:

---
Tips for Solving Common Issues & Problems
In case, you're experiencing difficulty setting up your universal remote to connect with the Vizio TV, here are some troubleshooting strategies that may help you:

Examine the batteries inside your remote to ensure they're in good condition.
Try holding and pressing the power button of your television for five seconds to check whether it changes the signal.
Make sure that you're directly pointing your remote towards the TV.
Move closer to the television.
Remove obstructions between the TV and the remote control.
Try resetting your TV by unplugging the device for about 30 seconds and then plugging in again.
If none of the suggestions work, you should contact customer support.
---
Conclusion
I hope this post has helped you find the perfect universal remote code for your Vizio TV. With just a few simple steps, you can now control all your home entertainment devices with one convenient remote.
I know how frustrating it can be to switch between multiple remote controls constantly, so we're thrilled to have been able to help you streamline your setup.
Now, kick back, relax, and enjoy all your favorite shows and movies on your Vizio TV with the ease and convenience of a universal remote.
By the way are you using a General Electric remote or some other brand? If a GE remote, you can check out this post I did on GE universal remote codes for many brands of TVs. Please leave me a note in the comment box and let me know.
Happy viewing!