In this article, I am going to summarize the best remote apps for TCL TVs available today.
If you are looking for a quality app for your TCL TV, you have come to the right place.
Here are my picks for the best TCL remote apps that are easy to install and use:
---
Fun Facts: TCL Roku and Android TVs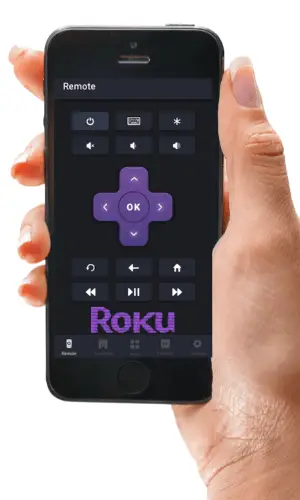 T
CL TVs have quickly risen to become respected among
the top TV brands
in the world.
Want to know a fun fact? According to Wikipedia, TCL stands for Telephone Communication Limited. It is a Chinese electronics company headquartered in Huizhou, Guangdong Province.
Bet you didn't know that's what TCL stood for. I certainly didn't. For a post about TCL remote apps that are most likely going to be installed on your telephone, I thought that was kind of interesting 😊.
Want to hear another fun fact? This one you may already know. The TCL brand is famous for offering enormous value and high-quality TVs at an affordable price. One of the cooler things about the TCL brand it that they generally ship with either Roku OS or Google TV built in. The remote is also pretty good. This makes controlling your TV and enjoying premium content from Netflix, Disney+ and other services so much easier.
However, if you are like me, it can be difficult to keep track of the remote controls for your home entertainment system. This can be even more trouble when you have multiple devices all requiring their own remote: like a soundbar, Apple TV, or Amazon Fire TV to name a few. Luckily, you can now choose one of the best universal remotes for TCL that will control everything. While I wouldn't recommend replacing a good universal remote with an app, they do provide a nice backup option.
Whether you are the proud owner of an Android device or an iPhone, let's get into the best remote apps for TCL TVs.
---
#1 – Best Overall: Rokie by Kraftwerk9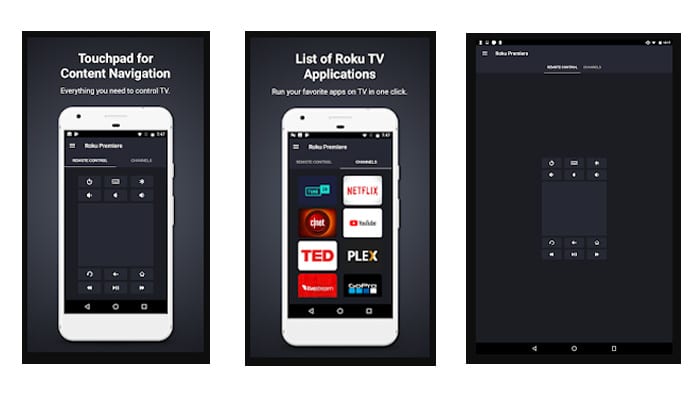 Created by:
Kraftswerk9
💰 Price – Free
The Kraftswerk9 TCL Roku remote is compatible with iPhones, iPads, iPod touches, and all Android devices. The basic functions of the app are free, with the ability to upgrade your service with in-app purchases, including weekly, monthly, and lifetime Pro Roku Remote and add removal purchases per year or per use.
This app remote has solid reviews and is considered one of the best options out there for TCL TVs. It has a user-friendly interface and is easy to set up, even for the not-so-tech-savvy users.
 Pros:
 Works on both iOS and Android
 Easy to connect
 Great reviews
 Works from different rooms
 Not as many ads as other options
 Cons:
 A few users noted it can sometimes freeze up and needs to be uninstalled and reinstalled to fix the issue.
---
Where to Get it:
  Download for iOS: Apple App Store  |   Download for Android: Google Play
---
#2 – TCL Official: Home Comfort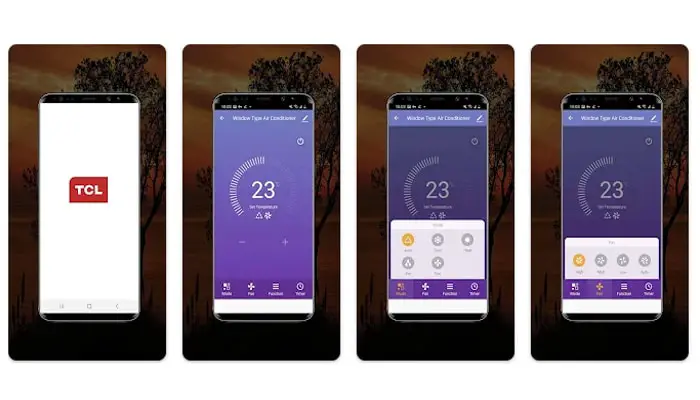 Created by:
TCL
💰 Price – Free
Home Comfort is the official TCL app offered through the company itself. This app provides all of the key features needed to control your television in every way, whether you are simply changing the channel or trying to set schedules and timers.
This app is easy to use and can be downloaded to either Android or iPhone devices for free. Once the app is set up, all you have to do is create an account, and you can control your television from your smartphone and can even do it with a voice control option.
While the device is perfect for television purposes, it can also be connected to control other items around the home.
 Pros:
 Account keeps track of preferences
 Free for all options
 Available for Android and Apple Users
 Works with Alexa for voice control
 Cons:
 Some users report that the connection can be laggy at times.
---
Where to Get it:
  Download for iOS: Apple App Store  |   Download for Android: Google Play
---
#3 – Best Android-Only: Real Vision Remote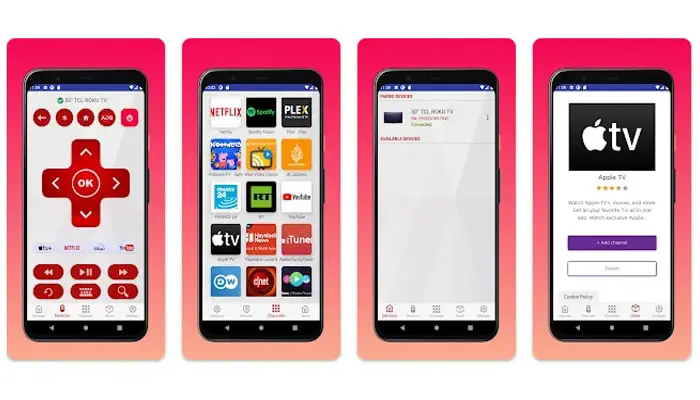 Created by:
Real Visions Apps
💰 Price – Free
This is an easy-to-use app for Android users. It is free to download and comes with all of the features you want or need in a television remote control.
Besides changing the volume, channels, and power, this app can scan and pair multiple devices, and it has easy-to-navigate menu controls. It can also remember the last connected devices for a seamless connection the next time you need it.
This app makes it easy to find your favorite TV shows and movies from one device and allows you to change functions and volume from anywhere in the house.
Pros
 Easy to connect
 Remembers last connection
 Does everything the original remote can do
 Pairs with your TCL TV and Roku
 Free
Cons
 A lot of pop-up ads (Unless you buy the upgraded version)
 The keyboard can sometimes be laggy
 No iOS version
---
Where to Get It:
  Download for iOS: N/A  |   Download for Android: Google Play
---
#4 – Android Runner Up: Smart TV Remote Ctrl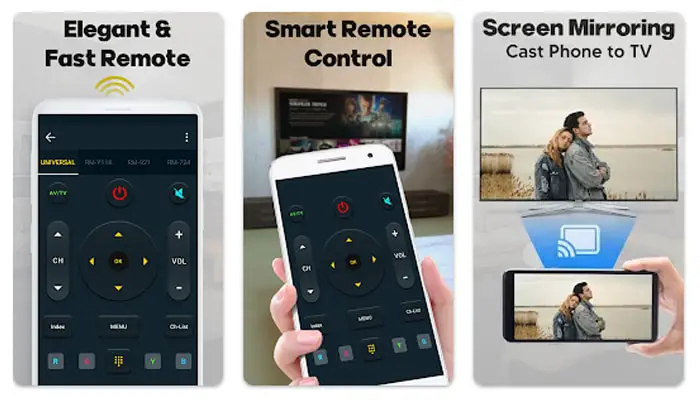 Created by:
Fineart
💰 Price – Free
The Fineart remote is a universal television remote control that can connect to the most popular tv brands, including TCL smart TVs. This app can control all essential functions of your television, making it easy to change the channel, control the volume, and more.
This remote app turns your smart device into a high-quality and fully functioning TCL controller using a Wireless network or Infrared (IR Blaster) from your Android devices for free when the original one is no longer an option.
Pros
 Converts your smartphone into a universal TV remote
 Controls all your electronic equipment
 Pop-ups are tolerable
 It has had more than 1,000,000 downloads
 Screen mirror capabilities
Cons
 Only for Android users
 Some users experience trouble connecting to Roku.
 No iPhone version
---
Where to Get it:
  Download for iOS: N/A  |   Download for Android: Google Play
---
#5 – Best iOS Roku TCL APP: TCLee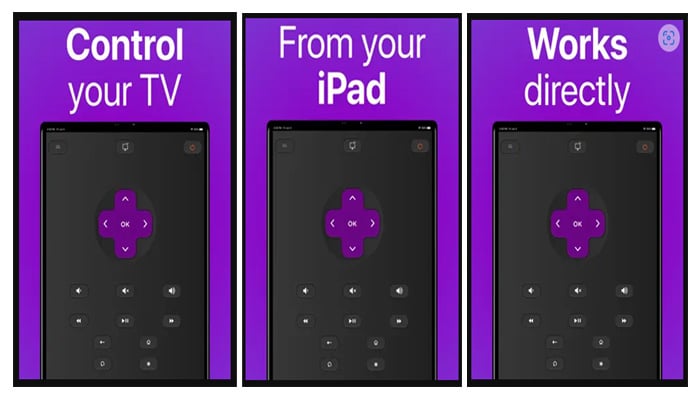 Created By:
Yohan Teixeira
💰 Price – Free
Yohan Teixeira is a designer for iPad and created an amazing app for iPhone and iPad product users that can easily navigate your TCL tv whether you lost your old remote, broke it, or simply want something a little more convenient.
All you have to do is connect both devices to the same wireless internet, and you are good to go.
You can use the free version to get the same functions as the original app with in-ad purchases or upgrade to a monthly subscription to get enhanced features such as no pop-ups.
Pros
 Works just as good as the physical remote
 Free to use
 Offers voice and gesture controls, allowing you to control your device with simple movements.
Cons
 Requires a monthly fee for no pop-up ads
 Requires a fast Wi-fi connection
---
Where to Get it:
  Download for iOS: Apple App Store  |   Download for Android: N/A
---
What to Look for in a Remote Control App for TCL TVs
The features and functions you should look for when choosing one of the best remote apps for TCL TVs will be different depending on your needs it and the devices you have. Things to consider include:
 What type of device do you have (Apple or Android)?
 What functions are important to you (basic or advanced)?
 Do you mind ads, or are you willing to pay to have them removed?
 Do you want an app from a 3rd party site or the company itself?
---
Best Remote Apps for TCL: Summing Things Up
There is a huge selection of remote-control apps on the market today that are compatible with TCL TVs.
However, there is a lot of spammy junk out there. Hopefully, this article can help you see the forest through the trees.
The options listed above provide some of the best remote apps for TCL TVs regardless of whether you are on a Roku TV or a Google TV or you are on an iOS or Android smartphone or tablet.
I hope you enjoy one of them as much as I have enjoyed trying them out and reviewing them for you.
If you are an Android user and want more ideas, check out this post on the 15 Best Remote Control Apps for Android. I also have articles on the GE Remote Codes for TCL and Philips Remote Codes for TCL.
Until next time, enjoy your TCL TV!