Affiliate Disclaimer
As an Amazon Affiliate, we earn from qualifying purchases.
In this post, I will share everything you need to know about the GE remote codes for TCL and TCL Roku TVs—newly updated with the latest codes for this year.
What Are the GE Remote Codes for TCL TVs?
G
eneral Electric has always been synonymous with quality, innovation, and trust. There's no question that
GE
is still a trusted name in electronics today.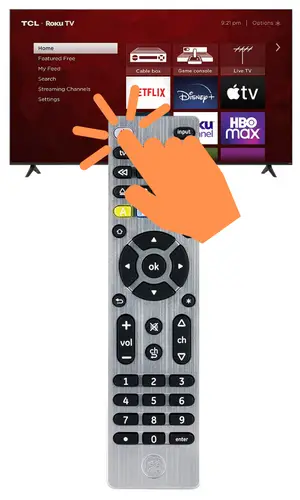 While there are better universal remotes for TCL TVs and even some decent remote control apps for TCL TVs, the GE Universal Remote is a good option if you want to control up to four devices on a budget.
Apart from being unable to control Bluetooth devices and smart home stuff, my biggest gripe with the GE remote is the old-school way of relying on "universal remote codes" to program your devices. While there is a method that might detect your TCL TV automatically, I find that the most reliable way to program this remote is via those dang codes.
My main issue with the codes is the documentation. The font is typically too small for my aging eyes. You literally need a magnifying glass to read the thing!
Another annoying thing is that the manual containing the codes is out of date as soon as the remote ships. This means that if you buy a TV that is newer than your remote, then it is basically a game of luck if you can get the old codes to work with your new TV.
But fear not!  In this post, I am happy to provide the latest codes. I also pledge to keep this page up to date so that you will always have the latest codes at your fingertips.
As an added bonus, I will also include the step-by-step instructions for programming the remote on the off chance you lost the dang manual or your dog ate it. (You would be surprised at how often I actually hear this!)
Anyhow, let's get you those codes.
---
List of Codes
The GE remote codes for TCL and TCL Roku TVs are all going to be four-digit numbers.
GE universal remotes come with three sets of code lists. The first thing you want to do is find out which code list your remote is loaded with. This will make your life easier as the codes listed below are categorized into these code lists.
To find the code list for your particular remote, pop open the battery compartment and check the sticker. It should be printed in the form of CL3, CL4, or CL5.
Here are the remote codes for your TCL and TCL Roku TV:
TCL TV Model

GE Remote Control Codes

GE Universal Remote Codes for TCL and TCL Roku TV, CL3

2891,

2851,

1741,

0091,

1421,

1691,

1851,

2011,

2061,

2111,

2301,

3421,

3431,

3571,

4921

GE Universal Remote Codes for TCL and TCL Roku TV, CL4

2891,

6171,

5961,

6031,

5771,

1741,

6201,

4921

GE Universal Remote Codes for TCL and TCL Roku TV, CL5

2891,

6171,

5961,

6031,

1741,

5771,

6201
Pro Tip: These codes should work for both TCL and TCL Roku TVs. If you go to the TCL website, you'll notice that they recommend using the 2891 code for TCL Roku TVs. When setting up your remote, try that first, then work your way down until you find one that works. I've sorted these codes, so the ones likely to work are higher on the list.
📚 Related: GE Remote Codes List (All TVs)
---
How To Program a GE Remote to a TCL TV
Since TCL has a top-pick remote code for their TVs, I recommend you use the manual method of pairing your remote to your TV. You don't need any programming or technical experience, and here's how to do it:
Turn on your TCL TV using the power button.
Press the Setup button on your remote.
Hold the Setup button until the red light turns on.
Select the TV button on your remote to let it know you're pairing a TV.
Try selecting 2891 as the first code for your TCL TV.
The red light should switch off.
If it doesn't, type in the next code on the list.
Once the red light is off, press the Power button.
Your TV should switch off.
Boom! That's it! You're done. Your remote is now working, and you'll be able to use it to switch channels or turn the volume up or down.
---
Can I Program the Remote Without a Code?
If you've exhausted the above list and found that none of the codes don't work, don't panic just yet. There's still a way to get your remote to work with your TCL TV.
There is a chance your GE remote has all the codes it needs for your TV stored in its memory banks. There's a way to let the remote figure this out by itself. However, it can take a bit longer and can sometimes be less reliable. This is why I didn't recommend this method right away.
Here's how to pair your remote and TV automatically:
Switch on your TV using its Power button.
Get your remote and press the Setup button.
Hold it until the red light turns on.
Press the TV button on the remote.
Press the Power button on your remote every 5 seconds.
When your TV switches off, turn it on again using its Power button.
Now, press the Volume Up button every 3 seconds.
When your TV switches off, press the TV button on your remote to lock the code in.
If the auto method was successful, your remote should now be programmed and work with your TV. How long this process takes depends on whether your remote uses the correct code immediately. My advice when doing this is to be patient and wait for your TV to respond to your remote.
Video Review
Here's a video that shows the above method. Don't let the fact that he starts the video outside derail you from watching the whole thing.
  Video Credit:
Take a Bath Productions
---
Troubleshooting Guide
What if My Code Doesn't Work Right Away?
Don't worry. Try out different codes. Work your way down the list. If it still doesn't work, use the automatic method. You'll eventually find the code that should work with your TV.
Ensuring that your remote is fitted with fresh batteries also helps. If you're changing batteries, don't leave your remote without one for more than 10 minutes, as this will reset it, and you'll have to set it up again.
Can I Reset My GE Universal Remote?
Yes, you can! The reset to factory defaults can come in handy when you're having difficulty setting it up or want to clear its programming for a different device. You can also use it if you're stuck, allowing you to reset the process.
Here's how to reset your GE universal remote:
Press the Setup button on your remote.
Hold it until the red light turns on.
Now, press the Mute button.
Then, press the Zero (0) button.
Once the red light flashes twice, the reset process is complete.
---
Conclusion: GE Remote Codes for TCL TVs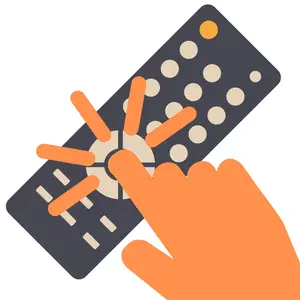 That's it! All the GE remote codes for TCL TVs are here.
Hopefully, you were able to find the right one within a few minutes and without having to squint.
I'll leave you with a tidbit that saved my backside more than once: write down the code as soon as you find the one that works for your TV!
You can grab a pen and paper and scribble it down or even scotch-tape it to the back of your remote. Or send it to yourself via email or a DM. The bottom line is you want to save it for future use.
Bookmarking this page also helps 😉
Until we meet again, enjoy your GE remote and TCL TV! Oh, and if you are interested in some remote options that don't require codes, check out this post I wrote on some of the best remotes available right now.
📚 Related: GE Remote Codes for Insignia