Affiliate Disclosure
As an Amazon affiliate, I earn from qualifying purchases.
In this article, I review the seven best LG Smart TV remotes [universal and replacements] you can get right now.
The suspense is killing you already?
Without further delay, here are the best LG Smart TV remotes you can get right now:
---
Life's Good – If Your LG Remote Works
Did you know that consumer electronics king LG (Life's Good) is also one of the top Smart TV manufacturers in the world?
Whether you like to watch Netflix and cable (like Fios or Xfinity) or stream media with players like Roku, Google Chromecast, or Apple TV—a good-quality remote designed to work with your LG Smart TV will make your entertainment experience better.

But if you're here, you probably already know that. Maybe you're in the market for a new replacement remote, or maybe you're in need of an upgrade?
Well, you are in luck.
In this post, I review the best of the best, so you can get back to streaming the final season of Game of Thrones in a flash.
So without further delay, here are your seven best LG Smart TV remotes controls for virtually any budget.
📚 Related: 11 Best Universal Remotes This Year
---
#1 – Editor's Choice: Sofabaton X1
With Logitech's recent announcement that they will no longer make Harmony remotes, the SofaBaton X1 couldn't have arrived on the market at a better time.
This highly advanced universal remote control comes with a hub to control most of your home entertainment devices. With its two-inch display and scroll wheel, it's designed for fast switching between devices. And one-touch Activities let you run custom macros like Watch TV to automatically turn on your TV, cable box, sound system, and even dim smart lights.
The included IR boosters make it possible to store the hub inside of a closed cabinet. And with Alexa voice control and backlit buttons, it's easy to use in a dark room. It has a super long battery life of 60 days, which is better than any rechargeable remote I have ever tested. Very cool.
Pros
Support for 500,000 devices
Super long battery life
Display screen and scroll wheel
Easy set up and ability to "learn" existing remotes
Backlit buttons
Cons
Limited control of Wi-Fi devices right now
IR learning can be hit or miss
No dedicated power button
---
Video Review
  Video Credit:
OSReviews
Where to Buy It
Editor's Choice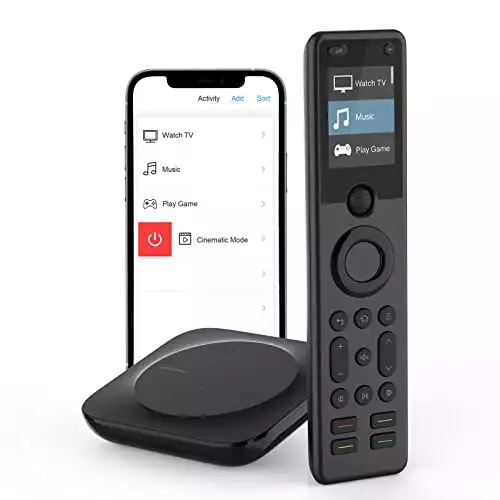 ---
#2 – Budget Universal: Sofabaton U2
The Sofabaton U2 Universal Remote delivers an improved design and performance over its predecessor, the U1, consolidating control of up to 15 infrared and Bluetooth devices into a single remote. With an exceptional IR signal range, the U2 is compatible with over 500,000 devices from over 6,000 brands, making it an ideal choice for managing your home entertainment setup.
Customizable through programmable macros, the U2 offers maximum flexibility and control. The ergonomic scroll wheel design, coupled with the high-resolution OLED display, ensures a user-friendly experience. However, the U2 does not support wireless or Wi-Fi devices, and its price point is higher than the U1 model.
Pros
Larger size remote feels good in hand
Improved U2 remote has better IR range
Customizable programmable macros
Outstanding support
Inexpensive for what you get
Cons
Need device info for setup
LCD screen is super basic
Higher price point than U1
---
Where to Buy It
Best Budget Universal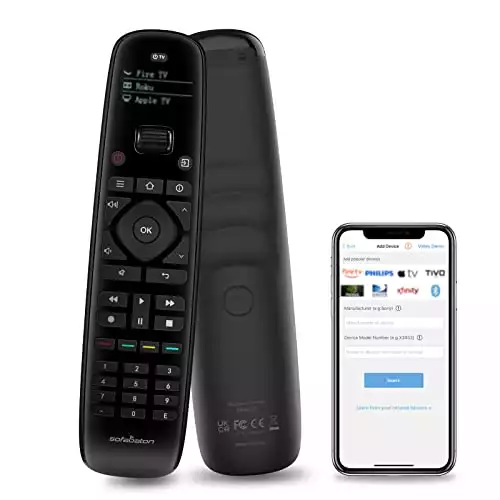 ---
#3 – Best for Elderly: Flipper Big Button Remote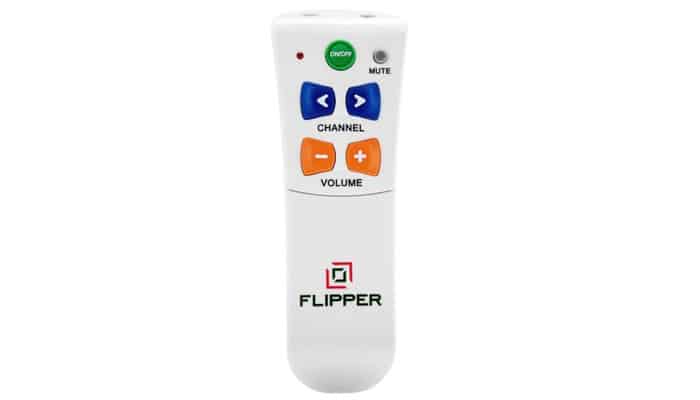 The Flipper Big Button Remote for Seniors is designed with seniors in mind. The large color-coded tactile buttons make it easy to use, and it's limited to just three functions – On/Off, Channel Up, Channel Down, Volume Up, Volume Down, and Mute.
It's perfect for gift giving for caregivers, elderly loved ones with Dementia or Alzheimer's, and the vision impaired. The Flipper Big Button Remote for Seniors works with all major TVs, cable boxes, and satellite boxes. You can program 25 favorite channels to limit browsing to just those channels.
Pro Tip: If you buy this remote, go to the Flipper website and download the updated documentation.
Pros
Super simple remote great for seniors or vision impaired
Can set up anywhere from 1-50 favorite channels to scroll through
Latest update fixed problem with powering down TV and cable at same time
Large buttons make it easy to navigate
Grandma and Grandpa approved
Cons
Set up is via those remote control codes. Ugh.
Remote feels a bit plasticky in the hand
Slight delay after pressing the channel button
---
Where to Buy It
---
#4 – OEM Option 1: LG Magic Remote
If you have no interest in a smart remote that can control hundreds of thousands of smart devices, then that is perfectly fine. In fact, you can easily save a few hundred dollars by purchasing a remote that is designed for LG Smart TVs.
The OEM LG AN-MR18BA Magic Remote Control is a remote control that is compatible with around 66 different TVs, including LG Smart TVs, meaning that you can get the replacement remote that you need, without spending hundreds of dollars in the process.
Pros
 Works with around 66 different TVs, including several different versions of LG Smart TVs
Controls both Netflix and Amazon through buttons and has Voice Mate
 Affordable
Cons
 Not compatible with as many models as other remotes
 Requires batteries to work
 Doesn't have a recharging station for ease of use
---
Compatibility:
This remote is compatible with the following LG UHD 4K Smart TVs:
  OLED65W8PUA OLED77W8PUA OLED43W8PUA OLED49W8PUA OLED50W8PUA OLED55W8PUA   OLED86W8PUA OLED65B8 OLED43B8 OLED49B8 OLED50B8 OLED55B8 OLED75B8 OLED77B8 OLED86B8 OLED65C8PUA OLED43C8PUA OLED49C8PUA OLED50C8PUA OLED55C8PUA OLED75C8PUA OLED77C8PUA OLED86C8PUA OLED65E8PUA OLED43E8PUA OLED49E8PUA OLED50E8PUA OLED55E8PUA OLED75E8PUA OLED77E8PUA OLED86E8PUA 55SK9000PUA 43SK9000PUA 49SK9000PUA 50SK9000PUA 75SK9000PUA 65SK9000PUA 77SK9000PUA 86SK9000PUA 55SK8000PUA 43SK8000PUA 49SK8000PUA 50SK8000PUA 65SK8000PUA 75SK8000PUA 77SK8000PUA 86SK8000PUA 55UK6300   OLED75W8PUA 43UK6300 49UK6300 50UK6300 65UK6300 75UK6300 77UK6300 86UK6300 65SK9500PUA 75SK8070PUA 55UK7700AUB 65UK7700AUB 86UK6570AUA 75UK6570AUA 70UK6570AUA 65UK6500AUA 55UK6500AUA 50UK6500AUA 43UK6500AUA
Where to Buy It
---
#5 – OEM Option 2: LG Factory Remote
Next on my list of the best LG Smart TV remotes is the LG Factory remote. Some people do not need the option to have a remote that works with over 50 TVs. When most people invest in a smart TV, then they usually intend to keep that TV for as long as possible.
This means that you don't really need to spend money on a remote that works with several different TVs. Thankfully, there are remotes that you can choose from a factory remote that was designed to work just the remote that came with your TV.
Pros
 Works with around 19 different LG Smart TVs
 Has buttons for both Netflix and Amazon, making it convenient to use
 Inexpensive
Cons
 Not nearly as advanced as other remotes on the market
 Some people complain that it doesn't last as long as other, more expensive remotes
 Very standard remote, nothing special about its appearance
---
Compatibility:
  43LJ5500 43LJ550M 43UJ6300
  49LJ5500 49LJ550M 49UJ6300 49UJ6500
  55LJ5500 55LJ550M 55UJ6300 55UJ6540
  60UJ6050 60UJ6300 60UJ6540
  65UJ6300 65UJ6540
  70UJ6570
  75UJ6470 75UJ657A
Where to Buy It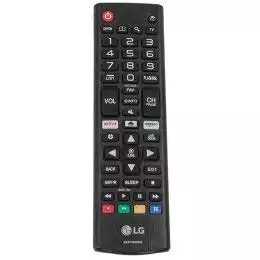 ---
#6 – Budget OEM: LG Electronics Remote
What's even better than a remote that is relatively less expensive and controls a few different TVs is a remote that is even less expensive and controls significantly more TVs.
With this remote, you will be able to use this remote with around 70 different Smart TVs for the price of any other universal remote you could find. This means that you will not be spending any significant money on a remote that you will have no use for, but instead, you will have a remote that you will be able to use for a long, long time.
 Pros:
 Very inexpensive
 Works with around 71 different LG Smart TVs
 A sleek, slender appearance makes this remote stylish
 Cons:
 Less expensive remotes usually mean cheap materials, which is something to be wary of
 Some people complain that this remote is not very sturdy
 Doesn't have special buttons for Netflix and Amazon
---
Compatibility:
Replaces Remote Control models:
AKB73975711 AKB73575722 AKB74475455.  
Compatible Smart TV Models:
32LB520B, 32LB5600, 32LB5600-UH, 32LB560B, 32LF500B, 32LF510B-UC, 32LF550B-UA, 32LF5600-UB, 32LX340H, 32LY340C, 32LY340C-UA, 39LB5600, 40LX340H, 42LB5600, 42LB5600-UH, 42LB5600-UZ, 42LF5500-UA, 42LF5600-UB, 42LX330C, 42LX530S, 42LY340C, 42LY340C-UA, 43LF5100-UA, 43LF5400-UB, 43LX310C, 43LX310C, 43UF6700-UC, 47LB5900, 47LB6000, 47LY340C, 47LY340C-UA, 49LB5550, 49LB5550-UY, 49LF5100-UA, 49LF5400-UB, 49LF5500-UA, 49LX310C, 49LX341C, 49LX540S, 49UF6700-UC
50LB5900, 50LB6000, 50LF6000-UB, 55LB5550, 55LB5900, 55LB5900-UV, 55LB6000, 55LB6000-UH, 55LF5500-UA, 55LF6000-UB, 55LX341C, 55LX540S, 55LY340C, 55LY340C-UA, 55UF6700-UC, 60LB5200, 60LB5200-UA, 60LB5900, 60LB5900-UV, 60LB6000, 60LF6000-UB, 60LX341C, 60LX540S, 60UF6700-UC, 65LB5200, 65LB5200-UA, 65LX341C, 65LX540S, 65UF6700-UC
Where to Buy It
---
#7 – Budget Universal: Gvirtue Remote
Rounding out of our list of LG Smart TV universal remote controls is the Gvirtue remote. Sometimes, you might not have the money to spend much on a remote. Other times, you might not care to spend much money on a remote for your LG Smart TV. Sometimes, you only need a universal remote that works well with your Smart TV, without any fancy features or overpriced special designs. Thankfully, some remotes can do this for you, costing less than $10. This means that you can have a perfectly working remote for your Smart TV without having to spend much in the process.
 Pros:
 Super inexpensive
 Works with 21 different LG Smart TVs
 Has buttons for Netflix and Amazon for ease of use
 Cons:
 Many people complain about the durability of the remote
 Some people say that the remote has some lag, which can be irritating at times
 Very standard remote could easily be confused with other remotes
---
Compatibility:
This remote is compatible with the following LG Smart TV models:
  98UH9800 86UH9500 75UH8500 75UH6550 70UH6350 70UH6330 65UH9500 65UH8500 65UH7700 65UH7650 65UH7500 65UH6550 65UH615A 65UH615A 65UH6150 65UH6030 65UH5500 60UH8500 60UH7700 60UH7650 60UH7500 60UH6550 60UH615A 60UH6150 60UH6090 60UH6035 60UH6030  58UH6300 55UH8500 55UH7700 55UH7650 55UH7500 55UH6550 55UH615A 55UH6150 55UH6090 55UH6030 50UH6300 50UH5530 49UH7700 49UH7500 49UH6500 49UH610A 49UH6100 49UH6090 49UH6030 43UH7500 43UH6500 43UH610A 43UH6100 43UH6100 43UH6030 and More.
Where to Buy It
📚 Related: Philips Remote Codes for LG
---
My Recommendation
Regarding the best LG Smart TV remotes, your best option is the Sofabaton X1. This remote can do everything from controlling your TV through Alexa to turning on the lights and activating devices even when you aren't home. This is really one of the most versatile remotes that you can find. Plus, support for Sofabaton's database of over 500,000 devices means it is likely already compatible with your LG Smart TV model and everything else you own.
📚 Related: 5 Best Remote Apps for LG TVs
---
Best LG Smart TV Remotes – What Do You Think?
I hope you enjoyed my review of the best LG Smart TV remotes.
What do you think about our picks for these remotes? Are you just looking to replace an existing remote or are you considering an upgrade?
Either way, I hope you will leave me a comment below and let me know. I would love to hear from you.
Also, if you found this helpful, would you mind sharing it using the social media buttons at the top of this page? Thanks for your support!
📚 Related: Who Makes LG TVs
---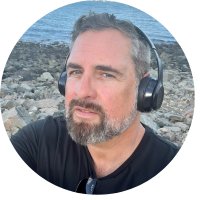 Tim Brennan is a technology blogger and hosts the @TecTimmy YouTube channel. He writes about smart homes at oneSmartcrib, home theaters at UniversalRemoteReviews, and AI in writing at Writeinteractive. A graduate of Northeastern University School of Journalism, he has written about technology for 30 years. Tim lives on the ocean in Nahant, Massachusetts.