Affiliate Disclaimer
As an Amazon Affiliate, we earn from qualifying purchases.
In this post, I will share my picks for the seven best remotes for Element TVs this year.
I have chosen three replacement remotes that will let you control your Element TV and four that will control your entire home theater system.
The best remotes for Element TVs are:
Element TVs: Made in the USA
W
ant to know a fun fact about Element TVs? Well, here are three.
First, the Element brand is the only major television company assembling TVs in the United States.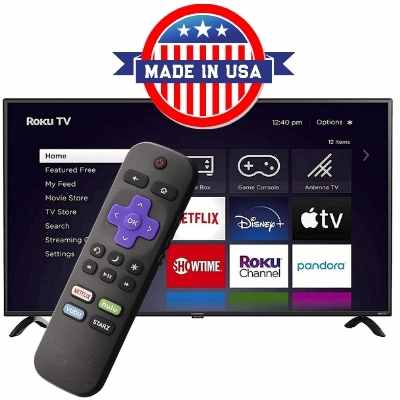 Second, customers who own these TVs typically love them❤️📺.
Third, newer Element TV models come with Roku TV pre-installed, which gives customers access to their favorite streaming services like NetFlix, Disney+, Apple TV, Pandora, and many more.
Now here's another fact that is not so fun. Many of those same customers who rave about their Element TVs say that the remote that comes with the TV is a letdown, and at least one customer called it "a real stinker."
Perhaps that's why you're here.
Whether you're looking for a replacement remote for your Element TV or want to consolidate all those remotes for your entertainment center down to one, this article covers both.
There are certainly a lot of choices. The best remotes for Element TVs range from fully programmable remotes that can control most gadgets in your home to one that only controls your Element Smart TV.
---
Best Remotes for Element TVs: My Top 3 Picks
Here is a side-by-side comparison of my top three picks for the best remotes for Element TVs. Note that these are all universal options. If you just want to replace an existing remote, I'll cover those later in the article.
📝 Note: Prices are updated as of the date at the bottom of the table. Click the button at the bottom of the table to see the price you will pay at checkout.
Top Pick
4 Device
Hub & App
Product Name
Inteset 4-in-1: Best for Streamers
Voice Control (Alexa/Google)
Technology
Infrared, Radio Frequency, Bluetooth, Wi-fi
Radio Frequency and Infrared
Range
40ft, plus IR boosters for additional coverage
Top Pick
Voice Control (Alexa/Google)
Technology
Infrared, Radio Frequency, Bluetooth, Wi-fi
Range
40ft, plus IR boosters for additional coverage
4 Device
Product Name
Inteset 4-in-1: Best for Streamers
Voice Control (Alexa/Google)
Technology
Radio Frequency and Infrared
Hub & App
Voice Control (Alexa/Google)
Last update on 11/22/2022 / Affiliate links / Images from Amazon Product Advertising API
---
#1 – Premium Pick: Sofabaton X1
I've been blogging about universal remotes for over three years now, and I don't think there has been a new product that I have been more excited about than the Sofabaton X1.
I bought the Sofabaton X1 universal remote control on Amazon Prime Day. I went through the setup process and have started testing, and the results are super encouraging!
While not perfect, the Sofabaton does a great job controlling both infrared and Bluetooth devices via Wi-FI. It will also control a limited number of smart devices, like Philips Hue lights; plus, support for Alexa and Google Assistant means you can also use your voice to control your devices. While I don't have an Element Roku TV, I did test it using my Roku player. Best of all, you set this thing up using your smart phone so there are no remote control codes involved.
The number of devices that Sofabaton claims it will support is over 500,000, meaning it will likely control almost every Element TV model and all the home theater devices you own today.
The SofaBaton X1 has customizable activity buttons that allow you to create a button for your favorite activities. For example, you could create an activity called "Watch Element TV" that will turn on your TV, sound bar, and cable box (or Blue-ray players, Roku box, Apple TV, etc.) with one simple button press. Included in the box are two IR blasters that allow you to control devices stored inside your entertainment center.
Now that Logitech Harmony has said bub-eye, the SofaBaton X1 is now the one remote to rule them all, in my opinion. While the screen is a display-only LCD and not a touch screen, the digital display looks cool. You don't have to worry about entering the universal codes into this remote, either.
Video Review
 Video Credit:
Tec Timmy
---
#2 – Budget Universal: Inteset 4-in-1
The Inteset 4-in-1 is a good budget option for a universal remote. It can control everything you can think of, from Apple TV, Netflix, Roku, and even your Xbox as well as your set-top box, Blu-ray players, and more. It will also control other Roku TV brands, including Sanyo Roku TV, TCL Roku TV, Hisense Roku TV, Hitachi Roku TV, Sharp Roku TV, RCA Roku TV, JVC Roku TV, Philips Roku TV, Westinghouse Roku TV, and Onn Roku TV. It's pre-programmed out of the box, allowing you to use it immediately.
There's an entire database of device codes to connect TVs, soundbars, DVD players, and more to complete your entertainment center. While a bit tricky to set up it also has macro button support, so you can program up to 15 commands via one button push.
Even though it's a solid streaming remote for an affordable price, its main limitation over Sofabaton U1 is that it will only let you control up to four devices.
---
#3 – Best Hub and App: BroadLink RM4 Pro
The BroadLink RM4 Pro is for smart home enthusiasts comfortable with controlling their Element TV and related equipment using an app instead of a physical remote. The app is available for iOS and Android devices and can run on your smartphone.
However, I would recommend buying a tablet for use with this device for the ultimate in coolness.
It is compatible with smart assistants like Siri, Alexa, Google Assistant, and IFTTT. You can easily set it up with your smart speakers for home automation tasks.
The remote has programmable keys with a library of device codes, so you'll be able to use it with newer TVs, DVDs, and even A/C units.
If you like the idea of remote control apps for your phone, you can also check out these other posts I wrote on the best universal remote apps for iOS and Android.
Video Review
Here is a helpful video from Broadlink that shows how you set up the device.
 Video Credit:
Broadlink UAE
---
#4 – Solid Runner-Up: Sofabaton U1
Next on my list of best remotes for Element TVs is another remote from the engineers over at Sofbabaton.
While the Sofabaton U1 is more limited than the x1, it's a solid alternative since it lets you consolidate multiple remotes and control most of your home theater equipment. From reprogrammable keys to home theater controls, it comes with a comprehensive set of features that gives you all the versatility to control your entertainment center.
This remote has become one of the most popular alternatives to Logitech Harmony since Logitech announced Harmony remotes are being discontinued. You can also set it up using your iPhone or Android mobile device.
It comes pre-programmed for all the streaming devices you can think of. It also syncs to the cloud, which means you always have the latest TV code. This way, you can add new stuff to your entertainment center and expect it to be integrated. If you want to know more, check out my review of Sofabaton vs Harmony.
The main limitation of this remote compared to X1 is that it won't allow you to integrate with Wi-Fi devices like Philips Hue lights and Sonos speakers. The U1 doesn't have voice control with Alexa or Google Assistant, but the X1 has this. Requires 3 AAA batteries (included).
Video Review
 Video Credit:
A-HIT
---
#5 – Budget Replacement: Elekpia
The Elekpia OEM has got to be one of the best budget options for your Element TV. It's a reliable replacement for your remote, and you don't need to program it as it works out of the box.
It's not compatible with all models, but if you have any models listed below, this should work in a pinch.
It won't control other devices or your smart home, though, and it won't work with Alexa or Google Assistant.
Works with the following Element TV models:
ELEFW195 ELEFT222 ELEFW247 ELEFW248 ELEFW328 ELEFT407 ELEFW504 ELEFW505 ELEFT506 ELEFW581
ELEFW247 ELEFW505 ELEFW248 ELEFW247 Elefw504 Eleft326 Elefw195 ELEFW505 ELEFT506 ELEFW247 ELEFW504 ELEFW248
ELEFT195 ELEFW581 ELEFT222 ELEFW195 ELEFT326 ELEFT407
---
#6 – Replacement Alternate: Beyution
Next on my list of best remotes for Element TVs is the Beyution OEM remote.
This is another OEM remote that will work with just your TV. There's no programming needed for the Beyution as long as you use it with compatible models.
This remote is compatible with the following Element TVs:
ELEFW193 ELEFJ191 ELEFT195 ELEFW195 ELEFS191 ELEFT193 ELEFJ243 ELEFS241 ELCFT262 ELEFW264 ELEFT281
ELDFW322 ELCFW326 ELCFW328 ELCFW329  ELEFW325 ELEFT326 ELEFS321 ELEFJ321 ELEFQ391J ELDFT395J ELEFJ391
ELDFT404 ELDFW406  ELDFW464 ELDFT465J ELEFT406 ELEFQ402 ELEFW401A ELEFQ462 ELEFT466 ELEFW462 ELEFC461 ELEFC463JA ELEFC401 ELEFC461 ELDFT465J
ELDFQ501J ELEFQ501J ELDFW501 ELEFT502 ELDFQ501J ELDFC551J ELGFW601 ELEFW705
---
#7 – Roku TV Replacement: Elekpia
Last on my list of best universal remotes for Element TVs is this Roku replacement remote option.
While I find these Roku knock-off remotes to be a bit cheap-looking and also feel cheap in hand, they are simple. I'll never understand why they picked Vudo and Stars over other streaming services for those buttons at the bottom, but the Netflix button is good.
If you have your heart set on replacing a lost Roku remote and just want to control your Element TV, here you go.
Works with: TV E4SW5017RKU E4SW5518RKU E2SW6518RKU E4SW6518RKU E4SC4018RKU E4SC5018RKU Smart 4K Ultra HDTV
---
Best Remotes for Element TVs: Conclusion
You can control your Element TV in a lot of different ways. The question is whether you want a remote that controls only the TV or one that can control your entire home theater and maybe even some other devices.
Replacing your stock Element TV remote with a universal remote allows you to integrate all your devices into a single controller giving you maximum versatility.
The best remote for your Element TV is the Sofabaton X1 remote, in my opinion. It's a premium remote that controls the other devices around your home. The Sofabaton U1 is a solid universal remote alternative. If you want an OEM option, go with either Elekpia or Beyution, depending on the model of your television.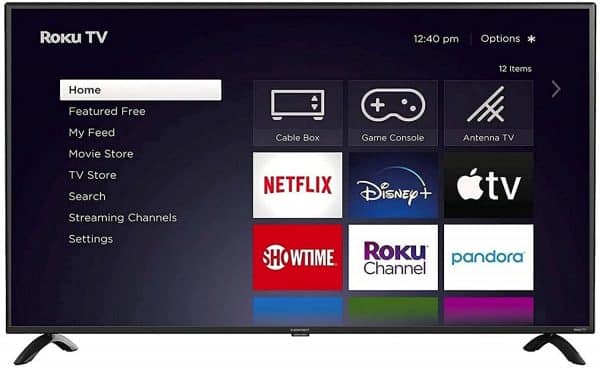 Whether you're looking for a replacement remote for your Element TV or getting all your components into one remote for easier control, there is undoubtedly a remote on my list.
So what do you think of my picks for the best remotes for Element TVs? Please leave me a comment below and let me know. Enjoy your Element TVs!