In this article, I pledge to do my very best to give you the latest scoop on the seven best remotes for Insignia TVs [both Smart TV and Fire TV Edition televisions].
I'll include some budget replacement remotes as well as universal remotes that let you combine your Insignia TV with your favorite streaming and even smart home devices.
The best remotes for Insignia TVs are:
You can click any link in the above list if you want to skip down to my mini-review for that remote.
[Though I hope you read by epic intro first! 🤓]
---
Bigger Than Best Buy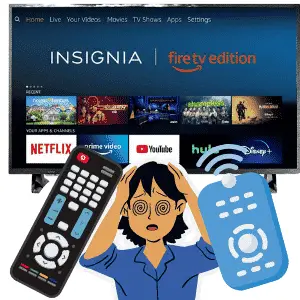 For a long time, Insignia has been Best Buy's in-house brand of Smart 4K and HD TVs that pack in a lot of features at a budget price.  Recently, Amazon has gotten in on the act and started promoting Insignia TVs with Fire TV built-in.
While not as popular as the top three TV manufacturers [Samsung, Vizio, and Sony] yet, Insignia is winning favor with the critics and competes well in terms of features and picture quality.
However, the remotes that come with Insignia TVs can be a bit of a letdown. They are fairly basic and they only let you control your TV [and built-in services].
What if you also wanted to control external devices like Apple TV, Roku Player, your soundbar, and maybe even smart home technology like smart lights and blinds? Or, what if you want to consolidate all those remotes sitting on your coffee table down to just one.
Then you need a universal remote control.
📚 Related: 5 Best Remote Apps for Insignia TVs
---
7 Best Remotes for Insignia TV
In this article, I present seven options to ensure you get one of the best remotes for Insignia TV [both Smart TVs and Insignia Fire TV Edition TVs]:
First, I'll provide you with some excellent universal remote options that let you control Insignia TV, plus other devices that include both home entertainment equipment and smart home stuff.
Second, I'll outline some solid replacement remotes, if all you want to do is replace a lost or broken remote that came with your Insignia TV.
Ready? Let's jump in and see if anything "clicks."
📚 Related: 5 Best Universal Remotes for Sharp TVs
---
#1 – Premium Pick: Sofabaton X1
When Logitech announced that it would no longer be manufacturing Harmony remotes, I thought, ah man, what now??
There have been few remotes that even come close to the Harmony line since I started this blog well over three years ago.
Over a year a few gray hairs later, the "what now" has finally arrived. Enter Sofabaton X1. Like Harmony, the new SofaBaton X1 universal remote control is will let you consolidate your existing remotes down to one. The X1 can control over 500,00 infrared and Bluetooth devices, so it's likely compatible with all of your home entertainment equipment. Also like Harmony, you can also use it to control some Wi-Fi devices like Sonos speakers, Hue lights, and Roku. The remote has customizable activity buttons that let you quickly access favorite channels, inputs, or streaming services.
You can create an activity like "Watch Netflix" that automatically opens your favorite streaming player, turns on your soundbar, dims the lights, and launches Netflix, for example. It comes with two IR blasters in the box for closed cabinet control and a wireless hub that connects to your router. Plus, there's a mobile app for setup and an extra remote on your phone when you lose the Sofabaton in your sofa cushions.
Video Review
  Video Credit:
911Studios – Shopping, Gadgets & Tech
More Information
If you want to know more about how the Sofabaton remotes measure up to Harmony, check out this review I wrote on Sofabaton vs Harmony.
Where to Buy It
---
#2 – Best Voice Control: Fire TV Cube
I absolutely love my Amazon Fire TV Cube 3rd Generation! With its octa-core processor and 4K Ultra HD support, my favorite movies and TV shows come alive. Alexa integration allows me to control my TV, open streaming services, and even turn off the lights, all with just my voice. This is hands down one of the best remotes for Insignia TVs you can get today.
The device delivers exceptional image quality with Dolby Vision and immersive audio through Dolby Atmos and HDR10+ support. I can access a wide range of streaming services worry-free, thanks to advanced privacy controls. Pro tip: Pair it with the Alexa Voice Remote Pro for a super remote with a find lost remote feature, backlit buttons, customizable buttons and more. The combination of Fire TV Cube with this new remote has truly elevated my home entertainment experience.
More Information
For more information about Fire TV Cube, check out this post I wrote comparing the latest model to earlier generations (Fire TV Cube 3rd Gen vs 2nd Gen vs 1st Gen).
Where To Buy It
---
#3 – 15-Device Universal:  Sofabaton U1
The Sofabaton U1 is the advanced "learning" remote that lets you consolidate remotes for up to 15 devices down to one. With its OLED Display and a scroll wheel, you can scroll through devices and access activities like "Watch Apple TV" or "Watch Roku" quickly and easily.
Plus, there's a Smartphone app that helps to automate the setup and also acts as an additional remote. Compatible with 500,000 devices from 6,000 brands, the Sofabaton U1 is most likely to not just support Insignia TVs but most of the other entertainment devices you own today. You can even set up macros to issue multiple commands via one macro button. A word to the wise: the U1 does not support Wireless devices, such as Roku Streaming Stick or Sonos speakers. Check out the Sofabaton X1 if you need those capabilities.;
Video Review
  Video Credit:
OSReviews
More Information
For more information about the U1, check out this blog post I wrote: Sofabaton vs Harmony: How U1  & X1 Compare.
Where To Buy It
---
#4 – Best Replacement: Alexa Voice Remote
Coming in at number 4 on my list of best remotes for Insignia, is this no frills replacement remote. The Insignia Alexa Remote is essentially the same remote that came with your Insignia Fire TV Edition Television. As an aside, it will also work with Toshiba Fire TV Edition TVs too.
If you lost your existing remote [or your dog chewed it up], this will make a suitable replacement at a budget price.
While it will let you continue enjoying your favorite shows on your Insignia Fire TV, it is not a universal remote. This means you can't use it to control multiple devices or smart home tech. It was simply intended to be a substitute for the original equipment, which may be fine for your needs.
Where to Buy It
---
#5 – Insignia Universal: OEM 4-Device
This is Insignia's take on a universal remote, and it will work with some Insignia TVs to let you control both your TV, cable/satellite box, DVD or Blu-ray Player, and some streaming devices that include Apple TV, Roku, and Google Chromecast.
The remote features red, green, yellow, and blue keys that you can use to program-specific cable, satellite, or Blu-ray disc functions. It also features special keys for picture-in-picture, swap, and sleep mode.
The remote also has a decent 23-foot operating range, perfect for a large living room or den.
While it will only control four devices, it is one of the best remotes for Insignia TV if harmony is not an option.
Where To Buy It
---
#6 – OEM Replacement 1: NS-RC03A-13
Next on my list of best remotes for Insignia TVs is this budget replacement. The Insignia NS-RC03A-13 TV remote is a budget option for controlling specific model Insignia TVs. Like the Alexa replacement remote for Insignia Fire TVs, this one too is limited to just controlling your TV [and any services you may have installed on it]. It won't let you control external streaming devices, audio components, or smart home stuff.
Here are the supported models for this original equipment manufactured [OEM] remote
Replaces these remote models:
NSRC03A13 remotes: 118020397 601120020A 158141 601120020B 49.31S39.003 398GRABDANEBYJ 398GRABDANEBYH) 2419290024T-01 601120020B 601120020A 49.31S39.003 398GRABDANEBYH 158141 398GRABDANEBYJ NS-RC03A-13 118020397
For these Smart TVs
NS-19E310A13 NS-19E320A13 NS-22E340A13 NS-24E340A13 NS-24L120A13 NS-24L240A13 NS-26E340A13 NS-29L120A13 NS-32D120A13 NS-32E320A13 NS-32E320A13A NS-32E321A13 NS-32E440A13 NS-32L120A13 NS-32L121A13 NS-32L240A13 NS-39D240A13 NS-39E340A13 NS-39E480A13 NS-39L240A13 NS-40L240A13 NS-40L240A13A NS-42D240A13 NS-42E440A13 NS-42E470A13 NS-42E470A13A NS-42E480A13 NS-42L260A13 NS-42L260A13A
NS-46E340A13 NS-46E480A13 NS-46E480A13A NS-46E481A13 NS-46L240A13 NS-50L240A13 NS-50L260A13 NS-55E480A13 NS-55E480A13A NS-55L260A13 NS-55L260A13A NS-65D260A13
If you own any of the above Insignia TVs, you should be fine with using this remote. Any hey, it's dirt cheap so really don't have much to lose! LOL.
Where To Buy It
---
#7 – OEM Replacement 2: NS-RC4NA-16
Here is another budget remote replacement for specific Insignia TV models. Similar to the one above, this will limit control to your TV but might be a suitable budget replacement if this is all you are looking to do.
Here are the support TV models for this Insignia remote:
Nsrc4na16 LED Tv Remote Control for Ns-55d420na16 Ns-60e440na16 Ns-60e440mx16 Ns-28dd220na16 Ns-24d420na16
New Remote Ns-rc4na-16 for Insignia Tv Remote Control Insignia Nsrc4na16 LED Tv Remote Control for Ns-55d420na16 Ns-60e440na16 Ns-60e440mx16 Ns-28dd220na16 Ns-24d420na16
Where To Buy It
---
Best Remotes for Insignia TVs – Over to You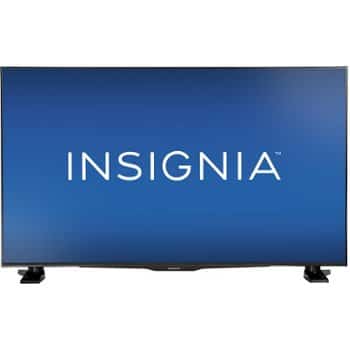 So what do you think about my picks for best remotes Insignia TVs?
Do you own a traditional Insignia TV or do you have one of Amazon's custom Fire TV Edition jobbers?
Are you familiar with Harmony universal remotes?  While they are more expensive than the simple replacement remotes featured here, they do offer more value by letting you control multiple components at the same time.
What I like most about Harmony is I only have one remote on my coffee table.
I would love to get your thoughts on this article, Harmony remotes, or just how are you enjoying your Insignia TV experience in general.
Please leave a comment below and let me know.
📚 Related: 11 Best Universal Remotes This Year
---
Sharing Is Caring
OK, that is a lame title, I'll admit, but…
If you got some value from this post on best remotes for Insignia TVs, would you mind giving us a quick share on social media using the colorful buttons along the top and bottom of this page?
Or could you pin the following to Pinterest?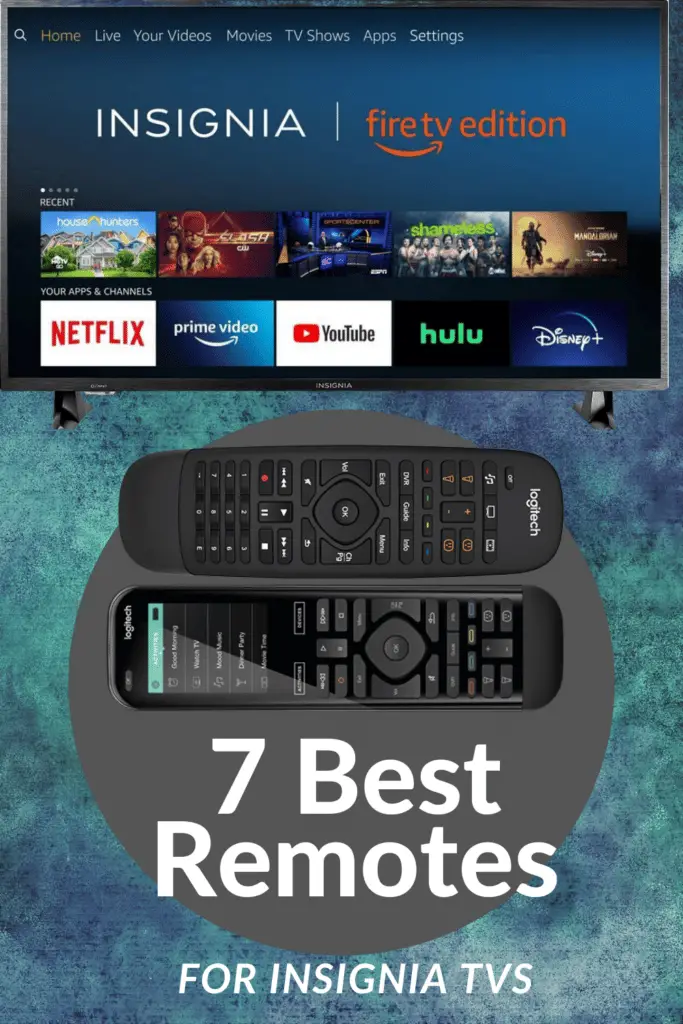 Someone else might benefit as well, and it really helps to spread the word about this blog. Thanks so much!
📚 Related: GE Remote Codes for Insignia