Affiliate Disclosure
As an Amazon affiliate, I earn from qualifying purchases.
In this article, I'll break down the five best universal remotes for PS5 streaming that you can get right now. They are all fully compatible with PS5 and available to buy at Amazon.
Here are my picks for the five best media remotes for PlayStation 5:
---
Score a PS5? Lucky.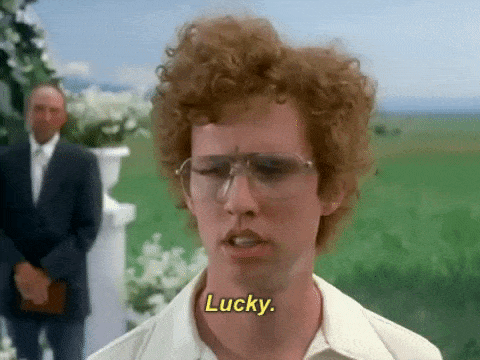 Finally got your hands on a PS5? You're one of the fortunate ones. It's been a few years since the notorious PS5 shortage dominated headlines. Thankfully this year, the PS5 isn't as elusive, and whispers of a new console are circulating.
Isn't it amazing how time flies?
If you're here, you likely snagged a PS5. I, a devoted bargain hunter, waited until the hype cooled. I remember a conversation with my friend Steve who dropped $1000 on his PS5. Despite the outrageous price, he claimed it was worth every dime, except for one caveat: streaming media.
The PS5 offers many streaming apps, but using the DualSense controller can be a chore. Steve often forgot which buttons performed which functions. When I suggested a universal remote, he seemed surprised, confessing, "I didn't think they would work with PS5."
Thus, a new blog post was born! Steve, this one's for you.[
---
Best PS5 Universal Remotes: Quick Comparison
The following table compares pricing and basic of the best PS5 universal remotes, organized by type:
Image
Playstation Certified
Premium Pick
Product Name
PDP Universal PS4/PS5 Media Remote Control
Broadlink RM4 pro Smart IR/RF Remote Control
Controls PS5
With PDP Gaming Receiver (sold separately)
With PDP Gaming Receiver (sold separately)
With PDP Gaming Receiver (sold separately)
Controls Home Theater Devices
Last update on 12/11/2023 / Affiliate links / Images from Amazon Product Advertising API
Note:
Prices are pulled in from the Amazon API and are current as of the date and time at the bottom of this table. Click the button in the table to see the latest price, more details, or the latest customer reviews.
---
#1 – PS5 Certified: Media Remote
First and foremost, this is Sony's official media remote for PS5. It does one thing and it does it well. That is, it controls PS5 media playback seamlessly and easily. Convenient buttons are provided to access two of the most popular streaming services out there: Netflix and Disney+. Plus, you get dedicated buttons for Spotify and YouTube as well.
This remote won't control other devices in your media cabinet or let you consolidate multiple remotes to one. Check out some of my other picks here if this is important to you. If all you want to do is control streaming and apps on your PS5, the PlayStation Media Remote is a great choice.
Pros
Sony's official remote for controlling streaming on PS5.
Feels good in the hand.
Dedicated remote buttons for Disney+, Netflix, Spotify, and YouTube.
Navigation, Play, Pause, Remind, Fast Forward, and of course, Power on/off the console and up/down volume controls.
Super easy to pair.
Offers intuitive media controls for quick access to playback functions.
Allows for easy system software updates.
Cons
It will only control your PS5 console and some Smart TVs (other AV equipment is not supported).
Won't control smart devices such as lights.
Takes regular batteries (not rechargeable).
Buttons aren't backlit, which makes them hard to use in the dark.
---
Where To Get It
Playstation Media Remote
Media playback controls - Quickly navigate media with built-in play/pause, fast forward and fast reverse buttons.
Seamless console compatibility - Power on your PS5 console and navigate its menus directly with the remote for ultimate convenience.
Check Price
Video Review
TK Bay has a nice review video of the PS5 Media remote out on YouTube. I will embed it below.
---
#2 – Best Budget Pick: Sofabaton U2
The Sofabaton U2 is a fantastic universal remote that offers excellent value for its price. This user-friendly remote can control various devices, including Blu-ray players and compatible TVs with power settings. It provides an intuitive layout and easy-to-use interface for seamless remote control functionality.
In terms of programming, the U2 stands out with its simplicity. It offers different options, including infrared mode and manual learning mode, to easily program and set up the remote for your specific devices. It also supports fast reverse buttons for quick navigation.
This budget-friendly remote features a sleek design and ergonomic buttons for comfortable use. With its wide compatibility, the Sofabaton U2 is a versatile choice for controlling your media devices, including your Sony PS5.
📚 Related: Sofabaton U1 VS U2
Pros
Offers great value for the money.
Controls various devices, including Blu-ray players and compatible TVs.
Supports power settings of PS5 and compatible TVs.
Intuitive layout for easy navigation.
Compatible with Sony PS5 and other video game consoles.
Cons
No smart device control.
Setup and take a bit of time.
No voice assistant support.
---
Where To Get It
Best Budget Universal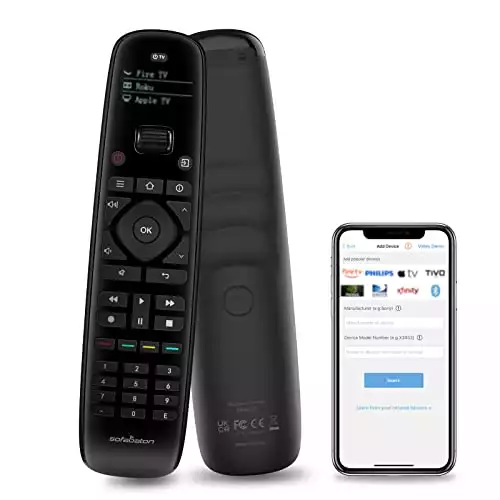 Video Review
Hatoraid Cowboy Cinema provides a detailed review of the Sofabaton U2 on YouTube.
---
#3 – Premium Choice: Sofabaton X1
The Sofabaton X1 is a premium universal remote with advanced features and controls. With the ability to control up to 60 components, including your PS5 and other devices like Blu-ray players and smart TVs, the X1 provides ultimate convenience and consolidation of your entertainment system.
This remote offers a customizable layout and responsive buttons for easy navigation and control. Its built-in IR transmitter ensures seamless compatibility with a wide range of devices, and the included charging dock keeps the remote powered and ready for use.
The Sofabaton X1 also features a built-in microphone button for voice control and supports HDMI-CEC settings for simplified operation. Its intuitive interface and dedicated shortcut buttons make it a top choice for controlling your media devices, including your PS5.
📚 Related: My Full Sofabaton X1 Review
Pros
Controls up to 60 components, including PS5, Blu-ray players, and smart TVs.
Customizable layout and responsive buttons.
Built-in IR transmitter for seamless compatibility.
Rechargeable battery with exceptional battery life.
Supports voice control with Alexa and Google Assistant.
Compatible with HDMI-CEC settings for streamlined operation.
Cons
Higher price point compared to other options.
Initial setup and configuration may require some time and effort.
Limited support for smart home devices.
---
Where To Get It
Editor's Choice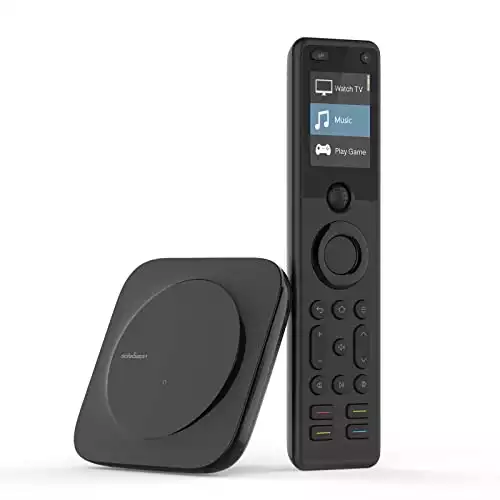 SofaBaton X1 - 10% Discount Applied at Checkout!
Sofabaton X1 will let you control up to 60 devices from top brands. It features backlit buttons, one-click actions for multiple devices, a long-lasting rechargeable battery, and a cool LCD screen. This is the best universal remote out there right now.
Buy at Amazon
Video Review
Here is an unboxing that I did of the X1 over at my YouTube channel.
---
#4 – Another Budget Pick: PDP Media Remote
Based on my research in the forums, the PDP media remote designed for PS4 also works just fine out of the box with PS5. Dear PDP marketing, you may want to call Amazon to clue them in as the information on your product page is wrong. LOL.
This is somewhat similar to the Sony remote sans the dedicated buttons for your favorite media apps. Oh, and it is about half the price! You can easily program the remote to work with your favorite PS5 apps, including Netflix, Amazon Prime, and more.
Pros
Inexpensive.
It lets you control Blu-ray players, video game consoles, and compatible TVs.
Simple design.
Connects via Bluetooth.
Simple to set up.
Supports control of streaming platforms like Netflix and Amazon Prime.
Cons
Not rechargeable, and requires batteries.
No dedicated buttons for your favorite apps out of the box.
Limited compatibility with different manufacturers and models.
---
Where To Get It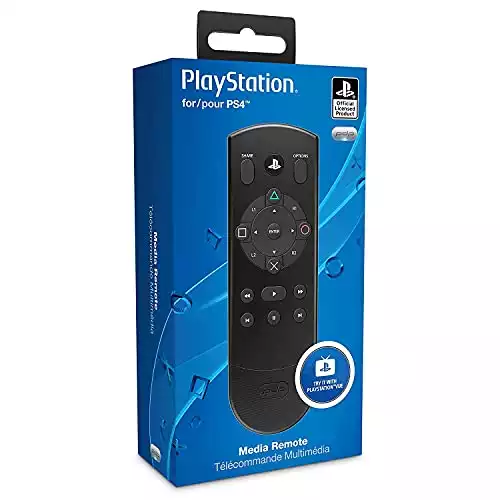 PDP Universal Gaming Media Remote: Playstation 4
EASY SETUP - Simplify your set-up and effortlessly control your entertainment with the ultimate universal remote for PS5 or PS4 system. The Cloud Remote uses Bluetooth wireless technology to manage...
HASSLE-FREE - Programming the remote is straightforward using Bluetooth technology to auto-detect devices connected to the PS5 & PS4 system for hassle-free remote programming.
Check Price
Video Review
Cord Cutters has a nice overview of the remote out on YouTube.
---
#5 – Best Remote App: Broadlink RM4 Pro
Regarding the best universal remotes for PS5, the Broadlink RM4 Pro is a top contender. This device offers a comprehensive solution for controlling a variety of home appliances, including your PS5 and other entertainment devices.
While there is no physical remote per se, the Broadlink RM4 Pro provides a remote control app that allows you to control your PS5 with your smartphone. With its user-friendly interface and compatibility with various platforms, the app offers an intuitive way to manage your media playback and control your PS5.
The Broadlink RM4 Pro features extensive compatibility with different devices and components. It allows you to control an impressive range of components and supports voice control integration with Amazon Alexa and Google Assistant for added convenience.
Pros
Extensive compatibility with various devices.
Ability to control an impressive range of components.
User-friendly app with customization options.
Simple connection process.
Built-in voice control with Amazon Alexa and Google Assistant.
Compatible with PS5 and other entertainment devices.
Cons
No physical remote.
Requires line of sight to function effectively.
Can't control Bluetooth devices.
Best PS5 Universal Remotes: Mic Drop.
---
Where To Get It
Best Remote App & Hub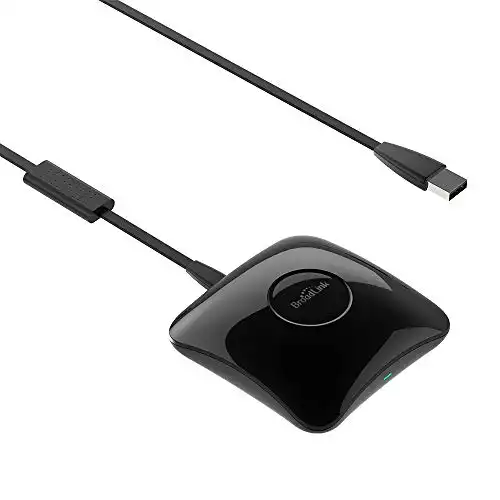 Broadlink RM4 Pro
Broadlink RM4 Pro offers high compatibility with over 50,000 IR-controlled devices, but it doesn't support Bluetooth. It also features a newly updated Broadlink App for an enhanced user experience and scene creation.
See It At Amazon
---
Conclusion
In conclusion, when it comes to enhancing your PS5 streaming experience, selecting the best universal remote is key. With features like seamless console compatibility, intuitive media controls, and compatibility with different devices, these remotes provide ultimate convenience and control.
From the official PS5 Certified: Media Remote to budget-friendly options like the PDP Universal Remote, each remote offers unique advantages such as quick access to media playback controls and support for HDMI-CEC settings. Whether you prefer the premium features of the Sofabaton X1 or the convenience of the Broadlink RM4 Pro remote app, there's a remote to suit your needs.
Don't settle for struggling with the DualSense controller or juggling multiple remotes. Take charge of your entertainment setup with a dedicated universal remote. Control your Blu-ray player, streaming devices, and smart TV more easily, thanks to features like power settings, rest mode control, and TV controls with a home button, volume control, power button, etc.
Say goodbye to confusion and hello to seamless control over your PS5. Whether you have a Sony TV, different manufacturers' devices, or even a white console, these remotes offer the best way to navigate menus, adjust volume, and explore streaming platforms.
With the push of a button, you'll have the power to enjoy your favorite games and streaming content on the next-gen console. So, grab your PS5, choose the best PS5 universal remote, and take your entertainment experience to new heights. It's time to drop the mic and take control of your media with confidence.
---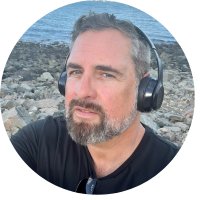 Tim Brennan is a technology blogger and hosts the @TecTimmy YouTube channel. He writes about smart homes at oneSmartcrib, home theaters at UniversalRemoteReviews, and AI in writing at Writeinteractive. A graduate of Northeastern University School of Journalism, he has written about technology for 30 years. Tim lives on the ocean in Nahant, Massachusetts.