Affiliate Disclaimer
As an Amazon Affiliate, we earn from qualifying purchases.
In this article, I'll review the seven best remotes for Fire TV Stick and Fire TV Cube that you can get right now. I'll include a handy price comparison table so you can get a sense of the key features of my top three picks side by side.
In a rush?
Here are my top seven picks:
Click on any of the links above to jump down to a specific remote or continue for a fun fact about Fire TV.
---
Love Your Firestick?
D
o you love your Fire Stick?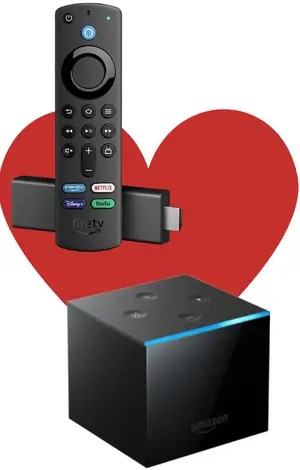 I know, I know. I sound like a bad Internet commercial for virtual private network (VPN) software.
So, I won't go there.
However, I do love my Fire TV Cube. And apparently, I am in good company. Earlier this year, Amazon reported that it has sold a whopping 150 million Fire TV devices. And that was before Prime Day this year. Whoa.
I do NOT love the Amazon remote that comes with Fire TV Stick and Cube, though.
I'm not even a big fan of the newer Alexa one.
Why?
Because the remote just adds yet ANOTHER remote to the others piling up on your coffee table.
In this post, I'll introduce you to some alternate remotes that you can use to control your Fire TV.  Contrary to popular belief, you do have universal remote options.
And, if you just want to replace the Alexa remote, I'll include an option for that, too [sigh].
Let's go get em!
📚 Related: What Universal Remotes Work with Firestick?
---
#1 – Tim's Top Choice: Sofabaton X1
Compatibility: Controls all Fire TV Stick and Cube models.
The first on my list of the best remotes for Fire TV Stick and Cube is the Sofabaton X1. I have been using this remote for about a month now, and there are three things that I would say make it a cut above the rest. First and foremost is Sofabaton's vast device support. It was compatible out of the gate with most of my devices here, including my Hue lights which are awesome.
The company claims the remote will support over 500,000 devices from hundreds of brands. This includes hundreds of TVs, DVD players, Blu-Ray players, projectors, cable boxes, gaming consoles, and streaming devices like Fire TV, Apple TV, and Roku.
Second, while not perfect, I found the setup process using the Sofabaton app to be intuitive and easier than Harmony remotes.
Third, support for Activities like "Watch Fire TV" lets me set up macros where I can ask Alexa to automatically turn on my TV, power up my sound bar, dim my smart lights, and switch over to Fire TV Cube.
There are some other nice benefits as well including long battery life, backlit buttons, and a find lost remote feature.
Pros
Controls IR and Bluetooth devices over Wi-Fi and RF.
Included IR mini blasters let you control devices inside cabinets.
Amazing 60-hour rechargeable battery life.
Amazon Alexa and Google Assistant integration.
Backlit buttons make it easy to see the remote in the dark room.
Cons
Some customers confuse the back button for LCD screen navigation at the top of the remote with the back button below the screen for streaming.
---
Video Review
Video Credit:
Youthman
---
#2 – Budget Runner Up: Sofabaton U1
Compatibility: Check out the Sofabaton device compatibility database.
If you are looking for a solid universal remote to control a Fire TV but aren't ready to shell out the money for the Sofabaton X1, then the Sofabaton U1 may be just the remote you are looking for.
While it won't control your smart home devices, it will control your home theater equipment, and it will let you replace up to 15 remotes. It will also let you tap into Sofabaton's vast device database, which means setting up your equipment to work with the remote should go quickly.
The main difference between the X1 and U1 is that the X1 adds the Hub, which lets you control more Bluetooth devices and some Wi-Fi devices. The X1 also has Alexa commands built-in whereas the U1 does not. The batteries are also not rechargeable (requires two AAA batteries, included), but you can also buy rechargeable batteries.
If these things aren't a concern, the U1 is a great budget remote, and that is why I listed it second out of the best remotes for Fire TV Stick and Cube.
Pros
More affordable than X1
Replace up to 15 remotes
Infrared learning mode lets you learn from existing remotes
Custom one-button activities like "Watch Fire TV" can turn on devices and switch them to proper inputs
Cons
Limited to a max of four Bluetooth devices
Cannot control smart devices like lights and Sonos speakers
No Alexa or Google Assistant support
Included batteries aren't rechargeable (requires 2 AAA batteries)
---
Video Review
  Video Credit:
Hatoraid Cowboy Cinema
---
#3 – Premium Option: Harmony Elite
Compatibility with Fire TV: Compatible with all Fire TV models. You can search the Harmony device database to see if it is compatible with your other equipment.
Next on my list of best remotes for Amazon Fire TV is the remote that I use to control my home theater.
If you're a frequent reader of this blog, you no doubt know what a big fan I am of the Logitech Harmony Elite.
Until Logitech announced that is will no longer make Harmony remotes last year, this has been my top recommendation. Since the company announced the discontinuation of the Harmon line, the price of these remotes has gone through the roof. For my money, Sofabaton X1 will achieve most of what Harmony did.
All that said, this remains one of the best universal remotes that money can buy today, period. It isn't cheap, but it is the best. I can't think of any other remote I would want to control my Fire TV, Fire TV Stick 4K, or Fire TV Cube than the Harmony Elite or one of my recommendations from Sofabaton.
So what makes it one of the best? It has an amazing color LCD panel remote from which you can access your favorite channels, fire off activities like "Watch a Movie" or "Play Music," and you can also use Harmony's integration with Alexa and Google Assistant to control pretty much your entire home entertainment experience using your voice.
The remote feels really good in your hands, sports backlit buttons and even delivers haptic feedback on the tactile screen, so you know you are pressing buttons even in the dark. This really is the best of the best universal remotes that you can buy to control your Fire TV devices.
If you want to learn more, check out this review I just updated a few weeks back: Harmony Elite Review: 10 Reasons This Remote Still Rocks.
Pros
Cool color LCD touchscreen.
Amazon-certirfied for Alexa.
Harmony mobile app gives everyone in your household access to a remote on their phone.
Activities like Movie Night can turn on Fire TV and all devices and dim smart lights.
Cons
It's expensive.
Future support is unclear since Logitech announced it will no longer make Harmony remotes.
---
---
#4 – Best Keyboard Add-On: iPazzport
Compatibility with Fire TV: Amazon Fire TV Stick Lite, Fire TV Stick (2nd Gen and 3rd Gen), Fire TV Stick 4k, Fire TV Stick 4k Max, Fire TV (3rd gen), Fire TV Cube (2021 model).
If you are wedded to the existing Alexa Voice remote, check out this add-on keyboard from iPazzport. The keyboard and additional buttons iPazzport provides might just make you not miss having a "true" universal remote control.
I use this add-on gadget when I need to type anything on the screen when using my Fire TV Cube. This is especially helpful when searching for your favorite shows or YouTube content.
If you are interested in learning more about this remote, check out the user manual here.
Pros
Simple add-on extends functionality of Alexa remote.
Works right out of the box with the Fire TV devices above.
Qwerty style keyboard makes searching your favorite content easier.
Cons
Doesn't work with all Fire TV apps.
Backlighting is a bit dim.
Programming the universal remote features is challenging.
---
---
#5 – Best Hub & App: Harmony Hub
While my favorite Hub and App provider Broadline does not yet support Bluetooth devices like Fire TV Stick and Cube, the Harmony Hub has been supporting them for a while and remains the best app and hub combo you can get for Fire TV.
Since Logitech announced that it will stop making Harmony remotes, however, the price of the Hub has increased dramatically, and quantities will be limited over at Amazon until the product fully sells out.  However, Logitech says it will continue to support Harmony devices "as long as customers use them."  We'll see.
The main benefit of the Harmony app over some of the other apps out there for Fire TV is stability. It will also give you most of the benefits of the Harmony Elite remote described above, including control of Fire TV, your entire home theater, and your smart home.  It will also work with Alexa natively for voice control.
Compatibility: Any Fire TV device that relies on an IR signal to the remote control.
Pros
Compatible with 500,000 brands.
Controls Fire TV, cable, music and more using an app on your phone.
Activiites can be programmed such as Movie Night and Play Music.
Voice control with Alexa and Google Assistant.
Cons
Doesn't take the place of a traditional remote in my opinion.
It's expensive since Harmony is leaving the game.
Set up can be tricky for anyone not familiar with Harmony remotes.
---
---
#6 – Best Replacement: Alexa Voice Remote

Compatibility: Fire TV Cube (2nd Gen), Fire TV Stick (2nd Gen), Fire TV Stick 4K, Fire TV Cube (1st Gen), and Amazon Fire TV (3rd Gen, Pendant Design). Not compatible with Amazon Fire TV (1st and 2nd Gen), Fire TV Stick (1st Gen), or Amazon Fire TV Edition smart TVs.
Coming in next on my list of the best remotes for Fire TV Stick and Cube is the latest-generation Alexa Voice Remote. While I don't love it because it won't replace your other remotes, it will let you control your Fire TV device with your voice using Alexa. Oh, and it's cheap.
It also has some basic controls that include power, volume, and mute buttons that you can use to control your TV. You can also use it to control your soundbar and AV receiver. Did I mention it's cheap?
Pros
Press a button on the remote to issue Alexa commands.
Great Voice search capabilities.
Vastly improved design over previous generations of this remote.
Dedicated buttons for Netflix, Prime Video, Disney+, and Hulu.
Cons
Can't control other equipment.
The Home button and Prime button are redundant.
---
Video Review
Juan Camacho does a nice job in this video review of the Fire TV Stick and the Alexa voice remote:
---
#7 – Best for Smart TV: Fire TV Voice Remote
Compatibility: Fire TV Omni Series, Fire TV 4-Series Smart TVs.
Let me be clear. This specific remote will only work with some brands of Amazon Fire TVs. Yes, the actual TVs have Fire TVs built into them. The supported models of Fire TVs for this remote are:
Fire TV Omni Series

Fire TV 4-Series smart TVs
It is incompatible with Fire TV streaming media players or other smart TVs. However, I really like the simplistic design of this remote for those TVs. This includes the Alexa button at the top as well as present buttons for Netflix, Prime Video, Disney+, and (oddly) Hulu.
Pros
Neat blue Alexa button with the Alexa logo mimics the new Alexa remote.
Same familiar controls as other Fire TV remotes.
Dedicated buttons for popular streaming apps.
It will control compatible sound bars if connected to your Fire TV.
Cons
Can't control anything other than the Fire TVs above.
Not rechargeable but includes two AAA batteries.
---
---
Best Remotes for Fire TV Stick and Cube – What's Your Take?
So, what do you think about my picks for the best remotes for Amazon Fire TV Stick and Cube?
Which Fire TV device do you own? Do you plan to upgrade your Alexa remote to control more devices in addition to Fire TV? Please leave a comment below and let me know.
Also, do you have questions about Fire TV remotes? If you want to drop a question below, I will do my best to reply as soon as l can.
---
Please Like and Share
If you were able to get some value from this article about the best remotes for Fire TV Stick and Cube, would you mind giving this a quick share on social media?
You can use the colorful social media buttons along the top and bottom of this post.
It takes just a few seconds and really helps me spread the word about our blog.
Thanks a lot. Enjoy your Fire TV!
---
You Might Also Like
If you enjoyed this post about the best remotes for Fire TV Stick and Cube, you might also like some of the other articles I wrote.