Affiliate Disclosure
As an Amazon affiliate, I earn from qualifying purchases.
In this article, I provide a link to my giant Logitech Harmony Comparison Chart [printable PDF], newly updated for 2021.
I will also include brief summaries of all Harmony remotes as well as a handy quick comparison table so you can see the latest pricing of all remotes at a glance.
The Ultimate Harmony Comparison
S
o what makes this the "ultimate" Harmony Comparison?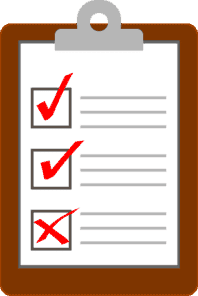 Well, for starters, I include a detailed, three-page chart as a PDF that you can download.
Next, I provide a quick comparison pricing table so you can get a feel for the latest pricing of all Harmony remotes at Amazon in under a minute.
Finally, I'll give you some overviews of ALL active Harmony remotes: Elite/Pro, Companion, Hub, Express, Smart Control, Ultimate, 950, 880, 700/665/650, and 350.
Every Harmony remote that you can buy today is reviewed and discussed either in my giant new PDF chart or in the body of this post.
My goal is to hook you up with the most helpful guide to Harmony remotes available on the Internet, bar none. I hope you will leave a comment after reviewing this to let me know how I did.
---
Why a Logitech Harmony Comparison Chart?
Since I started this review site a little over a year ago, two things became immediately clear.
First, Logitech dominates the universal remote-control market in a big way. Some new contenders have entered the market (e.g., Caavo Control Center), but Logitech is still the prevailing force in this space.
Second, the clutter of misinformation about the company's remotes poses some major challenges. This is true for would-be buyers and reviewers alike!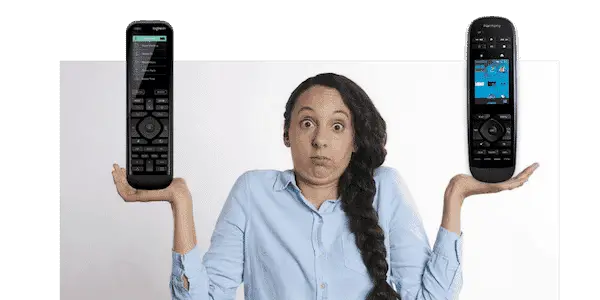 For example, lots of sites get even the most basic specs about these remotes wrong—IR vs Hub, battery type, number of activity buttons, number of supported devices—you name it.
We can't have that.
Enter the all-new Logitech Harmony Comparison Chart, freshly updated for 2021. Sections of our shiny new PDF chart include:
What's in the Box
Universal Remote Features
Detailed Compatibility Guide
If you're wondering about Logitech's support for a specific product you own, this is not that list. I recommend that you check Logitech's device compatibility database instead.
📚 Related: 11 Best Logitech Harmony Alternatives
---
Harmony Comparison Chart PDF Download
You can download your copy of the full 2021 Logitech Harmony Comparison Chart at the link below.

Click Here to Download the Logitech Harmony Comparison Chart PDF
The three-page PDF looks like this: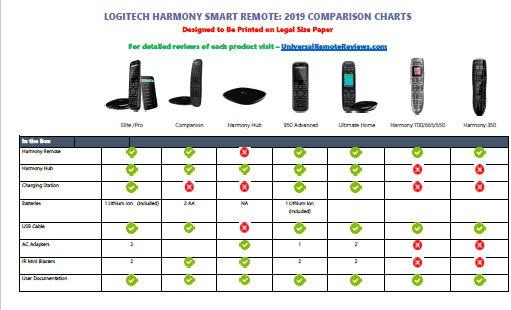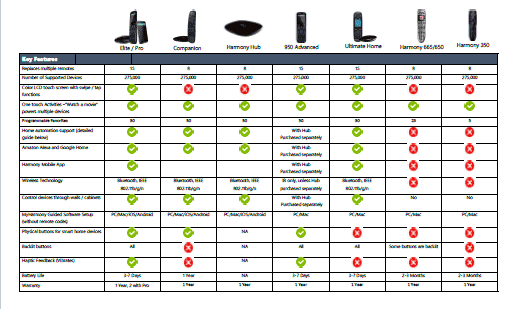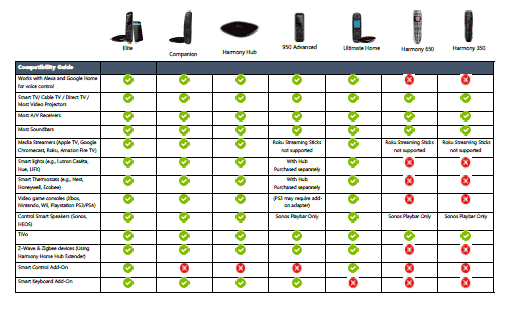 ---
Logitech Harmony Quick Compare Pricing Table
Here's another Logitech Harmony Comparison Chart that also shows the price and type of each remote at a glance. This information is pulled in using Amazon's API. Prices should update nightly but are current as of the date displayed at the bottom of the chart.
Image
Top Pick
Image
Image
Last update on 09/28/2023 / Affiliate links / Images from Amazon Product Advertising API
---
The Answers Have Been Elusive…Until Now
I created the Logitech Harmony Comparison Chart to help you get answers to questions like:
What actually comes in the box with each remote (charging station, Hub, IR blasters, etc.)?
Which remotes work with Alexa?
What are the major feature differences between the Logitech harmony Elite, Ultimate, Companion, Hub, Smart Control, 950, 650/665, 350 and more
What is the difference between IR and Hub-based remotes?
Which remotes are compatible with which devices (soundbars, streaming media, game consoles)?
Which remotes will control smart home technology like lighting, thermostats, etc.?
Depending on where you look, you will get different answers the above.  We have been looking everywhere, and the results are downright scary!
---
Harmony Remotes: Product Overviews
In this section, I'll give a brief overview of each product in the Harmony line, along with links to Amazon and full product reviews where available. We'll embed some Logitech video ads and popular video reviews as well.
Logitech Harmony Elite / Pro  /2400
The Harmony Elite is the flagship of the Logitech Harmony product line. It features the best touchscreen you can get on a Harmony remote, swipe and tap abilities and full control over entertainment and smart devices. One-touch activities let you program multiple devices to work in concert. For example, Watch a Movie" could turn on your TV, soundbar, lower the blinds, dim the lights, set the lights to a certain color, and more. The Elite comes with the Harmony remote, Hub, and App. This is the best remote you can buy today that will take you well into the future.
Here is a nice unbiased YouTube video from B the Installer:
Some features that make it stand out in comparison with the other Hub remotes are as follows:
A full-color touch LCD screen
Supports up to 15 devices in your media /smart home arsenal
Tap and swipe control supported
Haptic feedback on the touchscreen
Backlit buttons
All buttons are fully customizable
The Harmony Pro and 2400 are fancier editions of the Elite with additional hardware and professional installation service. You can read about them here.
See It at Amazon  |  Read Full Review
Harmony Ultimate One
The Harmony Ultimate remote provides many of the same capabilities of the Elite at a lower price tag.  However, there are some notable design differences. Since we cover these in our review of the Elite vs the Ultimate, we won't repeat those details here.  Check the review link below if you are interested in learning more. Our thanks to Griffomedia for the helpful Ultimate video review.
This remote has been discontinued by Logitech but it is still available at Amazon. Logitech will still support the remote as well.
See It at Amazon  | | Read Full Review 
Harmony Companion
The Harmony Companion is a great budget option if you're looking for a high-end remote with many of the same features as the Elite and Ultimate.  The obvious main difference is that the Companion doesn't have an LCD touchscreen. Also, the home control buttons are limited to certain activities, which is not true on the Elite.  However, you can use it with the Harmony app and Alexa for voice control. For example, you can ask Alexa to turn on the TV or to activate the "Watch a Movie activity described above.
Thanks to Tech Beam for the thorough video review:
You can read a detailed review of Harmony Companion at the link below.
See It at Amazon  | Read Full Review 
Harmony Smart Control
Harmony Smart Control is nearly identical to the companion in every way from a functionality perspective. It will also control up to eight devices, including smart home stuff and Alexa. The main difference is the design.  The Smart Control comes with a smaller, lighter remote that is liked by some customers.
You can see Logitech's Smart Control Ad here:
However, other customers complain the buttons are too small.  You can read a comparison of Harmony Companion vs Smart Control here.
See It at Amazon  | Read Full Review
Logitech Harmony Hub
If you just want a way to control multiple devices using your smartphone and Alexa [without an actual all-in-one physical remote] then the Logitech Harmony Hub is a good affordable way to go. Thanks to LifeHackster for the entertaining video review. I've had a few of those Buffalo chicken nights you mention myself.
You can add a harmony remote later, such as the 950, if you decide you want a physical remote in addition to the Hub You can read a review that outlines the differences between the Elite and Hub here.
See It at Amazon  | Read Full Review
Harmony 950 Advanced IR
If you just want control over your entertainment center devices, but no home automation capabilities, the 950 may be worth a look.  It is essentially the Elite without the Hub. The Hub is what enables you to control smart home devices such as smart lights, smart locks, smart blinds, etc.  It also gives you the ability to control devices behind closed cabinets.  In addition, the Hub is what allows the remote to communicate with Alexa.  If these things are NOT important to you, check out the 950. You can also add a Hub at a later date.
See It at Amazon  | | Read Full Review
Harmony 880
Although it has been discontinued by Logitech, the Harmony 880 is a great no-frills universal remote that does include a touchscreen.  It does not work with Alexa, but heck, this is a great deal if you want to consolidate multiple remotes and Alexa isn't a priority. Logitech will also still support this remote in a limited capacity if you buy it.
See It at Amazon  | Read Full Review
Logitech Harmony  700 /665/ 650
The Harmony 650 is a good budget option if you are simply looking to consolidate multiple remotes (up to 8) down to one.  It does not support Alexa, Google Home, or Siri, and there is no home automation or smartphone integration (no app). There is also no Hub requirement. This is an infrared remote with a small LCD screen that is used to show icons and commands [no touchscreen].  It also doesn't include a docking /charging station, but you can, of course, get 3rd-party rechargeable batteries for it. Thanks to Erin Lawrence for the helpful video review of the Harmony 665:
This is a great low-cost option for a secondary room set up like a den or bedroom that doesn't have a ton of devices to control.
See It at Amazon  | Read Full Review
Logitech Harmony 350
Like the 650, the 350 is a budget option for consolidating up to eight remotes.  In recent weeks, the price has dropped on the 650 substantially making it a more compelling buy over the 350. For around $10 more you get the LCD screen and a better all-around remote. Still, if you are on a strict budget and like the all-black color over the 650's gray [we think it looks cooler], this may be worth a look.
See It at Amazon  | Read Full Review
---
What Changed This Year?
Two major changes that took place this year is that Harmony sunset its Alexa-only remote, the Harmony Express. It is no longer being marketed and sold. However, the company is offering to give a free Elite upgrade to existing Express customers.  This is a great deal as the Elite is a better remote and you still get basic voice control with Alexa and Google Assistant as well.
Another thing that was added earlier in the year is the new 2400 premium option.  This is a super high-end remote that is probably overkill for most people, but it does give those with complex home theater setups the white glove experience from a certified installer. You can read more about how 2400 differs from Pro and Elite here.
---
Harmony Hub vs IR Based Remotes
I often get asked what the difference is between Logitech's Hub and IR-based remotes.  Therefore, I have added this section to this year's guide.
Logitech manufacturers and supports two types of Harmony remotes: Hub-based remotes and Infrared [IR] remotes.
Hub Remotes
Hub-based remotes work with a Harmony Hub and control your devices using a Wi-fi or Bluetooth Signal. Generally speaking, Harmony Hub-based remotes can be used to control your smart home devices (e.g., smart lights, thermostats, blinds, other hubs, etc.) as well as the devices in your entertainment center.  Harmony Hub Based products are also compatible with smart speakers like Amazon Alexa and Google Home.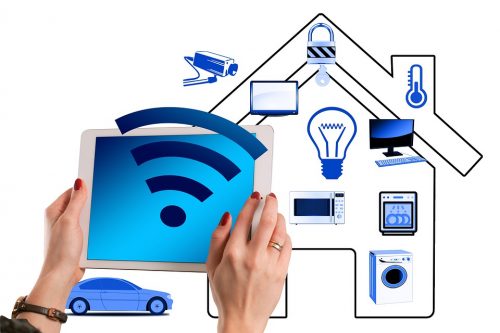 IR Remotes
IR remotes do not require the Harmony Hub and control your IR-based devices using an infrared signal. They do not support Wi-fi or Bluetooth smart home devices or Alexa /Google Home. IR-based remotes can like control most devices in your entertainment center, however. They will typically require line of site [LoS] to these devices, meaning performance will degrade significantly when trying to control devices behind closed cabinets or in other rooms.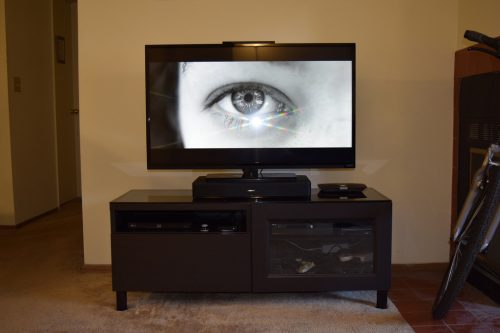 ---
Logitech Harmony Products By Type [All]
Here's a breakdown of all Harmony remotes by type [Hub or IR]. You can use the Search field to filter the table to specific results. For example, if you just want to see the Hub remotes, enter "Hub."
| Harmony Remote Brand | Type |
| --- | --- |
| Elite | Hub |
| Home Control | Hub |
| Home Hub | Hub [now Harmony Hub] |
| Hub | Hub |
| One | IR Discontinued* |
| Smart Control | Hub |
| Companion | Hub |
| Touch | IR Discontinued |
| Ultimate | Hub Discontinued [replaced by Elite] |
| Ultimate Home | Hub Discontinued [replaced by Elite] |
| Ultimate Hub | Hub Discontinued [replaced by Elite] |
| Ultimate One | Hub Discontinued [replaced by Elite] |
| 950 | IR |
| 600/650/665/700 | IR [600 and 700 Discontinued] |
| 200/300/350 | IR [200 and 300 Discontinued] |
If you are interested, you can see a more detailed comparison of the differences between Hub and IR remotes on Logitech's website.
---
Full Reviews Are Also Available
As noted above, full reviews of nearly all Logitech products are available in our blog.
---
When You Are Ready
You can find all of the remotes featured on this site at Amazon.com. When you're ready to buy, would you be so kind as to use one of the links on our site to Amazon, so we earn a commission as an Amazon Affiliate?  This way, we can continue to produce more awesome content, like this article. 😉 Thanks! More on our affiliation with Amazon is below.
---
Logitech Harmony Comparison Chart: Over To You
We hope you find our Logitech Harmony Comparison Chart and review helpful. If you did, would you mind giving us a quick share on Facebook or Twitter using the buttons at the top of this page? ?
If you are active on Pinterest, you can also pin it to Pinterest using the image below ?. Thanks so much!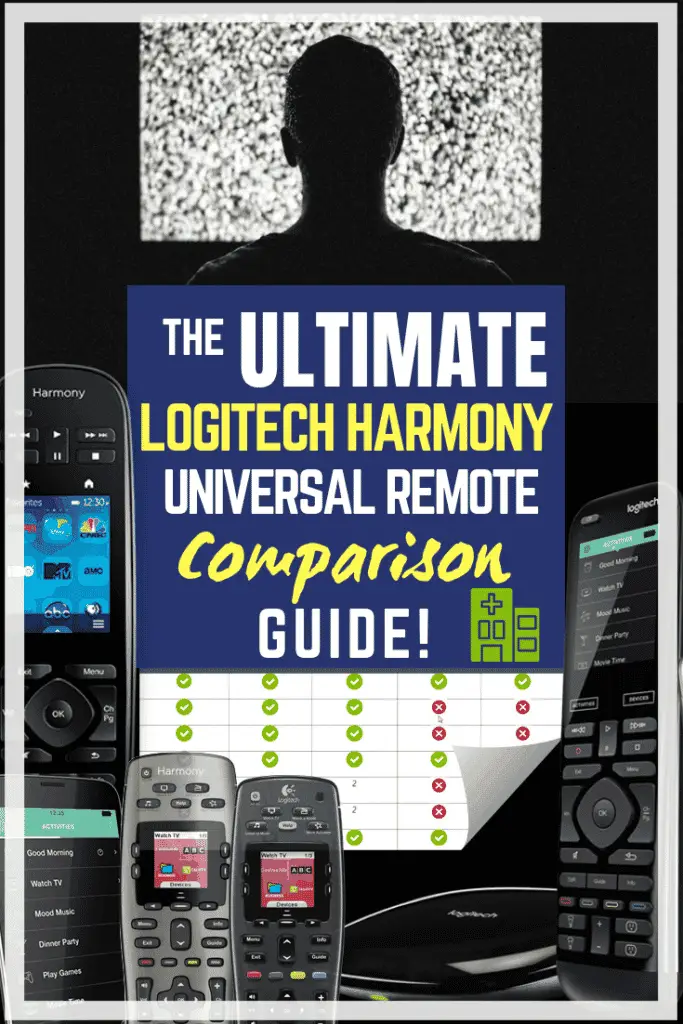 Do you plan on purchasing one of these universal remotes? If so, do you plan to use it to control your entertainment center, smart home devices or maybe a combination of the two?
Or perhaps you already own one of these remotes?
Please leave me a comment below and let me know what you think. I would love to hear from you.
---
Related Links
If you enjoyed my Logitech Harmony Comparison Chart, you might also some of the other posts I wrote:
---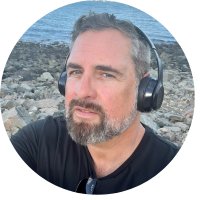 Tim Brennan is a technology blogger and hosts the @TecTimmy YouTube channel. He writes about smart homes at oneSmartcrib, home theaters at UniversalRemoteReviews, and AI in writing at Writeinteractive. A graduate of Northeastern University School of Journalism, he has written about technology for 30 years. Tim lives on the ocean in Nahant, Massachusetts.