Affiliate Disclosure: As an Amazon Associate, I earn from qualifying purchases. Learn more.
🗞️ News:
While Logitech will no longer make new Harmony remotes, the company says it will support existing customers "as long as they continue to use them."
Learn more.
In this article, I compare the Harmony Pro vs 2400 smart home remote control solutions from Logitech designed for professional installers.
The Short Answer on These Two Remotes
F
irst and foremost, let me apologize for my delay in getting this review out. I don't get a commission for either of these products, so this has taken a bit of a back burner so I could focus on more lucrative endeavors.
Hey, at least I'm honest. Anyhow, this has been on my to-do list for a while, so I'm happy to get it done for you here now.
Ready for the short answer? There are five key differences:
The Pro 2400 gives you Logitech's next-gen 2400 hub versus the Pro's standard Harmony Hub.
You are limited to controlling 15 infrared (IR) devices with Pro; with 2400, you get double that (30).
You get twice the indoor radio frequency (RF) range with the Pro 2400 (100 vs 50 feet).
The Pro gives you Wifi connectivity only; the 2400 adds wired Ethernet and optional Power over Ethernet (PoE).
The Pro 2400 gives you 6 3.5mm lines out instead of 2 2.5mm lines.
They both designed for certified installers and the remote itself is identical.
There are some additional subtle differences that I will review in the remainder of this post.
Next, in my usual form, I'll do a base comparison of the two side by side, then we'll get into a bit more of the nitty-gritty. Sound like a plan? Let's take that deeper dive.
---
Harmony Pro vs 2400: Quick Comparison Chart
Harmony Pro
Hub: Harmony Hub
Device Control: 15
Unlimited Smart Home Devices
Reach: 50 feet
Wifi
AC Power
2 x 2.5mm
Voice Control: Yes
Alexa: Yes
Google/Apple: Yes
Pro 2400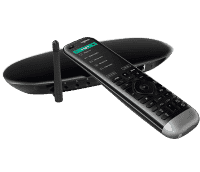 Hub: Next Generation Hub
Device Control: 30
Unlimited Smart Home Devices
Reach: 100 feet
Wifi or Ethernet
Power over Ethernet (PoE)
6 x 3.5mm
Voice Control: Yes
Alexa: Yes
Google Apple: Yes
---
A Couple of Disclaimers
I want to be as upfront as possible in saying that while I am the proud owner of the Harmony Elite, I have purchased neither the Pro or Pro 2400 from a certified installer.
However, I have written extensively about Harmony remotes (over 40 articles in two years), so I would like to think I am qualified to write about these as well.
That said, I want to give credit to SnapAV as I used the nice PDF they put together over on their site as source material. Logitech has some good info over their site but it is all very high level. SnapAV was the only place I could really find the full technical specs on the Pro 2400.  Until I get around to creating my usual specifications sheet for the Pro 2400, use the link to SnapAV if you want the full specs.
OK, now back to the review.
---
Harmony Pro Quick Review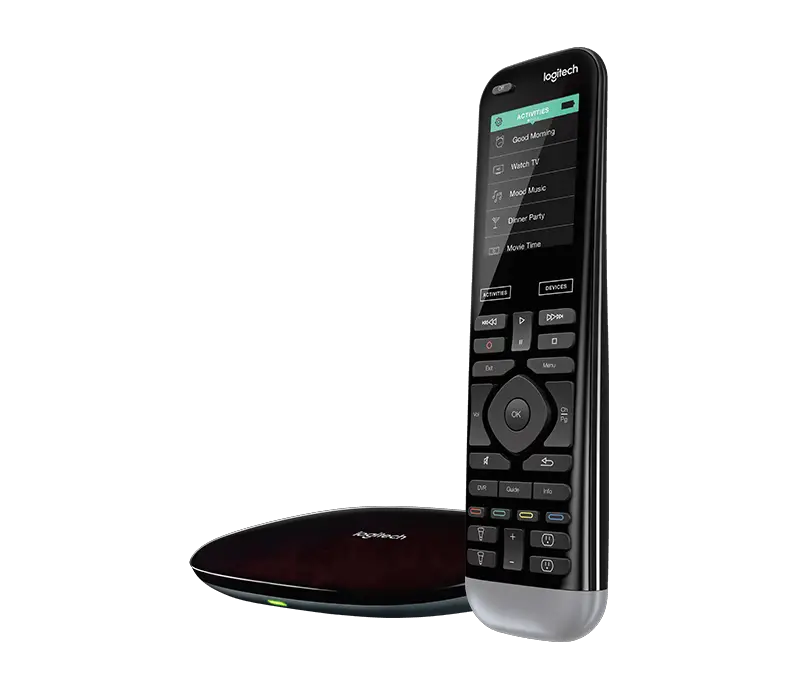 As I blogged about way back in October, the main difference between the Harmony Pro vs the Harmony Elite is that Pro was designed to be installed by a Logitech-approved reseller. It was my recommendation then and it still is now, that if you have a complex configuration and can afford it, Harmony Pro can get you up and running without you lifting a finger. (Well technically you will need to lift a finger after it's all installed but you know.)
BUT the Elite is probably a better choice for most people, as it is much less money and it is fairly straightforward to set up on your own.
The silver-based Pro remotes are a LOT like the Elite remote. In fact, they are almost identical.
You get all the good stuff:
2.4 inch color LCD touchscreens with haptic feedback
Color icons for 50 favorite TV channels and streaming services
iOS and Android mobile apps for additional control over unlimited smartphones
Rechargeable, replaceable batteries with charging cradle
Limited hands-free voice control with Alexa and Google Assistant (for more robust Alexa support, check out my review of the Harmony Express)
Compatibility with Harmony's vast database of 650,000 AV and smart home products, including Hue, SmartThings, Ecobee and Honeywell thermostats*, and August smart locks
*Harmony is the only universal remote I know of that will control smart thermostats at this time; Sevenhugs can no longer do it since Google recently pulled the plug on Nest limiting it to the Google Ecosystem only.
Rob from the Tech Reps does a nice job in his unboxing video of the Harmony Pro.
If you want to learn more about how Pro measures up against the Elite, check out my review here.
However, I have noticed a lot of chatter out in the forums about shortcomings of the Pro Hub, configurability, limited range etc. In fact, one reseller wrote to me here to say just that. My understanding is that the Pro 2400 addressed the shortcomings of the Pro. That's a segue into a mini Pro 2400 review if I ever saw one.
---
Harmony Pro 2400 Quick Review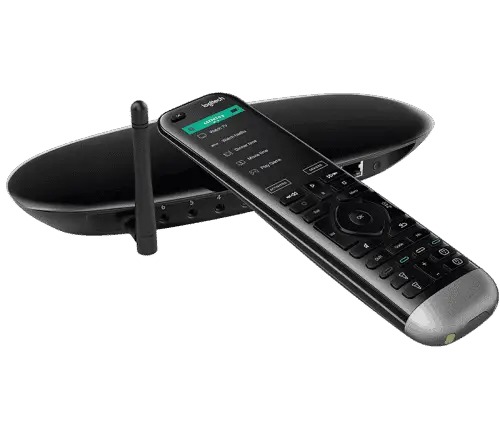 I'm sure you can get all this from the comparison tables in this post, but at the risk repeating myself, I'll hammer the point here just the same.
Above and beyond what you get with the Pro (and the Elite for that matter), the Harmony Pro 2400 gives you:
A newer better hub
Double the amount of devices you can control (from 15 to 30)
Double the indoor radio frequency range (from 50 to 100 feet)
Three single-heaD IR emitters
Male audio headphone jack
On-remote IR control
Detachable SMA antenna
WiFi, plus direct Ethernet
Power over Ethernet (PoE), a great new technology that lets you power the hub via an Ethernet cable —and saves you from having to use a standard AV plug
6 3.5 MM line outs versus the Pro's 2 2.5mm line outs
Home Control buttons
Additional Lutron and Sonos integration
Six IR blasters on the hub
Allnet Distributing has a full-length webinar of the Pro 2400. You might want to grab a cup of coffee for this one, or maybe some popcorn, as it runs almost two hours. This is a GREAT watch for integrators, would-be integrators, or anyone who wants the full specs on this remote though.
---
Special Features for Systems Integrators
For both of these solutions, special features for system integrators (i.e., Pro resellers/installers) include:
The ability to program the remotes over the Cloud
A dealer portal for client management (https://pro.myharmony.com)
Priority support
---
Which One Would I Buy?
If I had the money, and I was looking for a turn-key solution, I would skip the Pro and go with the Pro 2400, no question. There is not that much of a difference in price once you get up in that range.
I've seen too many complaints about the standalone Pro remote, and 2400 has been getting great reports so far from both customers and resellers.
But again, unless you have a complex set up, these aren't really for the average consumer. The Elite is a great remote and if you don't mind spending a little time setting it up will do pretty much everything the Pro will do for up to 15 devices. You can check the price of the Elite over on Amazon here if you are interested.
---
Harmony Pro Vs 2400: What Do You Think?
So what do you think about my review of the Harmony Pro vs 2400 smart remotes?
Are you considering purchasing one of these solutions?  Or maybe you are a reseller trying to get a better understanding of the differences?
Either way, did you find this article helpful?  Is there anything I have missed or I could have included to make it better?
Please leave a comment below and let me know. I would love your feedback on this article.
---
You Might Also Like
If you liked this article comparing Harmony Pro vs 2400, would you mind sharing it using the colorful social media buttons at the top of this page? I hope you also enjoy some of our other articles: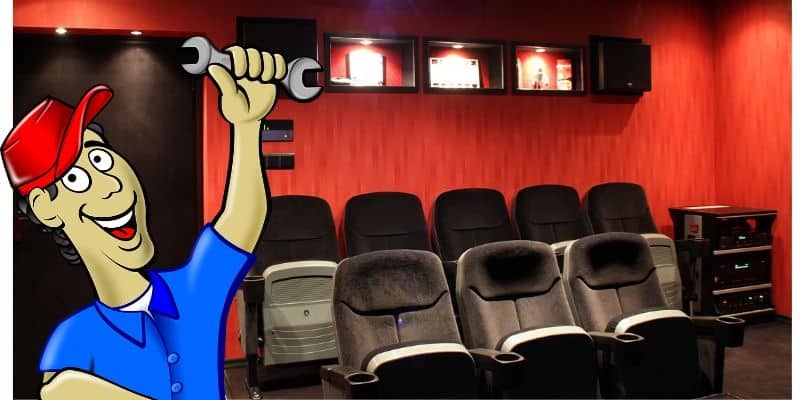 ---
About the Author
Tim Brennan, Technical Writer & Blogger
Tim Brennan [a.k.a. "Tec Timmy"] is a senior technical writer with over 25 years of experience writing for companies and organizations in and around Greater Boston, including GE and MIT. In addition to actively writing about universal remotes, Tim is also a regular contributor over at oneSmartcrib.com, a smart home blog. Tim holds a BA in Journalism from Northeastern University. Brennan is a father to two sons, a Star Wars nut, and loves a good taco🌮. There is a strong chance he is developing a crush on Amazon Alexa. You can learn more about Tim here.