Affiliate Disclosure
As an Amazon affiliate, I earn from qualifying purchases.
In this article, I will break down the seven best smart TVs with Google Assistant built-in that you can get this year. I'll include a side-by-side comparison chart that you can print and take "to go" if you so choose. I'll also provide a mini-review of each product along with the pros and cons of each.
The best smart TVs with Google Assistant built-in are:
---
Best Smart TVs with Google Assistant: Voice Control on the Rise
L
ike the vast majority of consumer electronics we use today, our TVs are also becoming smarter.
A recent market research study by IHS Markit revealed that more than 20% of consumers are already interacting with their TVs using their voices. A second report published by Strategy Analytics forecasts that Smart TV ownership is growing steadily and is set to surpass 50% of homes globally by 2026.
With the increasing popularity of smart TVs with Amazon Alexa built-in, it's no wonder that smart TV manufacturers have jumped on the bandwagon to cater to Google Home users as well. Several leading smart TV makers now offer Google Assistant with Google's popular Android OS on many TV models. The increasing competition is a win-win for consumers and TV brands alike, driving down costs and making TV watching easier.
Over the past few years, Chromecast and other streaming devices have changed how we consume television content. Launched a few years ago as a small, cheap accessory for TV, Chromecast has carved its space as one of Google's most popular hardware products. With the advent of built-in Google Assistant, the need to get a separate Chromecast will likely soon be a thing of the past.
📚 Related: 5 Best Soundbars with Google Assistant
---
Smart TVs with Google Assistant: Technical Specs Comparison
The following table illustrates the key technical specifications of each of these Google-enabled TVs side by side.
👉Click on the chart image below to download a full-sized 11″ x 8 1/2″ PDF suitable for printing (in landscape mode for best results).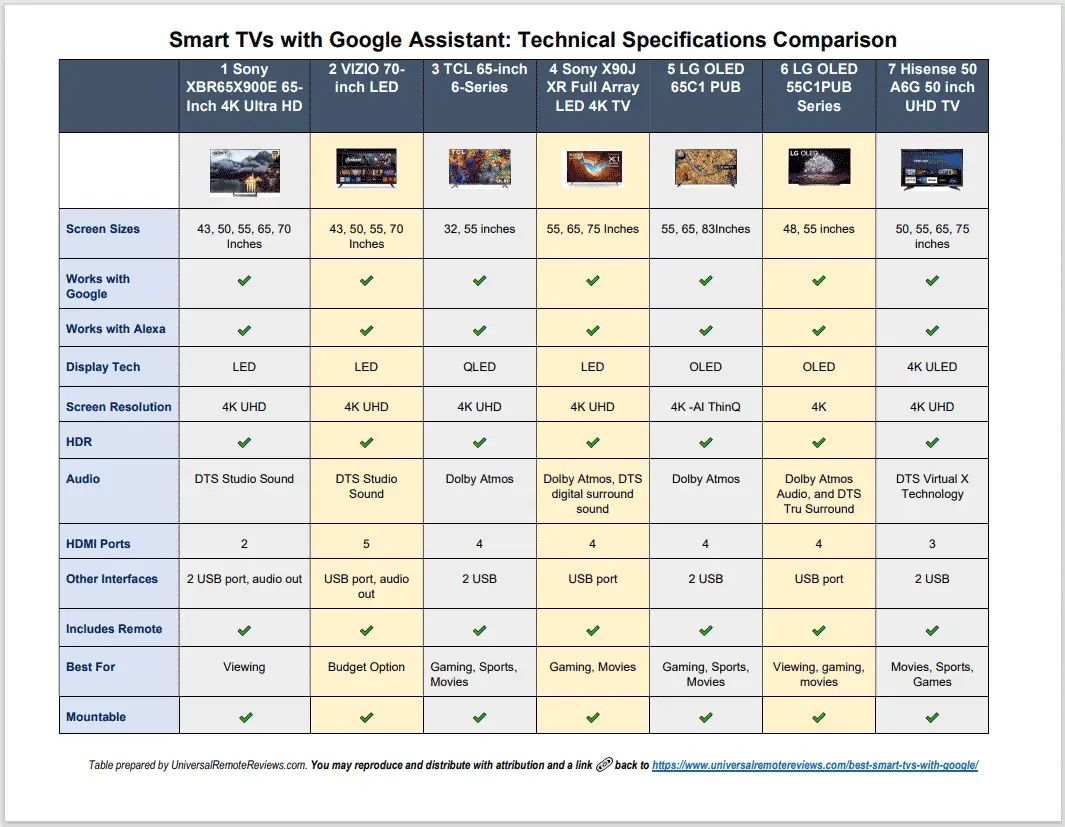 Feel free to socialize the above chart. I put a lot of work into this so the only thing that I ask is that you include a link back to this page.
Next, we'll take a closer look at each model in popular screen sizes along with the pros and cons of each.
---
#1 – Best Google Assistant TV: Sony Bravia

First on my list of the best smart TVs with Google Assistant, is the Sony Bravia X93L Series. With this particular model of Sony smart TV, you can enjoy watching your favorite shows to their full potential. In addition to Google Assistant built-in, this TV has a giant 65-inch display with stunning 4K Ultra HD quality, and Dolby sound to give you an amazing audio-visual experience. Its 120 Hz native refresh rate plus Motion flow XR helps in watching fast-moving action scenes with no motion blur.
This Sony BRAVIA smart TV has four inputs – 4 HDMI ports, 1 USB 3.0 port, and 2 USB 2.0 ports. As it is powered by an Android TV, it gives you access to some of the most popular Android apps and games as well as Netflix and many others.
You can also browse the internet, watch YouTube videos, and even shop using it. As the screen size is massive, it is really a great option to watch your favorite sporting events—or to stream the latest episodes of The Witcher or Squid Game.
Pros:
Powerful X1 Processor.
Motion flow XR200 for seamless action.
4K Ultra HD HDR.
200 Hz refresh rate.
Cons:
The cost of this television is at a higher end.
Some users have reported compatibility problems with Apple products.
---
Video Review
Video Credit: RTINGS com
Where To Get It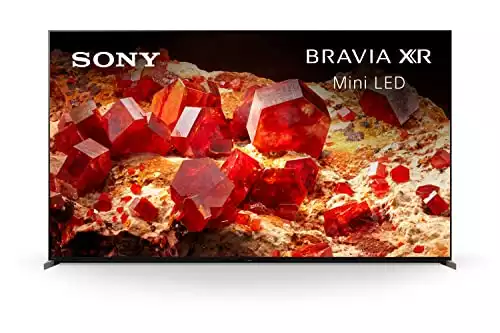 📚 Related: Best Sony TV Remote Controls
---
#2 – Cool Budget Alternate: VIZIO LED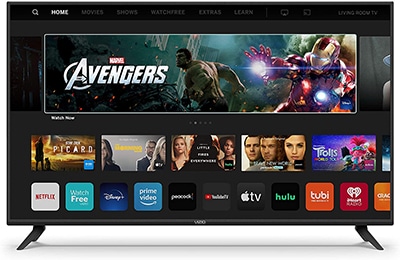 The Vizio 70 or 69.5-inch TV is another giant smart TV that is guaranteed to be a real crowd-pleaser for everyone in your house. Thanks to the sheer size of its display, this TV is an ideal TV for home theatre.
This TV is compatible with Google Home, which means you can operate it with just your voice and Google Assistant. This TV also comes with Google's Chromecast built-in by default, thereby making it easy for you to stream your favorite content from Netflix and other major content providers.
You can also download the VIZIO SmartCast app from the app store to enjoy one-touch access to the controls of this smart TV. The app converts your smartphone into a fully functional remote, offering you complete access to a multitude of features. Its V-gaming engine makes the Xbox One and PlayStation gameplay responsive, with auto game mode.
As the VIZIO 70-inch LED comes with five HDMI inputs, it allows you to connect to a wide range of devices such as Blu-ray players, DVRs, gaming consoles, audio receivers, and soundbars simultaneously.
Pros:
Large screen with 4k means excellent visual quality.
Easy to use and navigate thanks to SmartCast.
Great value for the money.
Built-in AmazonAlexa and Google Assistant.
Cons:
The audio quality from the TV itself is a bit lackluster.
A few users have expressed concerns about the TV heating up.
The refresh rate is just 60Hz, less than other models featured here.
---
Where To Get It
Last update on 12/09/2023 / Affiliate links / Images from Amazon Product Advertising API
📚 Related: Best Vizio Universal Remote Controls
---
#3 – Best for Gamers: TCL 6-Series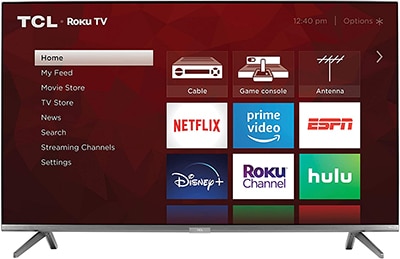 Next on my list of the best smart TVs with Google Assistant is the TCL 65-inch6 series 4k UHD Smart TV. This is a new TV from TCL with in-built Google Assistant, which helps you find movie titles, switch inputs, and even change channels. This QLED TV offers amazing clarity, thanks to its Ultra HD / 4K resolution. It means you can enjoy cinematic, movie-like quality right in your living room every time you watch a movie or play a game.
Its QLED quantum dot technology delivers ample brightness with a wide color theme. The contrast in this television is optimized across 240 localized zones for optimal picture clarity. Its THX-certified gaming mode makes big-screen gaming extremely interesting.
There are 4 HDMI inputs to connect devices including 1 eARC to sync audio and video sources. You can also use your smartphone as a remote and control nearly all of your Smart TV functions via the app as well. This is one of the best buys out there in my opinion and definitely fit into my price range..
Pros:
4K UHD viewing.
Built-in Google Assistant.
THX Certified Game Mode for the better gaming experience.
App for control via smartphone as well as the remote.
Cons:
Rather heavy at 34 kg.
No HDMI 2.1 ports.
A few customers have reported compatibility issues with soundbars.
---
Where To Get It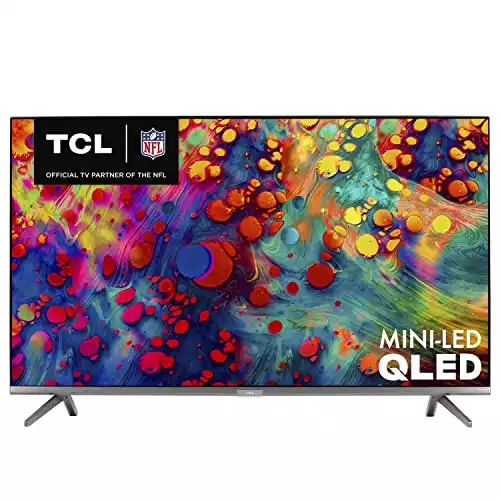 ---
#4 – Premium Pick: Sony X90J LED 4K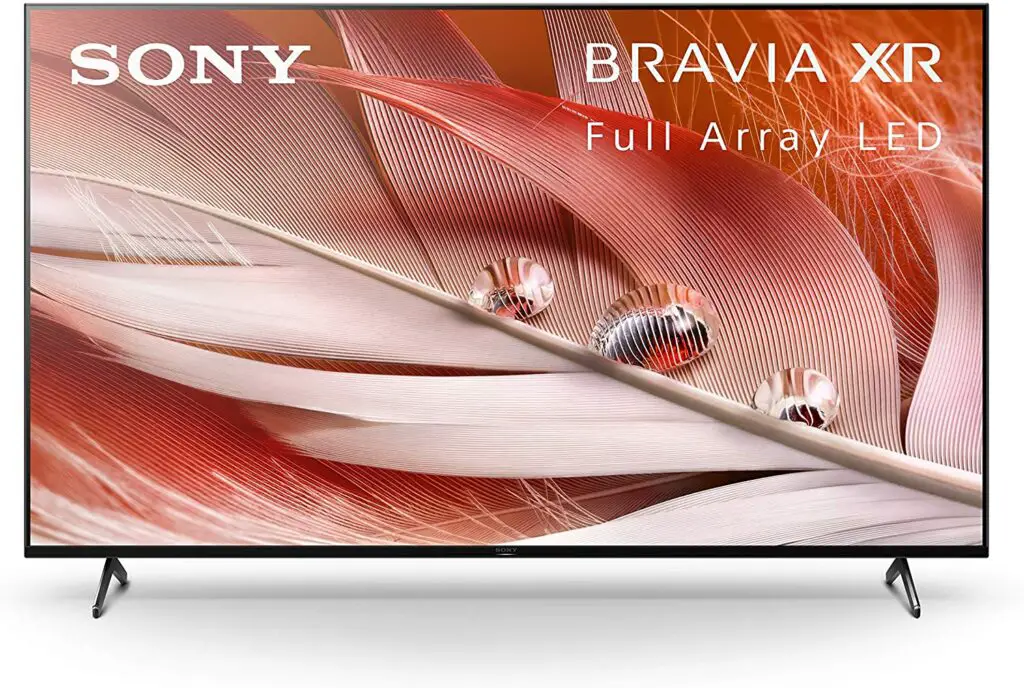 This is an exceptional Smart TV from Sony with high-end tech on board to offer you the best of entertainment and picture quality. Being a google home compatible Android TV, you can stream movies, television shows and also enjoy a range of apps from Google Play, YouTube, Hulu, Netflix, Amazon Video, etc.
Its revolutionary TV processing technology delivers intense contrast with pure blacks, natural colors, and high peak brightness. The XR Triluminous PRO features help rediscover billions of accurate colors with impressive picture quality. You can browse over 700,000 movies and TV episodes from all streaming services in this Google TV.
The Bravia Core features bring the cinematic experience home and are thus ideal for your home theatre. Get the most out of your games with this Bravia XR TV that has exclusive features for the PS5 console. The television is also compatible with the Alexa voice assistant.
Pros:
Full-Array LED and XR contrast booster precisely control picture quality.
This is the best television with cognitive intelligence.
Exceptional picture quality with intense brightness.
Cons:
There are troubles syncing the soundbar with this TV.
The TV settings require a lot of tweaking.
---
Video Review
Video Credit: Sony Europe
Where to Get It
---
#5 – Smart Google OLED: LG OLED65C1PUB with ThinIQ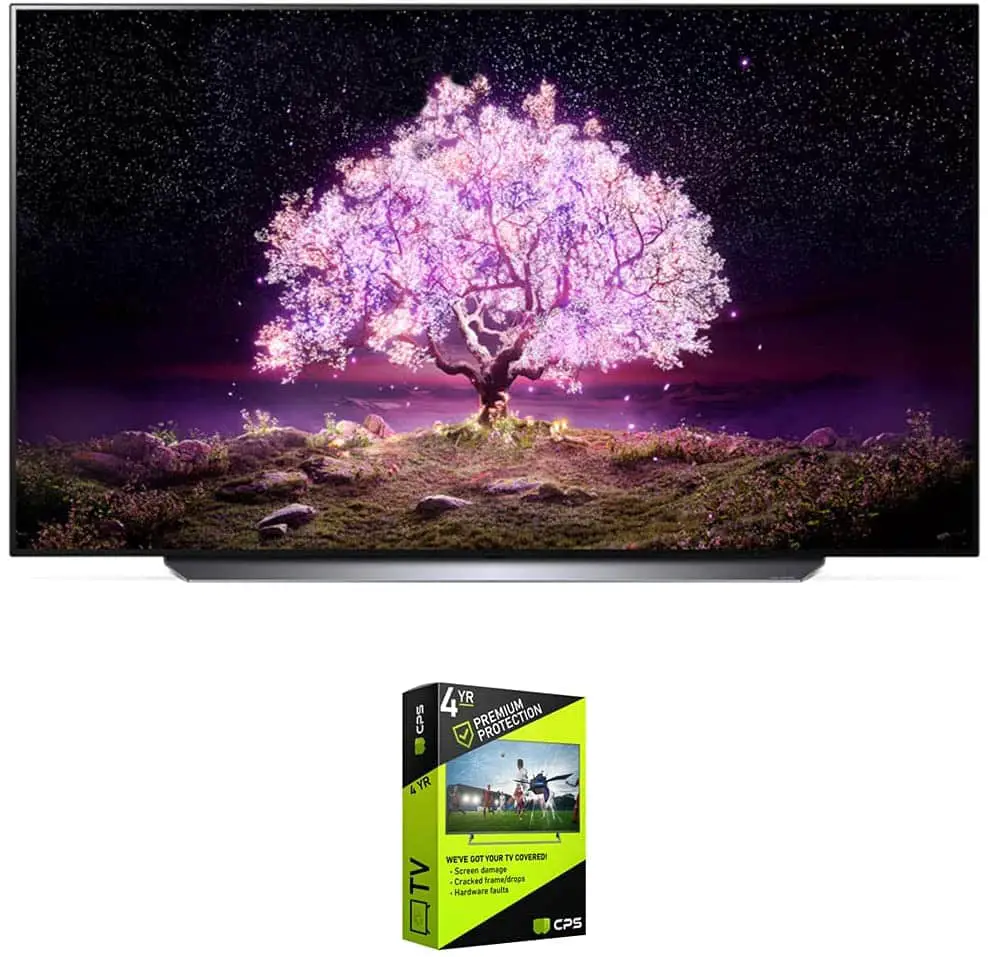 This 65 inches 4K smart OLED TV is equipped with AI ThinIQ technology and A9 Gen 4 AI processor. You can expect tremendous picture and sound quality from this television. Its self-luminous display technology offers an exceptional viewing experience and the television features a thin design, marking the future of television technology.
This OLED television features millions of self-lit pixels that are capable of producing perfect and accurate colors. The Dolby IQ technology adjusts picture settings based on the content genre and the surroundings. Its multi-dimensional surround sound is ideal for a home theatre set-up. The game optimizer feature keeps all the game settings in one place.
You can toggle between the G-Sync and the FreeSync technologies for an ambient gaming experience. Its Gen4 AI processor uses deep learning algorithms to optimize and analyze content. The remote is referred to as a magic wand and features an ergonomic design and is easy across systems.
Pros:
The magic tap feature connects the phone to the TV.
The deep learning AO algorithms optimize content and picture quality.
Connects with Bluetooth speakers.
Compatible with Google Assistant.
Cons:
Takes a long time to ship.
The cost of the TV is at a higher-end.
---
Where to Get It
---
#6 – LG Budget Option: LG OLED 55C1PUB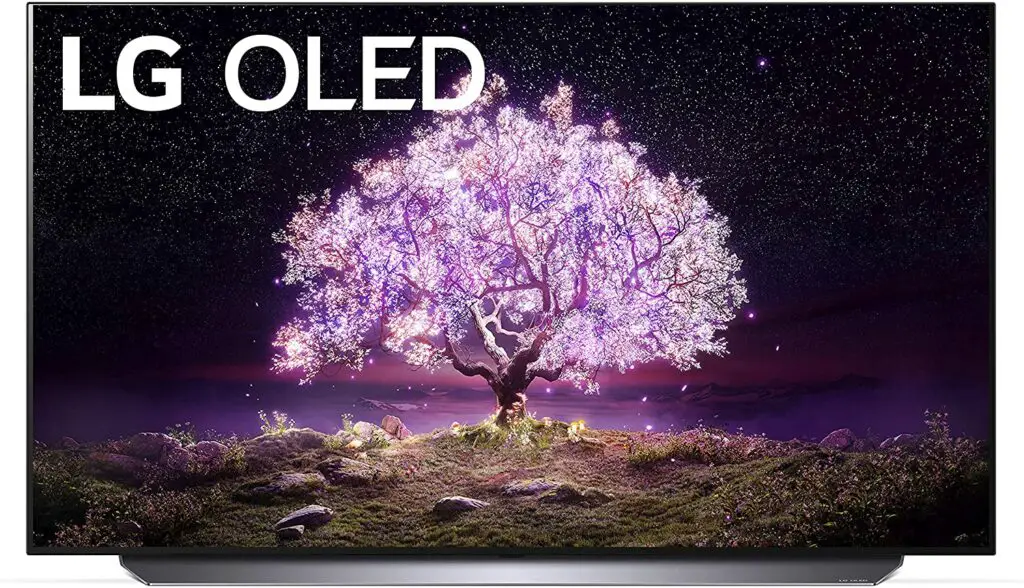 The LG OLED C1 Series is one of the best TVs with a built-in Google Assistant, AI-powered 4K processor, Dolby Cinema, and other exciting features. With a 4K Ultra HD display, viewers can enjoy extraordinary brightness, contrast, color, and clarity on this TV.
Watch your content come to life in over 8 million pixels on this TV. These pixels turn on and off for perfect color contrasts and an exceptional viewing experience. Its 9 Gen 4 AI processor detects genres and scenes to get the content at its best. Its breathtaking picture and audio mode escalate the home cinema experience to an all-new level and the TV has built-in access to Netflix, Prime Video, Disney+, Fire TV, and LG channels at the fingertips.
The game optimizer feature offers users easy access to all the game settings and the low latency mode and HGiG keeps game lags at bay. The television has Google Assistant and Alexa Built-in to conveniently access information and connect the smart devices at home.
Pros:
4K Ultra HD viewing with vibrant picture quality.
Self-lit pixels help with spectacular picture quality.
LG ThinQ maximizes the TV viewing experience.
Compatible with both Google Home and Alexa.
Cons:
Ultra-thin TV requires careful handling.
Costly unit.
---
Where to Get It
📚 Related: 5 Best LG Smart TV Remotes
---
#7 – Great Picture Quality: Hisense A6G 4K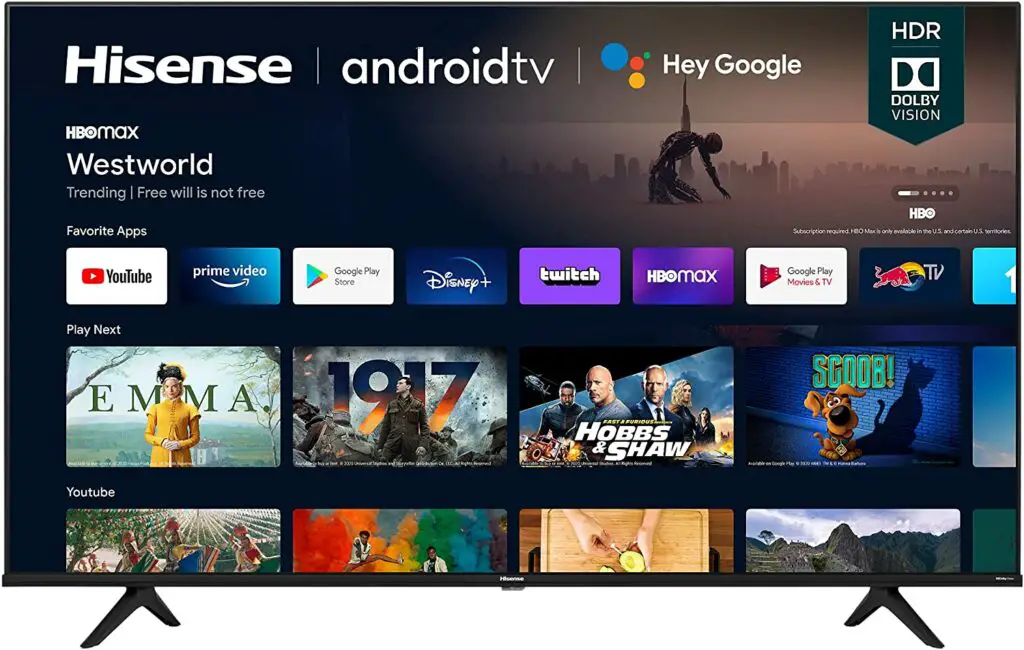 Last on my list of the best smart TVs with Google Assistant is the Hisense 50 A6G. This is a brilliant smart TV that offers 4 times the resolution of a regular HD screen. Its screen is lit with 8.3 million pixels and its full-array LED backlight creates sharp and colorful pictures. Its Dolby Vision HDR and HDR 10 feature brings cinematic technology to the home.
Its Auto low latency game mode helps in uninterrupted play with no lag. You can customize the android TV home screen to display your favorite apps, shows, and movies. Press the google assistant icon on the remote to control your TV with your voice.
The television has a Chromecast feature built-in and features Bluetooth connectivity, google assistant features a remote that can be controlled by voice.
Pros:
The Built-in Chromecast feature helps connect phones, laptops, and tablets with television.
Stream audio wirelessly with Bluetooth connectivity.
Voice remote helps open apps, adjust volume and search for favorite shows using voice.
Cons:
Requires careful handling.
Requires more memory.
---
Video Review
Video Credit: Kartoon Reviews
Where to Get It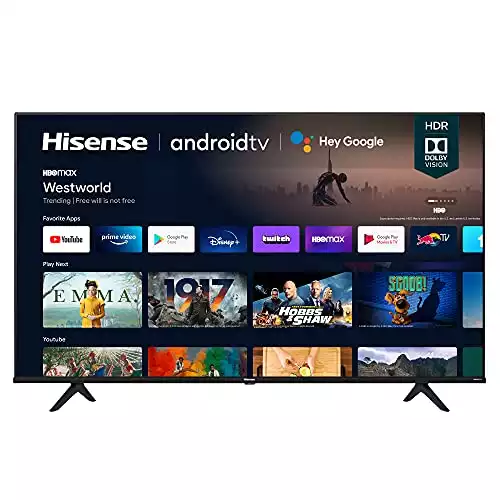 ---
What are Google Home and Google Assistant?
The best Smart TVs that come with Google Home and Google Assistant built-in are easy to manage. Why? Well, you can control them with your voice for starters! If you use Google voice control for your smart TV, you no longer need a remote control for your TV—or you can rely on it a heck of a lot less.
A Google-Assistant-enabled TV will let you use your voice as the remote and you can just tell Google Home what you would like your TV to do. Once you give the command, your TV will do it for you. Very Jetsons, right?
You can use your voice to turn your TV on or off, search for your favorite programs, rewind/fast-forward content, and even control the volume.
Because your Google Home-enabled TV is connected to the internet, it has Google Assistant built-in. This means you also get many of the additional benefits of Google's popular answer to Amazon Alexa and Siri. Get a weather forecast, play music, listen to your news briefs, or even turn your lights on and off. You can pretty much do every task in your smart home using voice commands, now on your television! What better way to enjoy hands-free home entertainment and smart home control simultaneously?
Let us now look at a detailed comparison of my picks' best smart TVs with Google Assistant built-in.
You can choose to view this handy PDF comparison chart online or print it and take it to go to review later.
📚 Related: 7 Best Soundbars With Alexa
---
Popular Google Assistant TV Commands
Here is a list of some popular TV voice commands with Google Assistant. While the specific commands and how you execute them will depend on the TV model you buy, these (or the equivalent) will generally give you granular control over many Smart TV functions.
Hey Google, Turn on my TV.
Hey Google, Increase/decrease volume.
Hey Google, Open Netflix.
Hey Google, Launch YouTube.
Hey Google, Rewind 10 minutes.
Hey Google, Pause the TV.
Hey Google, Start the Iron Fist on Netflix.
Hey Google, Change to channel 251 on TV.
Hey Google, Channel down on TV.
Hey Google, Channel up on TV.
Hey Google, Fast forward TV.
Hey Google, Mute TV.
Hey Google, Next channel on TV.
Hey Google, Play TV.
Hey Google, Set the input of the TV to HDMI 3.
Hey Google, Set the volume of the TV to 45.
Hey Google, Stop TV.
Hey Google, Turn off the TV.
Hey Google, Turn on the TV.
Hey Google, Unmute TV.
📚 Related: 7 Best Remotes with Voice Control
---
A Word About Google Chromecast Ultra
If you don't want to buy a TV with Google Assistant built-in, you might want to consider it. Chromecast Ultra. Chromecast Ultra connects to any standard HDMI and converts your basic television into a smart TV within a few minutes. Once you set up the Chromecast, you can use the device to stream content for all your favorite TV shows and for popular services like Netflix, Amazon Prime Video, YouTube, and other providers, wirelessly.
You can also get a ton of apps for additional content from the Google Play Store. There are even some cool video games you can get.
However, more and more manufacturers are coming up with smart TVs with in-built Google Assistant features and other similar technologies. As a result, you will not have to buy additional devices to connect your TV to the net or use it seamlessly much like a smartphone. The days of your TV just offering a visual experience are over.
Now it is much more holistic entertainment, accessible directly from the internet. Smart TVs will turn even smarter in days to come and features like Google Assistant will help you enjoy the full potential it has to offer.
📚 Related: 7 Best Smart TVs with Alexa Built-in
---
Best Smart TVs with Google Assistant Built-In Your Turn
So, what do you think about my top picks for the best smart TVs with Google Assistant built-in?
Which do you think is the best TV here for you?
Do you like LG 43UP75006LF for its object tracking sound and voice amplifier features? Or do you prefer Toshiba 49-Inch Smart 4K LED TV for its larger screen size, Dolby audio support, and its price?
Do you plan on buying one of these TVs with voice control or do you think a more traditional Smart TV with something like a Chromecast device is a better option?
Please leave me a comment below and let me know. I would love to hear from you.
---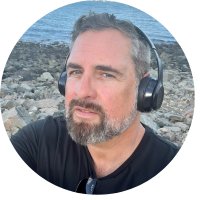 Tim Brennan is a technology blogger and hosts the @TecTimmy YouTube channel. He writes about smart homes at oneSmartcrib, home theaters at UniversalRemoteReviews, and AI in writing at Writeinteractive. A graduate of Northeastern University School of Journalism, he has written about technology for 30 years. Tim lives on the ocean in Nahant, Massachusetts.