Affiliate Disclaimer
As an Amazon Affiliate, we earn from qualifying purchases.
In this article, I'll give you the lowdown on the best remotes for Roku Express, Ultra & Stick you can get right now. Most of the remotes will work with other Roku devices too.
In a hurry?  Here's a summary of my top universal and replacement remote picks:
You can click on any of the links above to jump down to the specific remote you are looking for.
Now back to our regularly scheduled program…
---
Roku: It's Fun To Say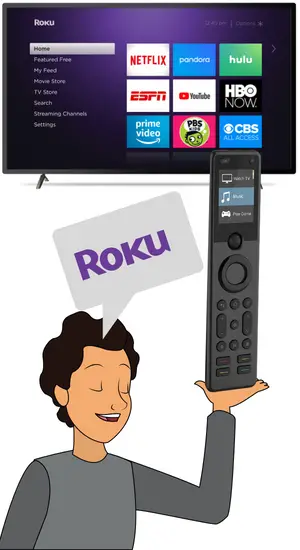 Roku. Roku. Roku. It's fun to say.
Do you know what's not so fun?
Using the cheap little plastic remote that comes with the popular media streamer. There I said it.
I'm sorry but nothing is automated, and it just feels cheap. Worst of all? It only lets you control Roku so it's just one more remote you'll need to add to the pile on your coffee table.
I know this makes you as sad as it makes me.
Well, let's our frowns upside down. I am here to help with my updated list of great Roku remote replacement ideas.
Oh, and if you just want to know the best universal remote to replace your Roku remote, it's the new Sofabaton X1 remote. Why? The X1 lets you consolidate all of your other remotes down to one, it has activities to automate multiple functions, and it will let you control smart devices too. It also works with Alexa and Google Assistant.
Moreover, if you really just want to replace that lame remote that comes with your Roku player, I'll provide a few budget options so you can do this as well [groan].
📚 Related: How to Stream from Phone to Roku
---
#1 – Best Overall: Sofabaton X1
Compatibility: Controls all Roku sticks and players.
I have seen the future of consumer-oriented universal remotes and its name is Sofabaton. I have been using my new X1 remote for a few weeks now and I've got to say I am impressed!  While it isn't quite as fancy as my old Logitech Harmony Elite remote, functionality it does pretty much everything the Elite can do. And, a few thing it does better in my opinion.
Although not perfect, I found the setup process to be easier than Harmony Elite and I also like the smaller size of this remote better. Features that I like include broad support for home theater equipment, Activities like Watch Roku that can execute multiple commands and switch your devices to the correct inputs, and the fact that you can map just about any button you want to any command. All of the buttons are backlit and the battery life is just crazy at 60 hours on a single charge.  The OLED display is a bit lame but you can use it in conjunction with the scroll wheel to navigate your devices and activities.
Pros:
Support for 500,000 devices from 6,000 brands means it will likely support the devices you own today.
Controls up to 60 home theater devices.
Controls smart lights and Sonos speakers with new devices being added.
Works for Alexa and Google Assistant for voice control.
Hub based remote controls IR, RF and Bluetooth devices as well as some Wi-Fi devices.
Find my remote feature helps you find a lot remote when button is pressed on Hub.
Cons:
OLED screen is display only (no touch screen)
App-based setup process can be a bit overwhelming at first.
"Learn from existing remote" feature was a hit or miss for me.
---
Video Review
  Video Credit:
Build Montage
---
#2 – Editor's Choice: Roku Official Remote
Compatibility: Roku TV, Roku Express, Roku Express plus, Roku Express 4k, Roku Express 4k plus, Roku Streaming Stick, Roku Streaming Stick plus, Roku Premiere, Roku Ultra, Roku Ultra LT, Roku SE, Roku Smart Soundbar, Roku Streambar, & Roku Streambar Pro.
Ok, ok. So your Chiwawa ate your Roku remote and you just want to replace it as soon as possible. Well, although I would prefer you get a decent universal remote, I would be doing you a disservice if I didn't put this option first.
You can pick up the Roku official remote over at Amazon on the cheap. Even better, if you are a Prime member, you could potentially be back up and running in just a couple of days.  On the plus side, this remote is rechargeable, and it can be used to control your TV as well as your Roku player. It is also relatively inexpensive and it will let you control some functions with your voice by saying, "Hey, Roku." It won't let you control other entertainment devices or your smart home stuff though.
📚 Related: 7 Best Remotes for TCL Roku TVs
Pros:
OEM remote replaces lost or broken Roku remote
Voice search
Lost remote finder
Ability to plug headphones directly into the remote
Works out of the box with nearly all Roku players
Cons:
Voice search is proprietary to Roku; there is not integration with Alexa, Google Home or Siri
Can't control other equipment
Can't control smart devices like lights or blinds
---
Video Review
  Video Credit:
Todd's Garage
---
#3 – Budget Universal: Sofabaton U1
Compatibility: Check out the Sofabaton device compatibility database.
I used the say that the Logitech Harmony Companion was the poor man's Harmony Elite. Well, then I guess I could also say that the U1 is the poor man's X1.
It's certainly cheaper, but the differences don't stop there. The U1 is limited to 15 devices, the design is different (bulkier), and it won't let you control smart devices or work with Amazon Alexa. However, it does support Sofabaton's massive device database for home theater equipment, and it will also let you create Activities like Watch Roku TV to make accessing your favorite devices a breeze.
I'm not in love with the OLED display, and the setup process it the same as U1.
Also an important footnote for Roku devices as this remote is not compatible with Roku sticks yet.,
Pros:
More affordable than X1
Replace up to 15 remotes
Three programming options include infrared matching, infrared learning, and Bluetooth mode (Bluetooth is limited to four remotes for U1)
Maco button activities like "Watch Roku" to turn on devices and switch them to proper inputs with a single button push
Cons:
Can control Roku set top boxes but not Roku sticks yet
Cannot control smart devices like lights and Sonos speakers
Included batteries aren't rechargeable (requires 2 AA batteries)
Does not support Pendant TV brand
Buttons are not backlit
No find my remote feature
---
Video Review
  Video Credit:
Hatoraid Cowboy Cinema
---
#4 – Premium Option: Harmony Elite
Compatibility: Refer to the Logitech Harmony Device Compatibility Database
If you follow this site, it's no secret that the Logitech Harmony Elite is our top pick universal remote for controlling all of your devices. Why? Logitech extensive support for both home entertainment and smart devices includes over 275,000 products from over 5,000 brands. Roku is no exception. In fact, Logitech has verified that Roku will work with all of its Hub-based remotes.
Roku Stick will not work with Harmony's IR-based remotes but all of the Roku products, including the stick will work with Harmony Elite.
The Elite lets you control not just your Roku, but all of the devices in your entertainment center. It will also control your smart devices too. This includes devices lights smart lights, smart blinds, thermostats and more. You can then program activities like "Movie Night" or "Play Game."
When you click Movie night on the Harmony Elite's LCD color display, the activity can be programmed to automatically turn on not just your TV, audio setup, and Roku player, but also dim your smart lights, change lights to a different color, lower your blinds, etc. You are really limited only by your imagination. It is expensive though. If you are looking for a budget version of the Elite check out the Harmony Companion instead.
Pros:
Cool color LCD touchscreen.
Controls home theater and smart home devices.
Activities like Movie Night and Music Time to turn on all required devices.
Program up to 50 favorite channels.
All of the buttons are backlit.
Charging dock keeps remote charged up.
Cons:
It's expensive.
Setup is difficult especially if you aren't technical.
Support future is unclear since Logitech announced it will no longer make Harmony remotes.
---
📚 Related: 5 Best  Remote Apps for Roku
---
#5 – Budget Roku Replacement: Gvirtue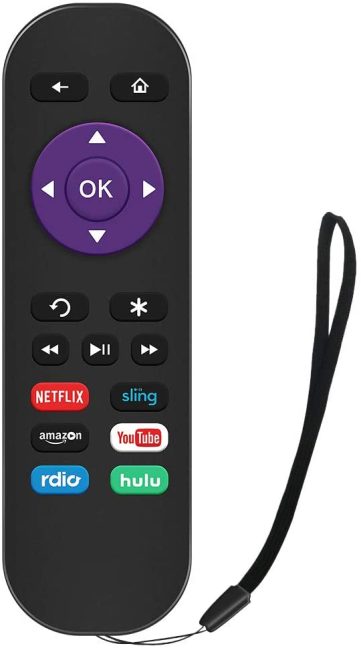 Compatibility: Roku 1, LT, HD, XD, XDS, Roku N1, Roku 2 HD, XS, XD, Roku 3, Roku Express, Roku Express+.
If you are simply looking for one of the best remotes for Roku 1, 2, 3, or 4 streamer on the CHEAP, customers have reported good success with the Replacement Remote for Roku 1 2 3 4 from Gvirtue shop.
The product description on Amazon is a little confusing, but you DO NOT need to have your original Roku remote in order to get this to work.
Note that there is no headphone jack on this remote but it still a pretty good deal.
📚 Related: How To Fix a Black Screen On Roku?
Pros:
Simple Roku remote replacement is super affordable.
Works right out of the box with compatible Roku players.
Dedicated buttons for Netflix, Amazon and YouTube.
Cons:
Won't work with Roku streaming stick or Roku TVs.
Requires line of sight to your Roku player,
Oddly additional dedicated buttons are for far less popular streaming services like Sling, Vudo, and Hulu (why not HBO or Disney+).
No headphone jack like the OEM replacement from Roku above.
---
---
#6 – Best for Roku Express: IKU
Compatibility: Express(3700,3900,3930), Expess+(3710, 3910, 3931), 2018 Premiere (3920), Premiere(4620), Premiere+(4630), Ultra(4640, 4660, 4662, 4670), Roku 1,SE(2710), Roku 2(2720, 3000, 3050, 4210), Roku 2 XD(3050), Roku 2 XS(3100), Roku 3(4200, 4230), Roku 4(4400), ONN/Roku Smart Soundbar(9101), Roku Streambar(9102R), and most Roku TV.
I think the design of the IKU Replacement Remote for Roku Express is a bit funky because it lacks some of the factory remote buttons. However, customers don't seem to mind in the least and report good success with this device. Maybe that's because this remote is a cheap, cheap, cheap way to replace your existing Roku Express remote!  It has buttons for Amazon and Netflix but not for Hulu or Sling. This will ONLY work with the models listed below.
Note that this will NOT work with Roku Streaming Stick or built-in ROKU Smart TV. There is also no headphone jack, or game or voice search. But hey, it's cheap!
Pros:
Super cheap.
Functions just like remote that ships with Roku.
Streamlined remote has buttons for popular streaming services including Disney+ and CNN.
Works out of the box with compatible models.
Helpful support.
Cons:
Limited to control of Roku set top devices (streaming boxes) and Roku TVs only.
Not compatible with Roku Sticks.
No voice control. No smart home control.
---
---
#7 – Best Hub & App: Broadlink TV Remote
Compatibility: The following TCL Roku TV Models are supported: 55UP120, 32S4610R, 50FS3750, 32FS3700, 32FS4610R, 32S800, 32S850, 32S3850, 48FS3700, 55FS3700, 65S405, 43S405, 49S405, 40S3800, ect.
While I'm not ready to give up my physical Harmony and Sofabaton universal remotes just yet, this inexpensive Hub & App combo from Broadlink is a great and fun supplement to your existing remote.
The best thing about this product is that you can control your Roku experience using something that you likely already have (literally) on hand—your phone.
Broadlink's hub-based products are super popular with the technie set. Many of them are designed to control your smart home but this product is designed specifically for controlling your entertainment experience.
I especially like that the app includes logos for your favorite cable channels, plus it also has shortcut buttons for Netflix, YouTube, HBO, Hulu, Amazon Prime Video, Sling, Vudu, Roku, Pandora, and even web browsing.
If you want more app ideas for Roku, check out this post I wrote on the Best Remote Apps for Roku.
Pros:
Compatible with a ton of TV brands
Controls TV and Cable via your smart phone
Can also be configured to control Roku, DVD players, audio equipment, amplifiers, projectors and more.
Voice control with Alexa works great for basic commands.
Cons:
No physical remote.
Set up can be difficult for technically challenged.
A few customers have reported difficultly with getting the remote to synch up with older Amazon Echo Dot models.
---
---
Best Remotes for Roku: What Do You Think
So what do you think of my picks for best universal remotes for Roku 1 2 3 4, Express, Stick, and Plus?
Do you like the idea of controlling your other devices as well as your Roku player from a single remote?
This really is your best option.
How are you enjoying your Roku player in general? What do you like best about Roku?
Please leave a comment below and let us know what you think.
---
Please Like and Share
By the way, if you were able to get some value from this post on the best universal remotes for Roku, would you do me a huge favor and share it via social media?
It just takes a few seconds to use the colorful social media buttons along the top and bottom of this page.
It really helps me spread the word about this blog and gives it a little boost in Google rankings too.
Thanks for sharing the love!
---
Related Links