Affiliate Disclosure: As an Amazon Associate, I earn from qualifying purchases. Learn more.
⚠️
Dear Readers:
On April 10, 2021, Logitech announced they will cease manufacturing new Harmony remotes.
However, they will continue to support the remotes "as long as customers use them."
Remaining stock is limited, so if you want a Harmony remote,
grab yours now
.
In this article, we will weigh the pros and cons of the Harmony Pro vs Elite premium smart home universal remote controls from Logitech.
UniversalRemoteReviews is supported by our readers. If you purchase something after clicking on a link in this article, we may earn a commission. For more information, see our Affiliate Disclaimer in the sidebar (or below on mobile).
---
Harmony Pro vs Elite: DIY vs Professional Installer
The Logitech Harmony Elite has for a long time been Harmony's top-of-the-line premier remote to control both entertainment and smart home devices. Recently, however, the company has introduced a new more expensive option called Harmony Pro that purports to be a cut above the Elite.
So what's the difference?
The Harmony Elite is Logitech's top of the line remote that lets you control both home entertainment and smart devices. It is a complete DIY solution that you purchase and install yourself.  The Harmony Pro requires that you purchase the remote from a 3rd-party reseller who sets everything up for you. 
Is the Harmony Pro worth paying nearly double the price? Let's take a look.
Side-By-Side Quick Comparison Table
Here are the key differences at a glance. We will also provide more detailed specifications for both remotes later in the post.
Our Pick
Logitech Harmony Elite
Best for Most
Color: Black
Dimensions: : 7.56 x 2.13 x 1.14 in
Weight: 5.78 oz
LCD Touchscreen: 1.5 inches (diagonal), 65,000 color screen, 128 x 128 pixels
Device Control: 15
Favorite Channels: 50
Available from: Amazon and Other Retailers
Standard Warranty: 1 Year
IR Kit: 2 Mini Blasters, 0 IR Emitter Covers, 0 Precision IR Cables
Multi Zone Audio: No
Battery: Lithium-Ion rechargeable, replaceable
Logitech Harmony Pro
Premium Turnkey Solution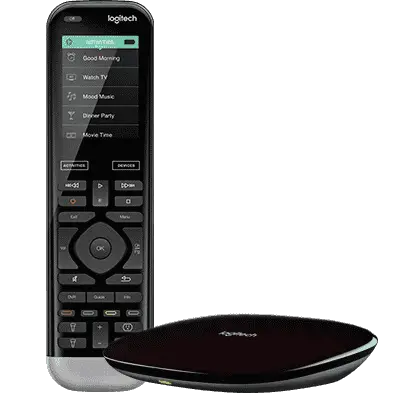 Color: Black with Silver Tip on Base
Dimensions: 7.56 x 2.13 x 1.14 in
Weight: 5.78 oz
LCD Touchscreen: 1.5 inches (diagonal), 65,000 color screen, 128 x 128 pixels
Device Control: 20
Favorite Channels: 50
Available From: Certified Professional Installer
Standard Warranty: 2 Years
IR Kit: 2 Mini Blasters, 8 IR Emitter Covers, 2 Precision IR Cables
Multi-Zone Audio: Yes
Battery: Lithium-Ion rechargeable, not replaceable
---
Harmony Elite: Logitech's Premier DIY Home Automation Solution
The Logitech Harmony Elite [see it at Amazon here] is one of the best remotes that you can buy today to control both your entertainment and smart home devices.
Undecided with Matt Ferrell does a nice job reviewing the Harmony Elite in this YouTube Video.
I'm excited about the death of universal remote control codes too, Matt.
---
Control Entertainment and Smart Home Too
Home entertainment devices include things like your Smart TV, Cable TV/satellite, DVR, Roku/Apple TV/FireTV, Xbox/Playstation, soundbar, and other audio components. You can consolidate all of the remotes for these devices [up to 15] down to a single Harmony Elite remote. In addition, the Harmony will allow you to control your smart home devices these include smart lights, smart plugs, smart locks, smart thermostats, smart blinds, Bluetooth speakers, and much more.
D
id you know that you can use these remotes with IFTTT to start activities based on your location and even time of day?  For example, you could have an "I'm home" activity that automagically triggers your outside and inside lights to turn on, a smart thermostat be set to a certain temperature, door to unlock, and TV to tune to your favorite news program when you arrive within 1000 feet of your home from work.  Learn more here 👉
5 Magical Things You Can Do With Logitech Harmony and IFTTT.
---
Set Activities for Complete Automation
But here's where the magic happens. You can use the Elite to set up activities like Watch a Move or Say Goodnight. For example, you tap the "Say goodnight activity on the Elite's touchscreen, the activity could turn off your media components, turn off some lights and dim others, lock the door, lower your smart blinds, activate a nighttime sound machine, and lower the heat. Also, if you have Alexa or Google Home you can fire that same "Say goodnight" command off with your voice. So, it's basically Star Trek, here and now [minus the beaming around sadly].
---
Harmony Pro: Turn-Key Home Automation Solution for Advanced Setups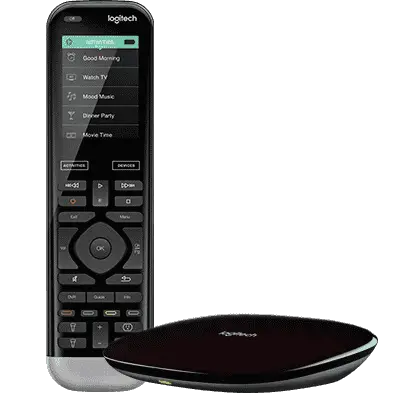 When we first heard about the Harmony Pro, we immediately thought it would be overkill for most home users. One of the main benefits of the Elite and other Harmony remotes that they are super easy to set up using the intuitive myHarmony software wizard. However, it does serve a purpose for those who have complex setups, are looking to control more than 15 devices, or just don't want to deal with any of the hassles of set up.
Full disclosure, we did not purchase the Harmony Pro remote, as it seemed silly because it is so close to the Elite. We have done extensive research, however.
You can see Logitech's video promo for the Pro remote below.
Everything Elite Can Do
First and foremost, the Pro can do everything the Elite can do. In fact, the Pro and Elite remotes are identical, save for the gray tip on the base of the Pro. The main benefit of the Logitech Harmony Pro vs Elite is that you get a certified professional to do the installation.  You also get to add five additional devices bringing the total number of devices the remote can control to 20.
Additional Hardware But Nearly Identical Remote and Hub
Extra IR hardware is supplied to support more complex setups. These include two Precision IR Cables and eight emitter covers which Logitech says will help you control more equipment behind closed cabinets. Interestingly, the weight and dimensions of the remote and Hub and identical for both products. According to Logitech's own specifications, even the model numbers for both the Pro and Elite remote and hub and the same:
Pro Remote Model Number: N-R0010
Harmony Elite Remote Model Number: N-R0010
Pro Hub Model Number: O-R0004
Harmony Elite Hub Model Number: O-R0004
Pro Battery Not Replaceable
Also of note, the battery on the Elite is replaceable, but the one on the Pro is not. This seems kind of lame, but I suppose Harmony thinks that if you can shell out the money for this extra service, replacing a remote when it dies won't be a problem.
Multizone Features A Bit Buggy at the Present Time
A word of caution if you are looking to use Pro to support a multi-zone audio environment. There is a fair amount of chatter in the forums by professional installers saying that the feature is difficult to implement and limited at what it can do at best. We suggest you discuss any multi-zone audio plans with your installer to ensure they can achieve them before you make the purchase. It is likely Logitech will get these bugs ironed out soon, but this is the current state of the Pro for this feature as of today.
---
Interactive Comparison Table
Use the Next and Previous links at the bottom of the table to cycle through all the features. To see the specifications for a specific feature just type a keyword into the Search box above the table. For example, for Sonos speaker compatibility, enter Sonos into the Search field.
Logitech Harmony Pro vs Elite: Features Comparison Table
|   | Harmony Elite | Harmony Pro |
| --- | --- | --- |
| | | |
| Wireless Technology | Bluetooth, IEEE 802.11b/g/n | Bluetooth, IEEE 802.11b/g/n |
| Remote Control Technology | Infrared | Infrared |
| Harmony Hub | Yes | Yes |
| LCD Touchscreen | Yes | Yes |
| LCD Display | 1.5 inches (diagonal), 65,000 colour screen, 128 x 128 pixels | 1.5 inches (diagonal), 65,000 colour screen, 128 x 128 pixels |
| Rechargeable | Yes | Yes |
| Voice Control with Alexa and Google | Yes | Yes |
| IR Device Control | Yes | Yes |
| Requires Line of Sight to Devices | No | No |
| Bluetooth Device Control | Yes | Yes |
| Wi-fi Device Control | Yes | Yes |
| Backlit Buttons | Yes | Yes |
| Motion Sensor | Yes | Yes |
| Go to Sleep Timer | Yes | Yes |
| Haptic Vibration Feedback | Yes | Yes |
| OS Support for Setup | Windows 10, Windows 8, MS Windows 7, Apple Mac OS X 10.7 or later | Windows 10, Windows 8, MS Windows 7, Apple Mac OS X 10.7 or later |
| Number of Controlled Devices | 15 | 20 |
| Number of Supported Devices | 275,000 | 275,000 |
| Number of Favorite Channels | 50 | 50 |
| Replaceable Rechargeable Battery | Yes | No |
| Harmony App for Smartphone or Tablet | Yes | Yes |
| One Touch Activities | Yes | Yes |
| FireTV, AppleTV, Roku | Yes | Yes |
| Sonos Speakers | Yes | Yes |
| Smart lights, smart blinds, smart thermostat, smart locks, smart plugs | Yes | Yes |
| Major Video Game Consoles | Yes | Yes |
| IR Blaster Kit | Basic | Advanced |
| Manufacturer Warranty | 1 Year | 2 Years |
---
What's in the Box?
Harmony Elite

Harmony Remote (with rechargeable battery)
Charging station
Harmony Hub
2 AC adapters
2 IR mini blasters
USB cable, user documentation
Harmony Pro
Harmony Remote (with rechargeable battery)
Charging station
Harmony Hub
Power adapter
2 IR mini blasters
2 precision IR cables
8 IR emitter covers
USB cable
User documentation
---
FAQ
What is the difference in price between the Harmony Pro and Elite?
You can see the latest pricing as of this writing on Amazon for the Elite in the Amazon badge below. Click on the badge to see up-to-the-minute pricing on Amazon.
You should consult an installer for the latest pricing on the Harmony Pro. See Logitech's Harmony Pro website for details.
How hard is it to set up the Harmony Elite on my own?
If you have basic computer skills and have installed software in the past, it is not hard at all. The general procedure is:
Connect your Harmony Elite via the supplied USB to your computer.
Enter make and model numbers of your devices into the myHarmony setup program.
Logitech then discovers your devices based on the information entered and adds them to the remote.
Although the Elite allows you to also set up devices using your smartphone, we do not recommend you go this route.  The desktop software available for both Mac and PC makes this super simple. Customers complain about the mobile setup. Feel free to reach out to us if you get stuck.
Thanks to OmegaMan for this super helpful setup video:
Which Harmony remote is the best of the best?
This depends on who you ask and what your needs are.  We like the Elite for most setups.  If you have a more complex home theater environment, a giant house with multiple rooms of entertainment equipment or you know you want to control more then 15 devices now or in the near future, Pro may be worth a look. Otherwise, we think the Pro service is overkill for most people, especially with the multizone features on the fritz. Therefore, we can only in good faith recommend the Harmony Elite. On the flip side, if you have a simple set up, both of these may be overkill for your needs. See the next question.
Both of these remotes are too expensive for what I need? Are there other options?
Yes. Harmony has a ton of options to satisfy just about any budget requirement. Naturally, the less you spend the more features you give up. We suggest you take a look at our detailed comparison guide that compares the features for all of the Harmony remotes.
---
Harmony Pro vs Elite:  What Do You Think?
So what do you think of our Logitech Harmony Pro vs Elite comparison?
Do you now have a better understanding of the key differences between these two high-end Logitech remotes?
If you found this article useful would you mind giving us a share using the social media buttons at the top of this page?
Or if you could pin this pin to Pinterest even better!  Thanks!
Either way, we would love to hear from you. Please leave a comment below and let us know what you think!
---
You Might Also Like
If you liked this article, would you mind sharing it using a social media button on this page? Here are also some of our other recent articles and related links.
---
About the Author
Tim Brennan, Technical Writer & Blogger
Tim Brennan [a.k.a. "Tec Timmy"] is a senior technical writer with over 25 years of experience writing for companies and organizations in and around Greater Boston, including GE and MIT. In addition to actively writing about universal remotes, Tim is also a regular contributor over at oneSmartcrib.com, a smart home blog. Tim holds a BA in Journalism from Northeastern University. Brennan is a father to two sons, a Star Wars nut, and loves a good taco🌮. There is a strong chance he is developing a crush on Amazon Alexa. You can learn more about Tim here.