As an Amazon affiliate, I earn from qualifying purchases. Learn more
So you want to know the difference between Logitech Harmony Hub vs Elite universal remote controls?
You asked for it, you got it.
In this article, I'll share my most intimate thoughts about Logitech's smartphone remote, plus we'll compare it to the nearly infamous Logitech Harmony Elite.
---
Long Before This Harmony Hub vs Elite Review, There Was the Click-ah
Ah, nostalgia!
A long time ago in a galaxy far, far away….
There was no such thing as a remote control.
No remotes?
Nope. You had to [gasp!] get off your butt if you wanted to interact w your TV set and other devices.
Disturbing!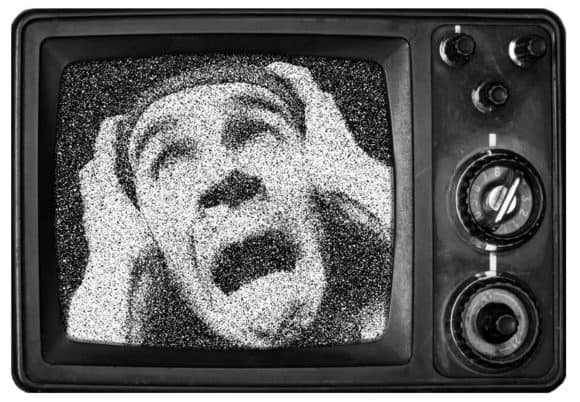 One remote
Next, there was ONE remote: a tiny "clicker" you could use to control your "TV set."
A "clickAH" [as we liked to say in Boston]—like the Zenith Space Commander here—was used to change the channel and adjust the volume of your TV. That was about it.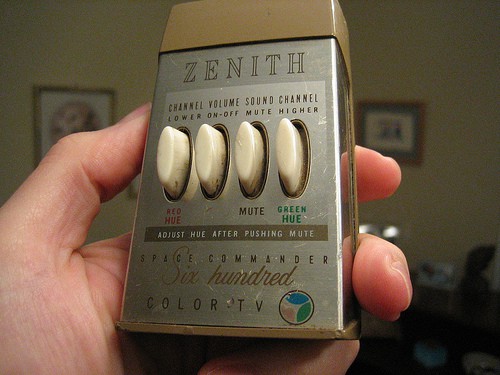 Oh wait, you could also adjust the red and green hue as well.
Equally lame.
Too many remotes
Next, there were TOO MANY remotes. One for your TV, cable box, stereo receiver, VCR, DVR, soundbar, Roku, Apple TV, gas or electric fireplace…

And whatever that weird-looking black one is used for.
Ugh.
Today, we've come full circle. We once again have the capability to control our devices w one remote or no remote at all.
The best part?
Getting off the couch is no longer required.
So without further adieu, let's get on to that harmony hub vs elite review.
We'll give you the scoop on how you can control both your entertainment center and smart home devices, with AND without an actual remote control.
Let's—click, click—jump in.
---
Quick Comparison Table: Logitech Harmony Hub vs Elite
We won't keep you in suspense any longer.  The snazzy table below highlights the main differences of the Logitech Harmony Hub vs Elite universal remote controls.
I will follow this up with some additional explanation, so no cheating!  Make sure you read all the way through until the end for my extended harmony hub vs elite review. 😉
[go_pricing id="elitehub"]
---
Logitech Harmony Elite
The Logitech Harmony Elite (affiliate link to Amazon) is the company's flagship remote control.  It is one of the very best smart home remotes available on the market today. It gives you the capability to control all of your entertainment devices (TV, cable, satellite, soundbar, DVR, Apple TV, Roku, etc.), smart home devices (smart lights, smart switches, smart plugs, smart locks, smart appliances, etc.), radio wave devices (remote controlled ceiling fans, fireplaces, portable AC, air purifiers, etc.), and more.  In fact, Logitech's database has grown to 275,000 devices that this puppy will support.  You are limited to 15 devices with the Elite but that is generally enough for most people. The Elite offers two distinct benefits:
First, it lets you consolidate all of those silly remotes pictured above down to one.
Second, along with the included Harmony Hub, it enables you to create activities that automate the control of multiple devices.
For example, you could have a "Watch Movie" activity that:
Turns on the TV.
Turns on your surround sound audio components [receiver, speakers, soundbar, etc.].
Launches Netflix.
Dims your smart lights.
Changes the color of said lights.
Lowers your smart blinds.
Places a call to your butler for popcorn delivery.
[OK well, six out of seven isn't bad.]
Since I have already reviewed the Elite extensively, compared it with other Harmony remotes—and even compared it to Control4's Neeo Thinking Remote, I won't do that again here.  However, I encourage you to read our other reviews for more info on the Elite.
Thanks to Majestechs for the great video demonstrating how Alexa integration with the Harmony Hub can be used to control your TV.
---
Logitech Harmony Hub
If you haven't already figured it out, the Logitech Harmony Hub (affiliate link to Amazon) is your NO REMOTE option. Instead of a remote, you do all of the stuff mentioned above using your smartphone or tablet. This includes controlling your entertainment center [using the built-in IR blaster] as well as other wi-fi and Bluetooth [read smart home] connected devices.
Examples of supported smart home products include Phillips Hue lights, SmartThings Hub, Nest Thermostats, Sonos audio, WeMo, Ecobee, and hundreds if not thousands more.
The Hub can support up to eight devices total [seven less than the Elite], so you need to know that out of the gate.
Both the Elite and Hub also work with Alexa for voice control.  For example, telling Alexa you want to "Watch a Movie" will execute the sequence described above.
While the Harmony Hub does not come with any type of physical Harmony remote, it costs significantly less.
Thanks to Automate Your Life for the helpful setup video, which can give you a sense of what's involved.
At the risk of repeating ourselves [I know, I know], there is no remote included with the Hub only product. This guy bought a separate remote. So don't come crying to us if you order this and are expecting a remote in the box ?.
If you want a physical remote, we recommend you take a closer look at the Elite [or the Logitech Harmony Companion for a less expensive option].
---
System Requirements
Here are the system requirements as listed on Amazon. They are the same for both Harmony Hub vs Elite.
Internet access: Wi-Fi: Supports 802.11g/n, WPA Personal, WPA2-AES, and 64/128-bit WEP encryption.
For iOS mobile setup and control: iPhone 4S or later, iPad (3rd generation or later), iPad mini, iPod touch (5th generation or later) device with iOS 6.0 or higher.
For Android mobile setup and control: Wi-Fi enabled smartphone with Android 4.0 or later.
Harmony App: download from the App Store or Google Play. A supported mobile device is required for setup and control of some home automation devices.
For Windows-based PC setup: Windows 8, Windows 7, and Windows Vista.
For Mac OS computer setup: Mac OS X 10.6 or higher.
If you want detailed specifications of the Harmony Elite, click here.
For a Harmony Hub spec sheet, click here.
---
Logitech Harmony Hub vs Elite: What's in the Box
Harmony Hub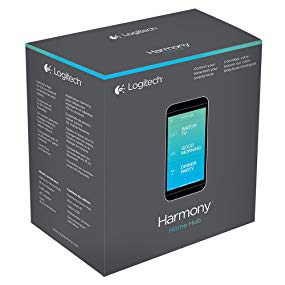 Logitech Harmony Hub

IR mini-blaster

USB cable

AC adapter

User documentation
Harmony Elite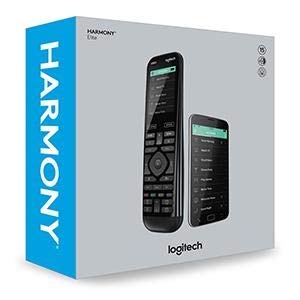 Harmony Elite remote (with rechargeable battery)

Logitech Harmony Hub

Charging station

USB cable

2 AC adapters

User documentation
---
FAQ
Can I check the Harmony database to make sure my devices are compatible before I buy?
Yes, check the Harmony site for device compatibility https://support.myharmony.com/en-us/compatibility.
Can you connect multiple phones to the Hub?
For example, can my wife and kids all have their own remotes on their phones?
Yes. This is true for both Elite and Hub-only customers.
I've read about complaints with Alexa integration. Is there truth to this?
Customers complain that Alexa can be flaky at following certain commands. This has been our experience too.  However, with Alexa in the Cloud and increasing pressure from new Logitech competitors, we're sure these bugs will be ironed out soon. As for setup, Alexa integration works out of the box with the Logitech remote.
I have read about complaints from customers trying to set up Harmony using their smartphones. What's the deal?
We recommend that you DO NOT go the smartphone route for anything other than a very basic device setup. The Harmony setup program for your PC or Mac is great. Use it instead.
---
Logitech Harmony Hub vs Elite: What Do You Think?
I hope you enjoyed my Logitech Harmony Hub vs Elite review.
So, it's nosey time. Do you plan on buying the Hub or the Elite?
If so, which one?  Leave a comment and let us know.
Prices for both products are much lower than we have seen in many months, so now is actually a great time to buy.
Thanks for your support of our site.  Please share! 🙂