Affiliate Disclosure
As an Amazon affiliate, I earn from qualifying purchases.
In this article, I'll look at some cool examples of what you can do with Logitech Harmony and IFTTT.
---
IFTTT is Cool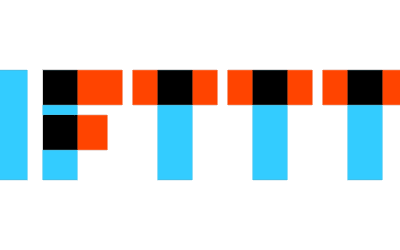 If you haven't heard of IFTTT, you will. Short for IF THIS THEN THAT, IFTTT [pronounced "iftt"] is probably one of the coolest services out there regarding home automation.
Using IFTTT and compatible smart home tech, you can do things like fire up your coffee maker when the sun rises, change the color of your smart lights if it starts to snow, adjust the inside temperature based on the temperature outside, and even make your phone ring when your kid arrives home from school.
---
IFTTT and Logitech – Together in Harmony
We've been asked twice in the last 30 days if there are any benefits to using IFTTT with a smart remote, specifically a Logitech Harmony Hub-based remote. I knew you could use IFTTT with a Harmony Hub, but until this week, the best answer I could give about the benefits was, "I don't know."  So I did a bit of digging.  And without further ado:
Following are five cool examples of what you can do with Harmony and IFTTT:
Example # 1. Use Your Location to Start a Harmony Activity
Example # 2. Start a Harmony Activity Based on Any Time You Choose
Example # 3. End a Harmony Activity When You Answer a Call
Example # 4. Send a Tweet with a Hashtag to Start a Harmony Activity
Example # 5. Send an SMS to end a Harmony Activity
Example # 6. End a Harmony Activity When Uber Arrives at Your Home
Example # 7. End a Harmony Activity When You Answer A Call
All these are based on Harmony activities, so you must have the activity set to do what you want on the Harmony side of the equation. For example, you might have a "Netflix and Chill "activity that dims the lights, changes the bulb color to blue, lowers your smart blinds, fires up your TV and sound system, and then turns on Netflix.
Interestingly, there are a ton of Harmony applets on the IFTTT site.  There are 10,796 related applets! Sadly, the site does NOT make it easy to get decent ideas on what you can do. It looks like the examples are organized according to when they were posted, as opposed to say, popularity, which left me scratching my head.
And when I get to head-scratching, I think about writing a blog post.
We'll go into more detail about each of the examples below, but first, check out the next two sections on what you need to do to get started with IFTTT and Logitech Harmony.
---
How To Get Started with IFTTT
To start with Harmony and IFTTT, you must create an account.  The easiest way to do this is to sign in with your existing Google or Facebook account.
Do the following:
Go to https://ifttt.com/.
Click Continue with Google or Facebook to log in using one of those accounts. Alternatively, click Sign Up or Sign In to create a new account or manually sign in to an existing one.
Select at least four channels of interest.
Visit the IFTTT Getting Started page for help getting going with IFTTT.
---
How To Connect Logitech Harmony to IFTTT
Sign into your IFTTT account.
Enter Harmony in the Search box.
Click the Services tab.
Navigate to the Harmony channel.
Click the Connect button, and enter your MyHarmony User ID and Password.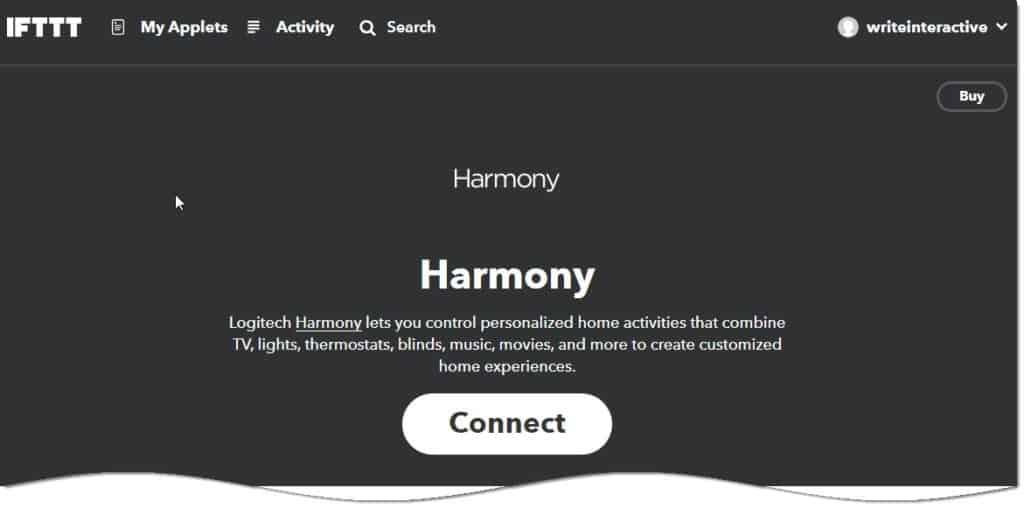 Now you will be able to apply the example recipes below using IFTTT!
---
Video Overview [Harmony Hub]
You can also check out this helpful video from Loididdy that steps you through setting up a custom recipe with Harmony and IFTTT.
---
7 Cool Ways You Can Use Harmony and IFTTT
Example #1 Use Your Location to Start a Harmony Activity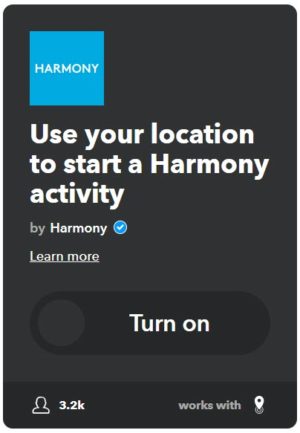 If you have a Harmony Hub, you already know you can create and execute cool "activities" at the push of a button like the Netflix and Chill example above.  You probably also know you can fire off those same activities using your voice with Amazon Echo or Google Home device. Cool, right?
But imagine if you could fire off activities without doing anything at all.  This is the beauty of IFTTT. It will allow you to create and execute recipes based on the time of the day, day of the week, sunrise, sunset, even the weather!
This example will allow you to trigger an activity based on your location.  You might have an activity called "I'm Home!" so the outside light turns on, your smart lock opens, the thermostat is set to a particular temperature, the right inside lights turn on, and the TV tunes to your favorite news program.  Now, if that isn't Buck Rogers, I don't know what is.  🙂
https://ifttt.com/applets/204296p-use-your-location-to-start-a-harmony-activity
Using a third-party device called Automatic Pro, you could even create a recipe that executes when you turn off the ignition on your car.
Pretty crazy right?
Example #2 Send a Tweet with a Hashtag to Start an Activity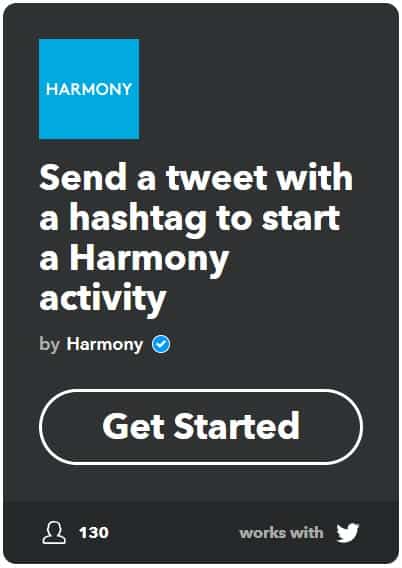 Kids keeping you up with their late-night TV watching? Want to fire up your smart thermostat before you leave the office?  Do it with a hashtag!  This recipe connects your Twitter account so that you can send a tweet to fire off an activity via Twitter..
https://ifttt.com/applets/204294p-send-a-tweet-with-a-hashtag-to-start-a-harmony-activity
#howcoolisthat
Example #3 Send an SMS to Start or End a Harmony Activity Using Your Android Phone

Similarly, you can start and end activities by texting via SMS (short message service). Just text "Turn everything off" using your smartphone to the number specified in the IFTTT app.
https://ifttt.com/applets/204286p-send-a-sms-to-end-a-harmony-activity
Example #4 Start a Harmony Activity Based on the Weather
Nothing beats a good flick when the snow starts to fall.  With Harmony and IFTTT, you can fire off an activity based on weather events such as outside temperature, and yes even if it starts snowing.  Practically speaking, you probably wouldn't set this up, but still really cool that you can!  A more practical use might be an activity that starts a smart air conditioner and lowers the smart blinds when the temperature rises above a certain threshold.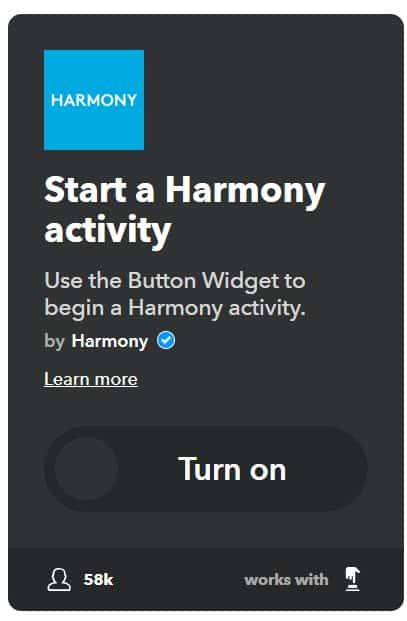 Example #5 Start a Harmony Activity Based on Any Time You Choose
If you're the type of person who you can set a clock by, you will love this recipe. For example, you could fire off your "Watch News" activity every night at 7 PM, or execute your "Good Night" activity on Mondays, Wednesdays, and Thursdays at 11 PM.
https://ifttt.com/applets/211881p-start-a-harmony-activity-at-a-time-you-choose?term=logitech%20harmony
Example #6 End a Harmony Activity When You Receive a Call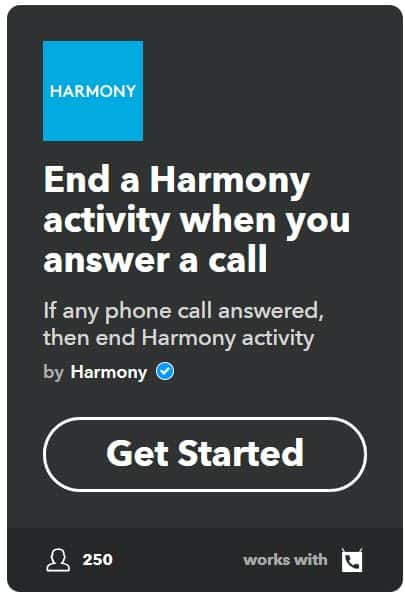 Don't you think it's annoying when you call someone, and they have music or the TV blaring in the background?  With this recipe, you can end a Harmony activity when you receive a call.  We haven't tested this as it requires Android OS, but you might play with the applet or your Harmony activities to Mute and Pause as opposed to turning everything off when that phone call from Mom comes in.
Example #7 Get an Email When a New Harmony Applet is Published
This one isn't as exciting as any of the above, but it is just as useful and help you get even more cool ideas on using Harmony with IFTTT.
https://ifttt.com/applets/arBxVZdF-get-an-email-when-a-new-harmony-applet-is-published
---
Logitech Harmony and IFTTT: What Do You Think?
We hope you enjoyed our five cool examples of what you can do with Harmony and IFTTT recipes.
What do you think about using Harmony and IFTTT to automate things based on certain events?
Do you find this useful?  Learn something?  We would love to hear your thoughts on anything related to Harmony and IFTTT.
Also, if you enjoyed this article, would you mind sharing it using any social media buttons on this page? Thanks!
---
You Might Also Like
You might also like some of my other articles if you enjoyed reading this.  I'll list a few of them here.
---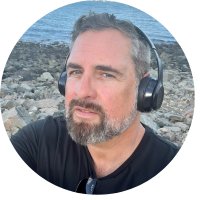 Tim Brennan is a technology blogger and hosts the @TecTimmy YouTube channel. He writes about smart homes at oneSmartcrib, home theaters at UniversalRemoteReviews, and AI in writing at Writeinteractive. A graduate of Northeastern University School of Journalism, he has written about technology for 30 years. Tim lives on the ocean in Nahant, Massachusetts.