Affiliate Disclosure
As an Amazon affiliate, I earn from qualifying purchases.
In this article, I'll look at the best remotes for Vizio TVs, including a few replacement options as well as some universal remotes.
So as to not keep you in suspense, here are my top seven picks:
---
What Are the Best Remotes for Vizio?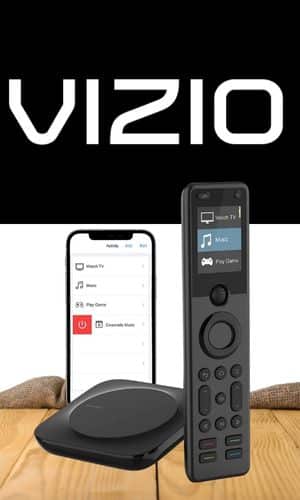 Y
ou've probably arrived here because you are already the proud owner of a Vizio TV. Maybe you own the a P-Series Quantum model, or maybe it's a P, M, V, D, or E series. [Dang-it, I was hoping that would spell something interesting, but no dice.]
But did you know that Vizio is among the top five TV manufacturers in the world?
It's true.
However, there is a common problem that all customers of Smart TVs face. What is it? There's one more no-so-intuitive remote control to add to the growing pile of remotes you already have for cable TV, audio equipment, Roku, DVR, Apple TV, Amazon Fire TV, etc.
Oh, and if it breaks—or the cat runs off with it, well, let's just say NFL Sunday isn't going to be quite as fun.
Wat, wah, wah…..
But fear not!
In this post, I'll review the only best Vizio universal remotes for your TV for virtually any budget.
One of these will only let you control your Vizio TV. A few of my picks will let you control additional devices in your media arsenal.  Two of them will also let you control smart home devices to boot.
Without further ado, let's get into my list of the best remotes for Vizio.
📚 Related: 11 Best Universal Remotes This Year
---
#1 – Tim's Top Pick: Sofabaton X1
I've been using my new Sofabaton X1 universal remote for about a month now, and I've got to say I'm impressed! Not only will this thing control pretty much any Vizio TV out there, it will also control all of your other home theater equipment and some smart devices too. So, get ready to say goodbye to all of those ugly remotes on your coffee table and get ready to make your life a little easier with the X one.
Where the X really marks the spot is its compatibility with over 600,000 devices from 6,000 brands. You can also use it to set up "Activities" like Watch Apple TV that will automatically turn on your Vizio TV, fire up your soundbar, switch over to the right input for Apple TV and even dim your smart lights. Very cool. Oh, and it works with Alexa and Google too for voice control.
Pros
 Huge device database practically guarantees it will work with your Vizio TV and other the devices you own today
 Can be used to control a whopping 60 devices
 One button "activities" can fire off a sequence of events and switch devices
 Works with Alexa and Google Assistant
 Backlit buttons
 Incredible 60-hour batter life on a single charge
Cons
 Setup, while easier than Harmony, is still a process
 It's expensive, but if you compare it with other components you probably use a lot less, well….
---
Video Review
  Video Credit:
OSReviews
---
#2 – Solid Runner Up: Sofabaton U2
The Sofabaton U2 secures its position as a solid runner-up among the best remotes for Vizio TVs, showcasing significant improvements over its predecessor, the U1 remote.
With the Sofabaton U2, you can confidently take control of up to 15 home theater devices, including your Vizio TV. While it may not offer the advanced features found in the X1 model, the U2 delivers a reliable and versatile remote experience.
Setting up the U2 remote requires a bit of technical know-how, but once configured, it provides seamless control. Additionally, the U2 allows you to program Activities for convenient one-touch control of multiple functions.
The U2 remote features an OLED display that makes it easy to identify and manage your devices with clarity. Notably, it introduces an improved battery cover design, making battery replacement more convenient than ever before.
Pros
Controls up to 15 devices, providing comprehensive support for your home theater setup.
Offers decent battery life (rechargeable batteries are recommended).
Allows programming of Activities for streamlined control.
Features an OLED display for clear device identification.
Compatible with major streaming devices and services.
Cons
Does not support control of Wi-Fi devices.
Some users have reported occasional Bluetooth device drop-offs that require reconfiguration.
Lacks compatibility with popular voice assistants like Alexa or Google Assistant.
---
---
#3 – Premium Pick: Logitech Harmony Elite
Next on my list of the best remotes for Vizio TVs is the granddaddy of universal remote controls: the Logitech Harmony Elite. While Logitech said the company will no longer make new remotes, the  Harmony Elite remains one of the best universal remote controls you can buy today.  You get all of the functionality of the X1 and U1 remotes, plus a beautiful color touchscreen remote that gives you swipe and tab abilities, haptic feedback, and customizable touchscreen buttons for activities.
Like the U1, the Elite also has a total of 15 devices that you can control. All Harmony remotes are compatible with Logitech's database of 400,000 [and growing] devices.  Some setup is required. I recommend that you set this up using your PC and not the smartphone option.
You can read my review of the Harmony Elite here.
The one caveat – prices of the Logitech Harmony have increased dramatically in recent weeks due to dwindling inventory, making this a bit of a collector's item as the moment. The good news is, if you can find one, Logitech has said it will pretty much continue to support the Harmony line indefinitely.
You can check with your Vizio TV is compatible with Harmony remotes by searching the Logitech Harmony Device Compatibility Database.
 Pros
 Beautiful looking remote with color touchscreen is a conversation starter
 Supported by Logitech's vast device database
 Will control your Vizio TV, plus home theater equipment and many smart home devices
 Works for devices enclosed in cabinets
 Can set up Activities like Watch Netflix to automatically power on all required components and launch Netflix
 Cons
 Super expensive now that Logitech is no longer making remotes
 Set up is involved, although you can do everything using your computer and or the app
---
Video Review
  Video Credit:
Undecided with Matt Ferrell
---
#4 – Best Voice Control: Fire TV Cube
I absolutely love my Amazon Fire TV Cube and controlling my TV with my voice using Alexa. While I don't want to put down my physical remote just yet, I have seen the future and it is voice control. I simply tell Alexa to Watch Netflix or Open YouTube or Disney+ and it "just works" – just like Disney magic.
Alexa automatically launches the application and then I can control the whole experience using my voice as well. I can adjust the volume, play, pause, rewind, and fast forward through my favorite movies and shows. Very cool. Oh, and you will love being able to say "Alexa turn on/off the TV" to power up /down your Vizio TV.
 Pros
 Control your Vizio TV and favorite streaming services with your voice
 Setup is super simple and plug and play – no need to create a "routine" for "Watch Netflix" as that is built in to the Cube
 Can also be used to control smart home, view video cameras, get news and weather, etc. from Alexa right on your TV
 Cons
 Not consistent enough where I am ready to give up my remote
 Limited to Alexa for voice control
 Limited to Amazon Fire TV OS (which has Netflix, Amazon Prime, Disney+, YouTube etc. apps that you can install.
---
---
#5 – Budget Universal: EWO'S XRT140
This next product on my list of best remotes for Vizio TVs is the EWO'S XRT140 budget option. It instantly pairs with many Vizio TV models without programming, and it will work from 40 feet away. It also has well-designed soft silicon buttons and is super affordable.
Dedicated buttons are provided for Netflix and Prime Video as well as (oddly) VUDO, XUMO, and Redbox with customizable shortcuts. It requires two AA batteries (not included). If you want a simple plug-and-play remote that will work with your Vizio TV and you don't need a lot of bells and whistles, I don't think you will be disappointed with this remote.
📚 Related: List of Universal Remote Codes for Vizio Tvs
It will work with virtually all Vizio Smart TV models. These include:
D

-Series: D24F-F1 D24F-G9 D24H-G9 D32F-F1 D32F-G4 D32H-F0 D32H-F1 D32H-F4 D39F-F0 D39F-F1 D40F-F1 D40F-G9 D43-F1 D43F-F1 D43F-F2 D43FX-F4 D48F-F0 D50-F1 D50-F501 D50F-F1 D50X-G9 D55-F2 D55X-G1 D60-F3 D65-F1 D65X-G4 D70-F3 D24F-G1 D32F-G1 D32H-G9

E

-Series: E32-D1 E32H-D1 E40-D0 E43-D2 E43-E2 E43-F1 E43U-D2 E48-D0 E48U-D0 E49U-D1 E50-D1 E50-E1 E50-E3 E50-F2 E50U-D2 E50X-E1 E55-D0 E55-E1 E55-E2 E55-F0 E55-F1 E55U-D0 E55U-D2 E60E-3 E60-E3 E60-F3 E60U-D3 E65-D0 E65-D1 E65-E0 E65-E1 E65-E3 E65-F0 E65-F1 E65U-D1 E65U-D3 E70-D3 E70-E3 E70-F3 E70U-D3 E75-E16 E75-E3 E75-F1 E75-F2 E80-E3 E80-F3 E80U-DE

M

-Series: M50-D1 M50-E1 M55-D0 M55-E0 M55-F0 M60-D1 M65-D0 M437-G0 M507-G1 M557-G0 M558-G1 M657-G0 M658-G1 M65-E0 M65-F0 M70-D3 M70-E3 M70-F0 M70-F3 M75-E1 M80-D3

P/PX

-Series: P50-C1 P55-C1 P55-E1 P55-F1 P55RED-F1 P65-C1 P65-C1 P65-E1 P65-F1 P75-C1 P75-E1 P75-F1 P659-G1 P759-G1 PX65-G1 PX75-G1 PQ65-F1

V

-Series: V405-G9 V435-G0 V435-G1 V436-G1 V555-G1 V556-G1 V585-G1 V605-G3 V655-G9 V656-G4 V705-G1 V705-G3 V755-G4 V505-G9

O

LED

-series: OLED65-H1, OLED55-H1, and more.
 Pros
 Super affordable.
 Works with most Vizio TV models.
 Works right out of the box for many Vizio TVs without programming.
 Well designed remote with soft buttons.
 Highly responsive and solid range at 40 feet.
 Cons
 Kind of a weird array of streaming button that are outside of the mainstream (with the exceptions being Netflix and Amazon Prime).
 A few customers complained that this remote just died after several months of use.
---
---
#6 – Budget Replacement: Vizio XRT122
Sometimes, you just want something cheap. As in – a cheap replacement for what was working before will do just fine. If your cat ran off with your existing Vizio LCD or LED TV remote, or you happened to leave it overnight in a highball glass, the Vizio XRT122 may be just the droid your looking for.
However, this is not an option for consolidating multiple remotes into one.  It also won't control your other home theater equipment or your smart home stuff. It does have buttons to launch the apps you're most familiar with as an owner of a Vizio LCD TV. Yes, the Amazon, Netflix, and (oddly) iHeartRadio "easy buttons" are there. As are the standard Guide, Menu, Info, Exit, Back, etc. buttons.
While I would be sad to see you buy this remote over some of the better options listed here, I get it. Sometimes, a quick fix is the best thing for now.
This remote can be used to control the following Vizio TV models:
D

-Series: D24-D1 D24H-E1 D28H-D1 D32-D1 D32F-E1 D32H-D1 D32X-D1 D39F-E1 D39H-D0 D40-D1 D40F-E1 D40U-D1 D43-D1 D43-D2 D43-E2 D43F-E1 D43F-E2 D48-D0 D48F-E0 D48F-EL D50-D1 D50-E1 D50F-E1 D50U-D1 D55-D2 D55-E0 D55F-E0 D55F-E2 D55U-D1 D58U-D3 D60-D3 D65-D2 D65-E0 D65U-D2 D70-D3

E

-Series: E48-C2 E50-C1 E55-C1 E55-C2 E60-C3 E65-C3 E65X-C2 E70-C3 E32-C1 E32H-C1 E40-C2 E40X-C2 E43-C2
Pros
 It's inexpensive
 Can be used to replace an existing Vizio TV remote for the models noted above.
 Dedicated buttons for Amazon, Netflix and (oddly) iHeartRadio
Cons
 It will only control your Vizio TV
 Customers with some older Vizio TV models were unable to get the remote to work.
 Battery compartment is hard to open.
---
---
#7 – Replacement Alternative: Gvirtue
Another well-rated remote a little further up the food chain  (but not too far) is the Gvirtue Universal Remote Control. This remote works right out of the box with most Vizio TVs, and if not, it is easy to set up and has a learning function.
The nice thing about this remote is that it has hotkeys for many of your smart TV functions. These include keys for Netflix, Amazon, and M-GO. You can customize your own keys.  Like the Coolux this won't let you consolidate several remotes or work with smart home tech. It was designed as a replacement for your factory remote.
A few customers have complained about the setup and pairing with a hub for TVs that are not compatible. However, most customers report that the remote "just worked" with their TV. Like with the Coolux, you need to buy your own batteries, so we suggest having them on hand before this arrives.
The following are the supported Smart TV models:
D, E, M, P, V

-Series: D Series, E Series, M-Series, P-Series, V-Series Smart TVs and old TVs

XRT

and

VR

-Series: Applicable XRT100 XRT010 XRT020 XRT110 XRT112 XRT300 XRT301 XRT302 XRT303/ XRT122 XRT500 XRT510/ XRT132 XRT133 XRT134 XRT135 XRT136 XRT140 XRT150/ VR1 VR2 VR4 VR9 VR10 VR14 VR15 VR17 and more
 Pros:
 It's super affordable.
 Dedicated buttons for Amazon, Netflix and (oddly) MGO.
 Learning function can learn from your original Vizio remote.
 Cons:
 It will only control your Vizio TV.
 Limited 180-day warranty.
 Batteries aren't included.
---
---
Best Remotes for Vizio TVs: Sound Off
What do you think about my picks for the best remotes for your Vizio TVs?
Do you plan to purchase one of these remotes?
Is the ability to control multiple home theater devices a factor in your decision? What about smart home control and voice control?
Please let me know by leaving a comment below.
I would love to get your feedback.
Also, if you got any value from this, would you mind giving me a quick social share using the colorful buttons below? Thank you!
📚 Related: GE Universal Remote Codes for Vizio TVs
---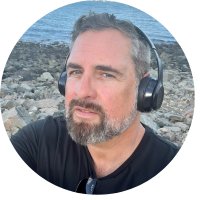 Tim Brennan is a technology blogger and hosts the @TecTimmy YouTube channel. He writes about smart homes at oneSmartcrib, home theaters at UniversalRemoteReviews, and AI in writing at Writeinteractive. A graduate of Northeastern University School of Journalism, he has written about technology for 30 years. Tim lives on the ocean in Nahant, Massachusetts.