In this post, I will explore the question: What is the best Harmony remote for Fios? Plus, I'll give you some additional options that include Caavo Control Center and SevenHugs Smart remote. Click. Click. Let's dig in!
G
osh darn is that remote that comes with Verizon Fios is confusing. I'm not a fan of
Fios
and I recently moved to
Xfinity
for that very reason, but a friend of mine still has Fios, and the remote just makes me nutty.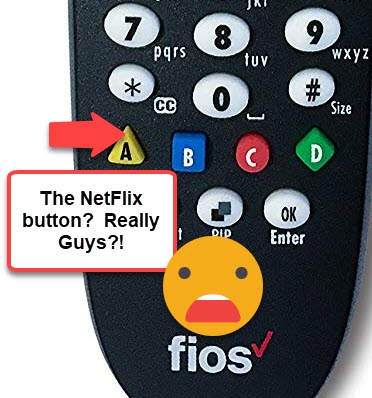 Why on earth do I click a "triangle" button with an "A" on it to get to Netflix? I mean, who makes this stuff up. Engineers? Artists? People, who just dig shapes?
In this post, I have one goal: to get you out of that god-awful Fios remote into a more intuitive remote that matches your needs and budget.
If you simply want to know the best Harmony remote for Fios, I won't keep you in suspense.
The best Logitech Harmony remote for Fios is the Harmony Elite.  It will not only let you control your Fios cable but it will also let you program an "activity" to start up your TV, Fios cable box, soundbar, and more. Plus, you can use it to integrate your smart home tech (smart lights, blinds, etc.) when you power Fios on too.
Here are seven great remote replacements for Fios [ordered from most to least expensive]:
Logitech Harmony Elite
Sevenhugs Smart Remote
Logitech Harmony Express
Caavo Control Center
Logitech Harmony Companion
Harmony Hub
Fios TV Remote Replacement
In the rest of this post, I'll go into more detail about each of these remotes.
📚 Related: How to Reset An Xfinity Remote
---
Logitech Harmony Elite: The Best Harmony Remote for Fios
The Harmony Elite is the cat's meow when it comes to universal remote controls. This is the best Verizon Fios remote replacement you can buy, bar none. Other manufacturers have tried to unseat the Elite, and I'm sure they will continue to do so. However, the fact remains that this is still the best universal remote you can get today. While it will work for just about every cable service out there, it makes an especially good remote replacement for Verizon. Why?  You are going from a Camry to a Corvette, and you will absolutely be delighted with the difference.  It does require a bit of setup to get this going, but if you are even a little bit technically inclined the Harmony set up wizard makes it straightforward.
Here's a nice demo of Harmony Elite from Modern Classic.
Highpoints
Controls all your devices in your entertainment center as well as Fios
Massive device compatibility database of 275,000 supported devices from 5,000 brands
Control smart devices like lights, blinds, and thermostats
Combine smart devices into Activities like "Watch Netflix" to turn on the TV, Cable, Soundbar, Dim the lights, and even lower the blinds and turn on Netflix with the touch of a button.
Works with Alexa, Google, and Siri for best voice commands
You can check the price at Amazon here.
---
Sevenhugs Smart Remote: No More Fios Remote Troubleshooting
Kickstarter startup SevenHugs is probably the closest any company has come to giving Harmony Elite a run for its money the higher-end remote control space.  The cool thing about SevenHugs is its adaptive remote technology.  The remote has an LCD screen on the front. The screen controls on the remote actually adjust to what you point it at.  Point it at your Fios Box?  And you get the controls to control your cable.  Point it at your smart lights and you are presented with controls to adjust brightness, color, etc.  This really is the future of remote controls we think.  Oh, and there is voice control too. That is definitely a thing.  Logitech's latest remote was designed to support voice control from the ground up. We will cover that next. It is also super easy to set up and customers have said that its simple interface makes constant troubleshooting with Fios remote unnecessary.
Check out this helpful explanation of the benefits of the SevenHugs remote from Engadget.
Highpoints
Consolidate all your remotes down to one
Customizable scenes like Watch TV fire up Fios, TV, and soundbar all at once or Movie Time turns on Netflix and required components dim lights, etc.
Contextual awareness changes display for devices you point it at
Controls TV, music, lights, and home
Intuitive SmartRemote companion app makes set up relatively easy
---
Logitech Harmony Express: A Great Fios Voice Remote
Editor's Note: This remote has been discontinued, and I will update this post with a suitable replacement option early next year.
The Harmony Express is Logitech's newest remote.  The remote itself is much more streamlined than the Elite. But that's the point. It was designed so that you can control your TV, entertainment, and smart devices almost entirely with Amazon Alexa.  There are basic buttons on the remote sure, but Alexa can be used for everything from TV/Fios on/off, raising and lowering the volume, starting an activity, searching for your favorite TV shows and movies, navigating streaming services like Netflix, Roku, FireTv, Hulu, YouTube, and much more. Logitech has seen the future and her name is Alexa.  I am not ready to give up my Harmony Elite just yet. But I have a new Express in the box that Logitech sent me, and plan to do an unboxing video soon.
Check out this review of the Harmony Express with Alexa from the guys at TWiT Netcast Network.
Highpoints:
The best Alexa remote you can buy today.
Full range of Alexa commands to control smart home stuff and just about any entertainment device other there.
Check out my review of the Harmony Express here. I compare it to Elite here.
See the Latest Price at Amazon here.
---
Caavo Control Center:  Toss Out that DVR
Like SevenHugs, newcomer Caavo also takes a unique approach to the universal remote. However, the spin is a little different.  This is the remote that you want if you like to stream media using multiple services. Why? It does the best job of search of all of the remotes out there. You can easily search across multiple services, like Prime, Netflix, HBONow, YouTube Premium, etc. and it presents you with all of your paid and unpaid options in a nice little interface. A 'Find My Remote' feature is another huge benefit. You simply click a button a the base of the device and an alarm goes off on the remote itself to help you find it.
You can read my review of Caavo Control here where I outline additional features and benefits.
Linus Tech Tips has a nice video that explains Caavo Control Center's benefits for managing content.
Check the price of Caavo at Amazon here
---
Logitech Harmony Companion: Super Easy to Program
The Harmony Companion gives you most of the benefits of the Elite, except you don't get the full-color LCD screen. Also, the buttons aren't backlit and you are limited to controlling fewer devices. You can see the full specs of the Companion in our new spec sheet format here.  What you do get is both control over your home entertainment and smart devices, plus basic control with Alexa/Google Assistant/Siri, plus unlimited smartphone apps for you and the members of your family.  This in turn sort of solves the no LCD/backlighting problem.  The Harmony app is excellent and the interface is similar to the Elite's LCD. You can store up to 50 favorite channels with colorful icons [including one for Netflix], so this really is a good value. You need to be comfortable with controlling your TV from your smartphone though.
See my review of Harmony Companion here.
Latest Companion pricing at Amazon here
---
Logitech Harmony Hub: Best Fios Remote App
Speaking of controlling your TV with your smartphone, this is exactly what the Harmony Hub was designed to allow you to do.  It does not ship with a physical remote. Instead, you get the same Harmony Hub that ships with the Elite and the Companion to control your entertainment and smart devices using the intuitive Harmony app only.  I'm pretty old-school when it comes to remotes, so I like the feel of physical remote buttons.  However, if you are cool with using your phone, plus Alexa/Google/Siri for basic commands then the Harmony Hub might be a good choice for you.
My Harmony Hub review [vs Elite] is here.
Check out the latest Hub pricing at Amazon here
---
Fios TV Remote Replacement: Where Can I Buy One?
Do you know what isn't a good choice?  It's this Fios TV Remote Replacement. LOL.  I put here because there is no doubt some of you are looking for this to replace a lost or broken Fios TV remote.
You can buy the Fios TV Remote Replacement at Amazon here.
But I hope you don't go back to that awful Triangle!
Haha….seriously if you want a budget remote that is about the same money as this, check out the Harmony 650 or even the 350, they are simply better remotes for home entertainment device control. You can control your smart home stuff with them, but you can control your Fios and other entertainment devices nicely and without the evil triangle.
Check out the latest price of the Harmony 650 at Amazon.
---
Best Harmony Remote for Fios: What Do You Think?
So, what do you think about my picks for the best Harmony remote for Fios?
I wanted to include a range of options that included other manufacturers alongside Harmony. I hope you found it helpful.
Does the remote that comes with Fios annoy you as it does me? What do you think about Verizon cable service as a whole?
Are you considering purchasing one of these remotes?  If so, which one and why?
Please leave me a quick comment below and let me know. I will reply to every comment and look forward to hearing from you!
---
Related Links
If you enjoyed this article, you may also like some of my other posts:
---
Best Harmony Remote for Fios: Please Share
If you got some value out of this post about the best Harmony remote for Fios, would you mind giving us a quick share on social media?
You can use the colorful buttons at the top of this post to share via your favorite platform.
It takes under a minute and really helps out the blog a bunch. Thanks!