Affiliate Disclosure: As an Amazon Associate, I earn from qualifying purchases. Learn more.
🗞️ News:
While Logitech will no longer make new Harmony remotes, the company says it will support existing customers "as long as they continue to use them."
Learn more.
In this review, I am happy to give you the down-low on the five best universal remotes for Verizon Fios you can get right now.
I'll give a mini summary of each of my picks plus review the pros and cons of each.
Without further ado, here are the five best universal remotes for Verizon Fios:
---
Universal Remotes for Verizon Fios: My Top 5 Picks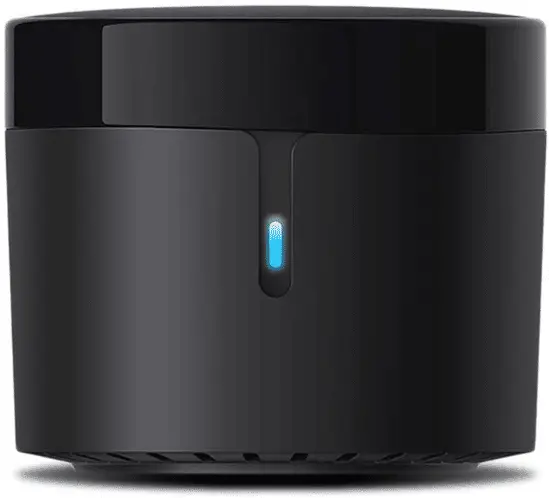 G
one are the days when you need a bunch of remotes to operate each device in the house. But sometimes, you need a specific type of universal remote or maybe you prefer to use an app on your smartphone.
So, if you are looking for one that is compatible with your Verizon Fios, here's a look at the best and brightest in the business.
Let's take a closer look at my top 5 choices for the best universal remotes for Verizon Fios right now.
---
#1 – Premium Pick: MX-990 IR/RF Remote with Color LCD Screen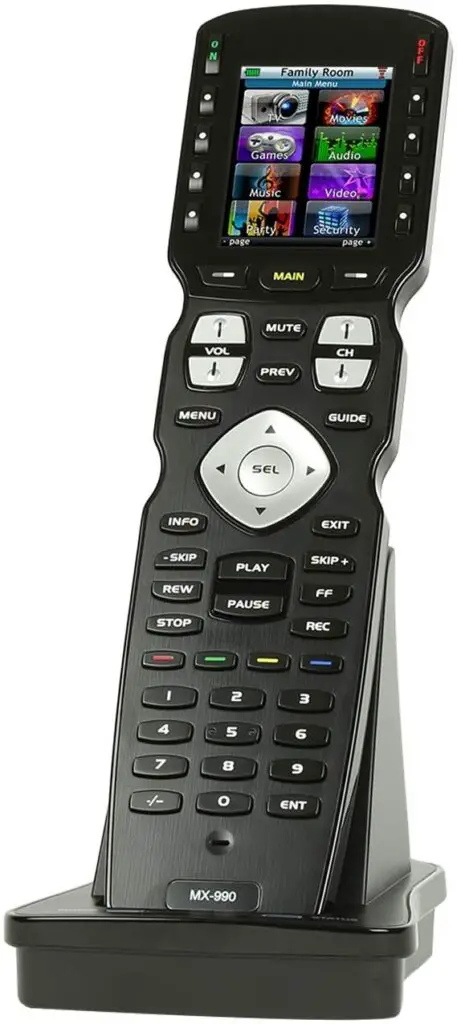 Number one on my list of the best universal remotes for Verizon Fios is this beauty the MX-990 universal remote.
With the sunsetting of the Harmony line and inventory limited, my first choice is the ultimate universal remote you can buy today. I'll be right upfront about the price, though. Compared to my other recommendations, this is one of the more expensive options, but for all the right reasons.
With this remote, you can eliminate the need for any other remotes in your house and manage all of your devices such as your Verizon Fios and others that can be connected through infrared (IR). You can control your TV, any streaming devices, and AV components like your soundbar, receiver, and streamers that support the IR frequency.
Not only is this remote easy to use because of its well-laid-out buttons, it also has a crisp 2.4" color LED display which can fit up to 8 buttons on the screen giving you a wide range of options and control over your devices.
Features
Product Dimensions: 2.32" W x 8.98" H x .87" D
Item Weight: 6.21 oz. with battery
Screen: 2.4" LCD Color Screen
Pick Up Sensor: The devices comes on when lifted, saves battery
Connectivity: Bluetooth, Wi-Fi, infrared
Timers: Event and sleep timers to schedule events and save energy
Battery Description: 1 lithium-polymer battery
Number of Batteries: 1 (included)
Pros:
2.4" color LCD – displays up to eight buttons per screen
Delivers single-room, one-way control of IR devices
Lithium-ion rechargeable battery
Connect to AV devices through walls, you do not have to be in the same room or even near to control them
Cons:
Expensive – but for the right person, it can save them a lot of money and provide them with the ultimate home control experience
It does not come with the programming software – you need an authorize software dealer to provide you with it or set it up for you
---
Last update on 10/20/2021 / Affiliate links / Images from Amazon Product Advertising API
---
#2 – Best Voice Control: Fire TV Cube With Alexa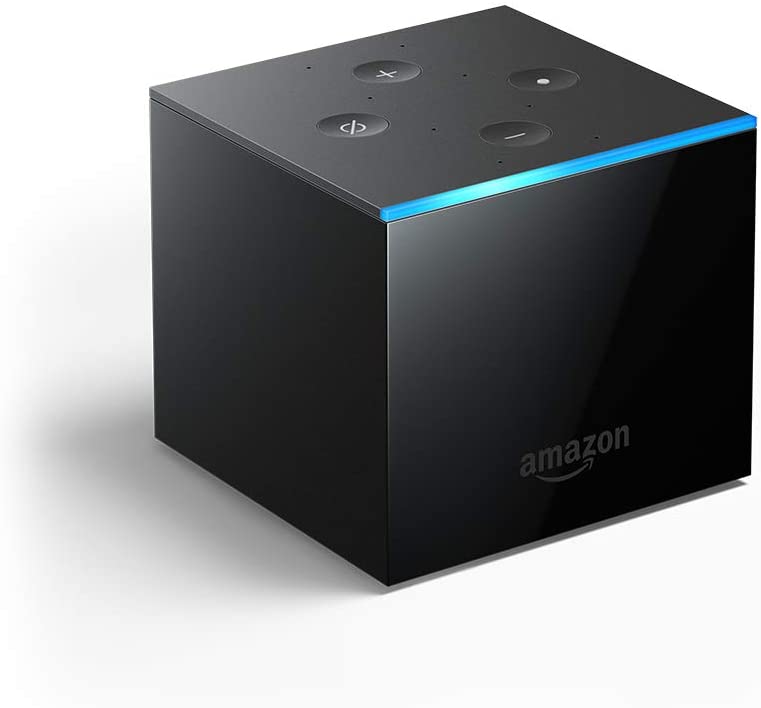 Amazon promotes this as the fastest Fire TV streaming device and it lives up to that expectation. It is enabled with Alexa and works across the room too. It is also compatible with A/V receivers and soundbars along with cable and satellite TV. The Fire TV Cube gives you access to 4K HD content with Dolby vision using Amazon's snazzy new Fire TV interface.
And that's just the beginning: the Cube gives you access to dozens of streaming services, games, sporting events, original content, and much more. Whether you are watching Netflix or HBO Max, you can now stream it with great ease. It also integrates nicely with Verizon Fios so you can control your cable TV experience using the Cube.
And it comes with built-in privacy controls which means there is a switch-off button on the mic and the peeping toms are out.
📚 Related: What Is the Best Harmony Remote for Fios?
Features
Dimensions: 3.38 x 3.38 x 3.02 inches
Weight: 16.4 ounces
Processor: Hexa-core (Quad-core at up to 2.2 GHz + Dual-core at up to 1.9 GHz)
Internal Storage: 16 GB
Memory: 2 GB
Wi-Fi Connectivity: Dual-band, dual-antenna Wi-Fi (MIMO) for faster streaming
Bluetooth Connectivity: Bluetooth 5.0 + Low Energy
Pairs With: Bluetooth speakers, gaming controllers and headphones
Voice Control Compatibility: IR-enabled devices like TVs, cable boxes, satellite boxes, A/V receivers and soundbars
Cloud Storage: Free for digital content bought from Amazon
Ports: HDMI, micro-USB, wired IR support
Included Audio: Built-in 1.6-inch speaker for Alexa
Pros:
Offers better storage than newer Fire TV devices
Comes with a better faster processor
Lots of 4K streaming options
Enables immersive audio-visual experience
Cons:
Does not come with an HDMI cable
Cannot extend storage
---
Last update on 10/20/2021 / Affiliate links / Images from Amazon Product Advertising API
---
#3 – Bluetooth/IR Combo: SofaBaton U1 Universal Remote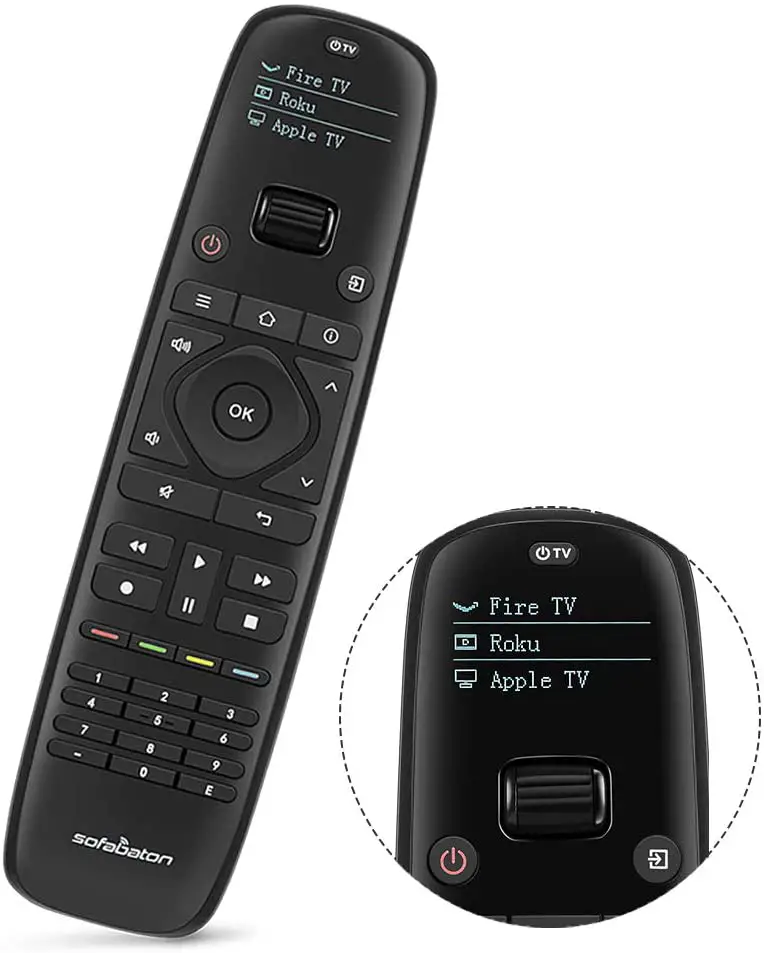 This is a unique remote control that supports more than 500,000 devices across thousands of brands and the list keeps growing. It is compatible with both Bluetooth and IR-enabled devices like smart TV, set-top boxes, projectors, DVD players and A/V receivers too.
The setup is pretty easy and it comes with a customizable smartphone app. You don't need to struggle when you're trying to pair a device and you can control all the devices in the house with this one remote.
It has a bright display screen that makes switching among devices easy with a simple scroll. The remote has a motion-activated feature and the brightness can be adjusted for longer battery life. It also lets you program custom macros so one little push of a button is all it takes for a range of operations.
Features
Dimensions: 7.7 x 1.9 x 1.2 inches
Package Weight: 10.2 ounces; Product Weight: 5.4 ounces
Database: Database updates make it compatible with most new devices
Long Range: Devices across the house can be controlled with one handheld remote control
Scrolling Fly Wheel: Wheel scroll design makes it easy to toggle between devices
OLED screen display: means you can check the status of each device
Multi-device Support: Can control up to 15 devices at a time
Intuitive App: Comes with a customized app that allows you DIY set up and one-click connect
Supports IR and Bluetooth: Connectivity is possible for traditional infrared and Bluetooth 4.0 devices
Customizable Buttons: Buttons can be programmed to launch specific devices
Pros:
Different devices can be integrated into one button which makes controlling them easier
For Bluetooth devices, the learning function and the reassigning of buttons can be done without limitations
Has a Bluetooth range of 20 meters and IR range of 10 meters
Comes with excellent customer service
Affordable and value for money
Comes with 2 AA batteries
Cons:
Chews up battery life because of the many features it offers
Limited smart home control
---
Sale
Last update on 10/20/2021 / Affiliate links / Images from Amazon Product Advertising API
---
#4 – Best All-in-One: Logitech Harmony Companion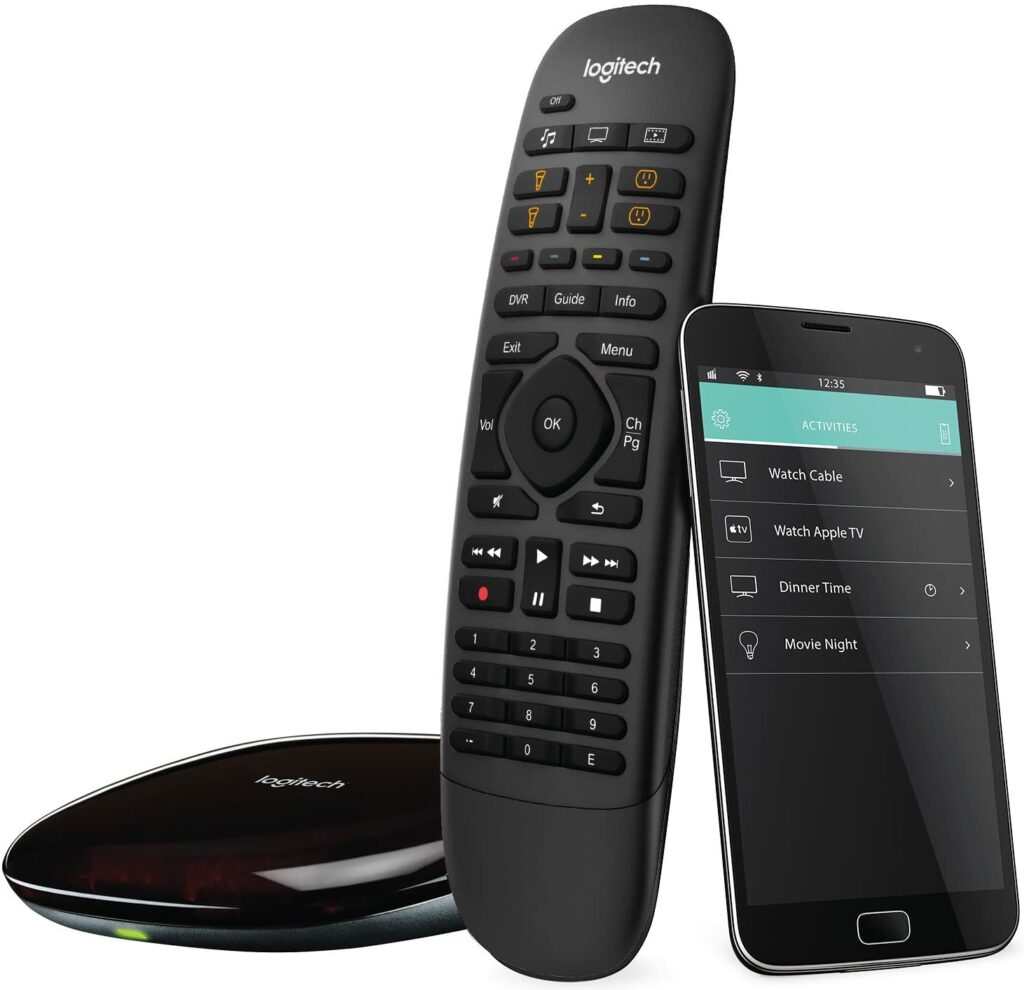 This is another stellar product from Logitech that is Alexa enabled for voice control. If you are looking to fire up the television and control the lights while you play your favorite movie or TV show, the Harmony Companion is hard to beat.
It comes with a smartphone app that makes using all automation devices including the thermostat in your home a piece of cake – and it gives you an extra customizable remote for all the members of your household.
This is a great device for controlling smart home devices as well as a home theater. It can even reach devices that are behind cabinet doors or walls. So, you will be able to use it from across the house. This remote works well even for gaming consoles like Wii, PS3, and Xbox 360.
The setup is easy and works for over 270,000 devices like your TV, satellite and cable boxes, Blu-ray players, and whatnot. You can check if your devices are compatible by visiting Logitech's Harmony Device Database page.
📚 Related: 9 Best Logitech Harmony Alternatives Right Now
Features
Dimensions: 10 x 5.4 x 3.5 inches
Weight: 3.9 ounces
Compatible Devices: TV, streaming players, gaming consoles, Blu-ray players, etc.
Connectivity Technology: Bluetooth and infrared
Battery Description: Lithium metal
Number of Batteries: 1 (comes with one)
Pros:
Value for money
Comes from a trusted brand
Literally works for hundreds of thousands of devices
Great fit for smart home because it is Alexa enabled
Comes with cloud backing
Cons:
Interface cannot be controlled locally
Integration of devices is a bit tricky
---
Last update on 10/20/2021 / Affiliate links / Images from Amazon Product Advertising API
---
#5 – Best App & Hub: BroadLink RM4 Mini IR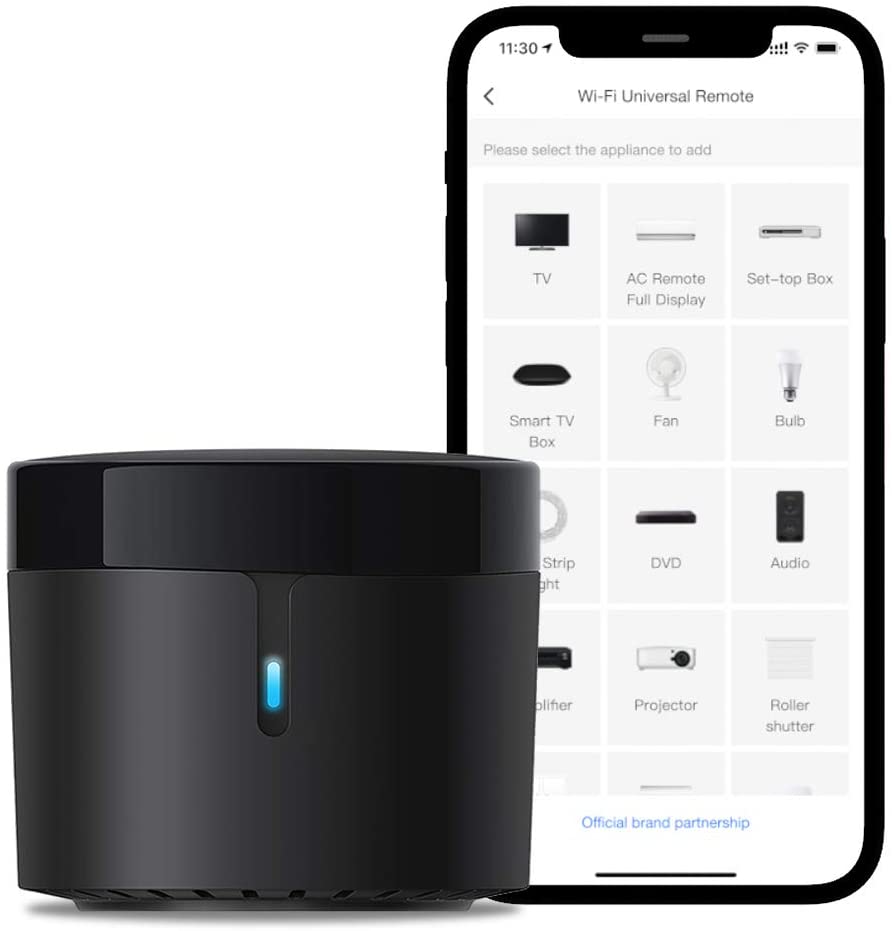 Last on my list of the best universal remotes for Verizon Fios is this gem from BroadLink. However, it isn't really a remote at all. Rather it is a hub and app combo that works for over 50,000 infrared-enabled devices. Whether it is a television or a set-top box or a DVD player, it can control it. And Broadlink's database is constantly being updated so newer devices you buy today and tomorrow will be compatible too.
The app has a solid interface both for configuring and controlling your devices and it works very much like a physical universal remote control. This allows you to integrate it with both iOS and Android phones and turn them into a power IR emitter.
Verizon set-top boxes are supported so you can use this to control your cable TV experience as well as your home theatre and smart home devices too.
It is compatible with Alexa so voice controls are literally in your pocket. The remote is also compatible with Google Home which means you can use it with that assistant if you prefer it over Alexa.
📚 Related: 21 Best Universal Remote Apps
Features
Compatible Devices: TV, AC, STB, fan, video recorder, DVD, etc.
Connectivity: Infrared
Battery: Not required
Maximum Range: 8 meters
Environment/Climate Monitoring: Comes with cool new features like an external temperature and humidity sensor
Pros:
Comes with a one-year warranty
Tech support is available 24 x 7
Plenty of video guides on YouTube in case you have any doubts
Cons:
Supports only 2.4 GHz and not 5 GHz Wi-Fi for app configuration
You will need to buy a USB cable separately
---
Sale
BroadLink RM4 Mini IR Universal Remote Control, Smart Home Automation Wi-Fi Infrared Blaster for TV Air Conditioner STB Audio, Works with Alexa, Google Home, IFTTT
HIGH COMPATIBILITY - Support 50,000+ IR controlled devices such as TV, STB, Air conditioner, Fan, Video Recorder, DVD and more. The cloud is continuously updating supported devices library, so your...
NEW BROADLINK APP CONTROL - New App named BroadLink is available now in App Store and Google Play. New App has better user experiences in configuration and creating scenes than IHC. Besides, if you...
VOICE CONTROL AND IFTTT - Compatible with Alexa to voice controls your TV, STB, Air Conditioner and Fans, compatible with Google Home to voice control your Air Conditioner. Make sure the devices can...
Last update on 10/20/2021 / Affiliate links / Images from Amazon Product Advertising API
---
Best Universal Remotes for Verizon Fios: Over To You
So what do you think about my picks for the best universal remotes for Verizon Fios?
Is a remote that you can use to consolidate down multiple remotes to one?
Do you prefer a physical remote over an app? I know I certainly do, but there are many who enjoy the convenience of controlling home theatre over their phones.
What do you think of the MMX remotes fancy color screen? Surely, you will be the envy of your guests at your next movie night if you snag that one.
Please leave me a comment below and let me know your thoughts. I would love to hear from you.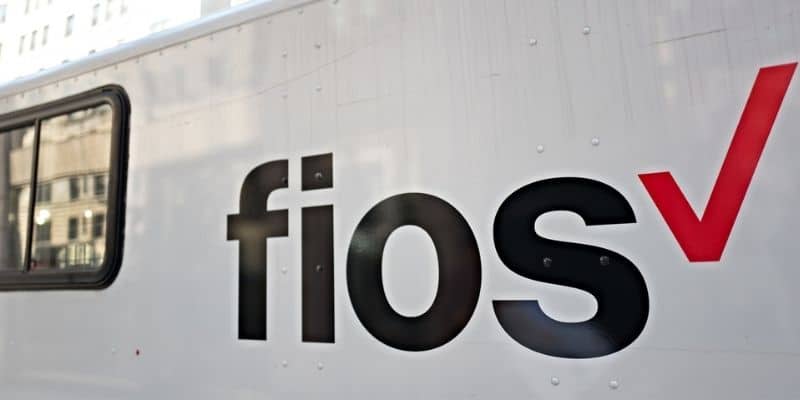 ---
About the Author
Tim Brennan, Technical Writer & Blogger
Tim Brennan [a.k.a. "Tec Timmy"] is a senior technical writer with over 25 years of experience writing for companies and organizations in and around Greater Boston, including GE and MIT. In addition to actively writing about universal remotes, Tim is also a regular contributor over at oneSmartcrib.com, a smart home blog. Tim holds a BA in Journalism from Northeastern University. Brennan is a father to two sons, a Star Wars nut, and loves a good taco🌮. There is a strong chance he is developing a crush on Amazon Alexa. You can learn more about Tim here.