In this post, I am pleased to provide recommendations for the best remotes for seniors and the elderly that you can get right now.
My top picks for the best universal remotes for seniors and the elderly are:
---
"Growin' Old Ain't For the Weak"
M
y fiesty mom, who was plagued by various ailments up until the time of her death at age 86, had a saying. She often told me, "
Timothy, Growin' old ain't for the weak
."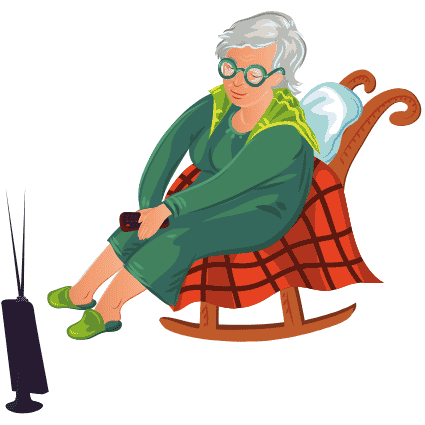 It is hard to watch our loved ones get old. As seniors age, it often becomes more difficult to control their TV using a traditional remote control.
Our elders with arthritis, Parkinson's, or even Alzheimer's or dementia may be unable to use a remote effectively because of a variety of reasons. These can include reduced motor skills and poor eyesight.
This can be frustrating for seniors who otherwise derive much of their pleasure from TV watching. Let's face it. For many seniors, TV is a big part of their daily and evening activities. A recent study by MedicineNet revealed that people over age 65 spend more than 25% of their waking hours watching TV.
As a son who lost two elderly parents last year, I recall all too well the challenges dear Nannie and Poppie had with their remotes. I provided many "technical support" visits to help fix TV problems, almost always related to their cable or TV remotes. This was often done at odd hours to get them back on track with their all-important TV schedules (Judge Judy and Meet the Press, LOL).
Luckily, there are now universal remote controls that make it easier for mom and dad (or grandma and grandpa) to watch their favorite shows. There are plenty of options depending on needs, and many of them are super affordable. I hope this blog post helps you find something that works best for your loved ones.
---
Best Remotes for Seniors: Top 3 Comparison
Here is a comparison of my top picks for the best remotes for seniors. I will go into more detail about all of my picks below.
Flipper Big Button Remote
Dimensions
3.38" x 3.38" x 2.99" (86 mm x 86 mm x 77 mm)
Flipper Big Button Remote
Dimensions
3.38" x 3.38" x 2.99" (86 mm x 86 mm x 77 mm)
Last update on 06/03/2023 / Affiliate links / Images from Amazon Product Advertising API
---
#1 – Flipper Big Button Remote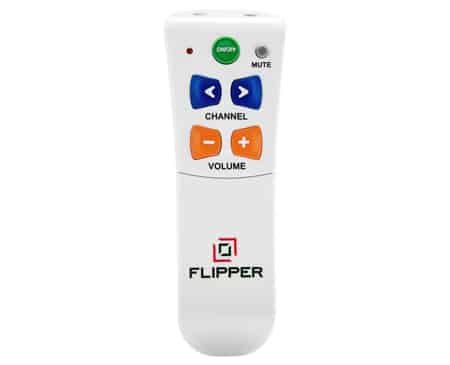 My first choice is this popular and well-rated remote from Flipper. Yes! This is just like the dolphin for those of you who remember that popular 80s family show.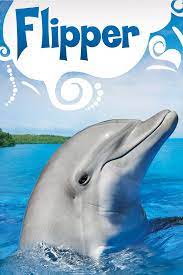 What makes this remote special is that it is specifically designed for the elderly, people with low vision, and those that have Alzheimer's disease or dementia. It is one of the simplest remotes out of all those featured here, and it has nice large buttons.
It's very simple to use, with basic features that include programming your favorite channels to remote locking to avoid any accidental clicks. This is an infrared (IR)-based remote, which means you can use it to control most TV and cable boxes out there.
📚 Related: Flipper Remote Review
Features
Just five buttons make this remote super easy to understand and use for the elderly.
You can program a list of favorites for up to 25 channels.
Compatible with all IR devices like TVs, satellite and cable boxes, and Comcast, Xfinity, soundbars, and more.
It has three functions keys for on/off, channel change, and volume.
Good gift for the elderly who have health issues like dementia or Alzheimer's or just bad vision.
Easy to flip through channels.
Easy to use and comes with a lock feature to stop accidental programming.
Comes with an instruction manual in case the senior user needs help navigating it.
Pros
Easy to set up.
Easy to use.
Intuitive design.
Easy to hold.
Simple volume and channel controls.
Durable.
Comes with good tech support.
Cons
Requires two AAA batteries that must be bought separately. I recommend that you purchase rechargeable batteries at Amazon.
---
Video
Here is a nice video that I found out on YouTube that demonstrates how easy this remote is to set up.
Video Credit:
FlipperRemote
---
#2 – Fire TV Cube With Alexa
The product is a great way to introduce a new generation of cord-cutters to the joys of watching internet content on their TVs. With a single voice command, users can call up any TV show, movie, or sports event available on Amazon Prime. This makes it perfect for senior people as it eliminates the remote problem by adding voice control.
The only downside would be the setup of this device is a bit technical for an elderly person. That's why the Fire TV Cube would be best gifted with a side of tech support by you. I'm sure your favorite seniors would appreciate your visit almost as much as the gift.
I own one of these myself and love it. Fire TV Cube supports all popular streaming services like Netflix and Hulu. It also supports 4K streaming. Plus, its easy voice navigation with Alexa and affordable price point have put it ahead of other streamers like Apple TV and Google Chromecast.
📚 Related: Alexa Fire TV Cube Commands
Features
Seniors can control the TV with their voices using Alexa.
Compatible with Bluetooth speakers, gaming controllers, and headphones.
Voice controls IR-enabled devices like cable and satellite boxes, TVs, and soundbars.
Has HDMI, micro-USB, and wired IR ports.
Built-in privacy controls.
Internal storage of 16 GB and RAM of 2 GB.
Provides access to popular streaming services like Amazon Prime, Netflix, and YouTube from a single interface.
Pros
Lots of 4K streaming options.
Hands free control of TV via voice.
Offers better storage than newer Fire TV devices.
Supports many popular Alexa commands like weather, news, and sports.
Cons
This may be a bit too technical to set up for many seniors.
HDMI cable sold separately.
---
Video
Here is a great video review of Fire TV Cube that I found over on YouTube.
Video Credit:
ModernDad
---
#3 – Continuous TV Remote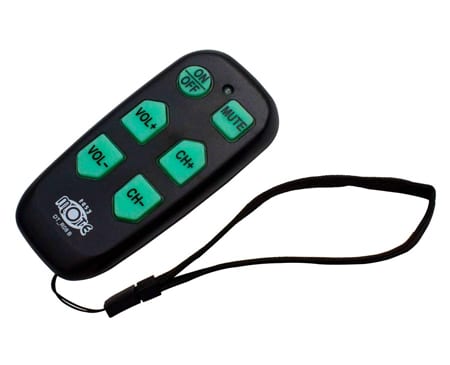 Next on my list of best remotes for seniors is this little streamlined remote.
It doesn't get any simpler than this remote. With just six large buttons that light up vibrantly, it makes a great gift for the elderly living at home or in a nursing home.
It even comes with a wrist strap to prevent misplacement, and it is compatible with most TVs and many popular streaming devices.
I could so see my mom "wearing" this around the house.
Features
It can control both the television and the cable box at the same time.
Navigating is a piece of cake with this remote's simple design.
Works well with all major infrared television sets and set-top boxes.
Has just six large and bright buttons for basic functions.
Buttons are easy to see and use at night because they are backlit.
The remote comes with a wrist strap so that it is never misplaced.
Learning mode that can be used to customize the buttons.
90-day money-back guarantee.
Full-time tech support team in the USA.
Pros
Big and bright buttons.
Simple design.
Backlit buttons.
Wrist strap.
Quick Search enables easy navigation.
Cons
Batteries are not included.
---
---
#4 – SMPL Universal Remote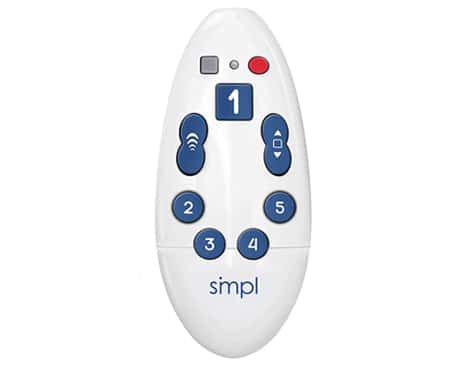 SMPL Universal Large Button TV Remote is a universal remote control specially designed for seniors. It has large buttons that are easy to access and navigate. Set favorite channels, and power on devices in one click. It can connect with all TVs and set-top boxes with an IR receiver.
This remote can be used by seniors who might have difficulty using traditional remotes due to their button size, complexity, and discomfort.
Features
The TV and set-top box can be turned on with the One Touch feature.
Seniors can navigate among five favorite channels with One Touch.
Compatible with almost all televisions and set-top boxes that have an IR receiver.
Made of ABS plastic and is small enough to fit into one hand.
The manufacturer offers live technical support.
Pros
Easy to use and easy to hold.
Easy to remove battery cover.
Cons
Not the most impressive design. Numbers could confuse some seniors.
Limited functionality.
---
Video
Here is a nice video from the Alzheimer's Store that shows how easy it is to use this remote.
Video Credit:
The Alzheimer's Store
---
#5 – Ziezii Universal TV Remote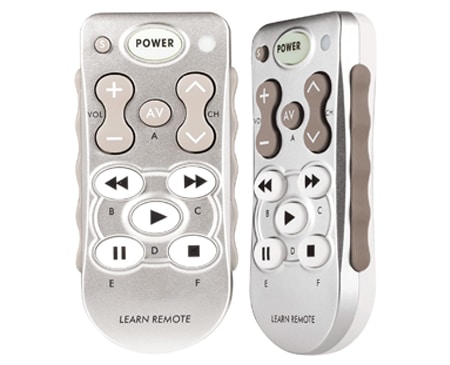 The Ziezii is one of the best remotes for seniors for two reasons: simplicity and cost-effectiveness.
It is easy to use, soft to the touch, and compatible with all major streaming devices through IR. Like most remotes designed for the elderly, this remote also has a streamlined button set while providing what is needed to help seniors enjoy their TV.
Features
Big buttons make navigation quick and easy for those with bad eyesight
Works for all television sets, cable boxes and set-top boxes, DVD players, and VCRs with IR functionality.
Straightforward play, pause, fast forward and rewind buttons are great for seniors who like to stream shows and movies.
Has the capacity to learn the codes of the original remote.
Made of high-grade ABS material.
30-day return policy and one-year quality warranty.
Pros
Easy to control the television and cable box with its simple design.
Comes with warranty.
Lightweight and ergonomic design.
Made of durable materials.
Cons
Does not support Bluetooth television sets.
---
---
#6 – Nettch 2-Device Remote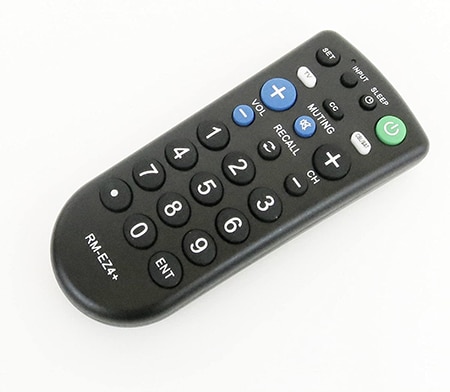 The Nettch Sony RM-EZ4 2-Devi is another remote that's simple to use and compatible to work with multiple brands of TVs, including Sony. This remote can be used for both cable and satellite TV. Whether your favorite senior is forgetful or just likes to watch TV, memory backups are made to protect setup codes from being lost, even when replacing batteries.
Features
Almost identical to the previous model which makes it an upgrade that is easy to use.
Comes with a 30-day return policy and a quality warranty.
Has LED lighting for feedback while programming.
Pros
Lightweight and easy to use.
Budget friendly.
Good for those who want a minimum number of buttons.
Memory feature makes it easy to recall recently used channels.
Cons
Does not come with batteries.
---
---
#7 – Sony Universal Remote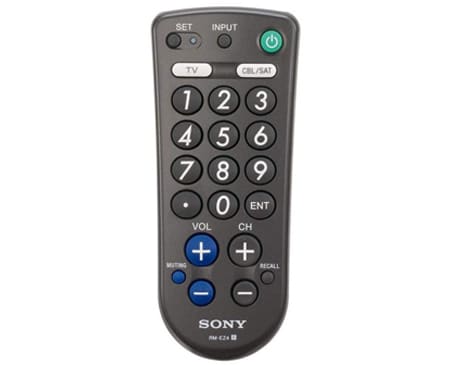 This is another solid contender for seniors who own a Sony TV. Large streamlined buttons and a very simple button layout facilitate ease of use. While I could not test this myself, customers say this is one of the best remotes for seniors, and it is also super easy to set up.
Features
Lightweight ergonomic design.
Streamlined buttons make it easy to use.
Three-minute memory backup for recently viewed channels.
Compatible with Sony televisions and cable boxes of all major brands.
Pros
Big buttons make it easy to navigate.
Has a memory function.
Lightweight and compact.
Ergonomic design.
Cons
Two AA batteries are not included.
---
---
#8 – RCA 3-Device Remote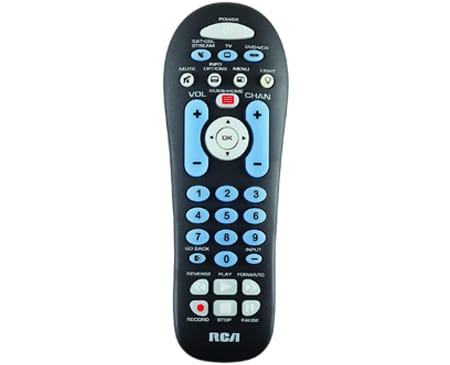 This remote is currently Amazon's Choice, and I can see why. It is affordable, has almost every feature you could expect in a universal remote, and is compatible with most TV brands. While not as simple as some of the other remotes here, it is still relatively easy to use, and has fewer buttons than the conventional remote, yet it still offers the same experience as a normal TV remote.
Seniors can navigate their favorite channels, record their favorite shows (if they have a DVR), and connect to streaming devices like Roku with special streaming controls.
Features
Can control up to three devices at a time through long-range infrared signaling.
Compatible with televisions, VCRs, DVD players, satellite and cable boxes, streaming devices like Roku, Apple TV, and more.
Works for devices from most major brands like Hisense, Samsung, TCL, LG, Sony, and Toshiba.
Can be set up using automatic or manual methods based on brands or codes.
Pros
Long infrared range which means the TV can be controlled from a distance.
Can be used for streaming devices.
Easy to set up.
Bigger buttons than those remotes suppied by the major cable carriers.
Cons
The documentation is poorly written and hard to follow.
---
---
#9 – Ozuly Universal TV Remote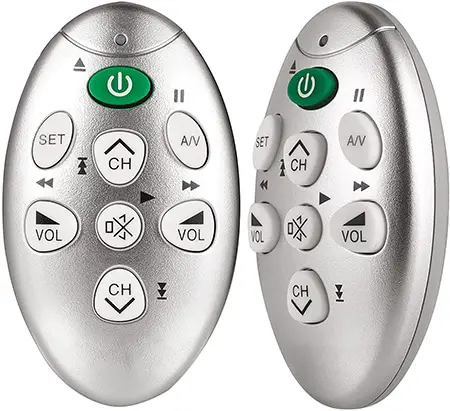 The Ozuly Universal Big Button TV Remote is a new product designed to make it easier for the elderly or people with disabilities to use their television. It features large, easy-to-read buttons with clear labeling, making it perfect for people who have difficulty seeing or using their hands.
This remote is also super light, making it a cinch for your favorite seniors to hold in a delicate hand.
Features
Small size, soft buttons.
Lightweight.
Works with infrared devices like TVs, set-top boxes, DVD players and VCRs.
Comes with a 30-day return and one-year quality warranty.
Pros
Easy to set up.
Great value for the money.
Compact and lightweight.
Cons
Not compatible with Bluetooth-only televisions.
---
---
Best Remotes for Seniors: The Bottom Line
When your loved ones reach an age when it gets hard to see or hold one of those traditional complex remotes provided by the major cable companies, a senior-friendly remote is a gift they will cherish. This counts double if you deliver it in person.
However, choosing one of the best remotes for seniors can be challenging. The size of the remote, the shape and size of buttons, the size of labeling, backlighting, wrist strap, battery type, and life are all factors to consider.
I hope you found this helpful. Which remote would work best for your favorite senior(s)?
Please leave me a comment below and let me know. I would love to hear from you.
Oh, and please take good care of yourself. Growin old ain't for sissys.