Affiliate Disclaimer
As an Amazon Affiliate, we earn from qualifying purchases.
Synopsis: In this article, I am happy to present you with some of the best universal remotes for Toshiba TVs that you can buy this year. I will include a variety of options at multiple price points. My goal? To help you make a more informed purchase decision.
---
Toshiba TVs are Cool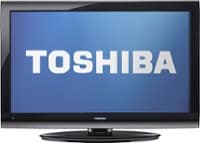 Oh Toshiba, Toshiba, Toshiba. How I miss thee.
My first flat-screen TV was a beautiful 38-inch Toshiba. I watched pretty much every season of Game of Thrones on that little TV (which at the time I thought was big and cool).
I have a 60-inch Samsung now, but thinking about that little Toshiba TV makes me feel nostalgic. Maybe you feel that way about your TV too. And seeing that you arrived here, I'm going to guess that it is also a Toshiba TV that you own. Let's get you a nicer remote for it.
Without further ado, here are my picks for the 5 best universal remotes for Toshiba TVs:
Let's do this.
📚 Related: 5 Best Universal Remotes for Philips TVs
---
#1 – Best Logitech Remote: Harmony Elite
First on my list of the best universal remotes for Toshiba TVs is this beauty: the Logitech Harmony Elite.
Logitech has always been known for making some of the best universal remotes on the planet, and this particular option – the Harmony Elite – is the best they've ever made. I can attest to this as I am the proud owner of a Harmony Elite and I love it.
A gorgeous color LCD touchscreen, super comfortable in the hand, and really easy to use and navigate, this remote connects quickly to your Toshiba TV in just a few moments through the Harmony app on your phone or computer.
📚 Related: Harmony Elite Review 2021: 10 Reasons This Remote Rocks
The initial setup takes a little bit of time to go through, but the full-color screen makes navigating really straightforward. The inclusion of the Harmony mobile application and Harmony "hub" extend the functionality beyond your entertainment center. It will also let you control smart devices like smart lighting, blinds, and some smart thermostats. Heck, it will even control your remote-controlled fireplace!
My boy TeQcreation has one of the most widely viewed and respected reviews of the Harmony Elite out of YouTube. In the following video review, he talks about how you can use Harmony to control your smart devices as well as your home theater:
Love the new stacked monitor set up man!
Pros:
Legendary Logitech reputation for quality and simplicity; "evolved" remote based on years of feedback from Logitech customers.
One button "Activities" let you control multiple devices with a single click.
Can control your devices using Alexa or Google Home (e.g., "Alexa, Watch Agents of Shield on Netflix").
Can easily flip between different AV inputs.
Can control up to 15 different devices.
Works over Wi-Fi and Bluetooth as well as with IR technology (i.e., controls smart home as well as home theater).
Totally DIY no need to hire an installer to set this up.
Cons:
It's expensive.
Set up process takes time. Need to take inventory of all your equipment and feed it to the Harmony app.
Navigating the app can feel a little slow and clunky at times.
---
Logitech Harmony Elite Remote Control, Hub and App (Renewed)
This Certified Refurbished product is manufacturer refurbished it shows limited or no wear
Includes all original accessories plus a 90 day warranty
Logitech Harmony Elite Universal Remote with Harmony Hub, Works with Alexa
Switch to your favorite channels and between gaming, Netflix, Apple TV, and virtually any device. | Create unlimited one-touch or time-triggered activities | Combine up to 15 remotes and countless apps into one
INCLUDED IN THE BOX: Harmony Elite remote (with rechargeable battery) | Harmony Hub 2 IR mini-blasters Charging station | USB cable (Type A) | 2 AC adapters | User documentation | 90-Day Refurbished Warranty
Last update on 2022-06-26 / Affiliate links / Images from Amazon Product Advertising API
---
#2 – General-Purpose Universal: Sofabaton U1
For those looking for (many) of the capabilities a Logitech Harmony remote at a fraction of the price point, the Sofabaton U1 may be worth a look.
At the top of the remote is an OLED screen that lets you know exactly which of your devices are currently being controlled as well as which ones are available to be controlled, too.
This remote can control up to 15 unique devices at once. Flipping from one input to the next is effortless, too. The smart remote key layout makes using going from your Toshiba TV to your streaming hardware (or anything else) really easy.
Combine all of this with a simple set up process, the ability to program your own macros, and a mobile app that lets you totally customize the remote control from top to bottom and this is a great piece of hardware to pick up ASAP.
📚 Related: Sofabaton vs Harmony: Is U1 A Solid Logitech Alternative?
Pros:
Unbeatable price point
Generation universal remote technology in a slick, streamlined package
Almost infinitely customizable options and settings
Works with pretty much every remote-control device under the sun
Totally DIY – no need to hire a third-party installer
Cons:
Getting this to pair with multiple versions of the same source (two different Fire Sticks, for example) can be a challenge
Lacks a rechargeable battery system and instead consumes AAs pretty quickly. I recommend purchasing rechargeable batteries if you are going to buy this remote.
---
Sale
Updated SofaBaton U1 Universal Remote with OLED Display and Smartphone APP, All in One Universal Remote Control for up to 15 Entertainment Devices, Compatible with Smart TVs/DVD/STB/Projector so on
✅【U1 Universal Remote & Replaces 15 Other Remotes】Our unique remote control support 500,000+ devices from 6000+ brands, the database will update as new devices come out, you don't need to worry about the newest device doesn't match. Both compatible both IR and Blutooth, Not support Wireless or Wifi (Such as Ruku Stick). Say goodbye to that jumble of remotes once and for all
📲【App One-Touch Set Up】SofaBaton customized smartphone APP, one-button settings, no need to enter complex code to pair. Simple control for the whole house only by one remote, ditch all your complex remotes, just one remote for you. Compatible with / Ruku/ Kodi and other smart TV、STB 、Projector、DVD、AV Receiver and so on
📺【OLED Display & Motion-Activated Function】The bright color OLED screen directly displays the current status and convenient for switching different devices. The motion-activated feature can automatically adjust the remote control brightness and save energy to gain longer battery life. A unique wheel design can easily switch devices just with a simple scroll. You must own this universal U1 remote!!!
🔝【Multiple Commands by One Macro Button】With one macro button push, it can output multiple commands. How excited when you just press a button and it can implement a series of operations one or between different remotes. And you can also customize the start time, for example, if you want to open your TV firstly and then turn on your set-top box after 5 seconds
📬【After Service】SofaBaton offers 12 months warranty for exchange or refund service. If there are any problems, please feel free to contact us via the customer service email enclosed or call us for the highest quality and outstanding customer support. And we will provide you with instructions or specific video steps or other detailed solutions within 24 hours 🙂
Last update on 2022-06-26 / Affiliate links / Images from Amazon Product Advertising API
---
#3 – Best Remote App: BroadLink RM4 Pro
Those looking to transform their smartphone into one of the best universal remotes for Toshiba TVs, home entertainment, and smart home alike will get everything they need to hit the ground running with this popular app and hub combo.
The BroadLink RM4 pro will let you control your home theater system as well as a plethora of smart home devices. This platform is easy to use, easy to set up and is frequently updated with new features. Best of all, it works with both Android and Apple devices too.
📚 Related: 9 Best Logitech Harmony Alternatives Right Now
This platform has onboard support for more than 50,000+ IR-controlled devices and dedicated support for Wi-Fi-controlled devices, too. Connected devices can also be controlled via voice commands and IFTTT controls. These features help to make this one of the most flexible universal remotes under the sun. The mobile app is well supported, frequently updated, and very easy to use. It won't be long until you've mastered even the more advanced features of this platform.
YouTuber Paul Hibbert has been having a love affair with Broadlink for a while and prefers it over the Harmony Hub:
Ooh….the Zigbeeeeee!
Pros:
Super inexpensive for a smart home hub.
Really slick and intuitive user interface on the app.
Works with pretty much any device or hardware that can be controlled by a remote.
Smart hub helps you connect and control everything in your home from your phone.
Cons:
You'll have to fire up the app every time you want to flip a channel. Many customers buy a dedicated phone or tablet to work around this.
Updates will cause (some) downtime where you won't be able to control your Toshiba TV, but typically take just a few moments.
---
BroadLink RM4 pro IR and RF Universal Remote, All in One Hub Code Learning Wi-Fi Remote Control for TV Air Conditioner STB Audio, Curtain Motor, Works with Alexa, Google Home, IFTTT
HIGH COMPATIBILITY - Support RF (433MHz) controlled devices such as curtain/shades motor, projector and light switch; Support 50,000+ IR controlled devices such as TV, STB, Air conditioner, Fan, Video Recorder, DVD and more; Does not work with Bluetooth. Supported devices library is constantly being updated by the cloud, so your RM4 pro is always compatible with newer devices. Option to program your devices and learn buttons if certain cloud data is unavailable.
NEW BROADLINK APP CONTROL - New App named BroadLink is available now in App Store and Google Play. New App has better user experiences in configuration and creating scene than IHC. Besides, if you have an Android phone integrates IR emitter itself, you can use it to control your IR devices from BroadLink App as a test, before you decide to buy our product. Note: RM4 pro only supports 2.4 GHz (NOT 5 GHz) Wi-Fi to configure in the App.
VOICE CONTROL AND IFTTT - Compatible with Alexa to voice control your TV, STB, Air Conditioner and Fans, compatible with Google Home to voice control your Air Conditioner. Make sure the devices can be remotely controlled from external networks. In Amazon Alexa/Google Home/IFTTT Apps, enable the skill/service named BroadLink, link account and discover devices.
NEW FEATURES - Supports external Temperature and Humidity Sensor USB Cable (purchase separately), connect it to the RM4 pro, BroadLink App will show room's temperature and humidity. Zero Configuration, powered by FastCon technology, add the first FastCon device to the App as usual, after that, when you power on other new FastCon devices, they will be automatically discovered and shown in App.
TECH SUPPORT - One-Year Warranty, 24/7 Technical Support. Video Guide are available on our Amazon Brand Store and YouTube. Find our Global Hotline on product manual. Now you can get help and make feedback directly through BroadLink Community in the App.
Last update on 2022-06-26 / Affiliate links / Images from Amazon Product Advertising API
---
#4 – Best Budget Option: Toshiba Replacement Remote
While not exactly the most feature-rich remote control on the market today, this Toshiba replacement option is going to get the job done for sure. For starters, this remote has been engineered from the very beginning to work with pretty much every Toshiba TV – whether it was made a week ago or a couple of decades ago. That kind of universal support across a brand is hard to find (especially at this price point).
Secondly, the layout of this remote control is pretty much the "universal standard" – very easy to navigate, very comfortable to use, and a simplified pattern that you can learn in no time to operate the remote with your eyes completely closed. Combine all of that with a long battery life (powered by AA batteries) thanks to the lack of a touchscreen or OLED technology and this is a great option for those that don't want to spend a mountain of money replacing the remote on their Toshiba TV.
Pros:
This is basically a stock/OEM replacement for most Toshiba TV remotes.
The simplified and standardized remote key layout is easy to use.
Customers say that the battery life is good.
Cons:
Not as feature-rich as the other remotes or app featured here.
Questionable long-term durability.
Buttons are hard to press for the first couple of weeks.
Can't control your smart home devices.
---
Sale
Primote IR Remote for Toshiba/Insignia Fire/Smart TV Edition (No Voice Search)【Not for Fire TV Stick】
Primote basic BACKUP IR remote replacement for Toshiba Fire TV and Insignia Fire TV Editions with 21 buttons. It does not have the voice search function.
【Important】 NOT Support Bluetooth pairing and Initial setup for a new TV, or for a TV after a full factory reset. For a new setup you will need to use the original remote. This remote has NO Voice Control.
Supported Toshiba Fire TV Edition models: 32LF221U19 32LF221U21 TF-32A710U21 43LF421U19 43LF621U19 43LF711U20 TF-43A810U21 49LF421U19 50LF621U19 50LF711U20 50LF621U21 TF-50A810U19 55LF621U19 55LF621U21 55LF711U20 TF-55A810U21 65LF711U20
and INSIGNIA Fire TV Edition models: NS-24DF310NA19 NS-24DF311SE21 NS-24DF310NA21 NS-32DF310NA19 NS-39DF510NA19 NS-39DF310NA21 NS-43DF710NA19 NS-43DF710NA21 NS-50DF710NA19 NS-50DF711SE21 NS-50DF710NA21 NS-55DF710NA19 NS-55DF710NA21 NS-58DF620NA20 NS-65DF710NA21 NS-70DF710NA21
Basic replacement for Toshiba Fire TV remote or Insignia Fire TV remote, with NO Bluetooth pairing and NO voice control. Use 2 x AAA batteries, not included.
Last update on 2022-06-26 / Affiliate links / Images from Amazon Product Advertising API
---
#5 – Best Luxury Remote: Crestron TSR-310
Easily one of the best universal remotes for Toshiba TVs, this remote control from smart home integrator Creston features a modern design with an LCD touchscreen, rugged durability, and some of the best ergonomics in the universal remote world today.
The backlit buttons have plenty of tactile feedback and are a dream to use. This makes using this remote super simple and straightforward (even without having to look at the keypad itself).
The included touchscreen is crystal clear and colorful, uses the same kind of gesture navigation your smartphone does, and allows you to run embedded applications alongside all universal remote-control features, too.
The only downside is the price. This is a luxury item and requires that a certified Creston installer visit your home to set up the remote with a Creston system which has its own price tag.
Pros:
Great battery life.
Advanced Wi-Fi connectivity.
Perfect key layout.
Slick touchscreen features.
Cons:
The remote is expensive.
Requires Creston system, which has its own price tag.
Needs to be setup by a certified Creston installer.
---
You can see this baby here over at Crestron.
---
Best Universal Remotes for Toshiba TVs: Your Take
So what do you think about my five best universal remotes for Toshiba TVs?
Are you ready to invest in a luxury remote like Creston that requires an installer to come out to your home?  The nice thing about that is that they will set it up for you. The flip-side is that it can be pricey.
Or are you at the opposite end of the spectrum and just need a simple remote to replace an existing remote that your dog chewed up?
More importantly, what is your favorite show to binge-watch right now?
Either way, I hope you will leave me a comment below and let me know!
Until next time, happy binge-watching all your favorites!
📚 Related: 5 Best Universal Remotes for Sharp TVs