Affiliate Disclaimer
As an Amazon Affiliate, we earn from qualifying purchases.
In this post, I'll provide my top recommendations for best universal remotes for Hulu + Live TV for each type of streaming device you can use to run Hulu: Smart TV, Apple TV, Amazon Fire TV Stick, Roku, Chromecast, and even Nvidia shield.
Huuuulu! Er, I mean helloooo! And welcome to my blog—that features everything you could possibly want to know about universal remotes.
Without further ado, let's jump in.
What Are the Best Universal Remotes for Hulu + Live TV?
H
ulu, Hulu Hulu. It's fun to say.
Do you know what's not so fun?
Trying to navigate around Hulu + Live TV with that dog of a remote that came with your Smart TV.
Or worse, maybe you are fiddling with that crazy one that the cable company gave you.
Well, don't despair. I'm here to rescue you from the usability abyss with five great universal remotes you can use for Hulu +Live TV.
What are the best universal remotes for Hulu + Live TV? It depends on the device you are using to watch Hulu:
---
#1 – For Smart TVs: Logitech Harmony 950
The Logitech Harmony 950 is an outstanding universal remote for controlling your home entertainment devices. This makes it a great candidate for controlling Hulu Live TV directly via your Smart TV's Hulu app [if available on the TV you own]. And with Harmony's massive database supporting over 275,000 devices from 5,000 brands, chances are you will be able to control Hulu Live TV via your Smart TV or virtually any other streaming device.
Pros
One-touch "Activities" like Watch Hulu can automatically power on the appropriate devices and switch directly to Hulu + Live TV.
Full-color LCD touchscreen
Consolidate up to 15 remotes
Simple PC-based setup
Less expensive than Harmony Elite
Cons
Doesn't control smart home devices [see the Harmony Elite below]
Can't control devices stored in cabinets [see the Harmony Elite below]
---
# 2 – For Apple TV: Harmony Elite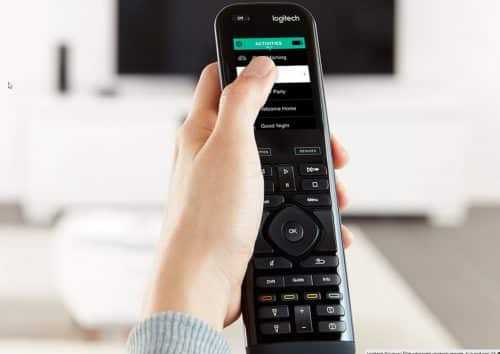 The Logitech Harmony Elite is, well, the most elite remote control you can buy today, bar none. It will let you control up to 15 entertainment devices, streaming media players, and smart devices too. You can configure a Harmony activity for Hulu so that tapping the "Watch Hulu" button on the color LCD screen fires up Hulu and all required components. This could include your TV, Apple TV or Roku box or Fire Stick, a stereo receiver, and a soundbar /surround sound setup. At the same time, the activity could also power up your smart bulbs or bias lights and set them to a cool blue. It also works with Alexa and Google Assistant for voice control of activities and key commands.  If you want an Alexa remote on steroids, check out my write up on the Harmony Express next. Yes, you can also use it to control Apple TV with Alexa.
Pros
Control both home entertainment and smart devices
Create a 'Watch Hulu' activity for one-button access to Hulu
Beautiful color LCD screen with haptic feedback
All of the buttons are backlit
Updated user-friendly design
Cons
It's more pricey than other Harmony remotes
Modern Classic slays it with their review of the Harmony Elite [both the good and the bad]:
Love the Dr. Who and Weird Al footage! Fellow nerd alert. LOL.
---
#3 – For Fire TV Stick: Sofabaton S2
While the SofaBaton S2 is an attachment for your existing Amazon Fire TV Streaming Player Alexa remote. Using "IR learning technology" it allows you to program buttons from your existing remotes from different devices (TV, soundbar, receiver, blu-ray, etc.) This was easy to set up saves you the pain of using multiple remotes to control Fire TV.
Note that the Alexa Voice Remote is NOT included with this device. Instead, it snaps onto the one that you already own.
Pros
Control Fire TV and Hulu using your voice with the Alexa voice remote.
Convenient snap-on design.
11 customizable buttons
Works with devices stored in your entertainment center (does not require line of sight).
"Alexa" wake word is not required
Cons
Limited to IR devices.
Need to press a button on remote before issuing commands.
Limited controls on the remote itself.
---
#4 – For Roku: Harmony Companion
The Harmony Companion is very popular with my colleagues in the electronics and gadget reviews arena, including CNET, Wirecutter, Techhive, and even Tom's Guide. They must all be too cheap to pony uy the cash for the Harmony Elite. LOL.  Anyhow, this remote basically IS the Harmony Elite, minus the color LCD touch screen. You can use it to control home theater as well as smart devices, and it will also work with Alexa for voice control. You also get access to the "companion" Harmony app, which in effect gives everyone in your household a remote for their smartphones that they can customize to their unique preferences.  I have a preference for my Elite, but if you have a limited budget and want a great Roku remote [like my reviewer friends], this a great option.
Pros
Most features of the Harmony Elite at a much lower cost
Works with Alexa and Google Assitant for limited voice control commands
Harmony app converts household smartphones for family members into their own personal remotes
Cons
No color LCD screen like on the Elite
Six home control buttons are limited to certain activities
---
#5 – For Chromecast: Amazon Fire 8 Tablet
It has long been a gripe with Chromecast users that there is no remote control that ships with the streaming media player. Worse, you can't fully control Chromecast using a universal remote like Logitech Harmony [or any universal remote for that matter]. Google intentionally designed Chromecast so that it can be controlled using your smartphone.
However, it is annoying to not have a standalone remote for avid smartphone users because if you get a call or want to text [or check your blog stats like me], you need to launch the app to control your Hulu set up. The solution? Buy a dedicated phone or tablet and use that to control Chromecast. I like Amazon Fire tablets. They are less expensive than iPads and you can use them for a lot more than the remote. My buddy uses one to control his Hulu live TV and it is really cool as a remote.  You will need to make a small hack to get it to work though. Here is a link to what you need to do.
Pros
The large tablet interface is user-friendly and looks cool
Can use the tablet for other activities when not using it as a remote
Cons
Navigating the TV with a tablet will take some getting used to for some users
---
Best Universal Remotes for Hulu + Live TV: Your Take?
OK, ok so what do you think about my recommended remotes for Hulu + Live TV?
Most of these remotes will work with Hulu regardless of the streaming device you are using to watch Hulu.
How are you navigating Hulu currently?  Do you plan to upgrade that remote to a better option?
I hope you will leave me a comment below and let me know. Cheers.
---
You Might Also Like
If you liked this post about the best universal remotes for Hulu + Live TV, you might also like some of my other posts. These include deeper dive reviews of several remotes featured here.
I hope you will have a look around and social share if you are so inclined! Thanks for the support!