As an Amazon affiliate, I earn from qualifying purchases. Learn more
In this article, I provide an in-depth review of the nine best universal remotes for Xbox One, including my top picks for universal remotes, remote apps, and keyboards.
So as not to keep you in suspense…
The best universal remotes for Xbox One [universal, apps, keyboards] are:
Xbox One Is Not Lame
A
few weeks back I wrote a blog post on the
best universal remotes for PS4
.
Thinking I was a pretty cool dad blogging about a gaming console, I proudly told my son, an avid gamer, about the post.
My 19-year-old son Casey's response was "PS4 is lame you should do one on Xbox."
LOL.
Well, my dear son, this one's for you. I hope you don't find it too lame.
Now let's get into some of the best universal remotes for Xbox One—that cooler gaming console.
---
Why a Universal Remote for Xbox One?
Whether you are thinking about cutting the cord to replace cable or just like to stream the occasional movie on your Xbox, navigating with the video game controller is less than ideal.
In fact, it can be super painful.
If you have spent any time in the app store, you probably already know that you can access a ton of streaming services on your Xbox like Netflix, Hulu, Amazon Prime, and Sling TV.
And you may also know that you can play DVDs or Blue Ray disks right on the device itself.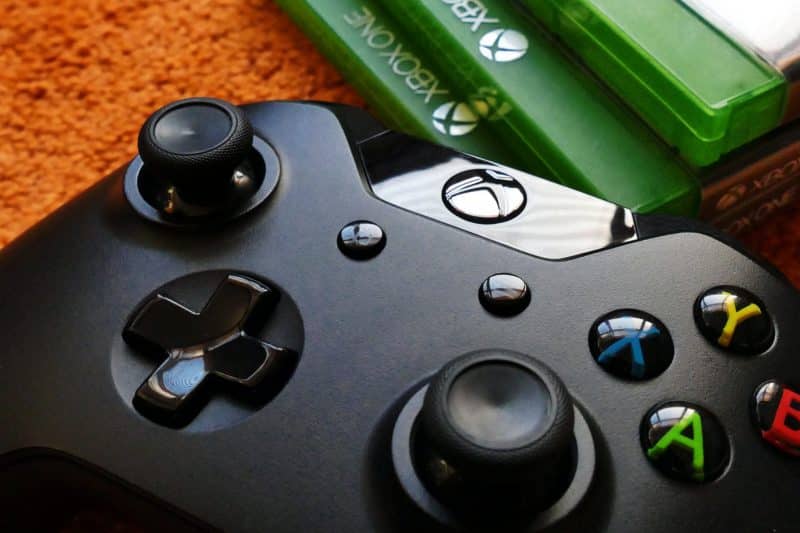 This is where a universal remote control and really help to make a difference and make the overall experience more enjoyable. However, all universal remotes are not created equal. In addition to Xbox, some will let you control additional home entertainment devices.
Others will let you integrate with "smart" devices like smart bulbs, bias lighting, blinds, and more to create custom experiences. This can come in handy whether you want to optimize family movie night or maybe even create a scene for "Netflix and Chill."
In this post, I'll give you the scoop on 9 best universal remotes for Xbox One that will give you total control over the streaming media experience. I'll include some premium options, two smartphone apps, two keyboards, plus some great budget remote options.
I will start with a comparison table that features three of the best remotes from Xbox one with different features sets and at very different price points.
By the way, if you plan on buying one of the remotes featured here—and wouldn't mind using my links in the article—I will earn a small commission as an affiliate. It helps to cover the expenses related to this blog, so thanks in advance!
---
Quick Comparison Table
Here is a quick comparison table that shows the features of my top three picks for the best universal remotes for Xbox One, including a universal remote, app, and keyboard. Of course, we really aren't comparing apples to apples with these three as each serves a different need, but I hope you will agree seeing these in a table provides a nice summary just the same.
| | Best Remote: Harmony Elite | Best App: Harmony Hub | Best Keyboard: Razer Turret |
| --- | --- | --- | --- |
| | | | |
| Controls Xbox | | | |
| Controls other home theater devices | | | |
| Controls smart devices like lights and blinds | | | |
| Technology | IR, Bluetooth, Wi-fi | IR, Bluetooth, Wi-fi | IR |
| One button scenes to control Xbox and multiple devices | | | |
| Voice control with Alexa and Google | | | |
| Includes Mobile app remote | | | |
| Haptic Feedback on Button Press | | | |
| Price | $$$ | $$ | $$$ |
| Remote Type | Physical Universal | Mobile app for iOS and Android smartphones and tablets | Keyboard |
---
#1 – Logitech Harmony Elite
First on my list of the best universal remotes for Xbox is the Logitech Harmony Elite. I've said it before, the Harmony Elite is the cream of the crop when it comes to universal remotes. I own a Harmony Elite, and I love it. It has a ton of great features including integration with Alexa and Google Home for voice control. Additional highlights include a cool color LCD touchscreen that you can use to customize your favorite activities.
For example, you might have an activity labeled "Watch Netflix." This can be programmed to automatically turn on your Xbox One, then tune to the Netflix app, turn on your soundbar, and even turn on bias lighting behind your TV and set it to a specific color. Check out this other blog post that I wrote on some additional benefits of Harmony Elite if you want to learn more.
Video Review
Video Credit: Undecided with Matt Ferrell
Pros
Cool color LCD screen
Activities like "Watch Netflix on Xbox" can automate multiple devices simultaneously
Voice control with Alexa, Google, and Siri
Companion smartphone app lets you optionally control everything from your phone
Cons
It's pricey.
Initial set up can take some time depending on the devices you own.
---
Where To Get It
Here is a link to the Harmony Elite product page over at Amazon.
---
#2 – Harmony Companion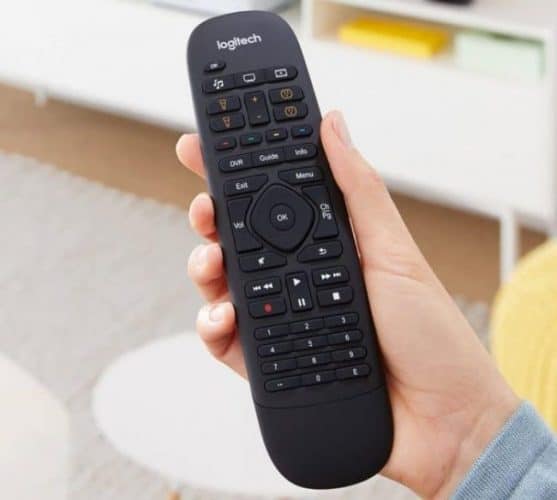 The Harmony Companion is a slightly dumbed-down version of the Harmony Elite, but I say this with the deepest of affections. It's less money but it doesn't include Elite's cool color LCD touchscreen. It does allow you to control streaming on your Xbox, plus up to eight other home entertainment devices, and an unlimited number of smart home devices.
Like the Elite it also gives you voice control with Alexa, Google or Siri. It also includes the same smartphone app as the one that ships with the standalone Harmony Hub. See below.
Video Review
Video Credit: Robb Sutton
Pros
Less expensive than the Elite
Includes same voice control, app, and activities like Play Xbox or Watch a Movie
Consolidates remotes for up to eight media devices
Can also control smart devices just like the Elite
Cons
No LCD screen.
Ease of setup depends on the devices you own.
Feels bulkier than Elite in your hand.
---
Where To Get It
You can check the price of Harmony Companion here at Amazon.
---
#3 – PDP Talon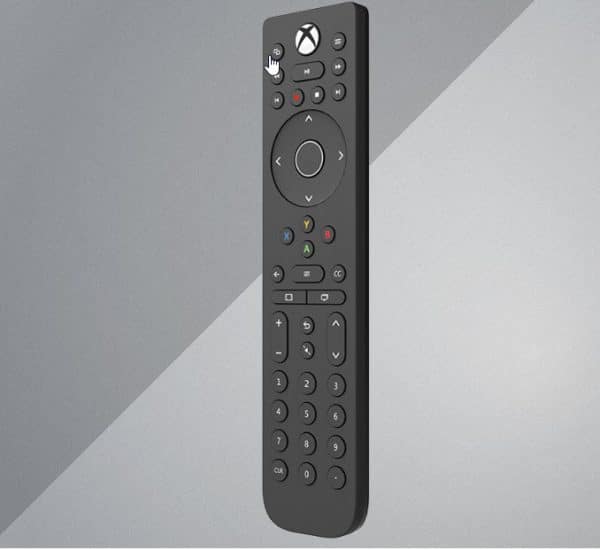 Officially licensed by Microsoft, number 2 on my list of best universal remotes for Xbox One is the PDP Talon. This remote is a fan favorite for die-hard Xbox enthusiasts everywhere.  While not as versatile as the Harmony remotes featured here, it does a great job of controlling your Xbox One, TV, Blu Ray and streaming media applications. You can also configure it so that when you power down the Xbox all of these devices will be powered down.
It will not control your entire home theater or smart devices but if you have a basic media setup this might be just the guy you need.
The remote features rubberized controls and include volume, channel, mute buttons plus a D-pad, A, B, X, Y, and numeric buttons as well. The remote also features motion-activated backlighting to help you locate buttons even in a very dark room.  It does require 2 AAA batteries, which are included but it does tend to go through batteries quick so you may want to invest in some rechargeables if you decide to go with this remote.
Video Review
Video Credit: cam shand YouTube Channel
Nice home theater set up man!
Pros
Designed to work with Xbox
Feels good in hand.
Powers on Xbox via single Xbox button on top of remote
Backlight for buttons powers up when you pick it up
Dedicated volume, channel and subtitle buttons make it easier to control these functions that using the Xbox controller
Inexpensive
Cons
Back shows finger prints and gets a bit "greasy" with even limited use.
Few customers complained that it wore out after a few months.
Feels bulkier than Elite in your hand.
---
Where To Get It
You check out the PDP Talon remote over at Amazon .
---
#4 – Harmony Ultimate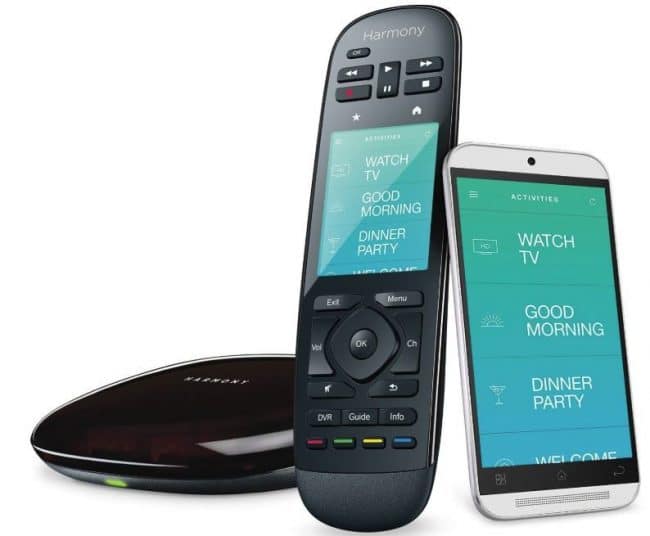 The last high-end Harmony remote on my list of best universal remotes for Xbox one is the Logitech Harmony Ultimate. Call me superficial, but I like the Ultimate mainly because it looks cool. I could totally see Han or Chewie rocking this remote to turn on that chess set aboard the Millennium Falcon. And with Harmony's support for 275,000 devices from 5,000 brands chances that whatever devices you happen to own are compatible with the remote. With the Ultimate, you get nearly all of the same features as the Harmony Elite, control over the same number of devices, plus an even-cooler looking LCD screen. Plus, you will be the envy of your friends when they come over for a gaming session or movie night. If you want to learn more, you can read my review comparing the Harmony Ultimate vs the Elite here.
Video Review
Video Credit: Kpaceguy YouTube Channel
Pros
Futuristic design and awesome LCD screen.
Most of the features of the Elite usually for less money.
Controls both home entertainment an smart devices.
Voice control with Alexa, Google, and Siri.
Smartphone app.
Cons
Expensive.
Hub needs an extender for Z-Wave and ZigBee compatibility.   
Similar setup learning curve as the Elite and Companion..
---
Where To Get It
While the Ultimate Home has been discontinued by Logitech, it is still available for purchase at Amazon . Logitech will still support it as well.
---
#5 – Logitech Harmony Hub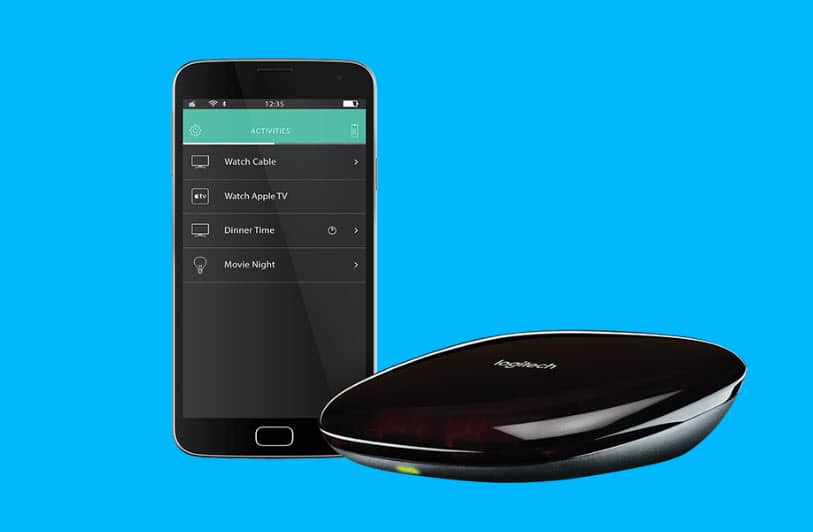 Next on my list of the best universal remotes for Xbox One is the Logitech Harmony Hub.  However, this isn't really a remote at all. Remember how I mentioned that the Elite, Companion, and Harmony Ultimate all give you the option to download and use a companion app for your smartphone and mobile devices?  Well, the Harmony Hub provides exactly that functionality (and that functionality only).
It does not ship with a physical remote, but rather it will let you control your Xbox, home theater, and smart devices using the Harmony app. The interface mimics what is on the Elite and Ultimate's touchscreen so that is pretty cool. You can also customize it with activities like "Watch Xbox," add your favorite channel icons, and more.
Pros
Same functionality as Companion and Elite but sans the remote.
Less expensive that remotes covered thusfar.
Controls Xbox, home theater, and smart devices.
Voice control with Alexa, Google, and Siri.
Cons
No physical remote.
App needs to be open for device control.
---
Where To Get It
Learn more about the Harmony Hub at Amazon here .
---
#6 – Xbox App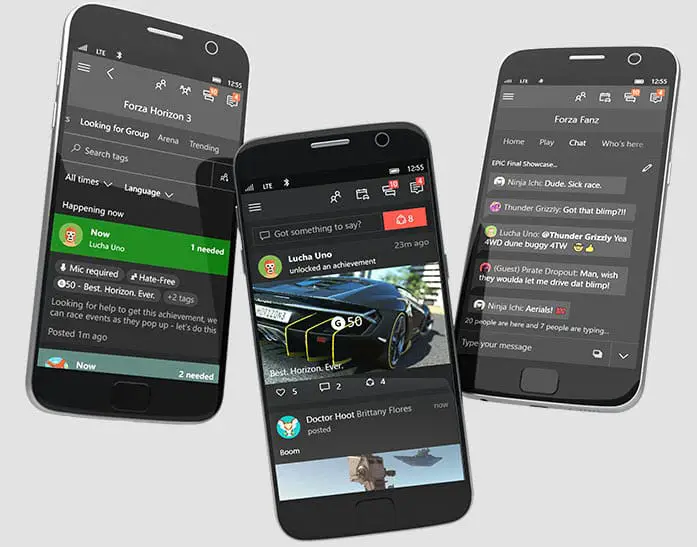 If you just want to control steaming on your Xbox using your phone or tablet and don't want to shell out the dough for the Harmony Hub, the FREE Xbox app for iOS and Android may be just the trick. Additionally, if you do decide to go with a physical remote and it goes missing inside your sofa cushions, sometimes having a solid backup on your phone can be super helpful. Enter the Xbox app.
While the controls aren't anywhere near extensive as what you get with the Harmony Hub, the free Xbox app will give you access to some basic navigation commands so you can get to streaming. You can also use it to share game captures with friends and watch and interact with game content. Pretty cool. You can't use it to control anything other than Xbox though, which is why it comes in at number 6 out of the best universal remotes for Xbox One.
Pros
Same functionality as Companion and Elite but sans the remote.
Less expensive that remotes covered thusfar.
Controls Xbox, home theater, and smart devices.
Voice control with Alexa, Google, and Siri.
Cons
Requires a wi-fi connection – won't work with cellular data.
A few user complain about issues with the app becoming unstable and unreliable on occasion.
---
Where To Get It
You can download the app for iOS, Android, and even Microsoft Windows here at Xbox.com .
---
#7 – Razer Turret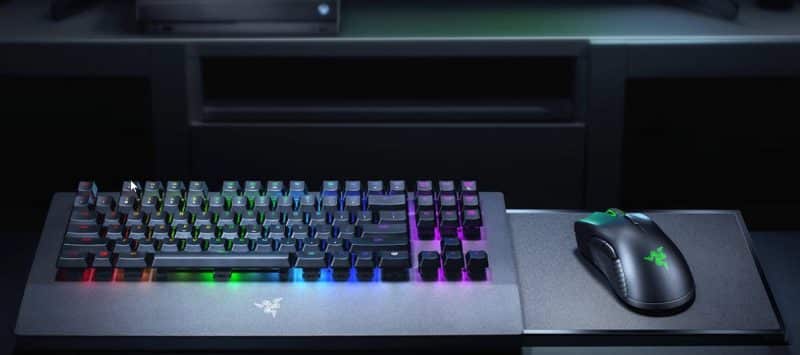 Like the PDP Talon is a Microsoft-Certified remote, the Razer Turret for Xbox One is the officially licensed-by-Microsoft Xbox One keyboard and mouse. It features a retractable magnetic mouse mat that helps keep the mouse (included) from falling off during use, a dedicated Xbox button, and Xbox Dynamic Lighting support.  A single unified dongle connects both the keyboard and mouse wirelessly.
This literally took me less than five minutes to get set up and connected to my Wi-Fi network. After a few weeks of testing, I found it to be super-fast and reliable.  Probably the coolest thing about this keyboard is that it has a battery life of over 40 hours on a single charge with lighting turned off. However, you'll want to charge it more frequently as the lighting synch with Xbox is just plain sick. If you want a keyboard and mouse combo for your Xbox, this is the one to get.
Pros
Licensed by Microsoft and certified to work with Xbox One.
Super highly rated.
Includes an Xbox button.
Rechargable batteries with excellent battery life (up to 50 hours respectively w/ lighting disabled and up to 30 hours w/ lighting enabled.
Cons
No physical remote.
App needs to be open for device control.
---
Where To Get It
You can check the latest price on the Razer Turret at Amazon here .
---
#8 – Yok Media Remote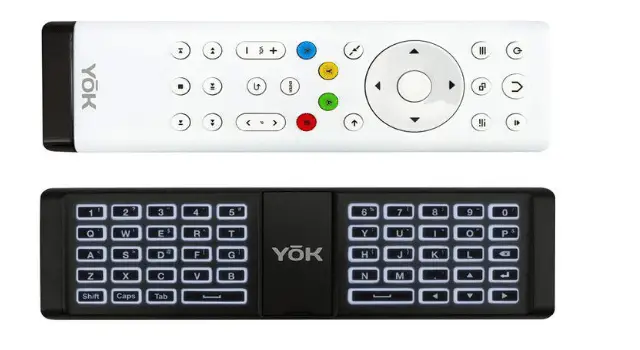 Next on my list of the best universal remotes for Xbox One is the Yok Media Remote. This remote is what I like to call a "two-for." Why? Because it's really a hybrid remote and keyboard. You get a classic media remote on one side and a keyboard on the other.  So you can use it to control your media, search, and chat with your friends. And as you probably already know typing using the Xbox one controller can be painful.
The full QWERTY keyboard that is built-in is also illuminated for those late-night entanglements.  The one downside about this remote is that the buttons are very small for my oddly large hands—and it does feel a bit cheapish in the hand.  However, it is super affordable for what you get. Oh, and don't forget to point it at the USB receiver and not your Xbox. You will get better performance that way.
Pros
Two-fer! Remote and keyboard in one device..
Inexpensive.
Super easy to set up.
Reliable up to 25 feet away.
Cons
Won't work if your Xbox is inside a cabinet without the door open.
Media buttons are a bit small (especially if you have freakishly large hands like me. LOL.
Few customers have complained that it isn't built to lastl.
---
Where To Get It
You can pick up one of these bad larrys right at Amazon here .
---
#9 – Hztprm Universal Remote Control
Last but not least on my list of best universal remotes for Xbox One is the Hztprm remote. The best thing about this remote, aside from the price, is that it is automatically programmed to work with Xbox One right out of the Box. If you own an LG or a Vizio TV, it will also control the power and the volume.
Additionally, you can control soundbars from leading brands too (see Amazon product page for the list– link below). It will also let you control other IR-based devices such as Roku and built-in Roku TV. If you have a Roku, then you will already be familiar with the design of this remote as they are very similar.
Pros
Very affordable.
Controls Xbox One and other devices from top brands.
Many positive customer reviews over at Amazon and elsewhere.
Super customizable, every key can be programmed.
Cons
A few customers have complained that the remote didn't ship with directions.
Other customers have said the directions are bad.
Can't program one button to turn on Xbox and TV, requires separate button press.
---
Where To Get It
You can also get this remote over at Amazon here .
---
Best Remotes for Xbox One: FAQs
Is Xbox One IR or RF?
Xbox One relies on its radio frequency (RF) module embedded inside the console. Your Xbox leverages the RF protocol to connect your universal remotes, keyboards, and other wireless accessories.
While Wi-Fi is used to connect some devices, RF is the only protocol to connect up your remotes wirelessly. If you go with a Harmony remote Harmony's online setup wizard will step you through the process.
Do All Harmony Remotes Work with Xbox One?
Yes. According to Logitech's device compatibility database, all Harmony remotes can be used to control Xbox One. This includes Harmony IR remotes, the Harmony Hub-based remotes, and the Harmony Express Remote as well.
Note: Logitech announced that it will be discontinuing support for Harmony Express so I would steer clear of this remote for controlling your Xbox. The Harmony-Hub-based remotes featured here are all excellent choices.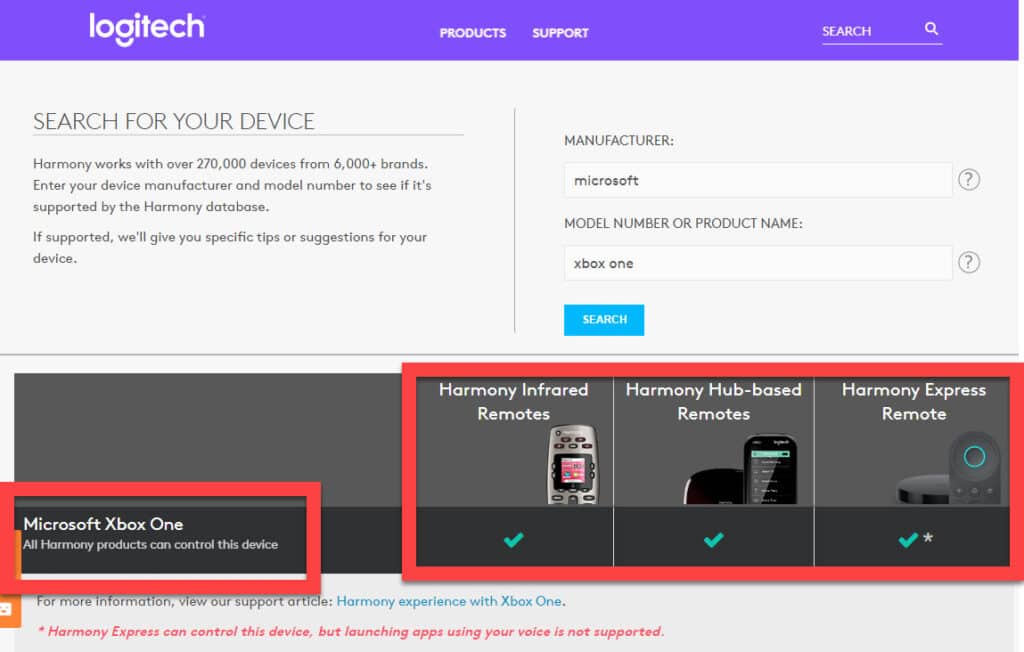 What are the primary differences between the Harmony Elite and Harmony Ultimate?
The LCD screen, button placement, and overall design differences make these remotes very different from each other. The Harmony Elite is still being actively supported and marketed by Logitech; the Harmony Ultimate has been discontinued but you can still get it at Amazon.
These are probably the two best universal remotes for Xbox One that you can buy.
You can read a detailed review I wrote comparing the Harmony Elite vs Ultimate Home here.
Can I use Logitech Harmony to launch Netflix on Xbox?
Yes – and you can also launch the "Watch Netflix" command using Alexa or Google Assistant and your voice. Smart Home published a nice video out on YouTube that shows how to set up the whole thing. The music is a bit loud on the b-roll and the camera hold is a bit jittery, BUT if you really want to understand how Harmony and Xbox work together, definitely watch this whole video.
As you can see, setup does take a bit of doing, but just think, you will NEVER have to do all of that navigation manually again! So cool!
Can I control my Xbox with my phone?
Yes. The Harmony Hub app described above (#5 in my list of the best universal remotes for Xbox One will let you control your Xbox using your phone. In fact, all functions of a full-featured remote are available on your phone with the Harmony Hub.
While it was designed for gaming, Microsoft's Xbox Companion app (#6 on my list of the best universal remotes for Xbox One) also described above can help you control media in a pinch as well. Best of all? It's free.
If you prefer to stream using Xbox One's solid Blue Ray player, Microsoft has a special app for that too.
---
Best Remotes for Xbox One: What Do You Think?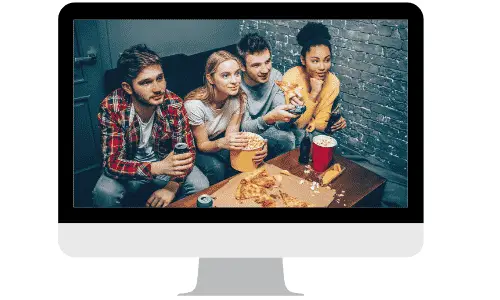 So what do you think about my picks for the best universal remotes for Xbox One?
Do you like the high-end traditional universal remote options? Or perhaps you prefer to navigate using a keyboard?  Or yet again, how do you feel about using an app to control media?
Heck, maybe you a gear head like and want to try all three options!
Do you do a lot of streaming on your Xbox?  If so, having a universal remote will make it more enjoyable for sure.
Please leave me a comment down below and let me know what you think. I would love to hear from you.
---
You Might Also Like
If you enjoyed this article about the best universal remotes for Xbox One, you might also like some of these posts: