Affiliate Disclosure: As an Amazon Associate, I earn from qualifying purchases. Learn more.
🗞️ News:
While Logitech will no longer make new Harmony remotes, the company says it will support existing customers "as long as they continue to use them."
Learn more.
In this article, I provide a side-by-side comparison of the three best universal remotes for PS4 & PS3 [for streaming and other apps].
My goal is to help you choose the right remote for your budget and needs.
---
PS4 Still Rules
A
mong the world's top gaming consoles, PS4 still has the dominant market share [106 million units], which is more than double to that of its leading rival, Xbox [46 million units], according to
vbChartz.com
.
The leading reviewers pretty much agree that the main reasons for this are price, performance, and focusing on what PS4 does best—games!
That said, the console has also become a worthy streaming media device for those who can figure out how to use it as such. However, a common complaint among PS4 streamers is that using the DUALSHOCK controller makes it clunky and hard to navigate the interface.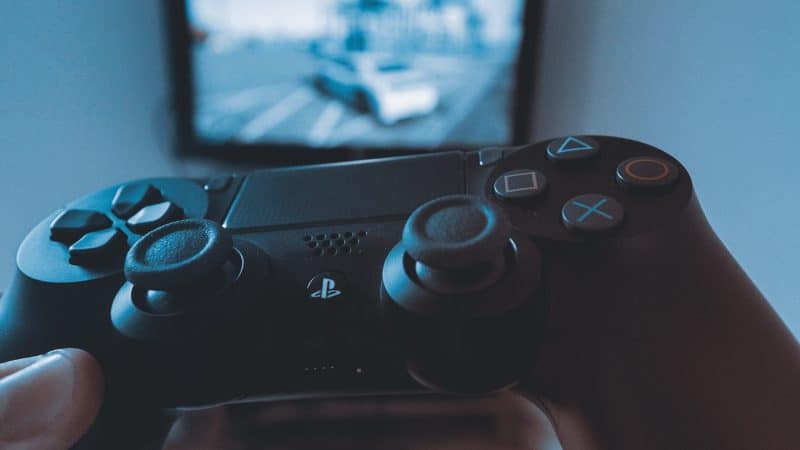 At least until PS5 comes out later this year, PS4 still rules. Sadly, using the DUALSHOCK controller to navigate streaming media and apps does not.
"Enter" the universal remote.
But not all universal remotes are created equal, and many will not work with PS4 at all. This is because PS4 and PS3 require a Bluetooth signal to control the device, and many universal remotes leverage infrared (IR) technology.
In this article, I will do my best to break down the three best universal remotes for PS4. Each will give you a solid option for controlling streaming and media—at three distinct price points.
Click. Click. Let's dig in.
---
Quick Comparison: My Top 3 Picks
Here is a quick comparison table that shows the features of the three best universal remotes for PS4 & PS3 side-by-side.
| | Premium Pick: Harmony Elite | Solid Runner Up: Harmony Companion | Budget Option: PDP Media Remote |
| --- | --- | --- | --- |
| | | | |
| Power PS4 On | | | |
| Power PS4 Off | | | |
| Navigate Apps | | | |
| LCD Touchscreen | | | |
| Control streaming media on PS4 | | | |
| Control streaming media on other devices | | | |
| Controls external audio equipment | | | |
| Controls smart bias lighting | | | |
| Controls other smart home devices | | | |
| Programmable Favorites | 50 | 50 | |
| # External of Devices You Can Control | 15 | 8 | PS4 only |
| Companion Mobile app remote | | | |
| Works with Alexa and Google Home | | | |
| Backlit buttons | | | |
---
#1) Premium Pick: Logitech Harmony Elite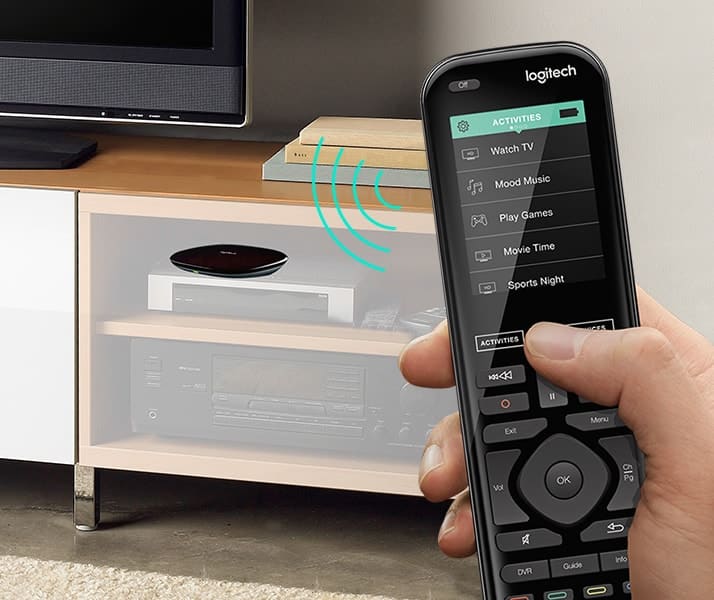 First on my list of the best universal remotes for PS4 is the Logitech Harmony Elite.
At the risk of sounding dramatic, the Logitech Harmony Elite is the best universal remote in the world. [Yeah, I guess that does sound dramatic. LOL.]
I own one and I love it.
What makes it so great?
First, it lets you control both home entertainment devices and smart home tech.  All Harmony remotes are supported by Logitech's massive database of 270,000 devices from 5,000 brands, so chances are if you own, Harmony can control it.
Second, the remote sports the industry's best and coolest looking LCD touchscreen. The touchscreen works like your smartphone for controlling favorite channels and one tap activities. You can think of an activity like a macro. When you tap Watch TV, the macro can turn on the TV, tune to your Favorite Channel, dim your smart lights, turn on your audio receiver, power on your soundbar, and more. There are a ton of other features too that I cover in more detail in this review that I wrote.
Is this remote overkill if you JUST want to control PS4? Yes. But that's not the point. This makes your overall entertainment experience better, including controlling PS4 apps and streaming media.  Pretty much the only thing it won't do it turn PS4 on, due to licensing restriction with Sony.
Video Review
Here's my favorite video review of the Harmony Elite from JP at TeQreation. It's a bit dated but very thorough. Check out the cool special effect at the beginning of the video. Happy "Netflix and Chill" night, man.
Pros
Consolidate remotes and control up to 15 home entertainment devices.
Control smart home tech too.
Cool color LCD touchscreen.
Companion mobile app gives your whole family personalized remotes.
Works with Alexa and Google Assistant for voice control.
Cons
It's expensive.
It cannot be used to power on PS4.
---
Where To Get It
You can buy the Harmony Elite over at Amazon here .
---
#2) Logitech Harmony Companion

The Harmony Companion is a lot like the Elite, sans the color touchscreen.  It costs a lot less and offers many of the same benefits.
These include control of smart devices as well as entertainment devices, the ability to create activities like those described above, app remotes for the whole family, and integration with Amazon Alexa and Google Assistant for voice control. This is a great option if you want to consolidate up to eight remotes for your home entertainment devices and control smart home stuff too.
This remote is a tech reviewer favorite and really is one of the best universal remotes for PS4 & Ps3.
I wrote a review comparing Companion with Elite and Harmony's new Express Alexa remote. You can read that here if you are interested in learning more.
Video Review
Robb Sutton crushes it with his video review of the Harmony Companion:
Pros
Control entertainment and smart home devices.
One button activities like Netflix and Chill.
Works with Alexa and Google Assistant.
Most benefits of Harmony Elite at a lower cost.
Cons
Cannot power on PS4 due to Sony licensing restriction.
No color LCD screeen.
No haptic feedback.
Buttons are not backlit.
---
Where to Get It
You can get the Harmony Companion over at Amazon here .
---
#3) PDP Media Remote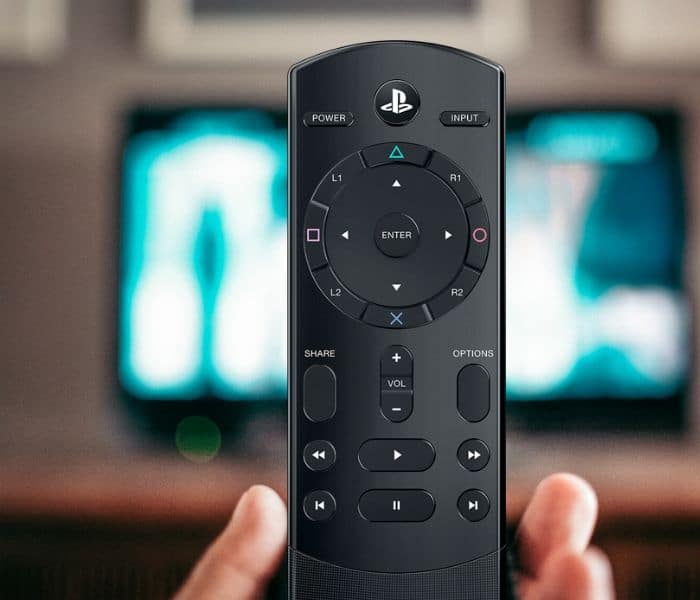 The PDP Media remote is one of the most popular remotes on Amazon for controlling PS4 streaming. It is sanctioned by Sony as an official remote for PS4 so you can use it to turn on PS4, unlike the Harmony remotes.
Like Harmony, it relies on Bluetooth wireless technology to manage media playback of PS4 streaming and live apps. It includes controls for power, input, streaming media app control (e.g. Netflix, Amazon Prime Video, YouTube), and volume control to boot. The main gripe that customers have about this remote is that it is a bit of a battery hog. But this can be fixed easily enough if you get rechargeable batteries for it (it takes 2AA batteries).
Video Review
Thanks to ThatUmbrellaGuy for the honest and thoughtful review.

Pros
Simple remote control for streaming media on PS4.
Lots of positive reviews over at Amazon.
It's inexpensive.
Cons
Limited to PS4 and Blueray.
Battery hog. Pro Tip: Get rechargeable batteries if you are buying this.
Feels small in hand.
No extras like backlit buttons, haptic feedback, etc..
---
Where To Get It
You can get the PDP Media Remote over at Amazon here .
---
Best Universal Remotes for Ps4: Your Take?
So what do you think about my picks of the best universal remotes for PS4?
Do you agree that Harmony Elite is one of the coolest looking remotes around? Seriously, you can't go wrong with the Harmony Elite; I have one and I love it. But I get that it is expensive.
Is being able to consolidate multiple remotes and control multiple devices at the same time a factor for you?
What about the control of smart home devices like bias lighting and automated blinds?
Please leave me a comment below and let me know. I hope to hear from you.
---
You Might Also Like
If you enjoyed this article about the best universal remotes for PS4, you might also like some of these posts:
9 Best Remotes for Xbox One [Universal, Apps, Keyboards]
5 Best Remotes for NVIDIA SHIELD [and/or Android TV]
Logitech Harmony Comparison Chart: Big 2020 Update!
7 Best Universal Remotes for Amazon Fire TV
New Fire TV Cube 2 vs Fire TV Cube 1: What's Changed?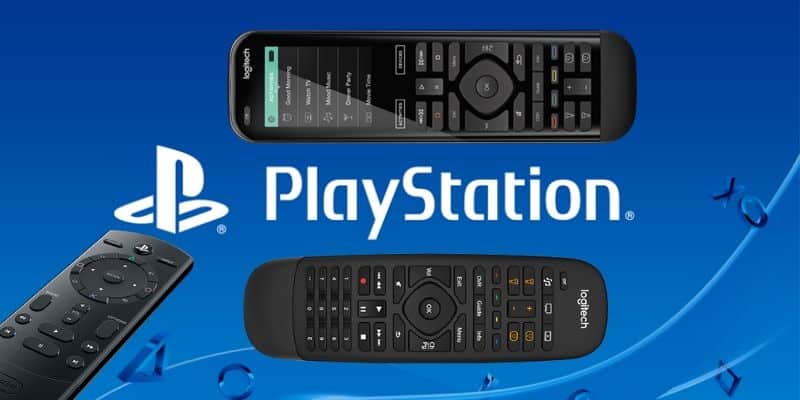 ---
About the Author
Tim Brennan, Technical Writer & Blogger
Tim Brennan [a.k.a. "Tec Timmy"] is a senior technical writer with over 25 years of experience writing for companies and organizations in and around Greater Boston, including GE and MIT. In addition to actively writing about universal remotes, Tim is also a regular contributor over at oneSmartcrib.com, a smart home blog. Tim holds a BA in Journalism from Northeastern University. Brennan is a father to two sons, a Star Wars nut, and loves a good taco🌮. There is a strong chance he is developing a crush on Amazon Alexa. You can learn more about Tim here.