Affiliate Disclosure
As an Amazon affiliate, I earn from qualifying purchases.
Quick Summary: In my updated Logitech Harmony Elite review, I provide you with 10 compelling reasons that this smart remote is still simply the best remote available today. Why? Well, for starters, it lets you control both your entertainment and smart home devices. It also lets you consolidate a whopping 15 remotes down to one, and it works with Amazon Alexa and Google Assistant too. 
📝Editor's Note: While Logitech recently announced they will no longer manufacture these remotes, they will continue to support them for customers who buy them. There is still some limited availability over at Amazon and elsewhere. If you have your heart set on the Harmony Elite, I suggest buying one now. If the idea of buying a discontinued remote makes you a bit skittish, check out these 11 Logitech Harmony alternatives.
Still the Best
L
ooking for the single best smart home remote control you can buy?
Here's a subtle hint:
It's the Logitech Harmony Elite. You can see it over at Amazon here.
Why?
The Elite is simply the best smart home remote control for ALL of your connected devices. These include your entertainment center, smart lights, smart plugs, smart locks, smart blinds, smart appliances, and much more.
Heck, you can even use it to control your ceiling fan and remote-controlled fireplace.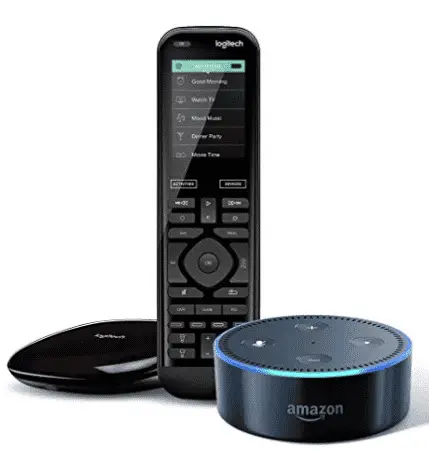 Plus, with the Elite's excellent integration with Amazon Echo and Alexa devices – you get to control nearly everything with your voice. And custom "themes" [e.g., Watch Movie] means that you can fire up multiple components with a single voice command.
In fact, I think that the Harmony Elite and Echo go together like peanut butter and jelly, wine and cheese, and R2-D2 and 3CP0. Sweet.
Cue up the Star Wars theme people. This is as close to a sci-fi smart home remote that you can get today.
Yeah, I'm a pretty big fan, in case you couldn't tell.
OK, let's get into our Logitech Harmony Elite review.
---
What Are the Harmony Elite's Main Features?
The following table provides a summary of key features. I will go into more detail on each of these in my "10 reasons" list below.
Key Features
Device Limit:
15
Supported Devices
275,000
LCD Screen
1.5 inches (diagonal)
65,000s
128 x 128 pixels
Touchscreen Swipe and Tap
Yes
One Touch Activities (Watch a Movie)
Yes
Programmable Favorite Channels
50
Home Automation Support
Yes
Smart Speaker Support:
Amazon Alexa and Google Home
Physical buttons:
Yes
Backlit buttons:
All buttons are backlit
Haptic Feedback [Vibrates]:
Yes
For full detailed specifications for the Harmony Elite, refer to our new Elite Specifications Sheet.
Here you find the most comprehensive set of specs available on the Elite, including What's in the Box, Dimensions, Product Numbers, Compatibility with Major Brands, and much more.
---
The Best Smart Home Remote Control
In addition to excellent control over home entertainment, this Elite smart home remote control can configure your smart devices to create unique living experiences.
Two cool examples:
You can program your smart TV, lighting, locks, and thermostat to work with themes like "Welcome Home" and "Good Night." (Doors lock, lights dim, thermostat lowers automatically when you say "Good Night.")
In addition, the remote can be configured to automatically dim lights and fire up all required devices (TV, soundbar, receiver) when you load Netflix.
Check out this helpful Logitech Harmony Elite review video from TeqCreation.  Nice job with the special effects man.
---
Be an Elitist: Harmony Elite Review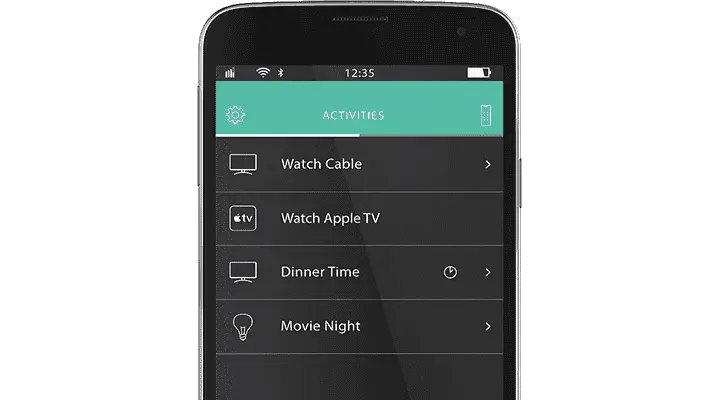 The Elite remote provides a sleek, smart way to control up to 15 of your favorite smart home devices. Setup is super simple and automated using Logitech's intuitive software. And the Harmony Elite Smart Hub gives full control over all connected devices. This includes those stored inside your entertainment centers behind cabinets.
You access your devices using the beautiful full-color touchscreen or alternatively physical buttons Logitech has added to this remote's new design. Also, the companion Harmony app lets you turn your iOS and Android smartphones/tablets into personal universal remotes for the whole family. Best of all, you can tell Harmony Elite and Echo Dot to turn on your TV and Alexa will "do it" for you.
The only real downside to owning the best smart home remote control is its pricey price tag. I have seen prices ranging from around $220-350 depending on where you shop.
You MAY be able to get a better deal on a "renewed" model. You can check the latest price on a renewed Elite over at Amazon. However, depending on the offering the renewed model may or may not include the Hub, so if you want the Hub, double-check that it is included before buying a renewed unit.
---
9 Reasons I Think This Smart Remote Is Awesome
#1 –  Full-Color Touchscreen
Swipe and tap to control activities, channels, volume, and more.  You can also program up to 50 favorite channels so getting to the latest Walking Dead episode on AMC is a snap. The backlit touch screen also lets you control smart home devices like Philips Hue lights.
#2 – Amazon-Certified for Alexa and Echo Dot
The Harmony Elite is compatible with Echo Dot 2 for the ultimate in smart home voice integration. Ask the Harmony Elite and Echo Dot to "Turn on the TV," and Alexa powers up all required devices (Cable, soundbar, receiver).
#3 – One-Touch Control
Touch an Activity like "Watch a Movie" or "Play a Game" to automatically power on and switch multiple devices to the right settings. For example, "Watch a Movie" will fire up your TV, receiver (if part of your configuration), and soundbar at the same time.
#4 – Works with 270,000 Devices
Harmony supports control of a staggering 270,000 devices and the database is growing every day.  Therefore, you can feel confident that the devices Harmony will control what you own today, and the ones you add tomorrow.
#5 – No More Remote Codes
Enter model numbers or brands to add your devices using Logitech's intuitive software interface. You can do this from your PC, Mac, iOS, or Android operating system. As a result, no more scrambling to find those lost manuals and entering "secret codes" all night until you get the right lights to blink properly.
#6 – Harmony Mobile App
Turns iOS or Android smartphones or tablets into personal universal remote controls for the whole house. This is a great way for other family members to get in the game. However, the battle for the remote could take on a whole new dimension.
#7 – Closed Cabinet Control
The included Harmony Elite Hub gives you broad coverage and lets you control devices in closed cabinets, even when away from home.
#8 – Convenient Charging Station
The next reason we feel this is the best smart home remote control has to do the convenient charging station. The charger keeps your remote powered and within reach. There's nothing to plug in.  You just plop the remote into the dock.
#9 – Complete Home Automation
You can start or stop Harmony activities or devices according to schedules. For example, you can set the remote to turn on your smart lights at dusk or to have music playing when you get home from work in the evening.
#10 – Digital Media Control
Control your favorite streaming media players like Apple TV, Roku, or Tivo. In addition, you can control game consoles like Xbox, Wii, and PlayStation as well. Oh, and of course it works great with Netflix too.
---
What Types of Devices Is It Compatible With?
Harmony Elite is compatible with over 270.000 devices from dozens of major brands. The table below provides an overview of device compatibility.  To see if the Elite remote will work with your specific devices, you can search Harmony's device compatibility database over at Logitech.com.
Compatibility
Smart TV
All newer TVs, most older Smart TV models
Cable TV / Direct TV
All newer, most older
Most Video Projectors
Yes
Most A/V Receivers
Yes
Most Soundbars
Yes
Media Streamers
Apple TV
Google Chromecast
Roku
Amazon Fire TV
Smart Lights
Lutron Caséta
Phillips Hue
LIFX
Others
Smart Thermostats
Nest
Honeywell
Ecobee
Others
Video Game Consoles
Xbox
Playstation – PSP 4 requires an adapter
Wii
---
Our Harmony Elite Review: Is There Anything Bad About this Remote?
Some people complain that setup can take a while, especially for those who have complex entertainment configurations.
Another complaint is that the Alexa commands are currently limited to basic navigation.
However, with Alexa living in the Cloud, I'm sure Logitech will be making updates available in the near future.
---
Where to Buy
You can buy Logitech's best smart home remote control directly from Logitech, but you will more likely get a better deal at Amazon. Amazon is currently offering the Elite as a standalone (with Hub and App) or will bundle it with a Roku Ultra (deal above) for a discount.
---
Harmony Elite Reviews from Customers
Visit the Logitech Harmony Elite page at Amazon to read customer reviews for the Harmony Elite universal remote control.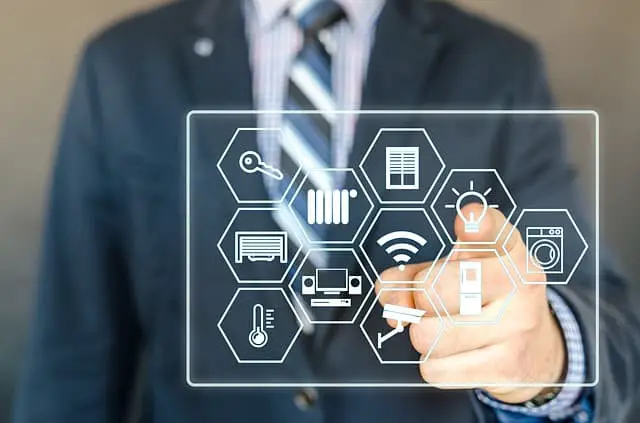 ---
FAQs – Harmony Elite and Amazon Echo
Q: What are some common Alexa commands I can ask Echo to control the Harmony Elite?
A: Some examples include:
Say: "Alexa, turn on the TV."
Ask: "Alexa, turn off my Xbox."
Say: "Alexa, turn off my entertainment center" to power everything off.
If you have a Roku, you can say "Alexa, turn on Netflix" (or HULU) and Harmony will automatically switch over to that content.
Q: Is the Logitech Harmony Ultimate Remote also compatible with Alexa/Dot/Show?
A: Yes, the Harmony Ultimate product has also been certified for use with Amazon Alexa on Dot 2 and other compatible devices. You can read our review on the Ultimate vs the Elite here. Update: Logitech recently announced a brand new remote that provides even better compatibility with Alexa. You can read our review of it here: Harmony Express Review: Logitech's New Remote Puts Alexa in Control.
Q: What other Harmony remotes work with Alexa and Echo?
A: We suggest you read our comparison of all Harmony remotes here.
Q: Are there any other comparable smart remotes on the market?
A: Check out our review of Sevenhugs vs Logitech Harmony: Which 'Smart Remote' Is More 'Elite?'. While the Sevenhugs has a very different design, it offers many of the same features as the Elite.
Q: Can I replace the battery?
A: Yes, you are able to replace the rechargeable battery on the Elite. This is not true on the Ultimate Home.
Q: Is there another Harmony Elite review you would recommend I watch on YouTube before buying this remote?
A: Sure, this video review from CNET is a bit dated, but they do a nice job with their Harmony Elite video review.
Q. What are the differences between the Harmony Elite vs Harmony Ultimate?
A: According to the Logitech forums, the main differences are as follows:
Playback buttons (Play, Pause, etc.) are below and above the screen on the Ultimate. Note that these are placed in a more ergonomic location (beneath rather than above the screen) on the Elite.
The Elite also has extra physical buttons that can be used to control smart home applications (e.g. lighting).
Harmony Elite Hub comes with more internal memory than the Harmony Ultimate Home Universal Remote.
The battery can be replaced on the Elite.
---
What's in the Box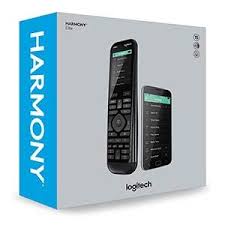 The Harmony Elite best smart home remote control ships in a beautifully designed box. It includes:
Elite Touchscreen Universal Remote Control (with rechargeable battery)
Harmony Smart Hub
2 IR mini-blasters
Charging station
USB cable
2 AC adapters
Complete user documentation
If you choose the Echo Dot bundle, it ships with the discounted Echo dot as well.
---
System Requirements
For Mobile Setup:
iOS: iPhone 4S or later, iPad (3rd generation or later), iPad mini, iPod touch (5th generation or later) device with iOS 8.0 or higher.
Android OS: Wi-Fi-enabled smartphone with Android 4.2 or higher.
Bluetooth Smart technology-enabled iOS or Android device.
For Online Setup:
Windows-based PC: Windows 10, Windows 8, or Windows 7.
Intel-based Mac OS computer: Mac OS X 10.7 or higher.
Harmony App: Download from the App Store or Google Play.
Internet access:
Wi-Fi:
Supports 802.11g/n, WPA Personal, WPA2-AES, and 64/128-bit WEP encryption
---
Related Links
---
Logitech Harmony Elite Review – Your Turn
I hope you enjoyed my Logitech Harmony Elite review.
So do you agree that this is the best home entertainment remote control that will also control your smart home devices?
We would love to hear if you found the article helpful and whether you own or plan to purchase this remote.
Please let us know by leaving a quick comment below.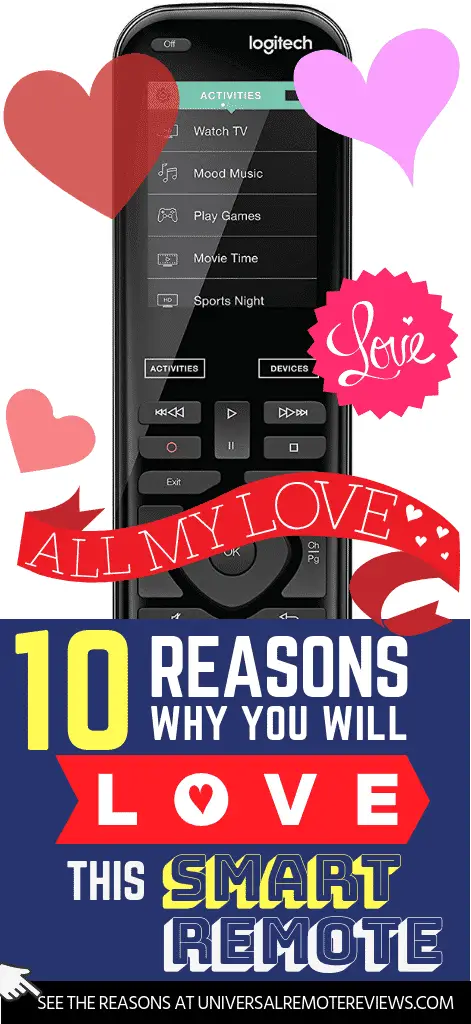 ---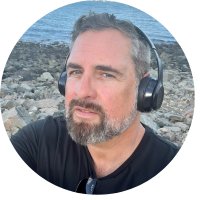 Tim Brennan is a technology blogger and hosts the @TecTimmy YouTube channel. He writes about smart homes at oneSmartcrib, home theaters at UniversalRemoteReviews, and AI in writing at Writeinteractive. A graduate of Northeastern University School of Journalism, he has written about technology for 30 years. Tim lives on the ocean in Nahant, Massachusetts.