In this Logitech Harmony Hub review, I will help you cut through the clutter and crud to give you our recommendation for the best universal remote app you can get for your phone today.
What is the Logitech Harmony Hub?
The Harmony Hub puts the same interface used on Logitech's best remote (the Elite) on your smartphone for a fraction of the cost. This is an excellent all-around remote for control of your home entertainment devices and your smart home tech. 
If you prefer the feel of a remote with raised buttons, I recommend you check out the Harmony Companion or Elite.
---
My Harmony Hub Review: Pros and Cons
Pros
It lets you control home entertainment and smart home devices (e.g., smart lights, smart blinds, etc.).
Controls over 275,000 Wi-fi, RF, and Bluetooth devices.
Integrates with Amazon Alexa and Google Home.
Activities like "Watch a Movie" automate the start-up of all required components
Gives every member of your house a custom universal remote on their phone.
Cons
There is no physical remote.
Navigating with the app takes some getting used to.
Setup can be a bit tricky if you are not technical.
---
Nothing is Really Free
I
f you've ever downloaded any of those so-called free iPhone universal remote apps for your smartphone, I'm willing to bet you a sandwich you were sadly disappointed.
"Free" apps you can download from iTunes are frustrating to use at best and in many cases are just plain con-ware that will prompt you to pay after very limited use. Some of them are even too complex for even the nerdy gearheads [like me ?].
I'll stop short of naming names (AnyMote! Remotie!!), BUT…
I'm here to tell you about an iPhone universal remote "app," which is the real deal. But it's not just an app. It is a product from the world's leading universal remote maker, Logitech. It's called the Harmony Hub.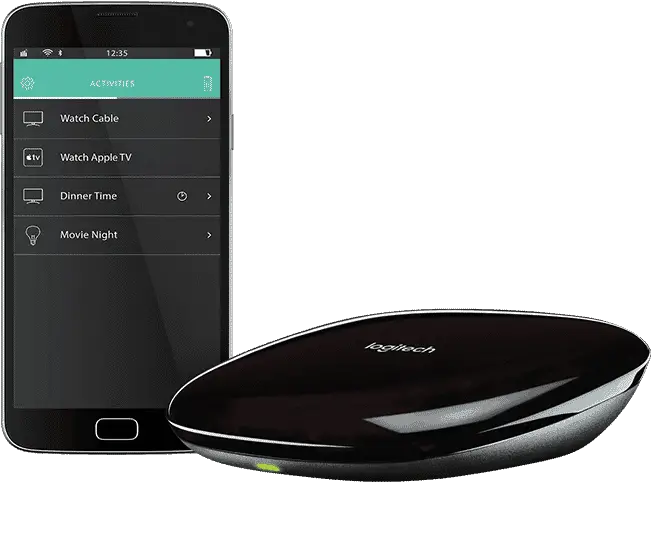 Oh, and it works on Android OS too.
And it will do much more than a typical universal remote.
---
What Does a Harmony Hub Do?
With the Harmony Hub for iOS or Android, you can:
Replace up to eight remotes you are using for TV, cable, soundbar, AppleTV, Roku, Xbox, DVR/BlueRay, or other components.
Adjust TV volume, change channels, and remote control your favorite movies and TV shows with a simple tap or swipe.
Quickly jump to your favorite channels by clicking on a colorful icon for that channel.
Control smart home devices (smart lights, locks, thermostats) as well as devices in your entertainment center.
Control all of these devices with your voice using Alexa or Google Assistant Create custom activities such as 'Watch a Movie' or 'Date Night' that will start up all required components automatically
Sound too good to be true?
It isn't. Read on!
---
Logitech Harmony Hub Review: How It Works
The Harmony Hub is an actual hardware device that sits on your Wi-Fi network, preferably somewhere near your TV. It looks like this: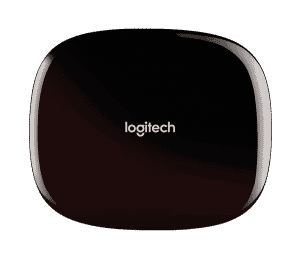 After you download the free Harmony app and configure your devices using Logitech's software, then the real magic happens.
The hub processes Bluetooth and Wi-fi signals sent via your phone and converts them to IR (infrared), as needed, to control your devices.
You literally can control your entire home entertainment experience AND all of your smart home stuff using your phone or tablet!
I have a buddy who bought an iPad mini that he uses to control his entire house with the Hub. The interface is slick, and he pretty much always has it in his hands every time I am over there.
---
Setup and Configuration Guides
Jonah Matthes over at TheHomeTheaterDIY has a really helpful setup and configuration guide that he put together based on his hands-on experience with the Hub. I have been in touch with Jonah a few times. He is a great guy and really passionate about home theater.
Setting up the Logitech Harmony Hub is slightly confusing if you aren't technically inclined. There are many steps and lots of things that can be modified.Jonah Matthes, Home Theater Expert
Logitech also publishes it's own Getting Started instructions, although I like Jonah's illustrated guide better. As Jonah points out the Harmony Hub can be tricky to set up for someone non-technical, but if you follow his steps you should be good.
And if all that isn't enough, Chris over at Majestechs posted a nice video walk-through on YouTube. I'll embed the video below for your convenience.
---
Can it Control Infrared and Wi-Fi Devices?
With Logitech's support for a massive database of compatible devices, the sky is the limit with what you can control using the Hub.
Yes as mentioned previously, it will connect to your infrared [typically home theater] and wi-fi [typically smart home stuff] devices.  It can also connect over Bluetooth.
Of course, you can control all of your home entertainment devices using your iOS or Android-compatible devices:
Smart TVs
Soundbars
Streaming media devices, such as Roku and AppleTV
Audio receivers, surround sound systems, and soundbars
Most popular video game consoles
Home theater projectors and systems
All manner of smart home technology is also supported. This includes devices like:
Smart Lights
Smart Blinds
Outdoor Lighting
Video and Security Cameras
Door Locks
Many more
Since Logitech has the broadest device support over any other remote out there, chances are that your devices will be supported. If you are worried about a particular device, check the Logitech Harmony Device Compatibility Database.
---
Technical Specifications Table
The following are the major specifications of the Harmony Hub. For additional specifications, check out this full specifications table that I put together.
| Item | Specification |
| --- | --- |
| Includes Harmony Remote | No |
| Number of Supported Devices | 275,000 from over 5000 brands |
| Number of Remotes Replaced Devices | 8 |
| Programmable Favorite Channels | 50 |
| Input: | Smartphone Touchscreen |
| Software Setup | PC/Mac/iOS/Android |
| Mobile App | Harmony Mobile App for Smartphones and Tablets |
| Voice Assistants | Amazon Alexa, Google Home, Apple Homekit/Siri |
| Dimensions | 6 x 5.3 x 3.1 inches |
| Weight | 3.84 ounces |
---
What You Need to Use the Harmony Hub
Internet Access
First, you'll need Internet access. The Hub was designed to work with all modern networks. If you want to get technical, for Wi-Fi would mean a 802.11g network.  The hub also supports WPA Personal, WPA2-AES and 64/128-bit WEP encryption over that network. Odds are your existing home wireless network will do just fine.
Smartphone
For iOS mobile setup and control: iPhone 4S or later, iPad (3rd generation or later), iPad mini, iPod touch (5th generation or later) device with iOS 6.0 or higher.
For Android mobile setup and control: Wi-Fi enabled smartphone with Android 4.0 or later.
Note: The app looks really cool on a mini tablet.
PC Based Setup [Strongly Recommended]
When you set up your Hub, use the PC-based option instead of attempting to set it up with your smartphone. While this may seem like a hassle, trust us. Customers complain about the smartphone setup being kludgy.
To set up the Harmony Hub with your Windows computer, you'll need Windows 8, Windows 7, and Windows Vista.  If you have a Mac, then any Mac OS X 10.6 or higher PC will do.
---
Your iPhone Just Got Way Cooler
Harmony brilliantly emulated the interface from its popular Harmony Elite remote in the iPhone universal remote app [and the Android one too]. This means that you get most of the benefits of that premium (read more expensive) product right on your smartphone or tablet.
Features of the universal remote's user interface include swipe and tap activities (i.e., Watch a Movie, Good Night) and 50 programmable Favorites that display the logo for all your favorite channels.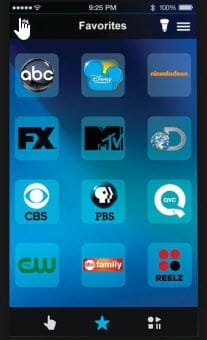 And unlike the remotes you probably use, you can see all the controls in the dark.
This remote is a super smart buy.  It just looks cool, is a surefire way to impress your friends, and makes movie night a hell of a lot more fun.  As an added bonus, everyone in the house gets the remote too!
All they have to do is download the app, and off they go.
---
Activities Are The Bomb Diggity
We already mentioned that you could use activities to "switch on" all required components to watch a movie, for example.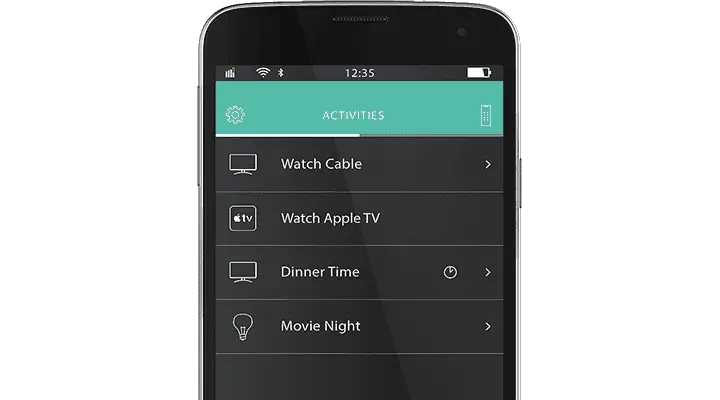 On the simple level, this could work to switch the TV and cable on and maybe power up your soundbar with one tap.
With the Harmony Hub's support for smart home technology, however,  you can take this w step further. Really you are only limited by your imagination.
For example, that same Watch a Movie activity could be used to do any/ all of the following:
Turn on your TV
Turn on your audio receiver and soundbar
Dim your smart lights in your room and change the bulb color to blue
Lower your smart blinds
Turn on and change the color of an LED smart light strip you have behind your TV to blue
Adjust your smart thermostat to a cozy temperature
Turn off any music that was playing
Tune your TV to Netflix or any other default streaming service you choose
---
What's In the Box
Here's what's included In the box:
Harmony Hub
IR mini-blaster
USB cable
AC adapter
User documentation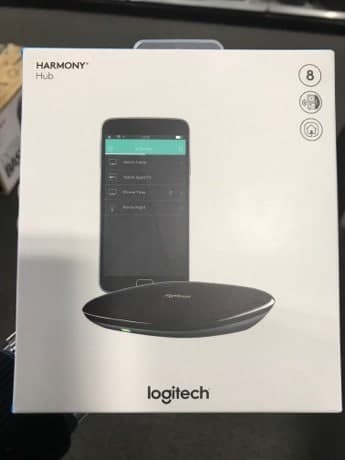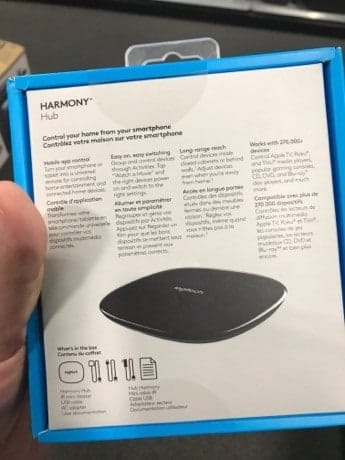 ---
---
A Couple of Caveats
There are really only two negatives to using the Harmony Hub and App as a universal remote solution. And neither one is a deal-breaker.
First, if you like the feel of a remote in your hand to control your TV, using your phone instead takes some getting used to.  If this is the case, we suggest you check out our review of the Logitech Harmony Elite. It costs more money but also gives you the Hub, plus Logitech's best remote.
Second, if you need to do something quick, like turn down the TV volume, you need to get the app open first to do so.
That said, Harmony's excellent integration with Alexa and Google Assistant provides a great alternative solution for those quick hits like turning down the TV or changing channels.
As I mentioned earlier, my buddy bought a dedicated iPad mini tablet that he uses exclusively for his remote and absolutely loves it. The Harmony app is always up on his tablet, so there is no delay in getting to the controls he wants for his smart devices.  He even bought a detachable wall mount that he proudly shows off to everyone who enters his crib.
---
Does Harmony Hub Work Through Walls?
In a word, no. BUT the signals do bounce around and I have had good success with using it throughout my small apartment.
To quote Logitech's answer on this:
IR signals will bounce off of cabinet doors and walls, but will not pass through them.
Again, I have had really good luck with controlling my smart devices over Wi-Fi from room to room. For instance, I can turn the lights off in the kitchen from my bedroom, which is two rooms away.
---
What About Free Apps You Can Download?
I recently wrote a giant review of 21 mobile universal remote apps for iOS and Android. The Harmony Hub came out on top based on my extensive research and testing.
The main issue with many of the apps is that interface is just horrible. Here's an example of one of them:
Yikes….where do you begin?! Perhaps the "GREEN" button? LOL.
Even the more popular iPhone universal remote apps are super non-intuitive and loaded with too many features to be useful.
This is the biggest reason that we recommend the Harmony Hub.
---
Is the Logitech Harmony Hub Worth It?
If you don't think you will miss the feel of raised buttons on a physical remote, I would say yes the Harmony Hub is absolutely worth it.
You can always add a remote to the Hub later.
If you are addicted to your phone and concerned about keeping the app open, consider installing the Harmony app on a dedicated tablet. The prices have come way down on tablets over the last year so it makes it affordable.
You can see the latest pricing of the Harmony Hub on Amazon by clicking on the badge below.
---
Harmony Hub Review: What Do You Think?
I hope you found my Logitech Harmony Hub review helpful.
Do you agree with our assessment that this is the best universal remote app you can get today for your iPhone or Android device?  Or perhaps there is another universal remote that you like better?
Either way, would you leave us a comment below and let us know?
We love to hear from our readers.
By the way, if you liked this article or any article in our blog, would you mind giving us a quick share on social media? You can use the buttons at the top and bottom of this page.
Thanks so much for your support!
---
Related Links
If you enjoyed this Logitech Harmony Hub review, you might also like some of our other posts:
---
My Harmony Hub Review.. Please Social Share?
If you got some value from this Harmony Hub review, would you mind giving us a quick share on social media?
It just takes a minute, and you can use any colorful social media buttons along the top and near the bottom of this page.
Thanks! This really helps to spread the word about our blog and gives us a little boost in search engine rankings.
---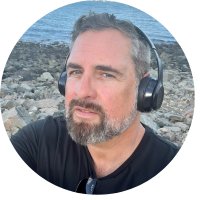 Tim Brennan is a technology blogger and hosts the @TecTimmy YouTube channel. He writes about smart homes at oneSmartcrib, home theaters at UniversalRemoteReviews, and AI in writing at Writeinteractive. A graduate of Northeastern University School of Journalism, he has written about technology for 30 years. Tim lives on the ocean in Nahant, Massachusetts.