In the article, I'll help you fix Fire TV Cube Black screen issues that can appear intermittently for a few seconds every so often during programming that it making it virtually unwatchable. Sometimes, the Black screen can get stuck, and the program becomes completely frozen. No Bueno!
Editor's Note: While many of the fixes I pose here will likely also work for Amazon Fire TV Stick, this post specifically addresses the common Fire TV Cube black screen issues. I own the Cube and have tried all of the fixes here. My Fire Stick is sitting in a drawer collecting dust, as I like the Cube's hands-free voice control with Alexa better than the little streaming stick.
---
Fire TV Cube Black Screen of Death
L
ast night, I was binge-watching Marvel's
Agents of Shield
on Netflix on my Amazon Fire TV Cube when suddenly, it happened. Just seconds before Skye (or is it Daisy?) was about to
quake
some poor android's face off, the entire screen blacked out. I mean, we are talking about full-on TV-off black people. One second, two seconds…..annnd we're back. Huh? I thought that was weird. At first, I chalked it up to a
Netflix
blip or maybe some weirdness with my Wi-Fi network internet connection.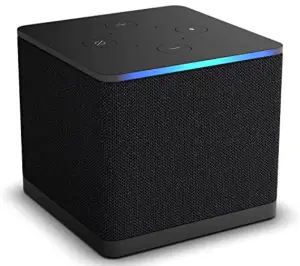 But nope.
It happened again after a few minutes. And then after one minute. And again, after a few minutes more. Now I'm thoroughly annoyed. What is an unabashed Marvel nut to do?
I simply told Alexa to switch over to my new Disney+ app and Play the Falcon and the Winter Soldier instead. Sure enough, after a few minutes of watching the new Captain America sling the old Cap's shield, the blackout occurred again. I also tried Amazon Prime Video and the same problem occurred.
And again. Grr. After a few more minutes of switching around from my Fire TV Cube over to my Roku and then directly to the Netflix app on my Samsung smart TV, I diagnosed that the issue is isolated to my Fire TV Cube.
Since the Cube is by far my favorite streaming device, this had me obsessing over a fix to get Alexa streaming for me again. Turns out this is a common problem with the Fire TV Cube and Firestick. Here's what I found after searching high and low over at Amazon, Reddit, and popular streaming Facebook groups and forums.
📚 Related: Fire TV Cube 2021 vs 2019 Model
---
Troubleshooting Table: 5 Things to Try
The five methods below are the five easiest ways I have identified to resolve Fire TV Cube black screen problems with your Fire Cube / Fire Tv box.
---
Method 1: Reboot Fire TV Cube
The first method in troubleshooting Fire TV Cube black screen problems is to simply restart your device.
Video
Here is a short video I made that shows you how to do this using your remote.  Can't find the remote?  See the procedure below.
📚 Related: How To Fix YouTube on Firestick
Procedure
If there is a temporary power glitch to your Fire TV Cube, sometimes all you need to do is simply restart the Cube.
Here's how to do a full restart:
Pull out the power adapter from the back of your Cube (or the Cube power cord from the wall outlet, if easier). Wait a good 10-20 seconds, then plug it back into the power supply.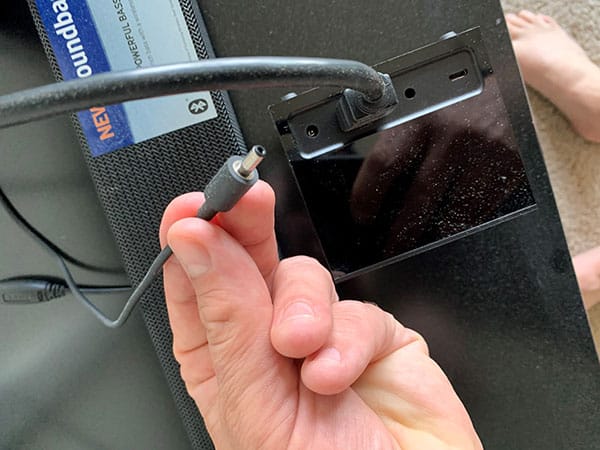 Note: Alternatively, you can hold the remote's Select and Play / Pause button at the same time for five seconds to reboot the device (see my video above).
Amazon then recommends that you verify that the TV is on (doh!) and set to the correct HDMI input channel. For me, this is HDMI 2. Here is what that looks like on my Samsung TV.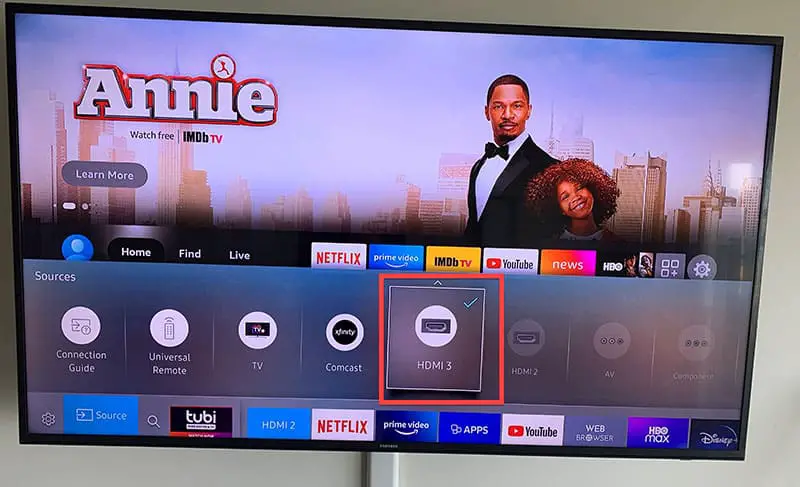 You should also make sure all your A/V devices, v receiver, and soundbars are turned on. This will rule these out if there is a dependency in your setup.
Next Steps
Did this solve it? If so, skip down to my conclusion at the end. If not, let's try the next method.
📚 Related: Best Universal Remotes for Amazon Fire TV
---
Method 2: Update Fire TV Cube Firmware
The 2nd Fire TV Cube black screen troubleshooting method is to ensure you have the latest Fire OS version on the device.
Video
Here is a short video I made to help you confirm you have the latest version.
Procedure
As demonstrated in the quick video that I took above, updating the Firmware on your Fire TV Cube to the latest Fire OS version is super easy.
From the home screen, go to the Settings icon on the far right [it looks like a gear]. This will take you to the Settings menu. If you are not already at the home screen you may need to hit the home button or back button to go there first,
Click About.
Select Check for Updates.
Click Install Update.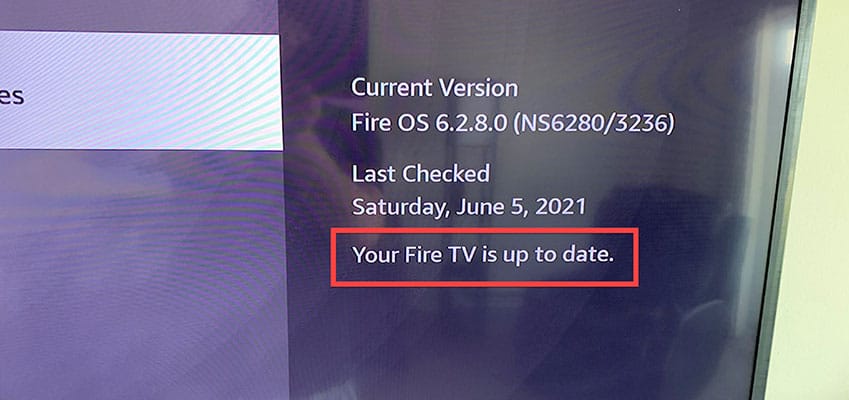 If an update is available Fire TV Cube will install the update to the latest version and also update the timestamp on the right. You just want to make sure it says "Your Fire TV Cube is up to date."
📚 Related: Fire Tv Cube Specifications: 2nd Gen Cube
---
Method 3: Turn Off HDMI CEC
The next Fire TV Cube black screen troubleshooting method is to turn off the HDMI CEC setting.
Video
I made this short video to show you how to do this in under a minute.
Procedure
HDMI CEC is s standard that allows additional HDMI commands such as Fire TV Cube to be woken from sleep. Some users have reported that disabling this resolved the black screen problem:
To disable HDMI CEC on your Fire TV, do the following steps:
From the main menu, go to the Settings icon on the far right [it looks like a gear].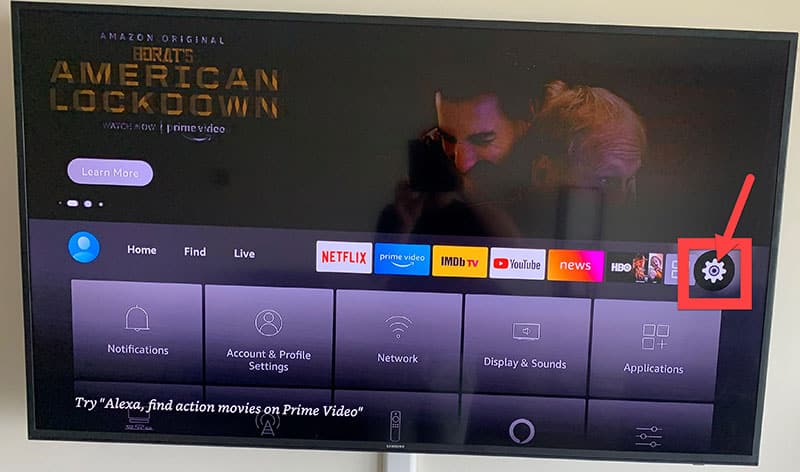 Go to Display and Sounds.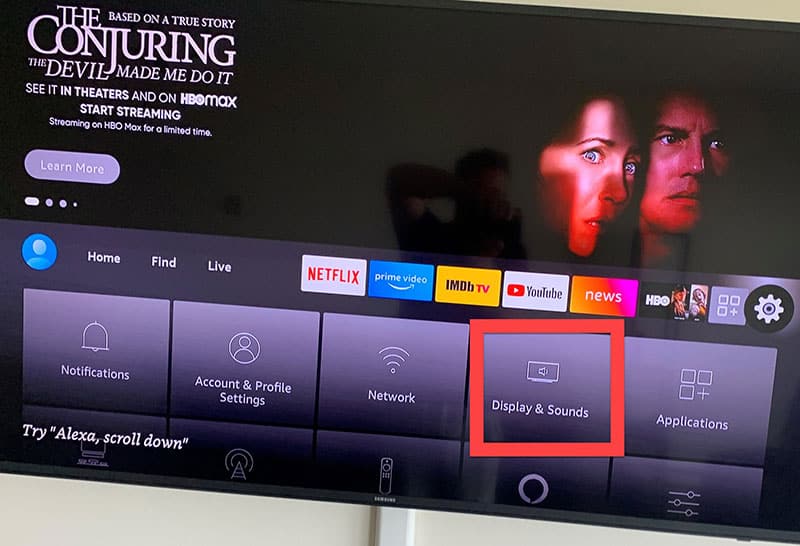 Click on the HDMI CEC Device Control button to toggle it Off. Your screen should look like this: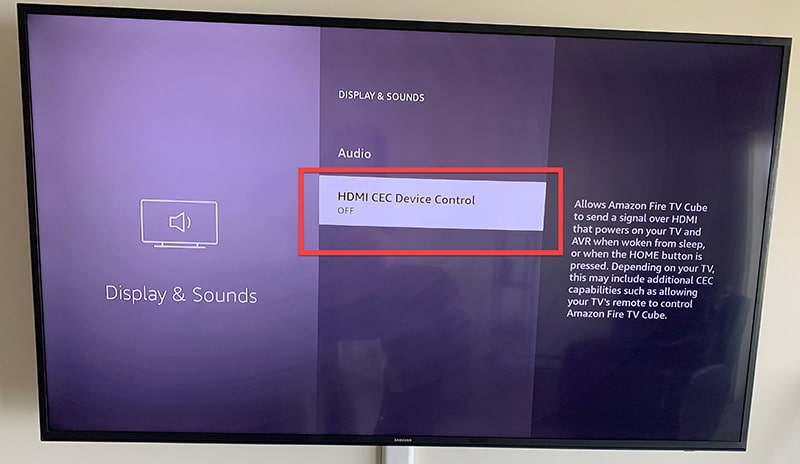 ---
Method 4: Replace Your HDMI Cable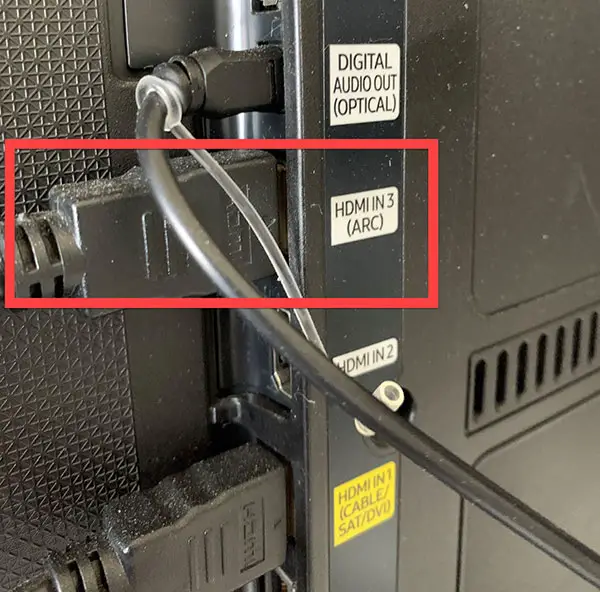 Pro Tip: Before you full-on replace the cable try using Amazon's official HDMI extender. The Cube does not ship with an actual HDMI cable, which is annoying. Attach the extender that came with your Cube to your existing cable and the other end to your tv's HDMI port.
If this doesn't work, I suggest you replace the HDMI cable that you have funning from your Fire TV Cube to your TV. This is the only step that worked for me. I bought a newer HDMI cable over at Amazon, replaced my existing cable, and it worked like a charm. No more black screen of death! Here is the cable I went with:
I am now several episodes back into Agents of Shield with no more blackouts. I will update this post immediately if this changes for any reason.
In my case, all signs point to a faulty HDMI cable. In retrospect, this makes sense as I was using an older cable that came with my kids' old PS3 game console.
---
Method 5: Contact Amazon for a New Device
If replacing the HDMI cable didn't work and you haven't completely lost patience yet, you can check out the Amazon links on the Fire TV Cube support page for more troubleshooting steps and videos.
As much as I hate to tell you this, there is one final option that others have reported as the cause of the Fire TV Cube black screen issue. That is, your Fire TV Cube could be faulty.
In all of my troubleshooting and research, this is the rarest issue by a long shot, but a few have complained that this is the only way they could get resolved.
If you have tried all of the above steps, and nothing is working, write to Amazon support. Interesting, there is no way to contact them directly at the support page above. The online technical support is super hard to find on the Amazon site but here is the link to chat with a live agent at Amazon.
You can get product support for your Fire TV Cube via this chat.
Explain to the Amazon agent that you tried all of these recommended fixes and nothing is working and you would like them to replace your fire TV cube. Others have had good success with Amazon shipping them out a replacement right away.
---
Fire TV Cube Black Screen: What Worked For You?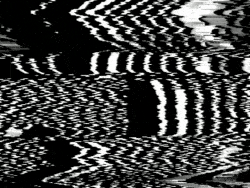 So, were you able to get that annoying Fire TV Cube black screen to go away?
Which method did you try? While the easy methods have worked for some for both Amazon Fire Stick and Cube, it seems that the most likely scenario for many has something to do with a faulty HDMI cable or connection.
Replacing my old cable with a new HDMI cable worked for me. I hope this issue doesn't resurface again.
Please leave a comment below and let me know. Other readers here may find your solution helpful as well.
Until next time, enjoy your Fire TV Cube! This really is my new favorite remote control around.
📚 Related: Alexa Fire TV Cube Commands List