Affiliate Disclosure
As an Amazon affiliate, I earn from qualifying purchases.
In this blog post, I'll show you the latest methods on how to fix YouTube not working on Fire TV Stick. This includes black screen issues,  buffering, flickering, restarting, and more.
The most common problem with YouTube not working on Fire TV Stick is the YouTube app getting hung up. To force a YouTube restart go to Fire TV Settings > Applications > Manage Installed Applications > Force Stop; this stops the app completely and allows you to restart it.  If this doesn't work, check your Internet connection.
If these suggestions don't work, it could very well be something else. Read on and I will help you troubleshoot the most common issues step by step.
YouTube on Firestick Rocks Unless …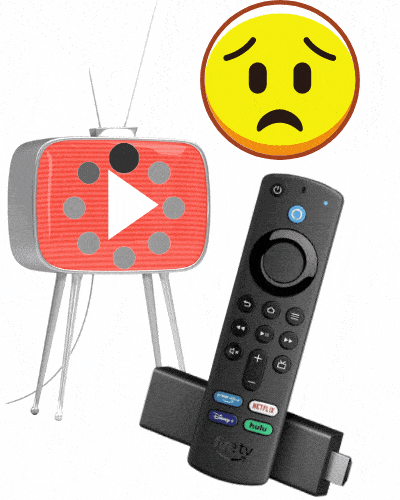 Do you enjoy watching your favorite YouTube channels on your Fire Stick after a long day of work at home or the office?
I know I do. In fact, I watch even more YouTube than network television or even Netflix these days.
However, what do you do if you happen to get an annoying "buffering" screen? Or what happens when (gasp) YouTube stops working on your Firestick altogether?
In this article, I'll show you how to fix these issues quickly and easily so you can get back on the road to YouTube bliss.
---
The Most Common Types of Errors You May Encounter
Playability Issues: Black screens, video continuously buffering, unable to start a video.
Audio issues: Lip desync (YouTuber's voice falls out of synch with mouth movement), no sound entirely, low volume.
YouTube application errors: Unable to start up YouTube altogether, the app closes unexpectedly.
Visual issues: Skipping, low frame rate, low resolution.
If you are unable to find YouTube on your Amazon Fire Stick that may be because you're Fire Stick is first-generation, and it is unable to support YouTube. However, since Google and Amazon have settled their legal disputes, YouTube can be found on most Fire TV devices now.
📚 Related: How to Fix a Fire TV Cube Black Screen
Next, let's take a closer at my six methods on how to fix YouTube not working on Fire TV stick.
---
Method #1 – Check your Internet Connectivity / Network Status
Check your phone or other devices on your Wi-Fi network and observe whether they are showing any signs of being negatively affected by your internet connection.
If you have discovered that your internet is indeed the problem, you may have to restart your router. This can be done by unplugging your router for a full 30 seconds and then plugging it back in.
I also suggest (If possible) connecting an Ethernet cable to your TV directly. This will provide a faster and more secure connection.
If you have restarted your router and are still experiencing networking issues, I advise contacting your internet provider as soon as possible.
Pro Tip: You can also check the YouTube server status; it may be down in your area. This is rare but you can check if YouTube is down using the Downdetector site.
---
Method # 2 – Make Sure Your Fire Stick is Up to Date
Having your Fire Stick's software up to date is very important to make sure your system runs optimally. Not only does it assist in stopping apps from crashing, but it also helps with network stability when using your device.
Head into the Settings and select My TV.
Next, select About. You will see the options Check for Updates, and Install Updates.
---
Method # 3 – Restart Your Amazon Fire Stick
You can also try restarting your Firestick. This has cleared up oddball YouTube problems on Fire TV Stick for many users out on the Fire TV subreddit.
The easiest way to do this is to unplug the adapter for 10 seconds, and then plug it back in.
Another method to restart your Amazon Fire Stick is to go into the device's settings, select My Fire TV, and then select Restart.
📚 Related: 7 Best Remotes for YouTube TV
---
Method # 4 – Force Stop, Clear Data, or Clear Cache of the YouTube App
Check whether or not the YouTube application needs attention. By going into the application settings on your Fire Stick, you can try any of the following: Force Stop, Clear Data, and Clear Cache.
Force Stop – Stops the app completely and allows you to restart it. This is ideal for buffering situations. This could very likely fix your problem.
Clear Data – Clears login details and other data associated with the app. This can be used if you are experiencing weird errors when you try to log in.
Clear Cache – This will remove any cached files on the Fire Stick that the app requires for it to work such as local copies of videos, thumbnail images, etc.
Daniel+John have a nice YouTube video that goes over all of this step by step:
---
Method # 5: Uninstall and Reinstall the YouTube App
If none of the above steps has fixed the issue, you can try uninstalling and then reinstalling the YouTube Application.
?️ Note:  If you uninstall the app, YouTube won't remember your login details, and you will need to log in again.
To uninstall and reinstall the YouTube app:
Go to Settings > Applications > Manage Installed Applications.
Select Uninstall.
Visit the Appstore (Settings > Appstore), select YouTube, and reinstall it.
📚 Related: How to Install Google Chrome on Firestick & Cube
---
Method # 6 – Factory Reset Your Fire Stick (Last Resort)
If you have exhausted all other options, do the following to reset your Fire TV Stick:
⚠️ Important: You will lose any customizations that you have made to your Fire Stick since you bought it. Returning your Fire Stick to factory settings will remove all of your downloaded content, accounts, saved settings, and in-app purchases.
?️ Note: The resetting process takes a few minutes to complete.
Go into the Settings on your Fire TV and scroll until you see My Fire TV. (If you have an older device, it will be labeled either Device or System.)
Once you click on My Fire TV, go to Reset to Factory Defaults.
Click Reset.
An alternative method to reset your Amazon Fire Stick is to hold the
Back
button and the
Right Side of The Navigation Circle
for 10 seconds.

📚 Related: What Universal Remotes Work with Firestick?
---
Frequently Asked Questions (FAQ)
Q: How Do I Get Help with a Faulty Fire Stick?
A: If you have tried all of the above and you still can't get YouTube to work or you are experiencing more general Fire Stick problems, you may have a faulty Firestick. Try contacting Fire TV Stick Support at Amazon for help.
---
Q: How Do I Know if YouTube Servers are Active?
A: You can check YouTube's servers on websites similar to "Downdetector" and "Isitdownrightnow". These websites monitor different server statuses and collect issued reports letting people know if a site is up and running.
---
Q: What is Amazon Fire TV's Internet Speed Requirement?
A: There isn't a set internet speed requirement. However, there are recommendations from the developers. These recommendations are dependent on what exactly you are trying to stream. If you are trying to stream high-definition videos, it is recommended that you have an internet speed of five megabits a second. If you are trying to stream in standard definition, you only need an internet speed of three megabits a second.
📚 Related: How to Install Sportsdevil on Firestick
---
YouTube Not Working on Fire TV Stick: Mission Accomplished?
I hope this guide helped you to quickly troubleshoot and solve any issues you may have encountered with fixing YouTube not working on Fire TV Stick.
Did any of my methods on how to fix YouTube not working on Fire TV Stick solve your problem? If so, which one?
Please leave me a comment below and let me know. Now go and get back to watching your favorite YouTubers! And while you are at it, why not subscribe to my YouTube channel? I do lots of videos about Fire TV Stick, Fire TV Cube, and other streaming devices over there. Cheers.
"See you in the next one!"
📚 Related: Fire TV Cube 3rd Gen vs 2nd Gen vs 1st Gen
---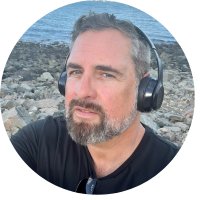 Tim Brennan is a technology blogger and hosts the @TecTimmy YouTube channel. He writes about smart homes at oneSmartcrib, home theaters at UniversalRemoteReviews, and AI in writing at Writeinteractive. A graduate of Northeastern University School of Journalism, he has written about technology for 30 years. Tim lives on the ocean in Nahant, Massachusetts.