Affiliate Disclosure: As an Amazon Associate, I earn from qualifying purchases. Learn more.
⚠️
Dear Readers:
On April 10, 2021, Logitech announced they will cease manufacturing new Harmony remotes.
However, they will continue to support the remotes "as long as customers use them."
Remaining stock is limited, so if you want a Harmony remote,
grab yours now
.
In this article, I present a mondo-sized list of the best and most common Logitech Harmony Alexa commands for 2021. I'll include lots of examples that I (oddly) couldn't find anywhere else on the web.
Which Harmony Devices Are Compatible With Alexa?
Logitech classifies it's Harmony remotes in one of three categories.
Hub-based remotes
Infrared remotes
New Harmony Express remote
Alexa commands will work with 1 and 3, but not 2. This article covers commands for the more popular Hub-based remotes like Harmony, Elite, Companion, Smart Control, Pro, Hub, and Ultimate Home. I'll write a separate post covering special commands for Harmony Express soon.
---
Smarter Voice Control
When it comes to voice control, Logitech Harmony remotes have gotten smarter over the past year. Harmony's Hub based remotes now support a ton of commands for both Alexa and Google Assistant.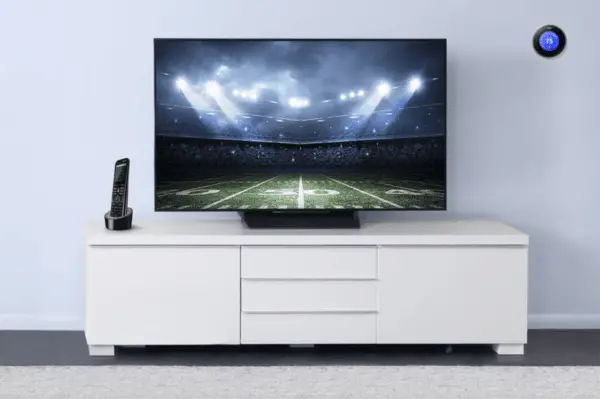 You can use your voice to do things like:
Turn on the TV
Adjust the volume
Launch activities such as Watch a Movie or Date Night
Tune to Favorite channels
Control streaming media boxes like Roku, Apple TV, Fire TV, and Chromecast
Oh, and if you want an Alexa remote on steroids, check out my review of Logitech's new Harmony Express remote. Logitech generously sent me a fresh one to review and am looking forward to unboxing and setting it up this week.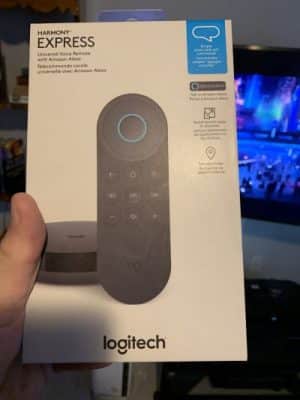 ---
A Superior Alexa Experience
Harmony's Alexa skills have gotten smarter too. It used to be that you had to say "Alexa tell Harmony to turn on the TV." Boo. Thankfully, this is no longer the case. You can now just say the abbreviated command "Alexa, turn on the TV," and she does it for you. Thank you, Logitech. This is a way better user experience in my opinion.
DIY Smart Home Guy has a nice video that walks you through setting up friendly names for Harmony Alexa commands so that you can even do this using older Harmony technology:
There is still one caveat though for many commands.
After an Activity has been running for 20 minutes, you'll need to specify your device. For example, "Alexa, turn up the volume on my TV".
Still, that's easy enough and less awkward than the whole "Ask Harmony" thing.
Ok, I've kept you in suspense long enough! Let's get you those commands. Rather than provide one giant list, I'll organize them in a few tables way that makes them easy to parse. Please social share if you find this helpful as others might too. Thanks!
---
My Big List Of Harmony Alexa Commands
After scouring the web and Logitech's support website, I hard a hard time finding a comprehensive list of Harmony Alexa commands.
And like a lot of things that have to do with Harmony remotes, there is a TON of conflicting and outdated information.
So, I said, what the heck, I'll make one myself!
I will do my best to keep this up to date.  If something isn't working, please leave a comment and I will update this article ASAP.
Here are those commands.
---
Controlling Your TV Power and Volume
Probably the coolest thing about Harmony remotes is that you can use Harmony Alexa commands to control the TV itself! Try these commands:
To Do This ...
Say This to Alexa ...
Turn on the TV
"Alexa, Turn on the TV."
"Alexa, Turn on Bob."
(You can substitute a "friendly" name for any TV.)
Turn off the TV
"Alexa, turn off the TV."
"Alexa, Turn off my Samsung TV."
Turn Up the Volume
"Alexa, turn up the volume."
"Alexa, raise the volume."
"Alexa, increase the volume."
"Alexa, Turn up the volume by 10 (scale is 1-20)."
"Alexa, Turn up the volume on my TV."
Turn Down the Volume
"Alexa, turn down the volume."
"Alexa, decrease the volume."
"Alexa, lower the volume."
"Alexa, Turn down the volume by 3."
Adjust the Volume
"Alexa, set the volume to 5."
Mute
"Alexa, mute."
"Alexa, mute my TV."
Unmute
"Alexa, unmute my TV."
---
Controlling Harmony Activities
Activities are where the real magic happens with Harmony remotes.
To control Activities, you must use "turn on" or "start" to do so, unless you set a friendly name for that activity. . For example, "Alexa, turn on the TV". Commands such as play, pause or saying the name of the Activity will not work (e.g., "Alexa, watch tv" will not start your Watch TV Activity) unless you set the friendly name. Once you set the friendly name, you can say:
"Alexa, Watch TV."
"Alexa, Watch a Movie."
"Alexa, Listen to Music."
"Alexa, Play a Game."
---
Switching Streaming Media Players and Devices
You can also use Harmony to control your favorite home entertainment devices, streaming services, and even video game consoles.
To Do This ...
Say This to Alexa ...
Switch Streaming Media Players
"Alexa Turn on Apple TV."
"Alexa, Turn on Roku."
"Alexa, Turn on Fire TV."
"Alexa, turn on Netflix/Hulu/HBO."
Go to another Device
"Alexa, Turn on Blue Ray Player."
"Alexa, Turn on the Xbox."
---
Changing Channels
After launching a "Watch TV" activity you can tune directly to a channel. You can tune to a Favorite station or call out a specific channel.
Note: The names you use should match whatever custom name or "friendly" name you gave them in the Harmony app. Again, you can only change channels after you already used one of the "turn on" commands above).
To Do This ...
Say This to Alexa ...
Go To a Specific Cable TV Channel
"Alexa, Turn on the SciFi Channel."
"Alexa, Turn on Destination America."
"Alexa, Turn to NBC."
"Alexa, Turn on ESPN."
"Alexa turn on Channel 25."
"Alexa, turn on CNN."
"Alexa, turn on SciFi."
Go to a Specific Channel on a Service
"Alexa, turn on CNN on PlayStation Vue."
Alexa, turn on ESPN on Hulu."
"Alexa, turn on HBO on Prime Video."
Change Channel Up/Down
"Alexa, change to channel number 3."
"Alexa, Channel up."
"Alexa, Channel down."
"Alexa, Channel up on Sonos."
"Alexa, Channel down on my TV."

---
Opening Netflix, Prime, Apple TV, Roku, & Disney+
Netflix remains one of the most popular streaming media services out there, although other services like Amazon Prime, Apple TV, and Disney+ have been gaining ground. Many consumers now have multiple devices and subscribe to more than one streaming media service.
| To Do This ... | Say This to Alexa ... |
| --- | --- |
| Open Netflix | "Alexa, turn on Netflix." |
| Open Apple TV | "Alexa, turn on Apple TV." |
| Open Roku | "Alexa, turn on Roku." |
| Open Disney+ | "Alexa, turn on Disney+." |
---
Controlling Playback
These commands work on Netflix, Roku, Apple TV, Disney+ as well as other streaming devices and services that support streaming and playback:
To Do This ...
Say This to Alexa ...
Play / Pause /Stop Playback
"Alexa, Play/Unpause/Resume."
"Alexa, Pause."
"Alexa, Stop."
Rewind and Fast Forward
"Alexa, Rewind 30 seconds."
"Alexa, go Back 50 seconds."
"Alexa, go Forward two minutes."
"Alexa, skip Forward 20 minutes."
Go Back to Start
"Alexa, watch this from the beginning."
Skip to Next Episode
"Alexa, skip to next episode."
---
Favorite Harmony Alexa Commands I Missed?
Do you have a favorite Harmony Alexa command that I missed?  Is one of the commands listed here not working quite right?
Please leave me a comment below and let me know.
I'm happy to help you troubleshoot, and I will gladly update this post if it makes sense.
Also, what do you think of my list of commands?  Comprehensive enough to get you going?  Again, I hope you will please leave me a comment and let me know.
---
Troubleshooting and FAQ
Q: What if the Alexa Harmony skill is not working?
A: If Alexa, isn't recognizing your commands at all, ensure you've enabled the Harmony skill inside the Amazon Alexa app.
Chris Majestics has a nice video that shows how to set this up. Note that the video is a bit dated and uses the old command structure but the setup process is essentially the same.
You should also make sure your Harmony and Alexa are running the latest firmware. You can get the scoop on the latest firmware for Harmony here and firmware for Alexa here.
Q: What Harmony is not responding to Alexa?
A: OK, I'll be the first one to admit that there is a "timeout" that can be a bit frustrating, though I understand why this happens technically.
After 20 minutes of use, you'll need to directly specify a device name to do certain things like control its volume, for example. I.e., "Alexa, turn up the volume on Samsung TV."
Q: What If Alexa is unable to control the volume?
A: Ensure that Alexa doesn't have multiple smart home devices with the same name. For example, ensure the Alexa app > Menu > Smart Home does not list any devices with duplicate names such as "TV" and "Tv" — forget any unnecessary duplicates.
Q: Are there any special Directv commands?
A: There have been some Alexa integration issues reported with DirecTv. However, I don't have this myself to test and Logitech says it is compatible with Hub based remotes.  If you have Directv and have been successful in using Alexa with Harmony will you please leave a comment below and let us know. Thanks!
Q: What if I am having trouble linking Harmony with my Alexa account?
A: If you receive an error message or have other issues while linking, use the Amazon Alexa website to add the Harmony skill:
Sign in to your Amazon account on alexa.amazon.com.
Search for Harmony and select the blue skill.
Select ENABLE and sign in to your Harmony account.
---
Related Reading
If you enjoyed this post, you might also like:
Harmony Elite Review 2021: 10 Reasons This Remote Rocks
Harmony Hub Review 2021: A Killer Smartphone Remote App!
Alexa Fire TV Cube Commands List [2021 Cheat Sheet]
15 Best Logitech Harmony Accessories
7 Best Universal Remotes with Voice Control 2021 Buying Guide
---
About the Author
Tim Brennan, Technical Writer & Blogger
Tim Brennan [a.k.a. "Tec Timmy"] is a senior technical writer with over 25 years of experience writing for companies and organizations in and around Greater Boston, including GE and MIT. In addition to actively writing about universal remotes, Tim is also a regular contributor over at oneSmartcrib.com, a smart home blog. Tim holds a BA in Journalism from Northeastern University. Brennan is a father to two sons, a Star Wars nut, and loves a good taco🌮. There is a strong chance he is developing a crush on Amazon Alexa. You can learn more about Tim here.