Affiliate Disclaimer
As an Amazon Affiliate, we earn from qualifying purchases.
In this post, I am pleased to share the five best universal remote apps for Roku streaming devices you can get right now.
The five best universal remote apps you can get for Roku are:
Can You Control Roku Using Your Phone?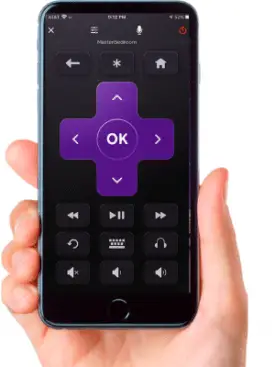 Roku is one of the leading TV streaming devices. While Roku streamers often come with remote control, sometimes you want a little bit more functionality than that little gadget provides.
Sometimes you may have just lost your Roku remote. Thankfully, there are plenty of universal remote apps that you can pair up with your Roku.
A universal remote app can be downloaded to your cellphone or tablet. Once you have it paired up with your Roku, you will be able to control your Roku just like you had a physical remote in your hand.
Wait. No. Scratch that.
Sometimes these universal remote apps come loaded with so many features that they actually perform better than a hard Roku remote control.
📚 Related: 21 Best Universal Remote Apps
And if you decide that you don't want to deal with an app but rather replace a lost Roku remote control, I'll include a link to the official Roku remote over at Amazon in the box below.
Roku Voice Remote (Official) for Roku Players, Roku TVs and Roku Audio
Take control of your Roku media player with the Roku Voice Remote: The easy-to-use Roku Voice Remote with TV controls is ideal to replace or upgrade the remote for your Roku TV, Roku player, or Roku Streambars
Great for Roku TVs: Compatible with all Roku TV brands such as TCL, Hisense, Sharp, Element and Hitachi
Last update on 03/31/2023 / Affiliate links / Images from Amazon Product Advertising API
---
#1 – Robyte Universal Remote App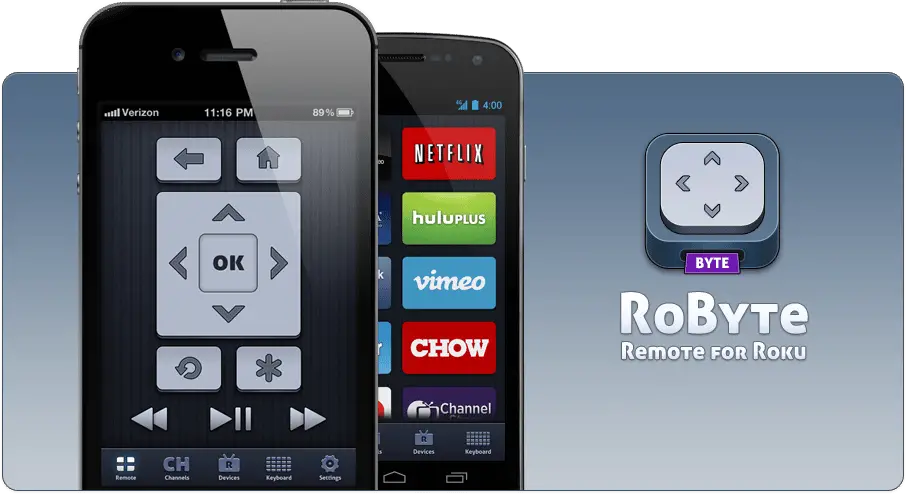 Robyte has fast become one of the leading universal remote apps for Roku.
If you pick up the free version of Robyte, then you will have access to a basic Roku remote control. This includes the ability to play, pause, and forward/rewind the content that you are watching.
If you upgrade to the premium version of Robyte, then you have one of the best universal remote apps. You can easily switch between channels. You can control the volume on your Roku. You can use text/voice search, and you can even add widgets to your home screen (if you use Android), so you don't have to boot up the app every single time.
No matter whether you get to the free or premium version of Robyte, you can still hook it up to multiple devices. Oh, and you know what the best part is? It takes barely any set-up. As long as your Roku is on the same Wi-Fi network as the app, then it will automatically find and pair it up!
Pros:
Control multiple Roku devices.
Highly responsive app. Your Roku will be controlled with no delay.
Both voice and text search.
Cons:
Best features are locked behind a paywall.
Some features (Android Wear, widgets, etc.) not available on iOS.
---
Price
Free for basic universal remote functions. You have to pay for premium features such as widgets, search, channel switching, and volume controls.
Compatibility
Robyte is available for both Android and iOS devices. It is not available for Kindle Fire devices.
📚 Related: 15 Best Remote Control Apps for Android
Download
You can pick up Robyte from either the Google Play or App Store. Just tap in 'Robyte' and away you go. Alternatively, you can head to http://tinybyteapps.appspot.com/robyte/ and download from there.
Last update on 03/31/2023 / Affiliate links / Images from Amazon Product Advertising API
---
#2 – SURE App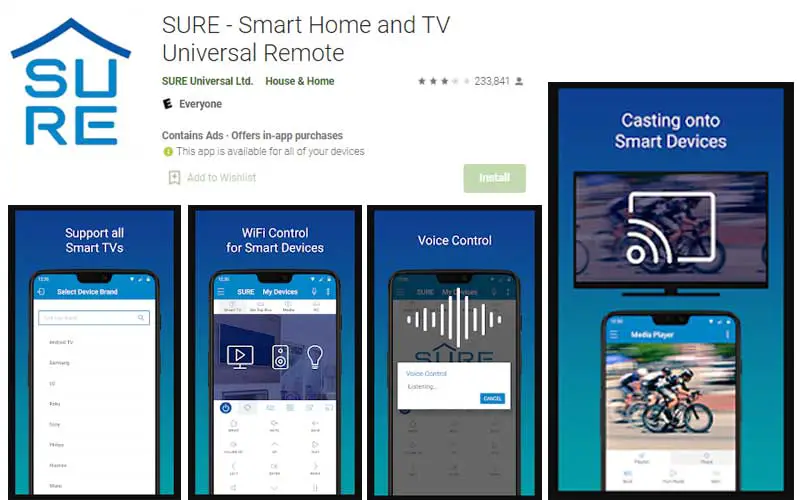 SURE is an app that manages to pack a ton of features into a small package. However, I must admit that not every single one of these features will be useful to those with a Roku. This is because SURE is a complete smart home app (control lights, speakers, etc.) with Amazon's Alexa built into it.
SURE has basic functionality with your Roku. This means the ability to switch between channels, play/pause, etc. Don't expect anything too complicated. In fact, about as complicated as it gets is the ability to stream media content to your Roku.
So, why did I include this app on this list? Well, it is all down to the inclusion of Amazon Alexa. It means that you can completely control your Roku with your voice. It is just a cool little feature, and it really helps to make SURE to the next level.
Pros:
Voice control with Alexa.
Easy to pair with your Roku.
Can control many things in your home, not just your Roku.
Cons:
The ads can be a little intrusive.
---
Price
The app is free, but it is ad-supported.
Compatability
SURE is compatible with both Android and iOS devices.
Download
Search for SURE – Smart Home and TV Universal Remote on your phone's app store.
---
#3 – TVMote Roku App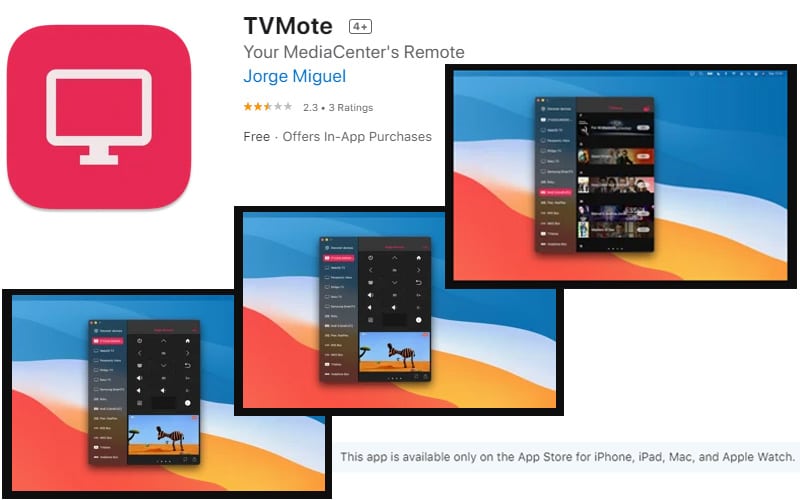 TVMote is an Apple-only Roku app. So, if you are looking for an Android app, then this one isn't for you. Although, I do want to point out that it was on the Google Play store at one point, but it has now been removed. I suppose that since TVMote comes from iOS developers, they figured they could make a better app by just focusing on one device.
TVMote offers a variety of features. This includes the ability to play/pause/skip and switch channels. It even has keyboard support with most Roku devices.
Setting up TVMote is a breeze too. it will automatically discover any compatible devices on your network. You can then complete the set-up with no more than a couple of taps of this screen.
I especially love the fact that it is compatible across a variety of iOS devices. This includes the ability to control your Roku from your Apple Watch. Talk about convenience!
Pros:
Free to use most features.
Compatible with all modern iOS devices.
Support multiple devices on the same remote (premium only).
Keyboard search functionality comes as part of the free package.
---
Price
The bulk of the app is free. It is ad-supported. If you upgrade to premium, then you can ditch those ads. You will also unlock additional features such as multiple device support.
Compatibility
TVMote is only available for Apple devices that run iOS. This includes Macs, iPhones, iPads, and Apple Watches.
Download
You can download TVMote from the Apple Store.
---
#4 – Official Roku TV Remote App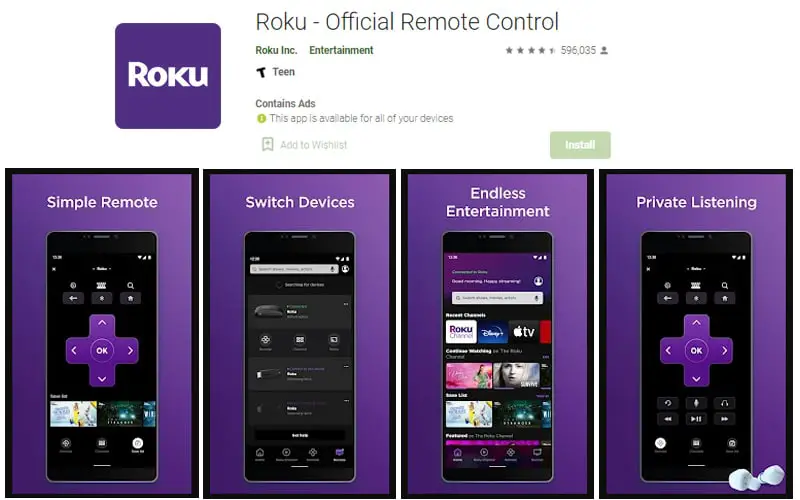 I suppose I had to include it. This is the official app for Roku.
Now, the Roku TV app is lacking in a few of the features that you may find in the other universal remote apps for your Roku (e.g., widgets, and the ability to customize the layout). However, because it has been built especially for Roku, it is probably one of the easiest apps to get running.
These are some of the best features to be found in the official Roku TV remote app:
Voice and keyboard controls.
Easily switch between channels.
Cast various media files to your Roku.
Easily add new channels to your Roku.
Private listening. Just plug in the headphones and your Roku will play through headphones instead. Perfect for when everybody is in bed.
Pros:
Official app means it works perfectly with Roku..
Offers private listening
Can manage your Roku in ways other apps won't allow you to manage it e.g. add new channels..
Regular updates.
Cons:
Lacks features that more 'universal' apps have.
---
Price
Free.
Compatability
Works with both Android and iOS devices.
Download
Search for 'Roku – Official Remote Control' on either Google Play or the App Store.
Video Review
Video credits by YourSixStudios
Roku
Use your phone or tablet as a remote control for your Roku device
Browse a hand-picked selection of great movies and TV shows using What's On
Last update on 03/31/2023 / Affiliate links / Images from Amazon Product Advertising API
---
#5 – Rokie Remote Apps for Roku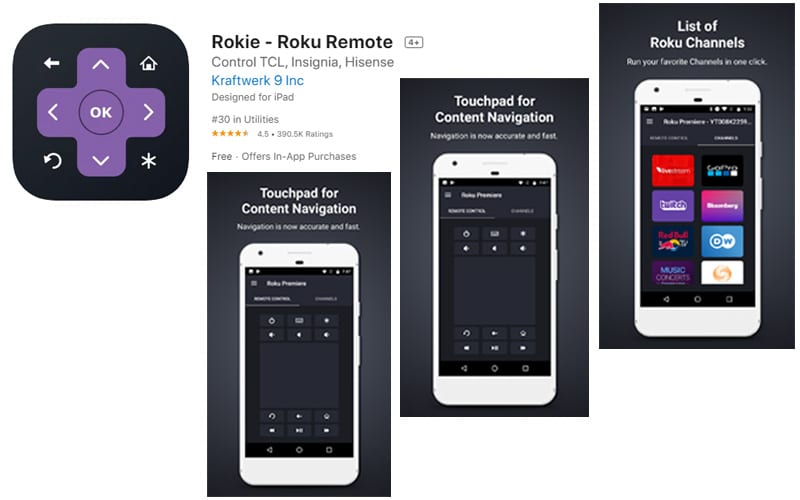 I want to wrap up with another app that is only available for iOS devices. Yes, I know I have included 2 iOS-only apps. However, I feel that Android users are going to be well-catered for by the other three apps.
I have included Rokie on this list because I absolutely love the large touchpad that you have in the app. It makes navigating on your Roku an absolute breeze. The fact that there is absolutely no lag (assuming your Wi-Fi network is working properly) helps to ensure that you don't get frustrated while using the touchpad controls.
You have plenty of features loaded into the Rokie app. Some of which are expected by now (e.g. the ability to switch between channels). However, there are some features the other apps don't have. One of my favorites is the ability to directly stream from YouTube to your Roku.
📚 Related: 7 Best Remotes for Roku Streamers
Pros:
Fantastic touchpad controls.
Stream YouTube videos easily to your Roku.
Keyboard search for most features (not YouTube).
Compatible with all Roku devices.
---
Price
Free, with premium purchases in the app.
Compatability
Works with iPhone, iPad, and Apple Watch.
Download
You can download Rokie from the App store
Video Review
Video credits by App Reviews & More
No products found.
---
Best Universal Remote Apps for Roku: Wrapping It Up
So, there you have it. After a ton of research, I really think I have managed to come up with the absolute best list of universal remote apps for Roku. Do you agree with my list?
If you do download any of these apps and love them (or hate them), then please leave me a comment below. I would love to get your feedback. After all, my experience with an app may be different from yours.
Want to tell your friends about the best universal remote apps? Great! Please consider sharing this article via the colorful social media sharing buttons along the top of the page!
And by the way, I also just updated my post on the best remotes for TCL TVs and Roku TVs if you are interested in a physical remote.
📚 Related: All GE Remote Codes for Roku