Affiliate Disclosure
As an Amazon affiliate, I earn from qualifying purchases.
In this blog post, I will shine a light on the five best remote apps for Hisense TVs that you can get right now.
Here are my choices for the five best remote apps for Hisense TVs (universal and replacement):
---
Is There a Remote App for Hisense TVs?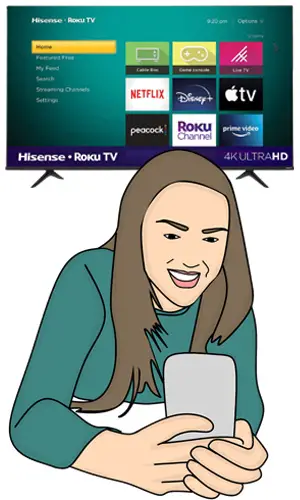 Hisense is one of the leading smart TV brands, which has continuously delivered high-quality, affordable products to its customers.
One great benefit of Hisense TVs is that you can supplement the remote that ships with the TV with one of the best universal remotes for Hisense TVs to consolidate the number of remotes you use.
Did you know you can also control your Hisense TV with a remote that runs on your smartphone? It's true!
Whether you are tired of cluttering up your sofa chair with several remotes or have lost your TV controller, you have come to the right place.
Over the past several months, I have tested and blogged about dozens of these remotes, and I'm confident in my top picks here for your Hisense TV. I'll give a  little overview of each option along with the pros and cons of each to help you choose the best app that conforms to your binge-watching needs.
So without further ado, let's get started!
📚 Related: All of the Ge Remote Codes for Hisense TVs
---
#1 – Best Overall: BroadLink RM4 Pro
💰 Price – $$ (See below)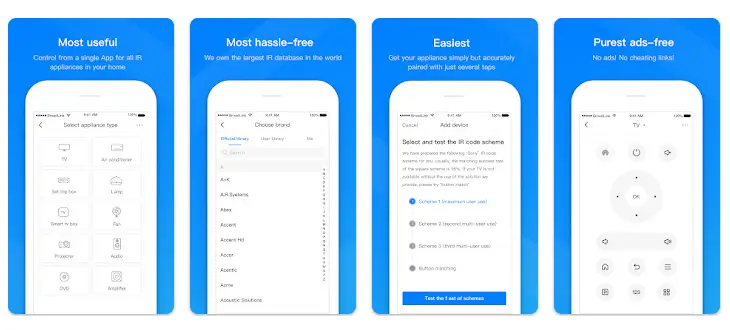 First on my list of the best remote apps for Hisense TVs is the BroadLink RM4 Pro device which allows you to control your Hisense TV through the app or by Google Assistant or Alexa.
I use this app to supplement my universal remotes, and I love how I can integrate and set up routines that work with my smart home.
While it isn't free, this device is straightforward to navigate and set up. Place it anywhere within sight of the appliance you want to control, and viola! You are ready to feel the smart TV experience.
The most attractive feature of this RM4 Pro by BroadLink is its ability to support an extensive range of devices. From TVs, speakers, and cameras to fans and heaters to smart lights and blinds, BroadLink can control anything and everything!
Hub & App with Temperature Sensor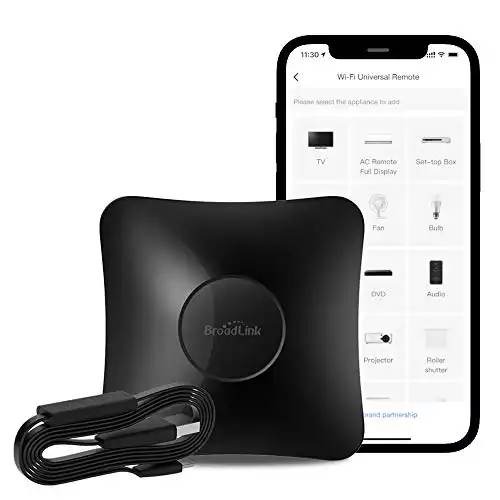 BroadLink RM4 Pro Smart Remote with Sensor Cable
RM4 Pro and HTS2 Sensor Accessory that integrates the functions of temperature and humidity sensors.
Support RF (433MHz) controlled devices such as curtain/shades motor, projector, and light switch; Support 50,000+ IR controlled devices such as TV, STB, Air conditioner, Fan, Video Recorder, DVD, and more; Does *not* work with Bluetooth devices.
Check Price
Pros
Reasonable price for a lot of functionality.
Voice-control feature works with Alexa and Google Assistant.
Operates on a wide variety of devices.
Cons
No free version.
Setup can take a while.
Requires line of sight to your devices in order to work properly.
---
Where to Get It?
Once you purchase the hub, you can download the app from the following locations:
Download for iOS: Apple App Store  |  Download for Android: Google Play
---
#2 – Solid Runner-Up: RemoteNOW
💰 Price – Free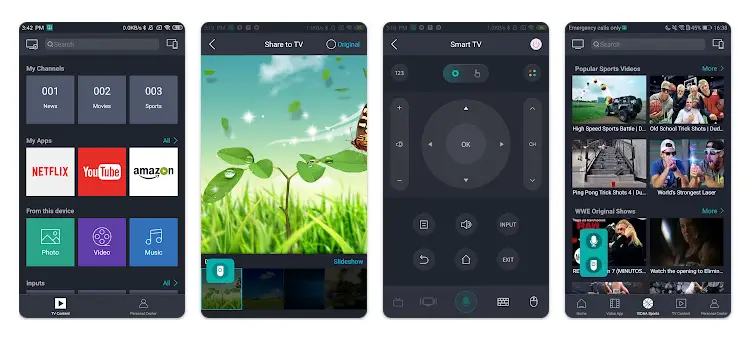 RemoteNOW is a top-notch universal remote app that can act as an extension of your Hisense TV, allowing you to amalgamate your favorite shows in one place.
Got a show that's got you hooked? With this smart app, you can add it to your favorites and watch it next time without continual scrolling.
However, the star feature of RemoteNOW is its innovative system which can read up on what you like and recommend similar content.
Want to blast an upbeat song on your Hisense TV? If so, this app has got you! RemoteNOW lets its users play media content from their smartphones with minimal effort. Connect your smartphone and Hisense device on the same Wi-Fi network, and ta-da! You are ready to stream your songs, photos, and videos on the big screen.
Pros
Lets you compile all your favorite content in one place.
Fast and user-friendly interface.
Streams music, pictures, and videos directly from your phone.
Cons
Some users complain about issues with the app occasionally not connecting to the TV.
---
Where to Get It?
Download for iOS: Apple App Store  |  Download for Android: Google Play
📚 Related: 5 Best Remotes for Hisense TVs
---
#3 – Most Remote-Like: Mobile Care
💰 Price – Free & Paid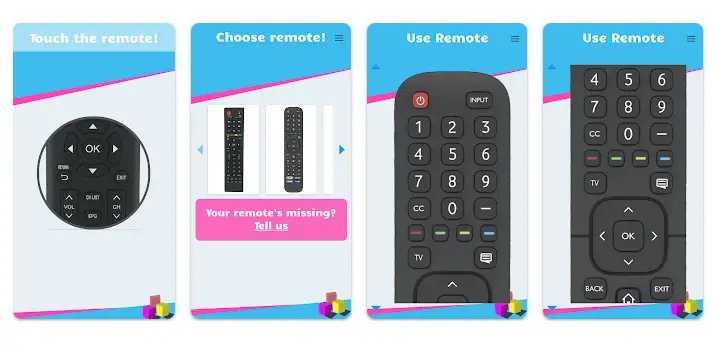 What is a better way to control Hisense Smart TV than by doing it with the company's very own app?
If there is a Hisense TV in your house, this digital remote control is another solid option. It possesses the same aesthetics as the original remote, just in a digital form. That means you have the same green, red, blue, and yellow buttons along with the hot buttons for input selections, on-screen menus, and of course, Youtube and Netflix.
Even though Hisense Remote App is completely free, it is ad-supported. And these frequent ads can soon become annoying when you are just trying to find something to watch.
But don't worry! You can get rid of these ads by making a one-time purchase which will relieve you from this "ad stress" for your lifetime.
Unfortunately, this Hisense App has no iOS equivalent and is only accessible on Android. Plus, you need to have IR connectivity for it to work. But these limitations are often overshadowed by the numerous advantages, making this app one of the best choices for your Hisense Smart TV.
Pros
Great reviews.
Easy to connect.
Does everything the physical remote can do.
Cons
Ads in unpaid version can be annoying.
Not available on iOS.
---
Where to Get It?
Download for Android: Google Play
📚 Related: 5 Best Remote Control Apps for Vizio TVs
---
#4 – Best Android-Only: Android TV Remote
💰 Price – Free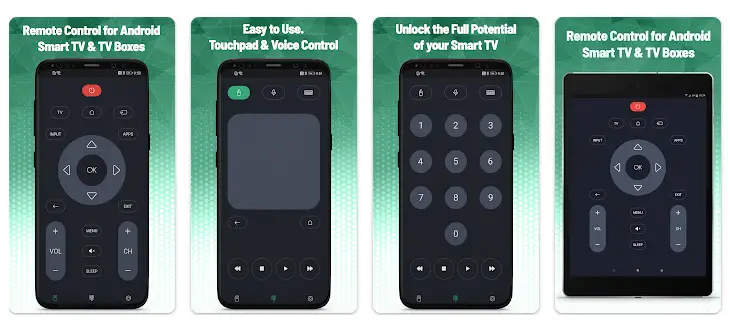 The Android Remote App is an official Google application used worldwide to control Android Smart TVs on the same internet network as your phone. However, if your TV device has a wired Ethernet connection, you can use Bluetooth to connect it to your phone.
This user-friendly app features both touchpad and D-pad controls which are pretty simple to use. And if you prefer changing the channels hand-free, you will surely love its voice control feature. Just a single tap on the microphone, and you are good to go!
In short, this handy app is free, straightforward, and compatible with all Android boxes, which renders it an ideal companion to your Hisense TV.
Pros
User-friendly interface.
Easy to install and set up.
Built-in voice-assistance feature works great.
Connects to your TV within seconds.
Cons
Only works on Android.
Frequent ads.
---
Where to Get It?
Download for Android: Google Play
---
#5 – Best For Multiple Devices: Sure Universal Remote
💰 Price – Free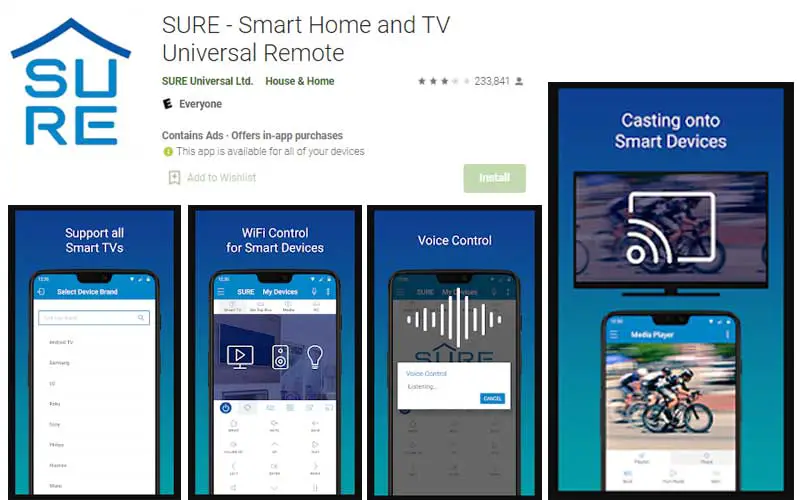 Last on my list of the best remote apps for Hisense TVs is the Sure universal remote app. I have tested this app extensively, and while I like the Broadlink interface better, the price is right if you want to take it for a spin.
If you are a smart home enthusiast like me (check out my other blog over at oneSmartcrib.com), you might have already heard of the Sure App. Like the Broadlink option above, Sure is another great app to control your Hisense Smart TV as well as your home theater equipment and your smart devices to boot.
This app is the true definition of all-in-one as it can connect to your TV and any smart device in your home.
Yes, this Sure app is a bit subpar when it comes to fancy controls and appearance, but its performance? Definitely not so subpar!
With innovative features like voice control and dimming lights, Sure guarantees to enhance the user experience.
However, the feature that makes this app outshine its competitors is its impressive backup ability. This backup memory feature prevents the re-setting of controls on purchasing a new smartphone and therefore saves your time and energy.
Pros
Numerous smart home-integration features.
Voice-control for rapid operation.
Compatible with nearly all smart devices.
Backup Memory to save your pre-existing settings.
Cons
Rather plain and ordinary interface.
---
Where to Get It?
Download for iOS: Apple App Store  |  Download for Android: Google Play
📚 Related: 5 Best Remote Apps for TCL TVs
---
The Verdict: Best Remote Apps for Hisense
Whether you are tired of keeping track of your multiple controls or have misplaced your remote, having a remote control app on hand is a great option!
While each of the above picks will go hand-in-hand with your Hisense Smart TV, my top recommendation is the Broadlink RM4 Pro App (link above to Amazon) due to its robust operation and clever features backed by a real company.
If you are an Android user and just want an app to mimic your physical Hisense TV remote, the Remote Care app is also a great choice.
I hope this guide on the best remote apps for Hisense TVs helped you find the best match for your needs.
Until next time, happy binge-watching your favorite shows!
---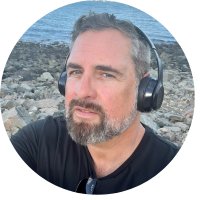 Tim Brennan is a technology blogger and hosts the @TecTimmy YouTube channel. He writes about smart homes at oneSmartcrib, home theaters at UniversalRemoteReviews, and AI in writing at Writeinteractive. A graduate of Northeastern University School of Journalism, he has written about technology for 30 years. Tim lives on the ocean in Nahant, Massachusetts.