Affiliate Disclaimer
As an Amazon Affiliate, we earn from qualifying purchases.
Looking for a Hisense smart TV remote replacement? In this article, we'll take a look at five of the very best Hisense Smart TV remotes you can buy today.
W
hen you think about Smart TVs, Chinese TV manufacturer Hisense doesn't necessarily come to mind immediately.
Samsung, Sony, TCL-Roku, LG, Insignia, Vizio—are the brands that are top of mind for most consumers when it comes to smart TV brands.
But think again. Hisense is gaining on the competition, especially among avid streaming media viewers.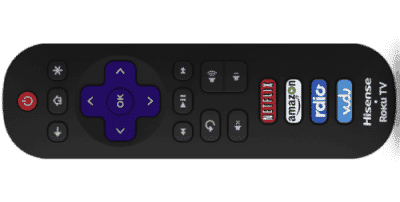 In fact, a recent article published in Consumer Reports explains how Hisense is gaining ground in the high-end TV market.
Hisense and Heavy High-End Streamers
A slightly older article published in Variety Magazine talks about how six million of company's avid TV users stream over 200 minutes of video every day. Now that's a whole lotta streaming going on!
But it's hard to stream the latest season of Stranger Things, if you lose your remote. Perhaps even worse, having to use two, three, even four remotes just to get your entertainment experience going can be downright annoying.
In this article, we cover the five best Hisense smart TV remote replacements.  Two of these are factory remotes and three of them and universal remotes that will let you consolidate down multiple RCs into one.
---
#1 – Under $10 Budget Option: Coolux
A universal remote for under 10 bucks…really? Yup. This Coolux Universal Remote Control was designed for the following Hisense Smart TV models:
EN2B27
ER-31607R
ER-22655HS
ER-22642R
ER-22641R
EN-22652A
EN2H27B
EN2H27HS
EN2S27D
EN-31906D
EN-31603B
EN-21662B
EN-32963HS
EN-31603A
ER-32961
EN-2166
While this remote doesn't have many reviews at Amazon at this time for us to give a proper analysis, other TV brand customers have reported solid results with Coolux remotes.  However, we cannot in good faith recommend this over other models listed here, unless you are on a very limited budget.
>> See It At Amazon <<
---
#2 – Under $20: HiSense EN-33922A TV Remote Control
A little further up the food chain, but not by much, is a super highly rated yet affordable remote:  the HiSense EN-33922A TV Remote Control. This is a replacement remote that will work right out of the box with the Hisense TV models listed below.
LHD32K366WUS
LTDN40K366NWUS
LTDN40K366WUS
LTDN50K366GWUS
LTDN50K610GW
LTDN55K610GW
What is most interesting to me is that the customers who own this remote actually like it. This really is not typical for remotes that ship with the TV.  There is a prominent button for Netflix, which surely is a fan favorite with Hisense's streaming media fan club.
>> See It At Amazon <<
---
#3 – Under $30: Highsense Roku TV Remote
If you own a Highsense Roku TV and just want to replace the remote, then this replacement remote will do the job nicely.  That is if all you want to do is replace a lost remote. It won't let you consolidate multiple remotes down to one, and it definitely won't let you control your smart home stuff or work with Alexa. But, it will let you control your Highsense Smart Roku TV on the cheap, very cheap.
You just install two new AA batteries to get you back in business. Buttons include Netflix, Sling, Hulu, and Now or Google Play.
>> See It At Amazon <<
---
#4 – Under $60: Logitech Harmony 650
> See It At Amazon <<
A better all-around choice for a Hisense Smart TV Remote Replacement is the Logitech Harmony 650 Universal Remote Control. This is a great buy if you are looking to control your Hisense Smart TVAND consolidate up to eight existing remotes.  The 650 has a bright color screen that shows your favorite channel icons plus commands for easy navigation.  It also allows for one-touch activity buttons like "Watch a DVD" to automatically switch the right devices to the right settings.  It will not allow you to control your smart home devices, however.  You can read our full review of the Harmony 650 here. For smart TV control that will let you consolidate remotes, control entertainment devices, plus smart home stuff, see the last three items on our list.
---
#5 – Under $100: Logitech Harmony Hub
The Logitech Harmony Hub works with all current Hisense Smart TVs and many older models as well. Moreover, it lets you consolidate remotes for up to eight home entertainment devices, and it also works with Alexa.  It will also work with smart home devices such as Phillips Hue Lighting and Sonos smart speakers.  Best of all, you can program activities like Movie Night.
Say what?
When you press the Movie Night button on your smartphone the Harmony Hub goes to work and fires up all required devices. This might include turning on the TV and soundbar, tuning to Netflix, and dimming your Phillips Hue smart bulbs.  The intuitive phone app lets you swipe and tap to control channels, watch movies and more.  Plus, you get to set up to 50 of your Favorite channels with colorful display icons.  This is a great option if you don't need a physical remote and don't mind controlling your TV with your phone.
>> See It At Amazon <<
---
#6 – Under $200: Logitech Harmony Companion
The Harmony Companion is also compatible with all Samsung Smart TVs. It also includes the Harmony Hub. In addition, it ships with an excellent Harmony hard button remote.  It allows you to control up to 8 devices and works with Alexa for voice control.  The Companion also lets you do everything that the Hub can do. You get the smartphone app to boot!  The main difference is that in addition to the smartphone capability, you also get the remote hardware.
>>See It At Amazon<<
---
#7 – Under $300: Logitech Harmony Elite
Rounding out our list of Samsung Smart TV remote replacement options is the granddaddy of universal remote controls. The Logitech Harmony Elite is one of the best universal remote controls you can buy today.  You get all of the functionality of the Companion and Hub, plus a beautiful color touchscreen remote that gives you swipe and tab abilities, haptic feedback, and customizable touchscreen buttons for activities.
The Elite also adds 7 additional devices for a total of 15 devices that you can control. All Harmony remotes are compatible with Logitech's database of 275,000 [and growing] devices.  Some set up is required. We recommend that you set this up using your PC and not the smartphone option.
You can read my review of the Harmony Elite here.
A comparison of Harmony Elite vs Harmony Hub is available here.
Prices of the Logitech Harmony have fallen dramatically in recent weeks due to increasing competition, making this a great time to buy this remote.
>> See It At Amazon <<
Best Hisense Smart TV Remote Replacement: What Do You Think?

So what do you think about my Hisense smart TV remote replacement options?
Are you simply looking to replace an existing remote that you lost?  Or are you considering a real universal remote that you can use to consolidate down from multiple remote controls?
Which of the above products are you considering? Or have you already made up your mind?  Please let me know by leaving a comment below.
I would love to hear from you.